I get a lot of emails from people who are in pasta ruts. I totally get this because I find myself in a pasta rut from time to time. Generally, it's a red sauce rut. During spring time, I like to switch to light vegetable pasta recipes like this asparagus carbonara recipe!
When you can find really great veggies (like asparagus) at the store and in markets, I like to temporarily banish tomatoes from my pasta dishes. While that leaves you with a wide range of cream sauces, if you want to stay on the light side, I recommend mastering (or at least attempting) the carbonara method!
A good carbonara only needs a few ingredients and I always like to go heavy on one vegetable that's in season. For this version, I went with asparagus and seasoned it with lots of garlic and lemon. It might look boring, but it's actually packed with flavor.
Why Asparagus Carbonara is so good
While there is no meat in this carbonara, it the asparagus helps it to feel substantial enough without the normal addition of meat (typically bacon or guanciale for carbonara).
While carbonara looks like a cream sauce, it's actually just eggs whipped into the pasta so it's lighter than you might think and the asparagus folds in perfectly to the sauce.
When you are selecting asparagus for this recipe, I prefer the thinner asparagus rather than the thick asparagus which I reserve for grilling.
What ingredients do you need for this recipe?
There's no need to over-complicate a dish like this. Find good, fresh asparagus, bright lemons, and garlic. That's really all you need. On the asparagus, try to find the thinner spears. The thicker ones need to be roasted or blanched but the thin ones can be tossed in a pan and they cook quickly.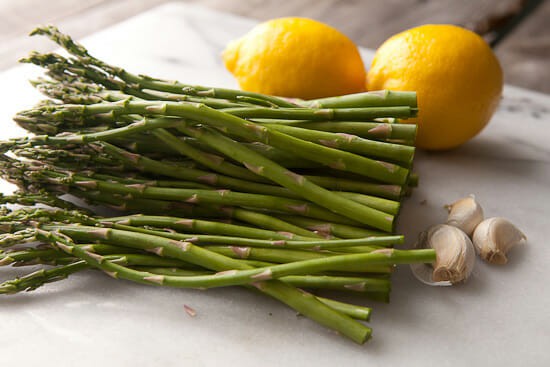 Other ingredients you'll need include Parmesan cheese, eggs, some sort of pasta (I like fettuccine) and seasoning like black pepper and salt.
Cooking the asparagus for the carbonara
Chop the bottom 1-2 inches off the spears (the tough part) and then chop them into 2-inch pieces. For the garlic, just slice it into slivers.
Add a drizzle of oil to a large skillet over medium heat. Then toss in the asparagus and cook the spears until they turn bright green and are starting to get tender. Then add the garlic slivers and cook for another minute or so. You don't want to add the garlic too soon or it will just burn.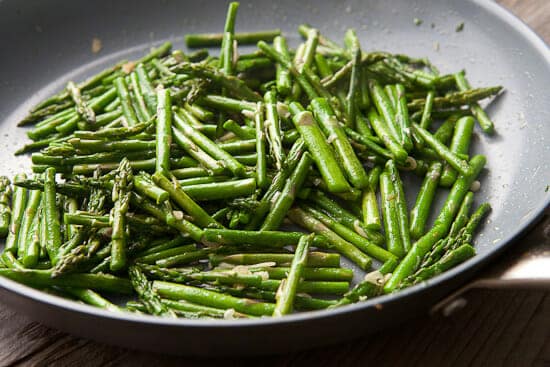 Near the end, hit the veggies with some white wine to deglaze the pan and season with salt and pepper.
Scoop the spears and garlic out of the pan but don't worry about cleaning the skillet. You can use it again to finish the dish.
Tricks for making a silky smooth carbonara
The sauce for a classic carbonara pasta is egg based! This can be tricky to work with. If you do it right, the eggs will form a light sauce on the noodles that folds everything together. If you do it wrong, you'll have pasta and scrambled eggs. To be honest, I've messed up carbonara many times over the years and it's still an edible dish. Just not quite as pretty as a perfect, silky smooth carbonara.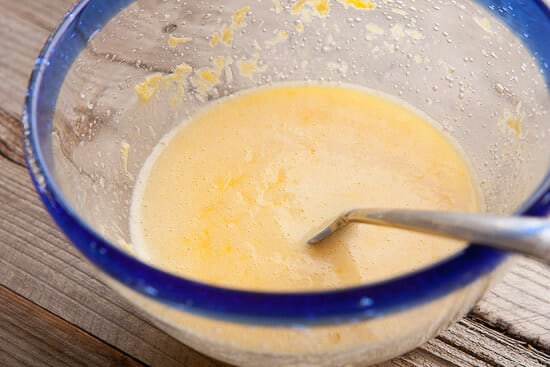 One trick I've used with success over the years is to whisk the eggs with some Parmesan cheese (about a cup, but who's measuring?). Then whisk in about 1/2 cup of hot pasta water. The pasta water will temper the eggs a bit (like making a custard) and also lighten them so they won't clump so much when they hit the pasta.
Most importantly, stir the eggs into the pasta OFF the heat. If you leave the pasta skillet over the heat when you add the eggs, they will most likely cook.
How to finish the carbonara
Speaking of pasta, I like to use fettuccine for this carbonara but spaghetti would be fine also.
When the pasta is cooked, be sure to reserve about 2 cups of pasta water. Pasta water is really important to getting the finished pasta to the right consistency.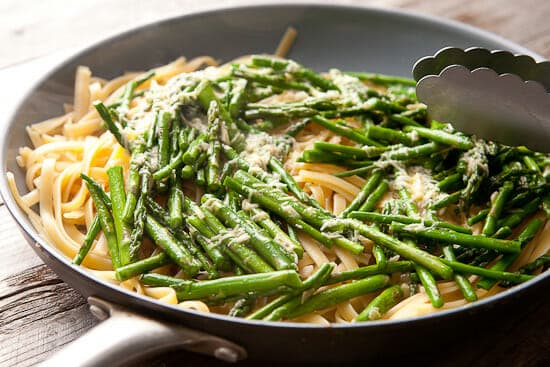 When your pasta is drained, add it to the skillet along with 1/4 cup of the pasta water. Add in the asparagus and garlic and pour in the egg mixture with the heat completely off. Don't worry, there is plenty of residual heat in the pasta still.
Toss this together like crazy to try and keep the eggs evenly coated as they heat up.
If you do it right, you'll have a silky smooth sauce, but if end up with some bits of cooked egg in the sauce. Don't worry about this. Your pasta isn't ruined. It happens to the best of us. Just keep folding the eggs into the pasta with the veggies and try to get it as smooth as possible.
At the end, hit the pasta with some lemon juice and season it with salt and pepper.
If the pasta is really thick, add more pasta water to keep the sauce smooth. If it's thin and watery, keep tossing it in the skillet until it thickens a bit.
It might sound a bit tricky, but it'll turn out great even if you mess up the eggs a bit.
Most importantly, serve the pasta as soon as possible (cold eggs are no good). Garnish each bowl with lots of grated Parm and lemon zest!
What do you serve with asparagus carbonara?
There are many options for what to serve with this carbonara, but you should also feel okay serving it by itself. It's a great solo meal.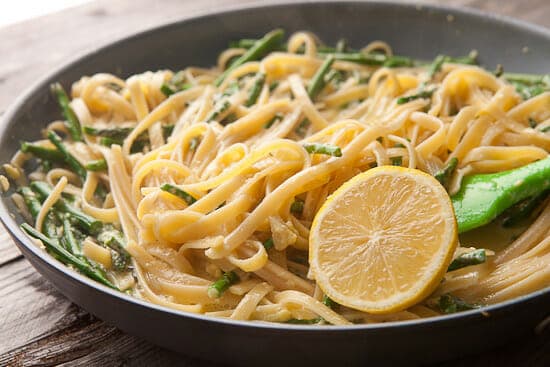 If you are looking for a salad to serve with the pasta, try this roasted carrot salad!
A great side is garlic bread of course. I like this baguette garlic bread.
And this time of year, I like to serve a pasta like this with a bright salad like this greek salad.
What variations/substitutions could work?
There are a number of variations on carbonara. Here are a few ideas!
To make the carbonara more traditional, add bacon or guanciale to the skillet. Cook it down until crispy and then use that fat to saute the asparagus.
To make the sauce thicker, add two extra egg yolks to the sauce and whisk it together.
Mix in some other cheeses like pecorino romano, which is common for carbonara.
Change up the vegetable depending on what's in season. Fresh peas work really well in this also.
Spring Asparagus Carbonara
A fresh asparagus carbonara recipe packed with sauteed asparagus, lemon, and Parmesan and folded into a creamy fettuccine carbonara.
Ingredients
1

bunch thin asparagus

,

chopped

3

cloves

garlic

,

sliced

2

tablespoons

olive oil

¼

cup

white wine

3

large eggs

1

cup

Parmesan cheese

10

ounces

fettuccine pasta

1

lemon

,

zest and juice

Salt and pepper
Instructions
Slice garlic and chop the bottom ends of the asparagus spears off (usually 1-2 inches). Then chop spears into about 2 inch pieces.

Heat a large skillet over medium heat. Once hot, add a drizzle of oil along with the thin asparagus spears. Cook until they are bright green and are slightly tender, 4-5 minutes. Add garlic slivers and season with salt and pepper. Cook for another minute. Add white wine to deglaze pan and once it is cooked off, remove asparagus from skillet.

In a medium bowl, whisk together eggs with Parmesan cheese.

Cook pasta according to instructions until al dente. Reserve two cups of pasta water. Whisk 1/2 cup of hot pasta water into the egg/cheese mixture to lighten it a bit.

Drain pasta and add pasta to skillet with 1/4 cup pasta water over low heat. Fold in asparagus mixture.

Pour egg mixture over the pasta and asparagus and stir rapidly to mix in the eggs off the heat. The goal is to make it into a smooth sauce on the pasta. If the pasta gets too thick, add more pasta water by the 1/4 cup. If you do this on the heat, the sauce will overcook.

After a few minutes the egg mixture should barely hold onto the pasta as a sauce. Add fresh lemon juice to the pasta and season with salt and pepper.

Serve carbonara immediately with lemon zest and extra grated Parm on top.
Nutrition
Serving:
1
plate
|
Calories:
494
kcal
|
Carbohydrates:
55
g
|
Protein:
24
g
|
Fat:
20
g
|
Saturated Fat:
7
g
|
Polyunsaturated Fat:
2
g
|
Monounsaturated Fat:
9
g
|
Trans Fat:
0.1
g
|
Cholesterol:
199
mg
|
Sodium:
465
mg
|
Potassium:
302
mg
|
Fiber:
3
g
|
Sugar:
2
g
|
Vitamin A:
454
IU
|
Vitamin C:
15
mg
|
Calcium:
352
mg
|
Iron:
3
mg
Did you make this recipe?
Here are a few other great recipes to try!