It has been my experience that people don't typically go to BBQ joints for salads. They for ribs. Brisket. Pulled pork. You know… BBQ.
A few weeks ago while I was in Boston I made my way to Sweet Cheeks BBQ thanks to a recommendation from Dan. When you walk in the distinct smell of smoke hits you – the kind of smoke that turns food into really good food.
But I'm not writing about their BBQ. Just trust me that it's good and you'll leave full. The most surprising thing on the menu was a very unassuming salad simply called "Farm Salad." I would've passed it over completely if a friend hadn't asked the server what was in it. When the server said the ingredients, most of the people at my table changed their order to add the salad.
I've tried my hand at recreating it for this post and I think I got it mostly right. The dressing was the hard part to nail but I got close enough to call it a win and make this Roasted Brussel Sprout Salad one awesome salad.
Roasted Brussel Sprout Salad
My favorite healthy and hearty salad with roasted brussel sprouts, pearl barley, and a flavorful greek yogurt dressing.
Ingredients
1

cup

pearl barley

,

cooked

1

pound

brussel sprouts

,

quartered

1

tablespoon

olive oil

2

cups

red seedless grapes

,

halved

5

ounces

arugula

3

ounces

Parmesan cheese

,

slivered
Yogurt Dressing:
½

cup

Greek yogurt

2

tablespoons

olive oil

2

tablespoons

apple cider vinegar

½

teaspoon

kosher salt

½

teaspoon

crushed black pepper
Instructions
Cook pearl barley according to directions until just tender. This will take 45-50 minutes in boiling water. Preheat oven to 375 degrees F.

Cut ends off of brussel sprouts and quarter them through the center. Toss sprouts with 1 tablespoon olive oil and a big pinch of salt and pepper. Spread sprouts out on a baking sheet.

Roast sprouts for about 20-25 minutes until they are nicely browned and crispy around the edges. Stir once halfway through to ensure even cooking.

Meanwhile, whisk together dressing ingredients and halve grapes.

Drain barley when it's done and rinse with cold water. When sprouts are done, let them cool to room temperature.

Toss arugula with a few tablespoons of dressing until the leaves are lightly coated. Toss in barley and stir to combine. Spread arugula out on a large serving plater.

Top arugula and barley mixture with roasted sprouts, grapes, parmesan and a drizzle of extra dressing. Serve immediately or chill until needed.

Salad will keep okay in the fridge for a few days but is best the same day it's made.
Nutrition
Serving:
1
bowl
|
Calories:
320
kcal
|
Carbohydrates:
44
g
|
Protein:
14
g
|
Fat:
12
g
|
Saturated Fat:
3
g
|
Polyunsaturated Fat:
1
g
|
Monounsaturated Fat:
6
g
|
Trans Fat:
0.002
g
|
Cholesterol:
10
mg
|
Sodium:
457
mg
|
Potassium:
613
mg
|
Fiber:
9
g
|
Sugar:
11
g
|
Vitamin A:
1283
IU
|
Vitamin C:
69
mg
|
Calcium:
272
mg
|
Iron:
3
mg
Did you make this recipe?
Roasted Brussel Sprout Salad
Barley and Sprouts
The backbone of this wonderful Roasted Brussel Sprout Salad are the brussel sprouts and barley. Neither of these are particularly hard to prepare but the pearl barley does take about fifty minutes to cook through completely. It's a really sturdy grain which is also why it works awesomely in this salad.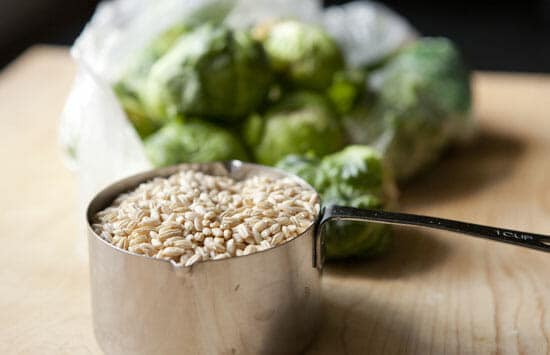 For the sprouts, just trim the ends off and then cut them into quarters. If you have small sprouts, you could just halve them but mine were large and in charge so I went for quarters. Toss the sprouts with a drizzle of olive oil and a pinch of salt and pepper.
Roast these guys in a 350 degree F. oven for about 25 minutes until they are a deep brown color in parts. They should get slightly crispy around the edges. Be sure to give them a stir halfway through cooking to make sure they are cooking evenly.
For the barley, it's even easier. Just boil the stuff until it's tender, but still has a tiny bite to it. It's almost impossible to overcook this stuff. It's really sturdy.
When the barley is done cooking, rinse it with cold water. You don't want to add hot barley in with the arugula or it will wilt it and make for one sad salad.
Back to the sprouts, they are done when they look something like this. Again, let them cool before you finish the salad. They will cool to room temperature pretty quickly if you just leave them out on the counter.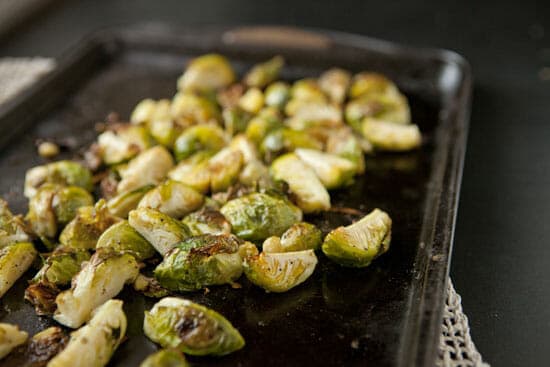 The Dressing
I didn't have a lot to go on for the dressing in the original salad so I kind of just winged it based on ingredients that I had in my pantry. It seemed like the dressing had a light cream base but it wasn't really heavy. I went with a Greek yogurt base and then lightened more with some apple cider vinegar. My finished dressing had a great consistency and lots of flavor.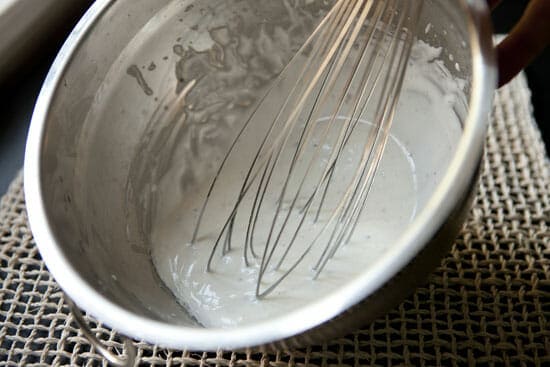 This is just goes to show you that dressings don't have to be complicated to work.
Making the Salad
When you're ready to toss together the Roasted Brussel Sprout Salad, just add a few tablespoons of dressing to the arugula and toss it to coat the leaves. You probably won't use all the dressing but it'll keep fine for a few weeks in the fridge if you want to keep it.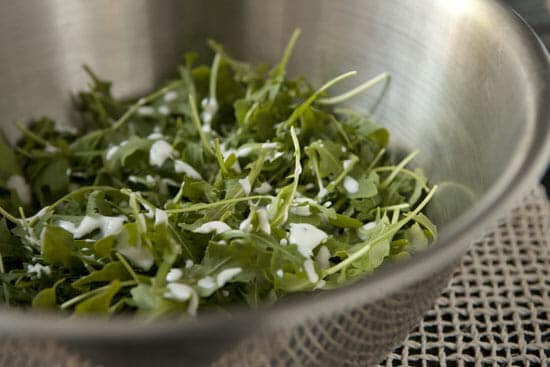 Then add in the cooled barley and stir everything together. The dressing should be very light at this point.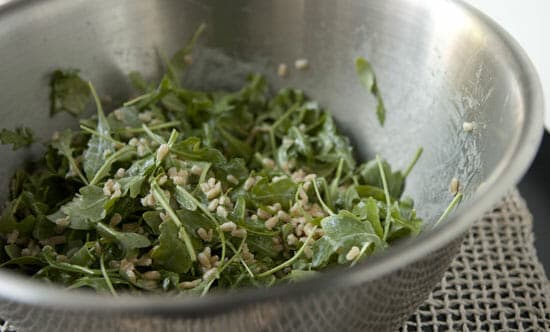 Then just spread the arugula out on a large serving dish and top with roasted sprouts, halved grapes, Parmesan cheese, and an extra drizzle of dressing.
Obviously, this Roasted Brussel Sprout Salad goes really well with any kind of BBQ, but it's so darn good I would even have it as a lunch salad. If you're having a fall BBQ of some sort though, add this sucker to the menu!