The concept of a true one-pot dinner, especially with something like mac and cheese, is kind of magical. The idea that you can throw a bunch of ingredients in one pot and then 20 minutes later you have an actual cooked thing is pretty amazing. That makes this spinach mac and cheese really special.
But, heads up. Any site that tells you it's that easy is pretty much lying to you. Don't get me wrong, I love a one-pot mac and cheese like this spinach one, but there are some finicky aspects to dishes like this. Assuming you can just plop the lid on, go watch House Hunters, and come back to perfect dinner is a myth.
These one-pot dinners work, and they are delicious, but you have to pay attention. There are a few tricks and bumps along the way, for sure, but the result is worth it and relatively easy! Let's make it happen!
Tips to Making Good One-Pot Mac and Cheese
Okay. You might be used to seeing photos like THIS on the interwebs to show off a one-pot recipe concept. I like it. It's pretty and gets the point across.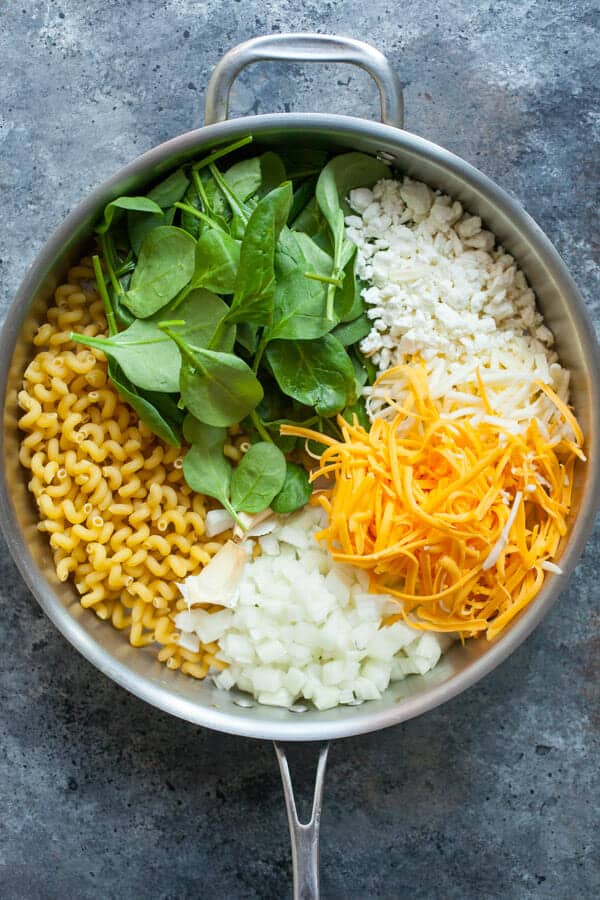 But it's not exactly accurate. You can't just plop ingredients in quadrants and come back to dinner. There are a few more steps than that.
For starters, actually cook the onions and garlic before you add the other stuff. Anytime I read a recipe that doesn't include cooking the onions first, I get a bit gun-shy.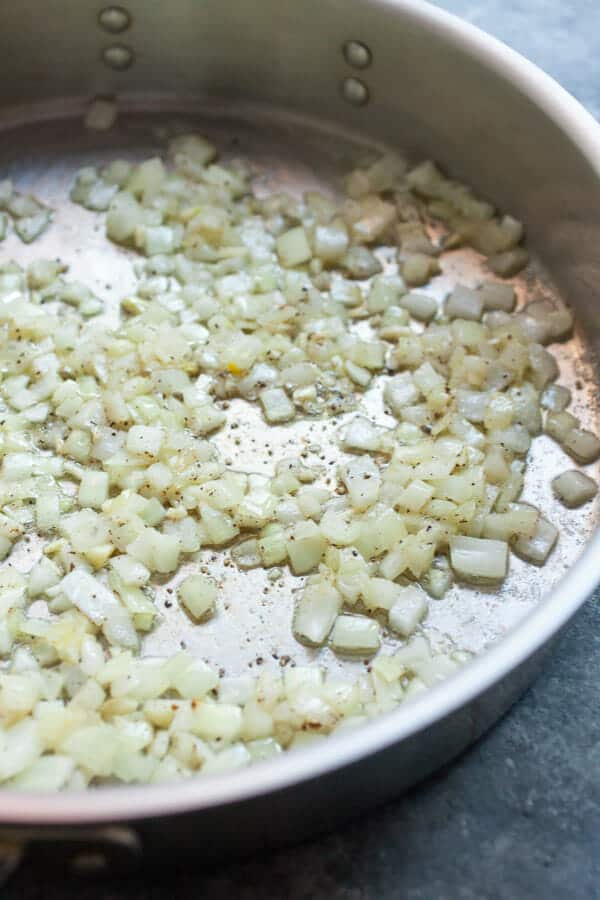 Now you can start adding the other stuff, but order is important. Add the macaroni first and then try to evenly add the cheese and spinach. The goal here is to avoid clumping as it cooks. Pour in the stock and milk last and stir everything together.
Bring this all to a simmer, cover, and cook for 15 minutes. Here are my tips to make this dish a for-sure success:
Stir it regularly. Don't just stick the lid on and say goodbye. There's a lot going on the pot and frequent stirring lets you monitor the liquid level and also makes sure the dish isn't sticking.
If the macaroni looks dry, don't be afraid to add an extra 1/2 cup of liquid. Different macaronis and different pots might cook differently so it's a monitor-fix situation on the liquid. That said, 2-2 1/2 cups will probably get you there.
Watch the spinach. For some reason, the spinach has a tendency to clump together in one big ball. This isn't ideal. Use tongs or a fork to try and pry it apart as you stir so it's evenly mixed into the mac.
Taste it near the end to make sure the pasta is cooked and it's seasoned well. Since you aren't cooking the pasta in salted water, it might need an extra pinch of seasoning.
Okay! You did it!
Top this beautiful stuff with some toasted breadcrumbs and you are in business.
How to serve this mac and cheese
I like to eat this one-pot spinach mac and cheese right out of the pot when it is super creamy, but you can also reheat it in a baking dish in a 350-degree oven until it's creamy and even a bit crispy on the edges. Works fine either way!
Optionally, you can top the mac and cheese with crispy breadcrumbs or extra parmesan cheese.
Need another fall cheese quick meal? Try this Pesto and Brie Grilled Cheese!
Remember, one pot dishes are magical, but only if you know the tricks of the trade.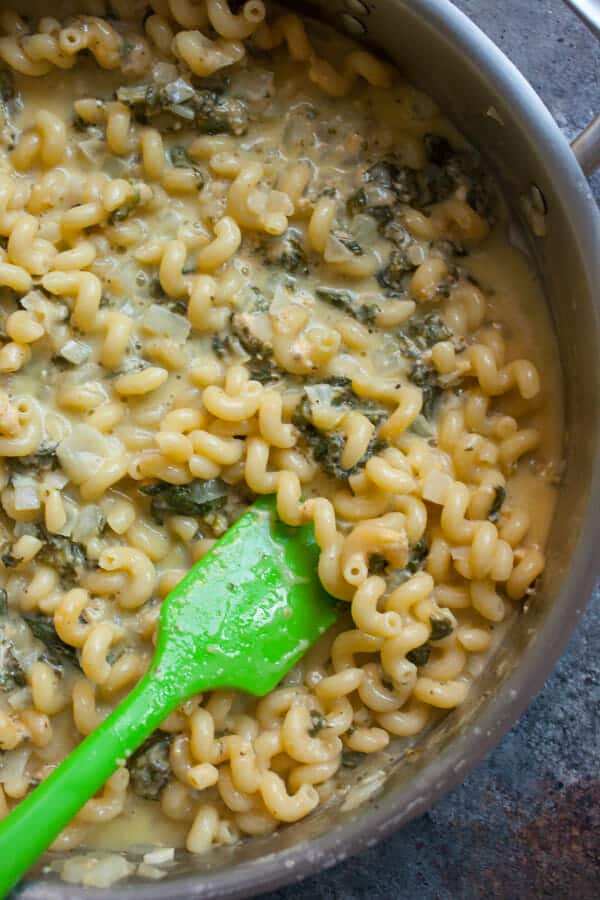 Substitutions and Ideas
While the ratios for macaroni and cheese is pretty locked in, you can still make some fun substitutions for this recipe!
Obviously, feel free to change up the cheese. Gruyere cheese is a really nice cheese substitute for macaroni and cheese.
I like using elbow macaroni for this, but you could substitute other pasta as long as they aren't too thick. You may need to add a bit more liquid if you choose a thicker pasta.
Use can use fresh baby spinach or frozen spinach for the dish. If you use frozen spinach, make sure to squeeze out as much liquid as possible.
For extra protein, fold some shredded rotisserie chicken into the dish.
Leftovers and reheating
Macaroni and cheese is notoriously hard to reheat. Personally, I don't like to microwave leftover mac and cheese as it can dry it out and it heats unevenly. Instead, reheat the macaroni in a skillet with a splash of liquid over medium-low heat. Stir frequently and it'll come back to life as the cheese sauce reheats.
The spinach macaroni and cheese will store in the fridge for 3-4 days before the spinach starts to get wilted and sad.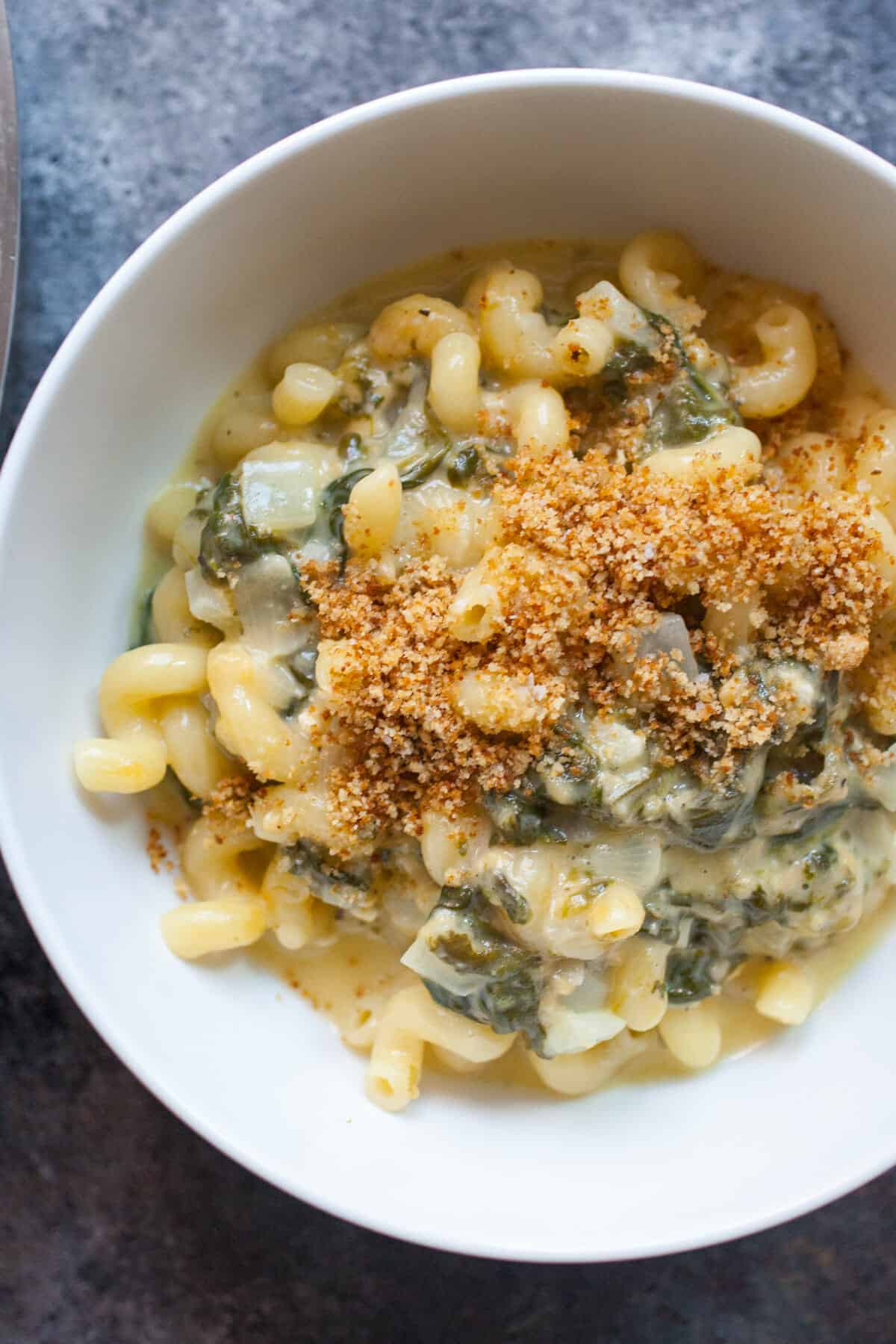 One Pot Spinach Mac and Cheese
This near miracle recipe comes together all in one pot and ends up being super creamy and delicious. Eat it right out of the pot or bake it!
Ingredients
2

tablespoons

butter

1

small onion

,

chopped

2

cloves

garlic

,

minced

2

cups

macaroni

1

cup

grated Monterey jack cheese

1

cup

grated cheddar cheese

½

cup

feta cheese

5

ounces

baby spinach

1

cup

vegetable broth

1

cup

milk

Salt and pepper
Breadcrumb Topping:
2

tablespoons

butter

½

cup

breadcrumbs
Instructions
In a large pot with a lid, melt butter and add chopped onions. Cook until translucent over medium heat, about 2-3 minutes. Then add garlic and cook for another 30 seconds.

Season with salt and pepper and stir in macaroni, cheeses, spinach, broth, and milk. Stir well to combine and bring to a slight simmer. Turn heat down to low, cover, and cook for around 15 minutes, stirring every few minutes to avoid sticking.

If pot seems very dry at any point, add another 1/2 cup of liquid. Also, you can use tongs to separate spinach in the dish which has a tendency to clump together.

The dish is done when the macaroni is tender and the sauce is smooth and creamy. If the pot is watery at all, cook for another minute or two, stirring constantly to cook off extra liquid. Season cooked macaroni with salt and pepper to taste.

Serve macaroni right out of the pot with buttered breadcrumbs or transfer to a buttered 9×9 baking dish, top with breadcrumbs and bake at 350 for 15-20 minutes.

I like to eat the macaroni right out of the pot if i'm making it to eat that night. If I'm making it to eat later, I'll bake it to reheat the macaroni.

For breadcrumbs, add bread crumbs and butter to a small skillet over low heat. Cook, stirring constantly, until breadcrumbs are toasted, 3-4 minutes. Let cool and use as a topping.
Nutrition
Serving:
1
bowl
|
Calories:
670
kcal
|
Carbohydrates:
59
g
|
Protein:
30
g
|
Fat:
35
g
|
Saturated Fat:
21
g
|
Polyunsaturated Fat:
2
g
|
Monounsaturated Fat:
8
g
|
Trans Fat:
0.5
g
|
Cholesterol:
101
mg
|
Sodium:
1001
mg
|
Potassium:
527
mg
|
Fiber:
4
g
|
Sugar:
8
g
|
Vitamin A:
4398
IU
|
Vitamin C:
12
mg
|
Calcium:
569
mg
|
Iron:
3
mg
Did you make this recipe?
Here are a few other great recipes to try!