This is an updated post from the Macheesmo Archives! I think this is a perfect dish for Fall so wanted to re-share it with you all.
One of my favorite things to see at a restaurant is a good macaroni and cheese dish that's baked in individual cast iron dishes. The cast iron distributes the heat well so the mac and cheese is baked evenly and the edges are really crispy and delicious.
The problem of course is that I don't have any mini cast iron dishes laying around to bake my mac and cheese in.
But I do happen to have one really large cast iron skillet that I figured would work just as well! You could put a ton of add-ins in this dish to make it your own. Lobster? Poblano peppers? Go crazy. I kept this version pretty standard though.
Cast Iron Mac and Cheese
Recipe for delicious and easy pasta made with a creamy cheese sauce and crispy bacon then baked until crispy around the edges!
Ingredients
1

pound

elbow macaroni

8

ounces

bacon

½

medium onion

,

diced

5

dried arbol peppers

,

crushed (or 2 Teaspoons red pepper flakes)

4

Tablespoons

unsalted butter

4

Tablespoons

all-purpose flour

3

Cups

whole milk

16

ounces

cheese

,

I used 8 ounces of Monterey Jack and 8 ounces cheddar cheese

¼

Cup

Parmesan cheese

,

grated

¼

Cup

bread crumbs

,

optional

Salt and Pepper

Maybe a drizzle of olive oil
Instructions
Cook macaroni according to package instructions and set aside.

Cut up bacon into 1/4 inch cubes and cook in cast iron skillet over medium-high heat until very crispy and browned. If bacon appears dry, drizzle with a bit of olive oil.

Remove bacon from pan and add onions and crushed peppers or red pepper flakes. Cook until onions are soft, about 5 minutes, stirring continuously. Remove onion mixture and combine with bacon.

Do not wash the skillet, but set it aside for later.

In a medium saucepan, melt butter and whisk in flour over medium heat. Cook until the roux is a light brown mixture, about 5 minutes. Continue to whisk and slowly pour in milk. Once all the milk is incorporated, whisk until smooth and turn the heat down to low.

Whisk in shredded cheeses and a pinch of salt and pepper to taste.

Combine cheese sauce with elbow macaroni and stir in bacon mixture. Pour the macaroni and cheese back into the cast iron skillet and top with grated Parmesan and/or bread crumbs.

Bake at 400 degrees for 30 minutes until cheese is browned.

Cool for 10 minutes before serving.
Nutrition
Serving:
2
cups
|
Calories:
944
kcal
|
Carbohydrates:
73
g
|
Protein:
39
g
|
Fat:
55
g
|
Saturated Fat:
28
g
|
Polyunsaturated Fat:
4
g
|
Monounsaturated Fat:
16
g
|
Trans Fat:
0.4
g
|
Cholesterol:
138
mg
|
Sodium:
897
mg
|
Potassium:
526
mg
|
Fiber:
3
g
|
Sugar:
9
g
|
Vitamin A:
1346
IU
|
Vitamin C:
1
mg
|
Calcium:
765
mg
|
Iron:
2
mg
Did you make this recipe?
Cast Iron Mac and Cheese
Prep
I used some bacon and spicy Arbol peppers to give some flavor to the macaroni and cheese. Cooking all this stuff in the cast iron skillet that you eventually bake the mac and cheese in also seasons the skillet.
Start by chopping your bacon into pieces and then cook it in a large cast iron skillet over medium-high heat until the bacon is really crispy. If you want, add a drizzle of oil to the pan to get the bacon sizzling.
While the bacon cooks chop up an onion and also crunch your dried peppers if you're using them. You can also just use red pepper flakes though.
When the bacon is crispy, take it out of the pan and add your onion and dried peppers. Cook them in the bacon grease until the onions are soft. If you have a lot of bacon grease (more than a few tablespoons) pour some of it off.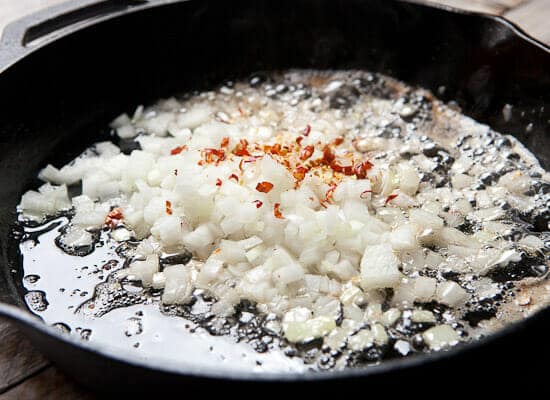 Then mix everything together and set it aside. Whatever you do, don't clean or wipe out the skillet! Again though, if there is a lot of grease left, pour some off. You just need a coat of oil.
Also, while this is happening, cook the elbow macaroni according to the package. I would recommend under-cooking it by a minute or two or else your mac and cheese might be a bit soggy.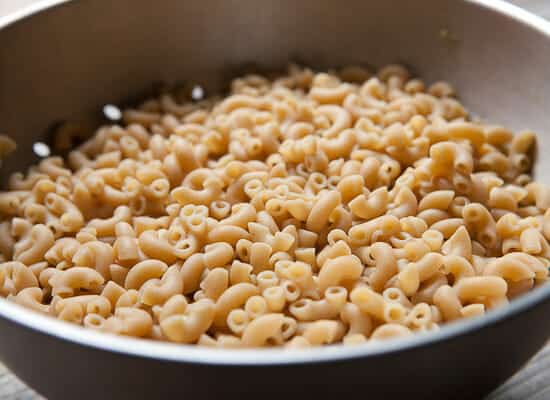 Making the Sauce
This cheese sauce, like any good cheese sauce in my opinion, is based on a Roux which is just a mixture of flour and butter.
Start by melting the butter in a medium saucepan over medium heat. Once it's melted, add your flour to the butter and start whisking! It'll bubble a bit and start to turn slightly tan. If you've never made a roux before, it isn't that hard. Just remember not to let it sit for too long or it'll burn.
After about 4-5 minutes of cooking your roux should be a nice light tan/brown color. Like this: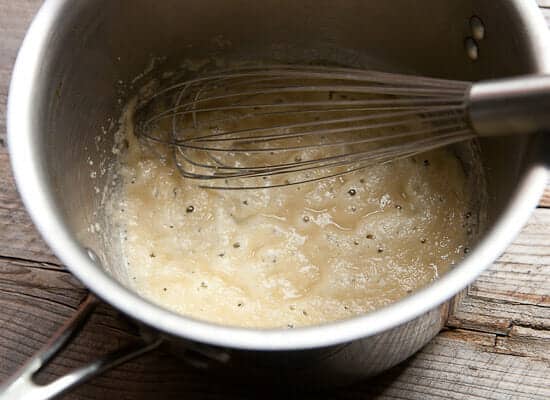 Once it gets that color, slowly start whisking in your milk. This is the only tricky part of making a cheese sauce like this. If you add your milk too fast, then you can't whisk all the roux in evenly so you'll end up with a lumpy sauce. Don't worry about it too much though, just don't dump in all your milk at once and you'll be fine.
Once all the milk is in the pot, it should have the consistency of a light gravy.
Then whisk in all your grated cheese and season with salt and pepper. The longer you stir it on the burner, the thicker it will get.
This was a really good cheese sauce!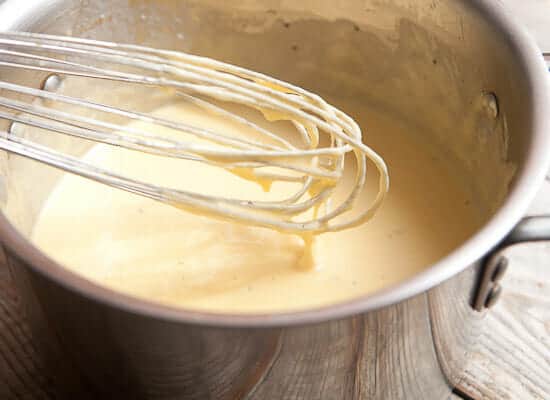 The Skillet
Remember that skillet that you cooked the bacon and onions in? I really hope that you didn't wash it. Here's my dirty pan ready for baking!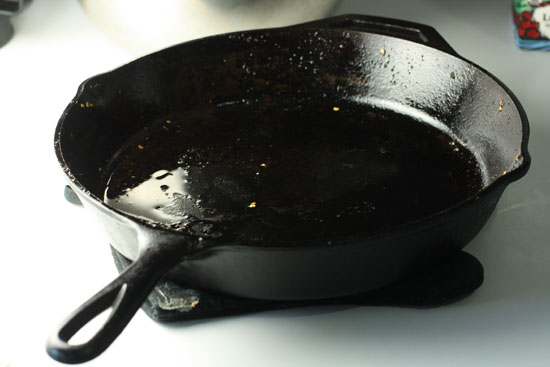 Back to the Macaroni
Once your cheese sauce is done, stir it into your drained macaroni. To be completely honest, this was very delicious just like this. If you don't want to bake it or don't have a cast iron skillet, it's perfectly acceptable to serve it just like this!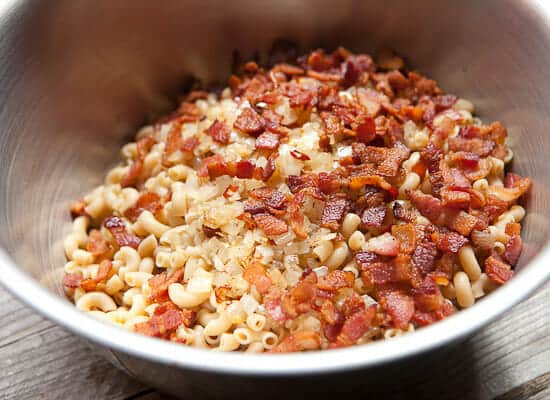 Baking the Cast Iron Mac and Cheese
Assuming you do want to bake it though, stir in your bacon/onion/pepper mixture and then pour all of it back into your cast iron skillet. My skillet is a 12 inch skillet and it fit perfectly.
I added some breadcrumbs and Parmesan on top just to form a nice crust.
Bake this for about 30 minutes at 400 degrees. The mac and cheese should have a nice browned crust. Be sure to let it cool for 5 minutes or so before serving it up!
If you're intimidated by any part of this recipe, just remember that it's really hard to go wrong with mac and cheese. Even if your sauce is a bit lumpy or if you overcook the macaroni a bit, it's still going to be delicious. You'd have to work to make this dish not delicious.
I really liked baking it in a cast iron dish because of the crispy edges, but like I said, you could definitely just serve this up as a creamy style mac and cheese dish also.
Bust out your cast iron and give this a shot!
Don't Have a Cast Iron Skillet?
A few more cheesy dinner ideas!