There's this really cool spot across from the Austin Convention Center called Moonshine. They serve kind of new style Southern food. Stuff like chicken fried steak that's as big as a plate, but then they also bring out free spicy popcorn when you sit down. It's that kind of place. While I was in Austin I met some of my family that I haven't seen in a very long time for dinner there one night and I really loved the food.
My favorite thing was this slightly spicy macaroni and cheese dish that had green chiles, black beans, corn, and chicken. It was so delicious I mentally bookmarked it as something I had to try to replicate.
I'm not sure how technically close my version is to theirs, but it tasted darn close to their version so I'll count it as a win!
Green Chile Mac and Cheese
A slightly spicy macaroni and cheese with some great add-ins like green chilis, seared chicken, black beans, and corn. Great as a meal or a side!
Ingredients
1

pound

elbow macaroni

1

large chicken breast

,

grilled or pan seared

2

poblano peppers

,

Or hatch chiles

1

Cup

black beans

,

canned

1

Cup

sweet corn

,

frozen works best

1

pound

pepper jack cheese

3

Cups

Milk

1

small onion

,

diced

4

Tablespoons

butter

4

Tablespoons

all-purpose flour

1

Cup

panko breadcrumbs

Salt and Pepper
Instructions
To roast peppers, add them directly to the flame over a grill or a gas stove. Turn the peppers ever minute or so until they are completely charred. Add the peppers to a bowl and cover with plastic wrap. Let sit for 10 minutes to steam.

Remove peppers and peel or rub off skin. Don't rinse the peppers under water. Once peeled, remove seeds and dice them up.

If you're using chicken, season it with some olive oil, salt and pepper, and some dried chili flakes if you have some. Sear it for about 5 minutes a side and then finish it in a 350 degree oven until cooked through, about 15 minutes. You could also grill it. Let the chicken rest for a few minutes and then dice it up into small bites.

Toast panko crumbs in a dry skillet over medium heat for about 5 minutes, tossing occasionally. They should be lightly browned. Set aside for later.

Drain and rinse black beans from can and set aside.

Melt butter in medium to large pot over medium heat. Once melted add diced onion and cook until onion is soft, about 5 minutes. Stir in flour and cook for another few minutes.

Whisk in milk in 1 cup batches. Add it slowly to avoid lumps. Continue to cook the sauce and turn the heat down to medium-low once the milk is added. It should start to thicken and be the consistency of a light gravy.

Whisk in cheese and once cheese is melted, add roasted chiles.

Cook macaroni according to package, drain, add macaroni back to pot and add cheese sauce to macaroni. Stir to combine, then add diced chicken, beans, and corn. Season with salt and pepper.

Before serving, add toasted breadcrumbs on top.
Nutrition
Serving:
1
bowl
|
Calories:
661
kcal
|
Carbohydrates:
67
g
|
Protein:
35
g
|
Fat:
28
g
|
Saturated Fat:
17
g
|
Polyunsaturated Fat:
2
g
|
Monounsaturated Fat:
8
g
|
Trans Fat:
0.2
g
|
Cholesterol:
95
mg
|
Sodium:
513
mg
|
Potassium:
625
mg
|
Fiber:
5
g
|
Sugar:
9
g
|
Vitamin A:
930
IU
|
Vitamin C:
26
mg
|
Calcium:
577
mg
|
Iron:
2
mg
Did you make this recipe?
There's some good stuff in this mac and cheese, but try not to add too many fillers. One cup of beans and corn is enough to give it some good texture. At the end of the day you want it to be a mac and cheese with some stuff in it, not a salad covered in cheese sauce.
Roasting the peppers
If you're in a pinch, you could use the canned roasted peppers that they sell for this, but if you have a grill or a gas stove, you can just roast your own. It just takes a few minutes and is a cool party trick.
Crank your heat up to high on your gas stove or grill and lay the peppers right on the flames. Turn them every minute or so until they are almost completely charred. You're looking for like a 90% char coverage.
When they are done, add them to a bowl and cover them with some plastic wrap.
The plastic wrap will help them steam and make them easier to peel. Let them sit for about 10 minutes. After that they should be cool enough to handle and also the skins should peel right off.
To Wash or Not To Wash
When you're roasting peppers, it's kind of a messy job to peel them. You'll be tempted to run the peppers under water to rinse off all the extra skin. I do not recommend this. It'll make your peppers cleaner, but it'll also wash off a ton of great flavor that's on the outside of the peppers. They been steeping in their own delicious pepper juices for 10 minutes and to wash all that off is crazy talk.
So just do your best to get off most the skin and then remove the seeds, dice them up, and add them to a bowl.
Other ingredients
The original mac and cheese dish had some grilled chicken that was folded in to the mac and cheese. It wasn't an excessive amount of chicken. Just a few pieces here and there.
I seasoned a few chicken breasts with olive oil, salt and pepper, and some dried chili flakes. Then I just seared them for about 5 minutes per side in a cast iron skillet and then finished them off in a 350 degree oven until they were cooked through, another 15 minutes or so.
You could just as easily grill these or, heck, just leave them out.
I only used one of these for the actual mac and cheese.
The other thing that made this recipe was some toasted breadcrumbs that they added on top of the mac and cheese right before serving it. Since it's not a baked dish, it needs some crunchy texture.
I added about a cup of panko to a dry skillet and toasted it until it turned a nice tan color, about 5 minutes. Sprinkle this on the dish right before serving it.
Making the cheese sauce
The important part of this dish is obviously the cheese sauce. I made a pretty standard version, but added some onion to my roux and also used pepper jack cheese to give it a bit of a kick.
Start by adding your diced onion to the butter in a good sized pot. Stir the onion and butter over medium heat until the onion is translucent and soft, but not browned, about 5 minutes. Then add in the flour and continue to cook for another few minutes.
At this point you'll have a standard roux with some onion mixed in.
Slowly whisk in your milk to the roux in 1 cup batches. It should thicken up pretty nicely. After three cups it might be a bit runny, but continue to simmer it over medium low heat and it'll thicken up. When it gets to the consistency of a light gravy, start stirring in your cheese.
It's a lot of cheese, but it'll fit.
Once all your cheese is melted, stir in your green chiles also!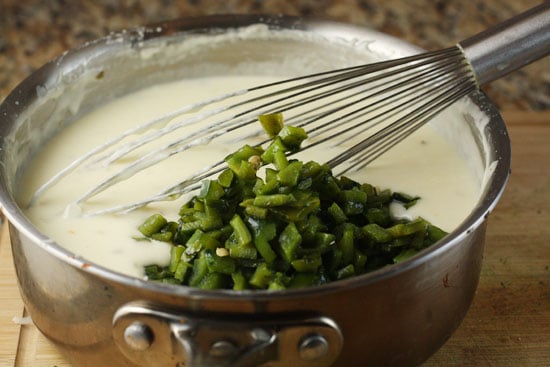 Finishing the dish
Cook the macaroni according to the package and when it's done, drain it and add it back to the pot. Then stir in the green chile cheese sauce!
It might look a bit runny, but it'll thicken up as we add more stuff and it cooks together a bit.
Stir in the chicken, corn, and black beans. Continue to stir it over low heat and season it with salt and pepper. It'll need a good pinch of both.
You can serve it right out of the pot!
If you were making this for a dinner party or something (recommended) you might want to put it in something more decorative.
It's one of the best mac and cheese dishes I've made!
I forgot to sprinkle on the breadcrumbs before snapping my last picture, but they are pretty essential. Don't forget them! They give the dish some great crunchy texture.
This might not be a beginners mac and cheese. You have to make a cheese sauce, roast some peppers, and maybe sear some chicken, but it's totally doable and it makes a mountain of food.
If you're a mac and cheese fan then you should give this a shot. If you aren't a mac and cheese fan then I'm not sure why you read this far!