This is a continuation of an ongoing competition I'm having with myself to find the ultimate grilled cheese sandwich. I got this idea from a comment on my previous attempt at a good grilled cheese (Thanks Phil!). It's been a while since my last post but I made a note that I wanted to try this. This is the pesto and brie grilled cheese:
This sandwich is not terribly hard. I guess the hardest part is making the pesto. You could totally buy it if you wanted, but I never think that store-bought pesto has quite the kick that homemade can have.
Pesto and Brie Grilled Cheese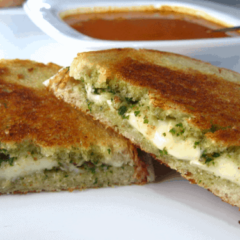 A simple pesto grilled cheese on sturdy sourdough with lots of gooey brie cheese.
Ingredients
Pesto:
½

cup

basil

4

Tablespoons

olive oil

,

adjust to your taste/texture

3

cloves

garlic

Handful of pecans

2

Tablespoons

cilantro

Salt and Pepper
Grilled Cheese:
4

sturdy slices bread

8

ounces

brie

,

rind removed

2

tablespoons

unsalted butter

Pesto
Instructions
For pesto, pulse ingredients in a food processor and drizzle in olive oil. Pulse until it forms a rough paste. If you don't have a little food processor you can finely chop the ingredients.

Lightly butter your four pieces of bread and cut the rind off of the brie cheese. Cut it into slices.

Slather each bread piece with pesto on the non-buttered side.

Add two slices of bread, butter side down to a pan over medium heat. Top each piece with brie and add the second piece of bread, butter side up.

Cook sandwich for about 3-4 minutes per side until browned lightly and the cheese is melted.

Serve it up while hot!
Nutrition
Serving:
1
Sandwich
|
Calories:
888
kcal
|
Carbohydrates:
29
g
|
Protein:
30
g
|
Fat:
73
g
|
Saturated Fat:
31
g
|
Polyunsaturated Fat:
5
g
|
Monounsaturated Fat:
33
g
|
Trans Fat:
0.5
g
|
Cholesterol:
144
mg
|
Sodium:
981
mg
|
Potassium:
293
mg
|
Fiber:
2
g
|
Sugar:
4
g
|
Vitamin A:
1366
IU
|
Vitamin C:
3
mg
|
Calcium:
301
mg
|
Iron:
3
mg
Did you make this recipe?
This is pretty cheap pesto for me to make as I usually have some ingredients lying around for a pesto. The only thing I bought for this was the cilantro (we have a small basil plant that keeps us happy in that department). There are tons of pesto substitutions you can use. Instead of pecans try pine nuts. Instead of cilantro, try parsley. Or leave them out.
Don't stress about it. It will be delicious. I don't think I've ever made the exact same pesto twice.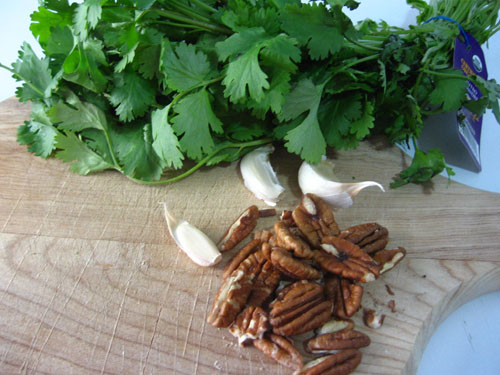 Anyway, once you have all of these things, give them a few pulses in your processor. If you don't have a food processor, I guess you could very finely chop up the ingredients and then stir it together with the olive oil. That would be much more work though obviously.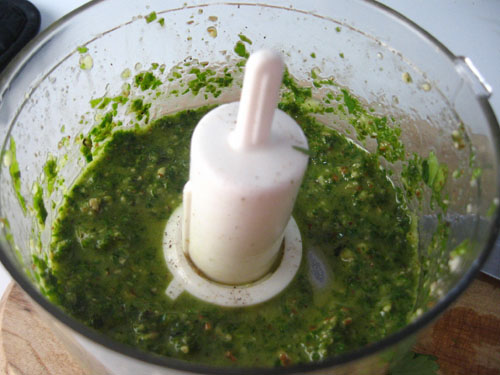 The second part of this sandwich is the brie. This makes this sandwich a bit expensive, but man is it good. I found an 8 ounce wheel of brie for $6. I was actually planning on using Mozzarella but they were out so I went with this. Either would work I think.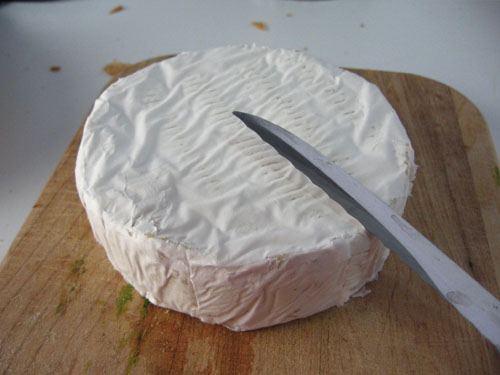 The thing about brie is that it is supposed to be eaten as a spread. It is really soft and kind of awkward to work with. I cut off the rind on my wheel and then tried to slice up the stuff. This amount of cheese made two large sandwiches.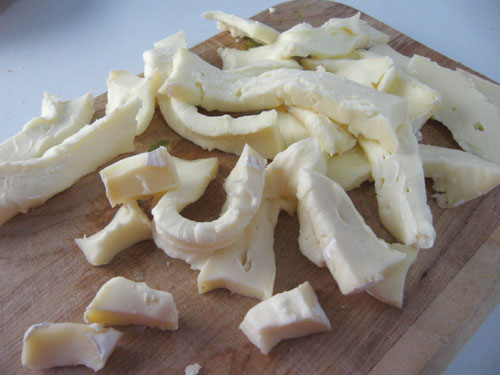 The third ingredient in this equation is the bread. I went with a nice sourdough which was a good choice. It held up perfect to the filling. I think sourdough may be the perfect grilled cheese bread actually because it cooks really evenly and doesn't burn as quickly as white bread. At the same time, it doesn't overpower the filling like a rye bread would do.
Butter up one side well on four slices.
Then flip over each piece and slather on the pesto. You want pesto on the top and the bottom! My fear at this step was that this would be too pesto-y. Nope. It was awesome.
Then I used my pan as a place to build my sandwich. Piled in my brie and put on the top piece.
Cook these guys on medium heat until the brie is melted and the bread is nice and brown.
Ranking:
Cheesiness: 8. Brie is just a lovely cheese for a sandwich. It melts quickly and is very gooey and delicious.
Bread: 10. I don't think I can beat the bread on this sandwich as far as grilled cheese goes. I'm going to keep trying, but this was supreme.
Fillings: 8. Pesto was perfect and flavorful and complimented the cheese well.
Overall: 9. This is going to be a tough sandwich to beat.
If you liked this post, I would love it if you shared it by using the below buttons and widgets!