On the cusp of Mother's Day, I tried to think of what my wife would most like me to make. While I can make many good brunch items, in her heart of hearts, she is a breakfast burrito lady. After all, is there anything better than a delicious breakfast burrito to start your day?
Luckily, you don't need a special occasion to make these microwave breakfast burritos. Now some people might scoff at the microwave, but I assure you that the microwave was made for breakfast burritos.
It allows you to cook all the ingredients quickly and then combine them into a steamy, soft flour tortilla. It's truly a modern marvel of a recipe and one that can be done in your kitchen faster than it would take you to stop at a burrito place on the way to work!
Dig in and let's make breakfast burritos!
Why the microwave works for breakfast burritos
In my opinion, the best breakfast burritos have fluffy, cheesy eggs, potatoes, some sort of green chile sauce, and some good vegetables. Those are essential. Of course, meat is often included in breakfast burritos but I could take it or leave it.
All of the essentials for my dream breakfast burrito can be made with great success in a microwave and then you can also use the microwave to lightly steam the tortilla so it is really flexible and easy to roll.
It's a win-win and makes this recipe truly doable on a busy Tuesday.
First though, let's start with the potatoes!
How to cook potatoes in the microwave
The trick to cooking these potatoes in the microwave is to dice them fairly small, add some water, and add some sort of spicy Tex-Mex sauce to them as well. When they come out of the microwave you can mash them up lightly to mix the flavors.
About three minutes should be all it takes to make your potatoes tender assuming you have a decent, modern microwave and you've diced your potatoes into about 1/4-inch cubes. Worst case scenario maybe you need an extra minute.
I love mashing all the ingredients together and using that as kind of a glue layer for the burrito.
How to make fluffy eggs in the microwave
It wouldn't be a breakfast burrito without some eggs. Actually, you need just a single egg for this burrito although you could use two and double it to make two burritos.
In a microwave safe bowl, combine the diced bell peppers, corn, and scrambled eggs. Microwave that on high for 90 seconds and the egg will be very fluffy and light. I'd recommend seasoning the egg with a pinch of salt as I like to season all my layers individually.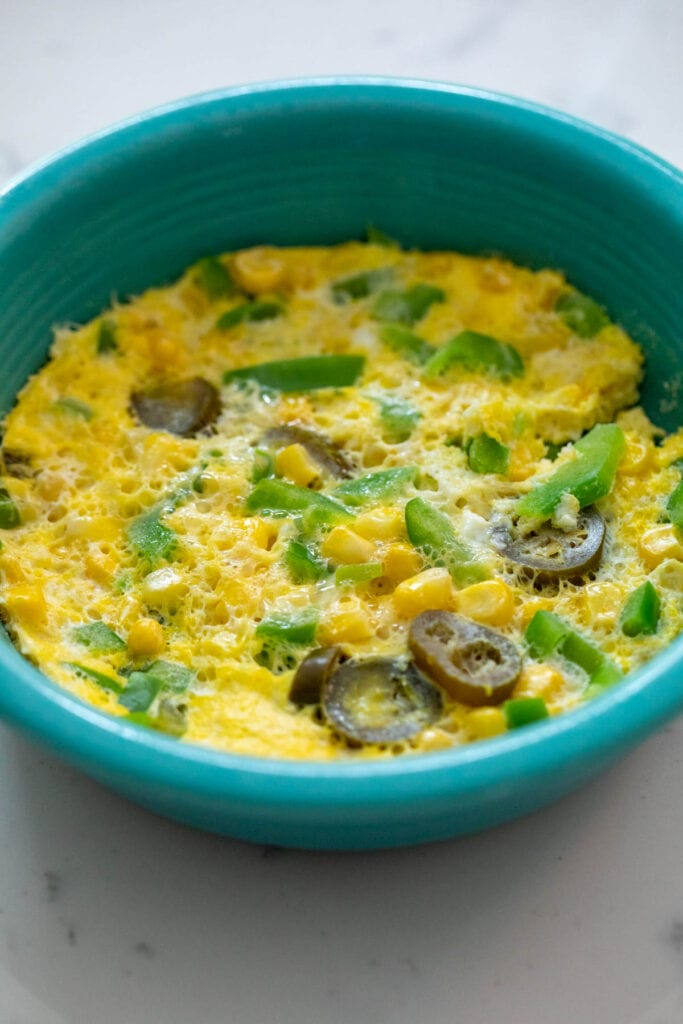 The microwave works great for easy scrambled eggs because it creates a lot of steam and puffs up the egg as it cooks it.
How to combine the breakfast burrito ingredients
Once you have your eggs and potatoes cooked, you just have to roll everything up in a flour tortilla!
To make the tortilla easier to roll and melt some of the cheese, I recommend mashing some avocado on the tortilla and adding a sprinkle of cheese. Then microwave that for about 30 seconds. This will loosen the tortilla and melt the cheese!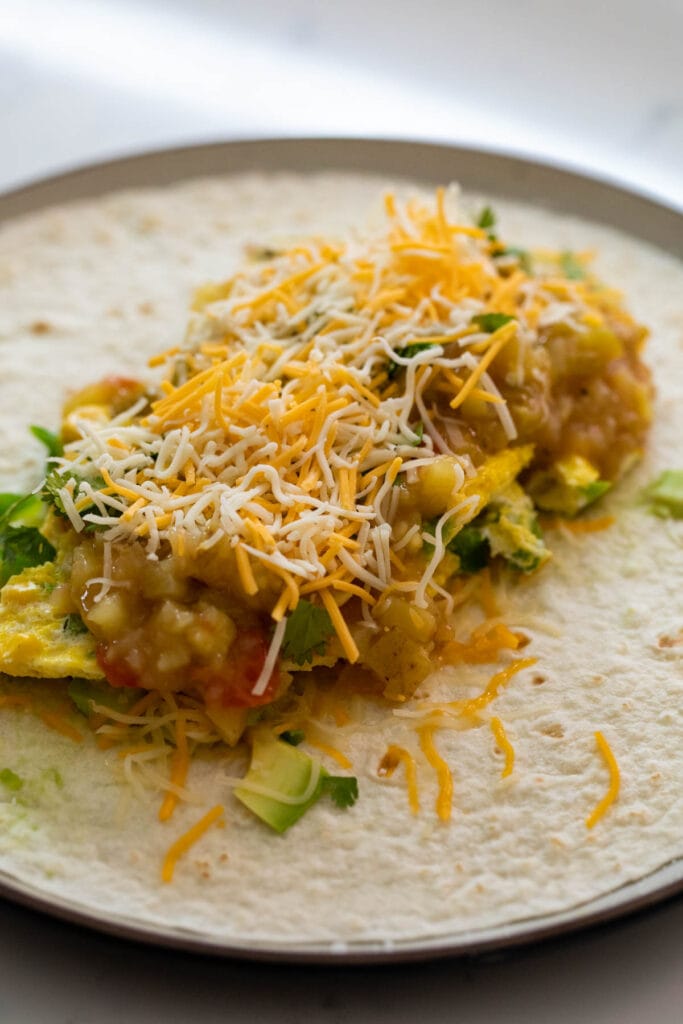 Then you can add your potatoes and egg mixture and more cheese! Season with salt and pepper and roll it up! If the filling ingredients have cooled off, you can microwave them for another 30 seconds to make sure they are steaming hot.
Roll up the burrito tightly by folding in the ends and then rolling it into a tight cylinder.
Ingredients and substitution ideas
You can probably guess that there are any number of substitutions you could make for these burritos. Here are some ideas!
Add other Tex-Mex veggies like onions, black beans, or more peppers.
Add pre-cooked proteins like crispy bacon, crumbled sausage, or ham.
Instead of diced potatoes, use frozen hash browns.
Add sour cream to the burrito if you want a creamier filling.
If you wanted to make a few of these, you can freeze them once they are rolled although I tend to like them best fresh.
How to take this microwave breakfast burrito on the go
This probably isn't a shock, but these are amazing as an on-the-go breakfast. Once you have your burrito wrapped tightly, wrap it in aluminum foil to keep it hot and it'll stay warm for 15-20 minutes.
I prefer foil over paper towels, which can get slightly soggy and don't hold in heat as well, but they will work okay in a pinch.
Microwave Breakfast Burritos with Potatoes
This microwave breakfast burrito is not just delicious, but also ready in 10 minutes and includes green chile potatoes, eggs, veggies, and cheese!
Ingredients
½

cup

diced Russet Potatoes

⅓

cup

water

¼

cup

green chile sauce

2

tablespoons

diced bell pepper

2

tablespoons

frozen sweet corn

1

tablespoon

pickled jalapenos

1

large

egg

1

tablespoon

fresh cilantro

,

minced

½

cup

shredded cheese

¼

large avocado

,

mashed

1

large

flour tortilla

Salt and Pepper

,

to taste
Instructions
Stir together diced potatoes with water and green chile sauce. Microwave potatoes on high for 3 minutes. Potatoes should be very tender. If not, microwave for another minute. Lightly mash the potatoes and season with a pinch of salt.

Mix together green peppers, corn, jalapenos, cilantro, and egg. Microwave mixture on high for 90 seconds until egg is fluffy and cooked through. On a large plate, lay out tortilla and top with mashed avocado. Then add half the cheese. Microwave tortilla for 30 seconds. Add potatoes and egg mixture and top with the rest of the cheese. Season with a pinch of salt and pepper and roll into a tight burrito.

Serve burrito immediately or wrap in foil for on-the-go eating.
Nutrition
Serving:
1
burrito
|
Calories:
535
kcal
|
Carbohydrates:
48
g
|
Protein:
26
g
|
Fat:
28
g
|
Saturated Fat:
11
g
|
Polyunsaturated Fat:
3
g
|
Monounsaturated Fat:
11
g
|
Trans Fat:
0.02
g
|
Cholesterol:
230
mg
|
Sodium:
960
mg
|
Potassium:
992
mg
|
Fiber:
9
g
|
Sugar:
5
g
|
Vitamin A:
1111
IU
|
Vitamin C:
55
mg
|
Calcium:
402
mg
|
Iron:
4
mg
Did you make this recipe?
Here are a few other recipes to try!