Thanks to everyone who sent me emails, tweets, and facebook messages over the last few days asking how I was doing.
The surgery went really well and I'm well on my way to a full recovery. I'm already off the pain meds and getting around decently on crutches.
Before I had surgery I made four different frozen meals for me and Betsy so neither of us would have to worry about cooking for a week or so while I was recovering. They all turned out really great so I figured I would share them with you all this week.
That's right. This week is Frozen Week here at Macheesmo. Every post will involve some sort of dish that's made to freeze.
To get things started I made a rather large batch of burritos for us to eat. I've made frozen burritos in the past so I thought it would be fun to send this batch through The Homemade Trials and compair it to two popular store-bought frozen burritos.
If you aren't familiar with The Homemade Trials, I make a popular dish that can also be purchased in the store and then compare them in the areas of TIME, COST, NUTRITION, and TASTE. I hope that my version wins, but sometimes it doesn't.
Let's see how burritos stack up.
My Burritos
I kept my frozen burritos pretty basic because the frozen varieties tend to be basic as well. I went with a rice, bean, and cheese variety.
Green Chile Rice and Bean Burritos
A simple, but great, frozen burrito recipe plus a cost and nutrition breakdown compared to a few popular store-bought versions.
Ingredients
10

large tortillas

1 ½

cups

medium grain white rice

,

uncooked

2

15-ounce cans black beans

,

drained

1

14-ounce can diced tomatoes

1

tablespoon

ground cumin

1 ¼

cups

green chile sauce

, I like 505 brand

10

ounces

pepper jack cheese

,

grated

Salt and pepper
Instructions
Add white rice to a large pot with recommended amount of water and cumin and a pinch of salt.

Add diced tomatoes to rice, bring to a simmer, cover, turn heat down to low, and cook until water is evaporated (this time will be different depending on the rice you are using).

Once rice is cooked, add in black beans and season with salt and pepper. Then let rice and bean mixture cool slightly.

To make a burrito, lay out a large burrito, top with 1 ounce of grated cheese. Top with 1/2 cup (about 4 ounces) of rice and beans then add two tablespoons of green chili sauce.

Wrap burrito tightly. Then wrap it in foil tightly.

When all the burritos are done, stick the wrapped burritos into large gallon-sized freezer-safe plastic bags and freeze them.

You can either reheat burritos in the microwave for about 4 minutes (turning halfway through) or for 30 minutes in a 400 degree oven, also turning. I prefer the oven just because the tortilla gets nice and crispy, but both work great.
Nutrition
Serving:
1
burrito
|
Calories:
397
kcal
|
Carbohydrates:
53
g
|
Protein:
14
g
|
Fat:
14
g
|
Saturated Fat:
7
g
|
Polyunsaturated Fat:
2
g
|
Monounsaturated Fat:
4
g
|
Cholesterol:
25
mg
|
Sodium:
683
mg
|
Potassium:
161
mg
|
Fiber:
3
g
|
Sugar:
2
g
|
Vitamin A:
248
IU
|
Vitamin C:
6
mg
|
Calcium:
319
mg
|
Iron:
3
mg
Did you make this recipe?
I used a basic rice and bean mixture for my burrito base. Basically, I just simmered some rice with some canned diced tomatoes and a pinch of cumin. When the rice was cooked, I stirred in a few cans of drained black beans and seasoned the whole pot with salt and pepper.
There's not any rocket science to the actual burrito process, but if you want a step-by-step, check out the printed recipea above.
I actually measured out my ingredients for this version just so I could have accurate nutrition and cost information, but normally I just throw everything together.
If you do measure it though, you should end up with approximately a 9 ounce burrito which is a pretty large burrito.
I made ten of these and just wrapped them all in foil and then froze them in large freezer-safe plastic bags. I had a lot of rice and beans left over also which was great to eat on its own.
There are two ways to reheat these guys: 1) Microwave them for about 4 minutes, turning halfway through or 2) in a 400 degree oven for 30 minutes. The benefit of the oven method is that the tortilla gets nice and crispy. The obvious benefit of the microwave is that it takes four minutes.
I use both depending on time.
Let's get down to the fun part though: The breakdown.
For this trial, I'm comparing my homemade version to two very popular store-bought varieties: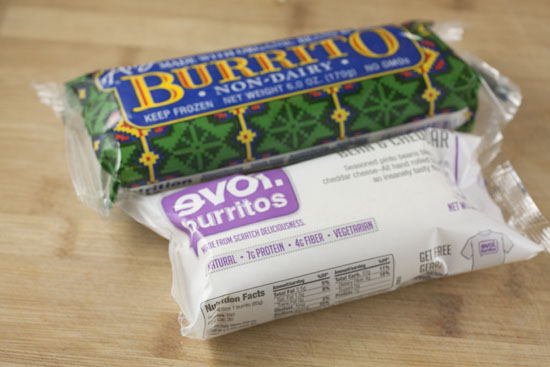 Let's see how they stack up!
TIME
You might think that this is a shoe-in for the store-bought version, but it really depends on your buying habits.
Let me explain. I made ten burritos that are in my freezer and accessible now any time I want. When I used to eat store-bought frozen burritos a lot for lunch, I would go to the store every day and buy two of them.
This wasn't efficient at all and I guarantee you that if you do that you waste more time over the course of the week than the amount of time it took me to make these.
BUT, I'll assume that most people aren't as silly as I am and buy their frozen burritos in bulk. If that's the case then you save some time buy buying them over making them so I'll give TIME to the store-bought versions.
COST
This one is fascinating and maybe the most distinct cost difference of any homemade trials I've done. Keep in mind that one of the smaller EVOL burritos is 3 ounces so it takes three of them to equal one of my homemade burritos. The Amy's burrito is 6 ounces so you would need 1.5 of those burritos to equal one of my homemade versions.
Also, the Evol burritos were on sale. They are normally $1.49/burrito which is just ridiculous for how small they are.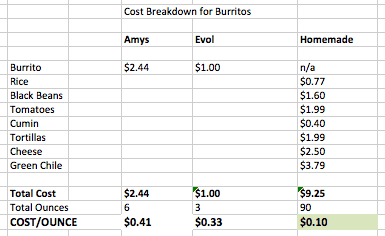 So, the cost per burrito for my homemade version is about 93 cents per burrito. That still beats the store-bought versions, but the real shock is when you look at the cost per ounce.
The mark-up on store-bought frozen burritos is one of the worst I've seen. COST goes to homemade burritos by a longshot.
NUTRITION
As always, I wasn't really sure how my burritos would stack up nutritionally. Again, it's important to do an even comparison so I just rounded up everything to a nine ounce serving which means three of the small burritos and 1.5 of the Amy's burritos.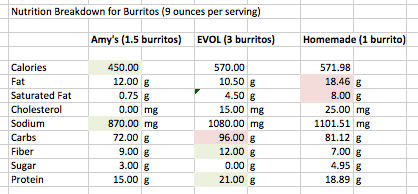 As soon as I finished these calculations, I noticed something had to be wrong. Frankly, the Amy's version was just too healthy. I looked at the packaging and noticed that it was a non-dairy product which means NO CHEESE.
So Amy's is the healthiest, but it's not exactly fair because if you remove the cheese from my burritos and the EVOL burritos then we would be on pretty equal footing. Just as an example, my 1 ounce of cheese has 112 calories in it, so if you subtract that from my burrito, the calorie count becomes very similar.
There's really only two variables that I could think of to make up for the fat differences between my burritos and the EVOL burritos: The cheese ratio used and the tortilla used. If you were truly concerned about nutrition, you could probably find a healthy tortilla option and use slightly less cheese and really improve on my nutritional information.
I like my burritos to be cheesy and delicious though so I guess that means I lose the nutrition category. I'll give the NUTRITION area to the STORE-BOUGHT brands.
TASTE
To be honest, all of the burritos were good. I actually really like Amy's burritos even if they will put a pretty large dent in your wallet.
That said, my burritos won the TASTE category. I tried to be as unbiased as possible, but mine were cheesy, slightly spicy, really filling, and I thought my tortillas were better.
Again though, the nice thing about homemade is that you can make them exactly to your tastes. If you walk into a store, you have to choose from what's there.
So I'll give the TASTE category TO HOMEMADE!
Conclusion
This one is a tie. Store-bought won on TIME and NUTRITION (slightly) and homemade won on COST (largely) and TASTE.
This one comes down to money versus time. Is it worth it for you to spend around an hour making burritos and save roughly $20? For me, it is.
That said, if you're time-crunched you shouldn't feel bad buying the store-bought versions mentioned above. They are reasonably healthy (for burritos) and taste great.