I get a lot, like a lot, of questions about poached eggs. This might have something to do with me busting out seven perfect eggs benedict dishes in fifteen minutes on Food Fighters last year, but I also just cook a lot of eggs and post a lot of egg dishes.
There is a total mental block that many people have with poached eggs. They are seen as a restaurant dish – something that you order when you are out to eat. They must be much too hard to make at home.
The truth is that they aren't at all hard to make (see my caprese breakfast for an example), but I get that it can be a bit intimidating to drop an egg (or 8) in a huge pot of simmering water and hope for the best.
So, my goal with this post is to completely remove any stigma that poached eggs are hard. You can make them in the freakin' microwave. But, as you might guess, to get that perfect poached egg doneness, it's a bit more difficult than popping an egg in the microwave and hitting a button.
But you can do it. Anybody with a microwave can do it. You don't even need a pot.
Microwave Poached Eggs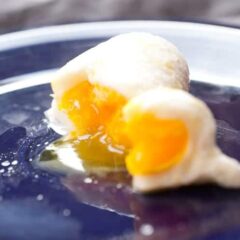 How to poach an egg in the microwave with great results in just a few minutes! The clean-up is easy and you'll be eating a great breakfast in no time!
Ingredients
4

cups

water

1

tablespoon

vinegar

2

large eggs
Instructions
Crack eggs, one at a time, into a mesh strainer and strain off any very loose clear white liquid from the egg. Transfer egg to a clean bowl.

Pour 4 cups water into a microwave safe bowl with 1 tablespoon vinegar. Microwave for 4 minutes on high until the water is steaming hot and nearly boiling.

Carefully pour eggs, one at a time, into the hot water. Cover the bowl with a plate and let it rest for 90 seconds.

Gently move eggs with a spoon. Microwave for 30 seconds on high.

Cover with a plate and rest for another 90 seconds.

Test eggs by lifting them out of the water with a spoon. If they are done, the whites will be set and the yolks still give a bit. If they are still uncooked a bit, return them to the hot water and let them cook for another 30 seconds. You might need to even heat them for 15 more seconds in the microwave.

Remove cooked eggs and drain them gently on some paper towels.

Serve eggs on toast or with salt and pepper!
Nutrition
Serving:
1
Egg
|
Calories:
64
kcal
|
Carbohydrates:
0.3
g
|
Protein:
6
g
|
Fat:
4
g
|
Saturated Fat:
1
g
|
Polyunsaturated Fat:
1
g
|
Monounsaturated Fat:
2
g
|
Trans Fat:
0.01
g
|
Cholesterol:
164
mg
|
Sodium:
67
mg
|
Potassium:
61
mg
|
Sugar:
0.2
g
|
Vitamin A:
238
IU
|
Calcium:
91
mg
|
Iron:
1
mg
Did you make this recipe?
Microwave Facts
This probably isn't going to blow your mind, but microwaves cook differently than stoves. A stove will heat in one direction and the egg will only cook because the water around it is hot.
A microwave however, cooks all liquids the same (because of, you know… waves or whatever). So, if you add a liquid egg to liquid water and microwave it, the egg will heat up at the same rate as the water. By the time the water is hot, the egg will be solid. There's even some stories of people trying this and having the egg explode.
So let's not have exploding eggs.
When dealing with microwaves and eggs, it's important to be gentle. So while my microwave method takes a bit longer than some others I saw online, it has consistently good results.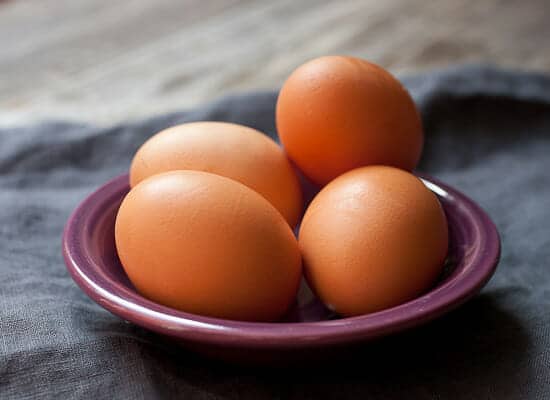 Starting the Poached Egg
So my method to poach eggs in the microwave is a bit of a misnomer. Because I've never had great luck fully cooking eggs in microwaves in any way other than scrambled, I like to mostly use the microwave to heat water and barely use the microwave to cook the egg.
So I start with a lot of water (4 cups) and a little vinegar (1 tablespoon). I zap this for like 4 minutes on high. This should bring your water almost to a boil depending on your microwave. It's actually fine if it is boiling.
Meanwhile, I recommend straining your eggs. This might sound weird, but eggs have a firm white and a more watery white. While the firm white will cook in the water, the liquidy white will just cloud up the bowl and make it harder to see what's happening.
It's not essential, but if you have a mesh strainer, crack the egg into the strainer and let it sit for a minute while your water heats up.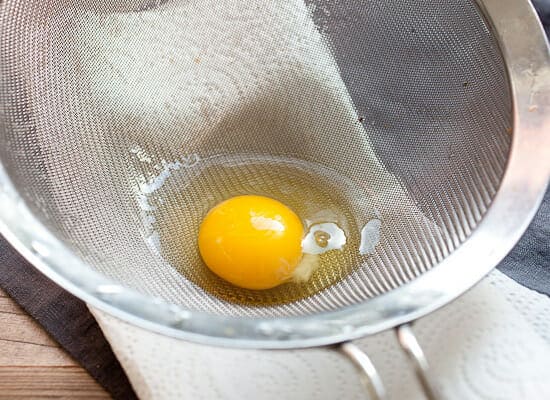 You can poach up to two eggs in four cups of water so if you want to strain a second egg, transfer the first egg to a bowl.
When the water comes out of the microwave, slowly pour in the eggs!
The Time Part
I tried poaching about 20 eggs in the microwave before I landed on the following series that worked really well for me.
After you add the eggs to the very hot water, cover the bowl with a lid or plate and let it rest for 90 seconds.
Then, return the bowl to the microwave and zap it on high for 30 seconds. (This will just give the eggs and water a little boost.)
Then remove the bowl, cover it again, and let it rest for another 90 seconds.
That almost always worked for me, but use a spoon to gently raise out your eggs and test them. The whites should be firm, but the eggs should give a bit. If the whites are still very watery, you can zap the bowl for another 15 seconds and let it sit for another 30-45 seconds.
I had pretty consistently great results with this method though!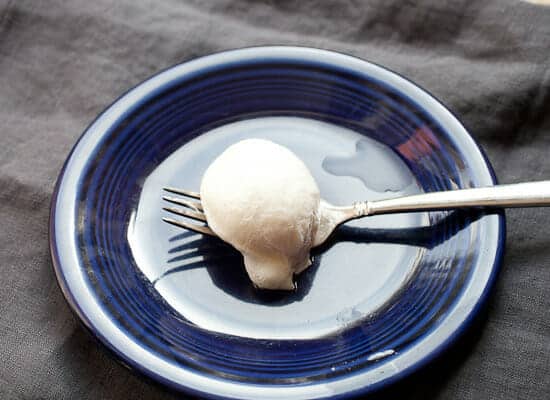 As you know, you can put these on toast or just eat them with a pinch of salt! They are way good. You can reuse your hot poaching water if it isn't too murky.
To be honest, I'm so used to poaching eggs in a pot that I found this method to be more work, but I get that for some people this will be a great intro to making poached eggs at home.
At a minimum it should remove the stigma that you need fancy pants equipment to make poached eggs. All you need is a zapper box!