I've made homemade bagels a few times over the years, and while they are delicious, they are also a lot of work. I had the idea for these Pizza Dough Bagels as a shortcut to the classic process. I was a bit skeptical if it would work, but they were definitely worth smearing with cream cheese!
A caveat is worth mentioning with this recipe. These bagels won't have the classic exterior crunch of a good New York City bagel. That's just pretty hard to get with pizza dough, which tends to have a softer crumb and isn't enriched with malt syrup like classic bagel dough. But if you are comparing them to store-bought bagels, they hold up nicely I think.
Because this is a definite semi-homemade type recipe, I do recommend using a flavorful topping like Everything Spice to give the bagels a boost to flavor and, more importantly, texture. The crunchy topping helps hide a bit that the bagels are missing some of that exterior crunch.
But, all of that said, these Everything Pizza Dough Bagels turned out much better than I was expecting and were an easy and fun baking project!
Everything Pizza Dough Bagels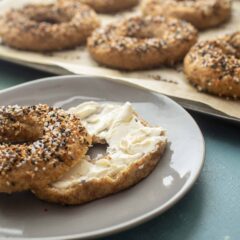 Did you know you can make bagels out of pizza dough?! It's true! They don't quite have the delicious crust as a New York Bagel, but they are pretty tasty. I like mine with Everything seasoning!
Ingredients
1

pound

pizza dough

Cream cheese

,

for serving
Boil mix:
3

quarts

water

1

tablespoon

kosher salt

1

tablespoon

baking soda
Everything Spice:
1

tablespoon

pretzel salt

1

tablespoon

granulated onion

1

tablespoon

granulated garlic

1

tablespoon

poppy seeds

1

tablespoon

sesame seeds
Instructions
Measure out pizza dough in 2.5-3 ounce balls. Roll balls into a smooth ball and place on a baking sheet in a warm area to rise for 10-15 minutes.

After balls have rested, shape each ball into a bagel by pushing fingers through the center of the ball and carefully working the opening larger so you have a nice ring. Return shaped bagels to the baking sheet to rest for another 15 minutes.

Preheat oven to 400˚ F, bring a large pot of water to boil, and mix together spice mix.

When ready to boil, add salt and baking soda to boiling water. Boil bagels for 1 minute per side. After boiling, remove and place on a baking sheet lined with parchment paper. Sprinkle boiled bagels liberally with everything seasoning.

Bake bagels at 400˚ F. for 18-20 minutes, rotating once halfway through. Finished bagels should be golden brown and cooked through.

Serve bagels while warm with cream cheese or butter.

Leftover bagels will deflate a bit, but are still good toasted with toppings.
Nutrition
Serving:
1
Bagel
|
Calories:
217
kcal
|
Carbohydrates:
39
g
|
Protein:
7
g
|
Fat:
4
g
|
Saturated Fat:
1
g
|
Polyunsaturated Fat:
2
g
|
Monounsaturated Fat:
1
g
|
Sodium:
3427
mg
|
Potassium:
50
mg
|
Fiber:
2
g
|
Sugar:
5
g
|
Vitamin A:
2
IU
|
Vitamin C:
0.4
mg
|
Calcium:
98
mg
|
Iron:
2
mg
Did you make this recipe?
How to Make Pizza Dough Bagels
I actually purposefully used a really tough pizza dough for this recipe just to see how it would work. I used a store-bought wheat pizza dough. But, I think a white pizza dough or a homemade dough would work even better!
I started with a pound of dough and knew I wanted six bagels so I measured it out to about 2.8 ounces per bagel.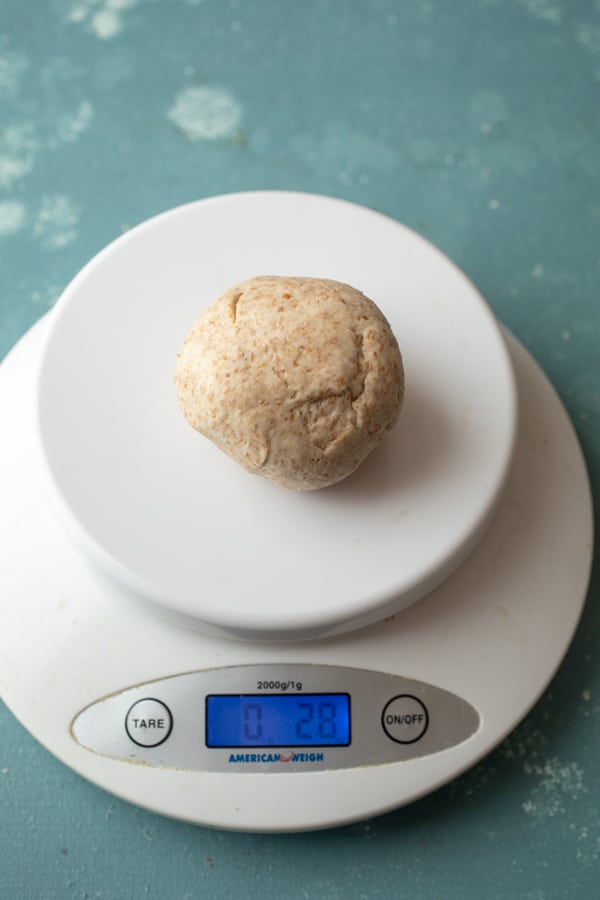 Once the balls of dough are measured, they need to rest for about 15 minutes to warm up and to rise. You could let them go longer, but I put mine in my oven with a pot of boiling water (hot/humid environment) for 15 minutes and it got the ball rolling for sure.
Meanwhile, mix up the everything spice mix!
Heads up: Classic everything mix has POPPY SEEDS, but I didn't have any so I used black sesame seeds. It looks the same and it tastes delicious. Ultimately, you can use whatever topping you like!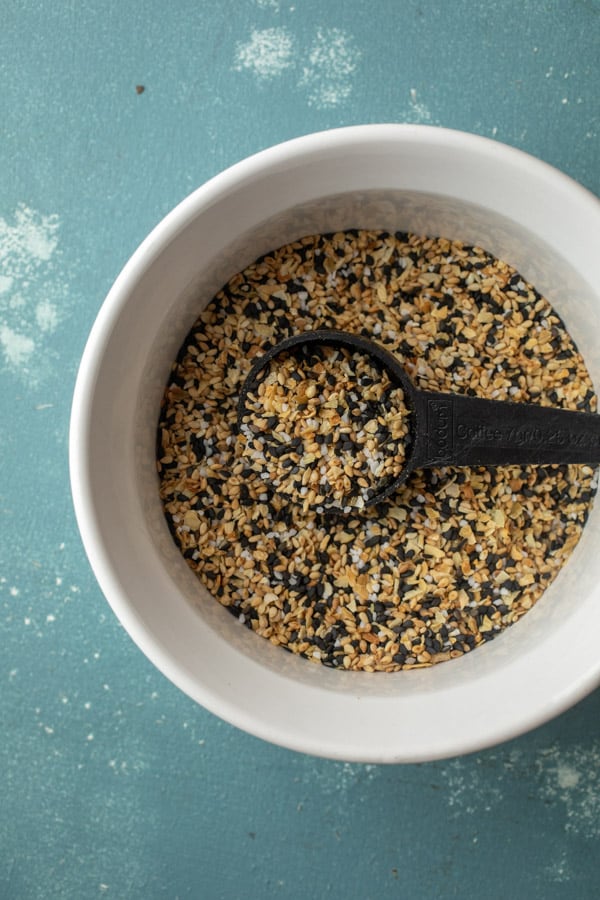 One note on the spice mix. For the SALT, don't use kosher salt. It's actually too fine. Find a good pretzel salt which is super coarse or half the amount of salt in the recipe.
Meanwhile, my dough balls were looking great!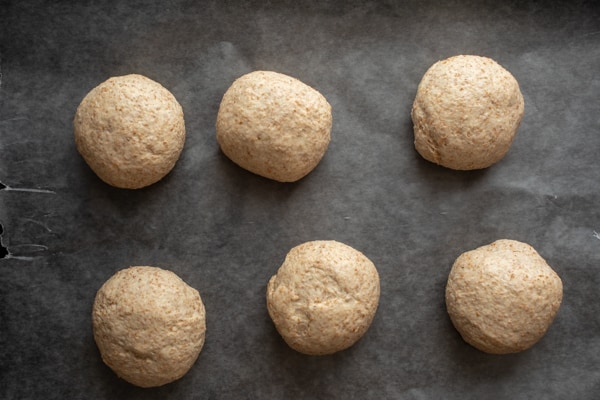 Shaping the pretzels is pretty straightforward. Punch your thumb through the center of the dough ball and then slowly stretch the dough out until it forms, well, a bagel.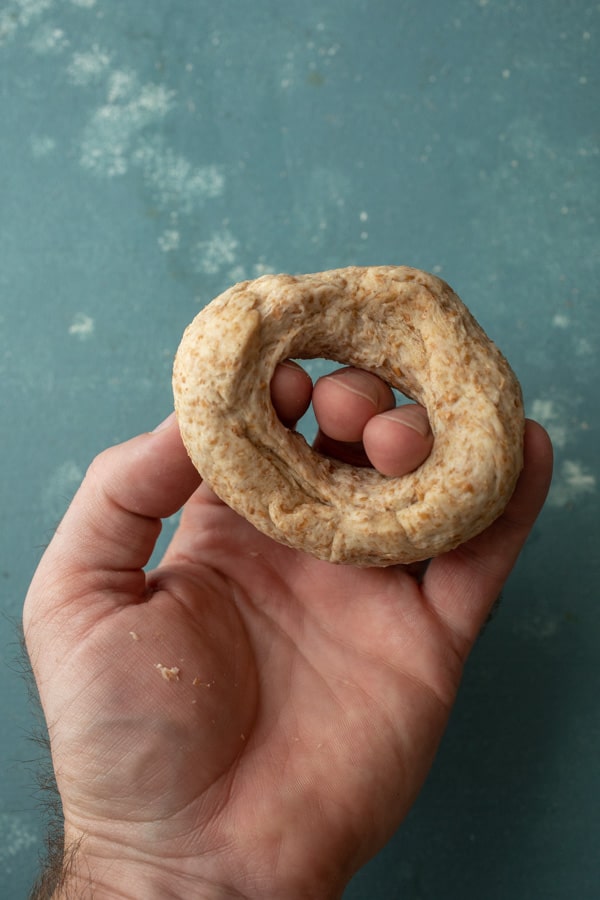 Place your bagels on a baking sheet again and let them rise a second time. Again I did this in a warm, humid environment for just 15-20 minutes. They got nice and puffy!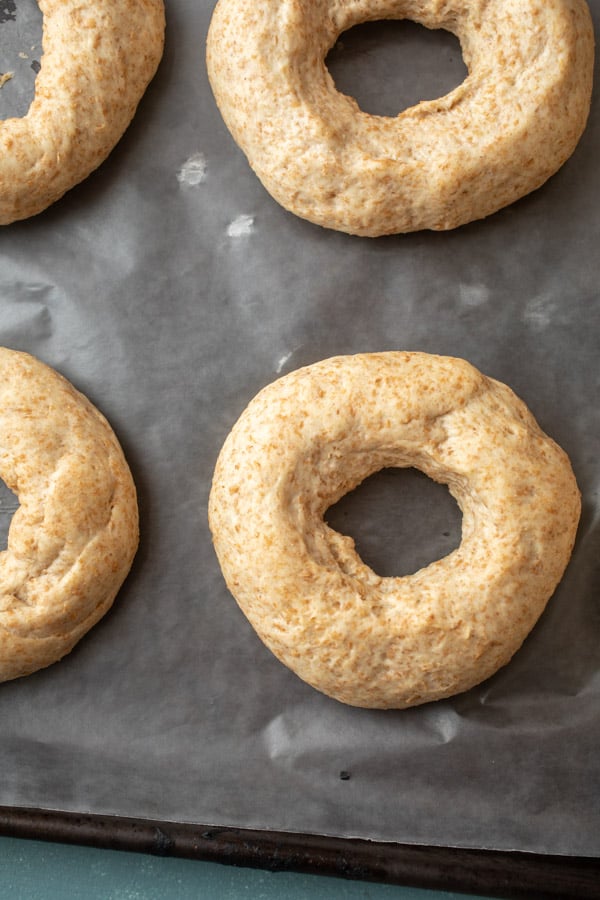 One of the key elements of bagels is BOILING. Yes. Boiling the bagels is important. I like to boil mine in salted water with baking soda. If you make your dough from scratch this is what really gives the enriched dough that nice crust. This didn't really give pizza dough the same crust, but it does help make the interior texture nice and fluffy and also gives a good surface for the toppings to stick to.
One minute per side. That's it!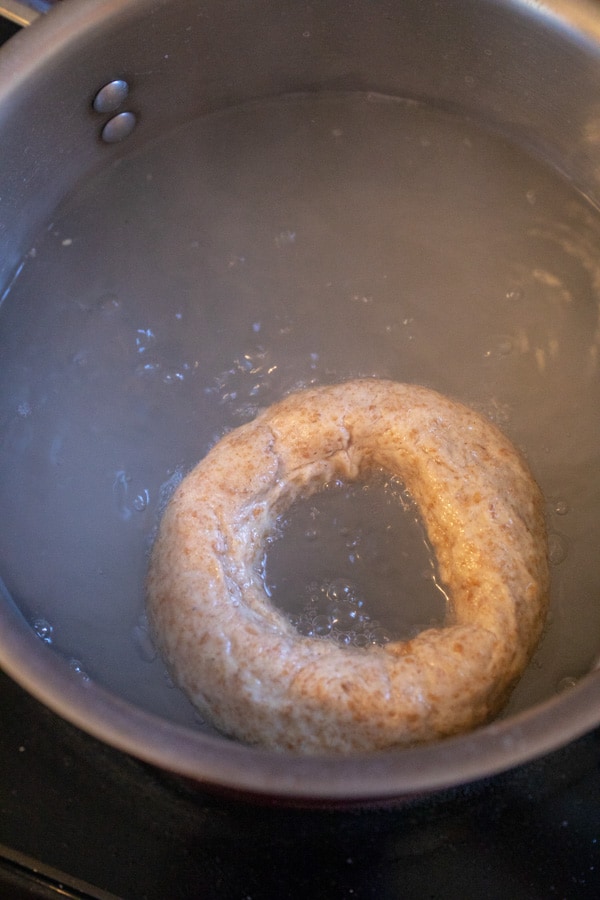 Once the bagels come out of the boil, top them liberally!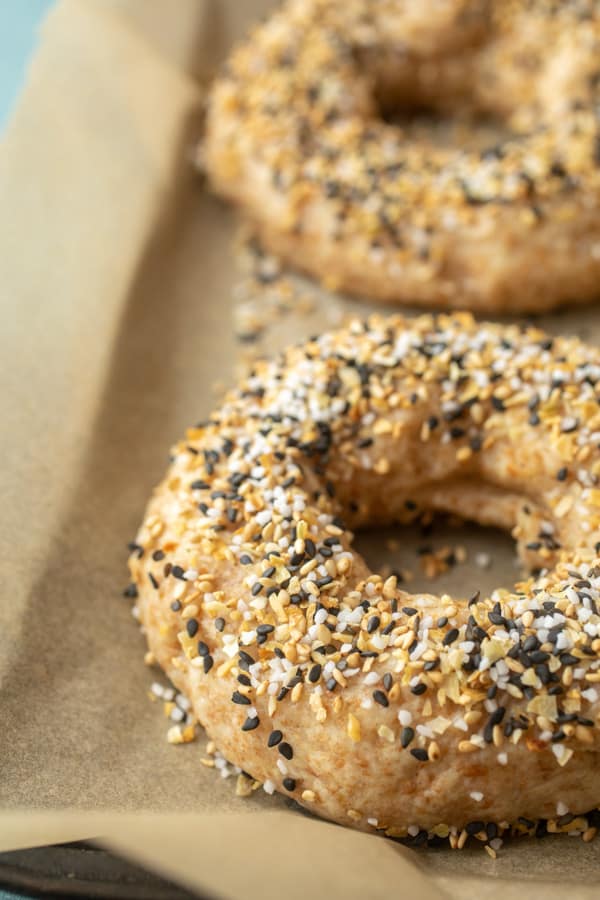 Bake these guys at 400˚ F. for about 18 minutes. They should be golden brown and not doughy at all in the center.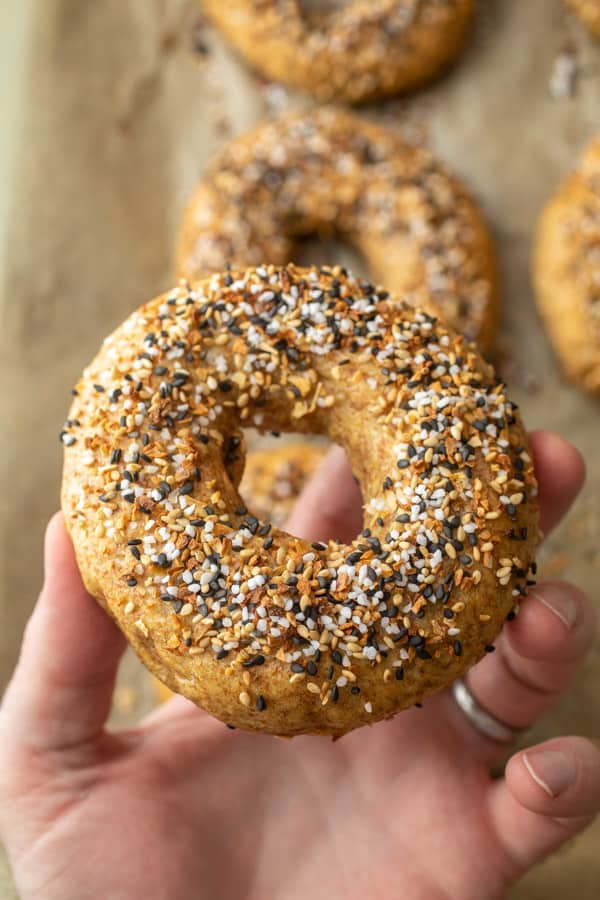 I recommend serving these Everything Pizza Dough Bagels while warm with a good smear of cream cheese.
If you have leftovers, these bagels will definitely deflate slightly when they cool. They don't have the same structure as real bagel dough, but if you slice them in half and toast them, they are still a pretty great breakfast, even on day 2 0r 3!
As always, perfect is the enemy of the good in the kitchen and these are a pretty fun alternative to spending hours making homemade bagels!
Enjoy!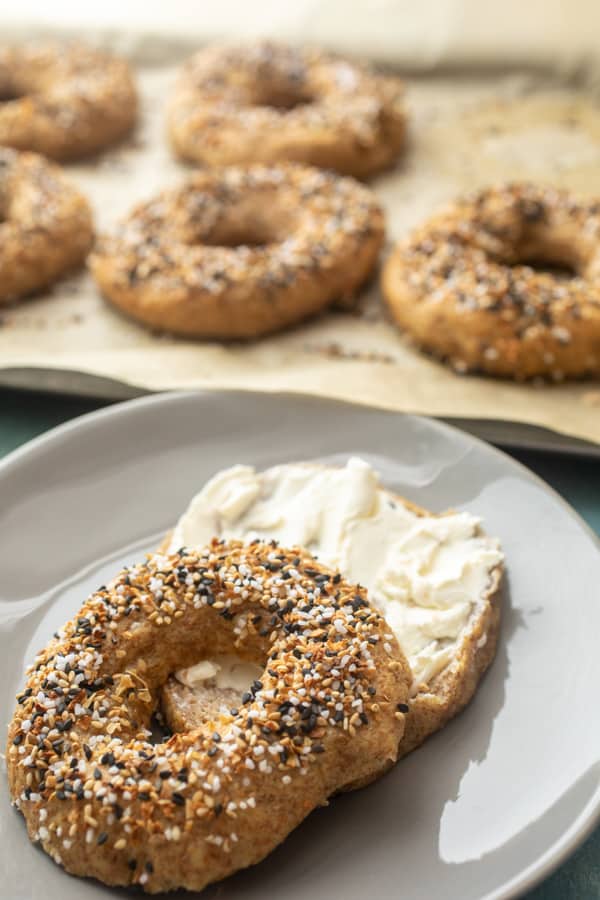 Here are a few other Bagel-Using Recipes!