There are many (many) terrible recipes on TikTok and all social media platforms. Shock recipes are all the rage these days, but occasionally there are true gems that are uncovered as well. I started this little series called Biting Reviews where I review recipes while I eat them. These Rice Paper Eggs are one of the best things I've reviewed.
So I thought I'd post them to share!
These are truly one of the few recipes I've seen online that I've since made many times. I eat this recipe at least once a week for breakfast or sometimes a fast lunch.
Rice paper eggs (I'm not sure if this is the best name for them but it's what i call them) are very fast to make, relatively cheap (even with the cost of eggs) and very flavorful and filling.
Let's dig in and try them out!
What are rice paper wrappers?
Rice paper wrappers, also known as spring roll wrappers, are sold in most grocery stores these days. They are very thin wrappers, almost the size of a large tortilla, that are made out of rice flour.
Normally you would soak them in water for a bit and then roll them up with fillings (like with these chicken spring rolls).
Once the rice paper wrappers are soaked, they are very flexible but also a bit fragile and can be tricky to work with.
For this recipe though, you don't need to bother with any of that! You throw the dried wrapper in a skillet and it magically works out great.
How to make these rice paper eggs
This is a really easy recipe, but if you aren't used to the ingredients, some of it may seem daunting. Trust me. If you can make scrambled eggs, you can make this.
Start by adding your dry wrapper to a large skillet and spoon in some chili crisp or chili oil. I prefer chili crisp if you can find it which sometimes has peanuts in it for crunch and has nice big flakes of chili.
The oil is important as it will keep the rice paper from rolling up.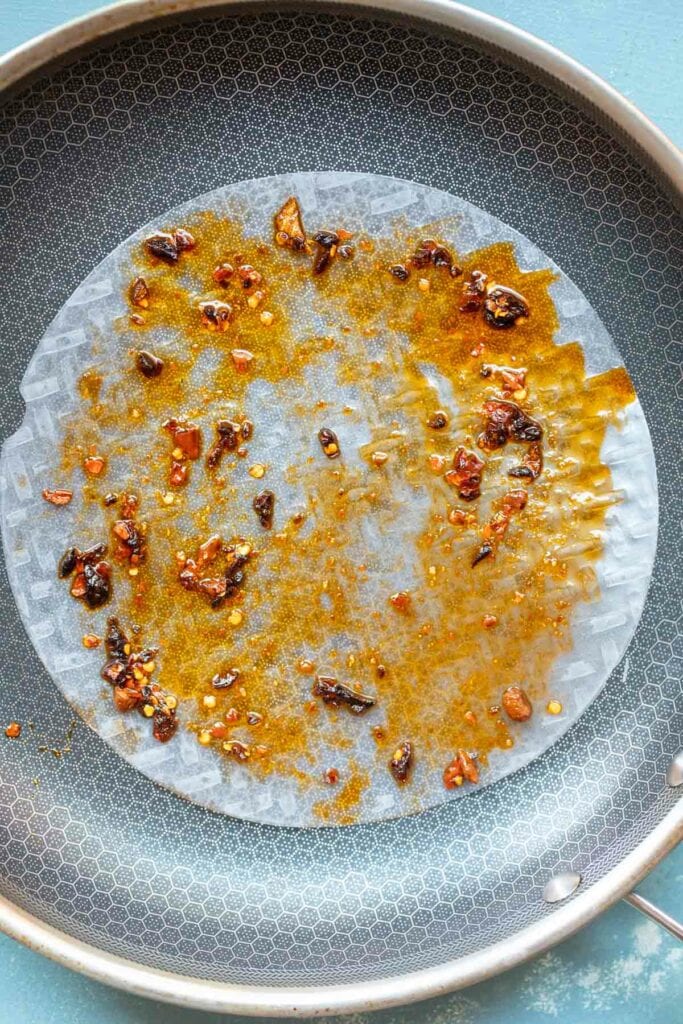 Next you need to crack in your egg! When you crack it in, break the yolk and try to spread it evenly over the surface of the rice paper wrapper.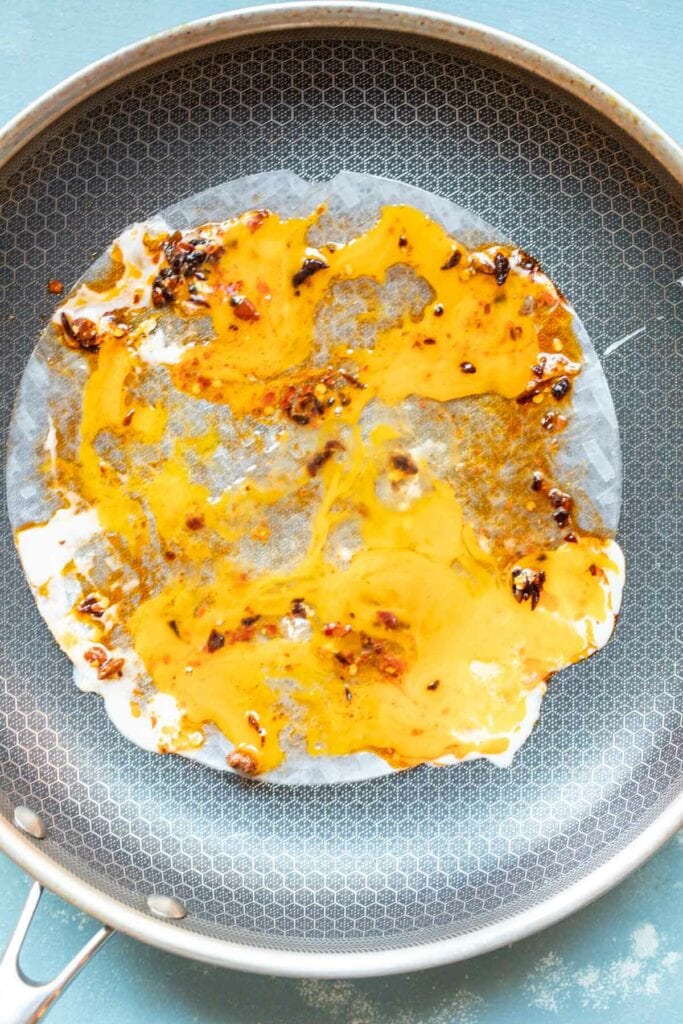 The egg will start to cook through the rice paper wrapper. Just let it cook. The wrapper can actually withstand a fair amount of heat so don't worry about it burning.
When the egg is almost set, add whatever toppings you like. I like some fresh tomatoes and chives. The original version I saw on TikTok added sriracha and mayo to the filling, but I like to drizzle that on top.
Cook it for another minute or two until the eggs are completely set and then fold the wrapper over, forming a half-circle and slide it out onto a cutting board.
Chop the rice paper egg into thirds, drizzle it with sriracha mayo, and serve it immediately!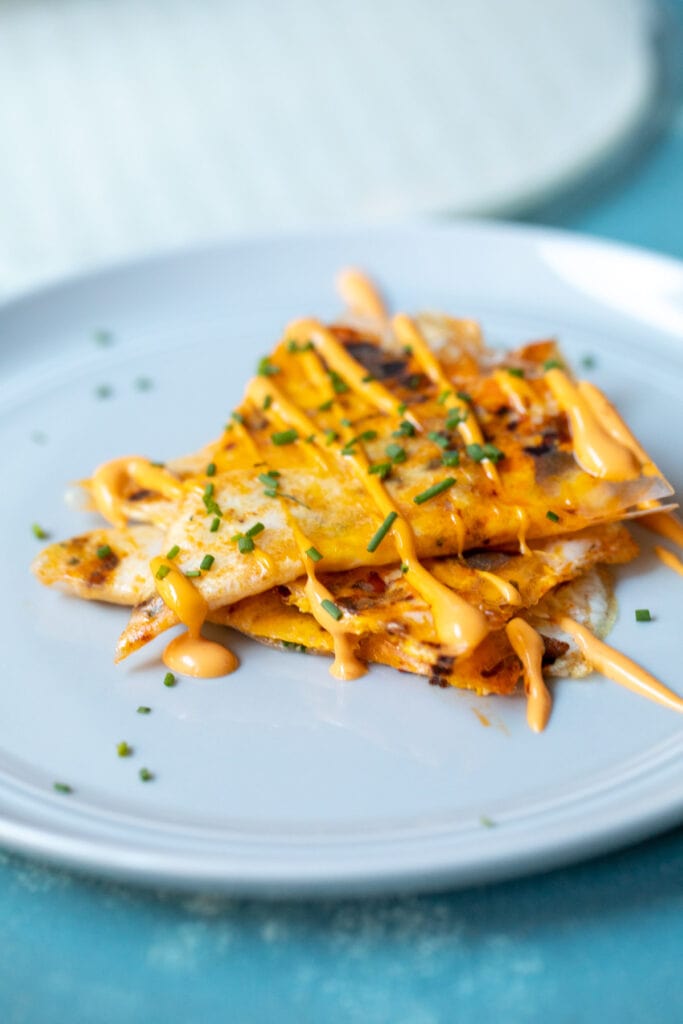 Filling ideas for these eggs
Less is more with the fillings on these. You want them really thin, but you can add pretty much anything to it. I like using up tiny bits of leftovers in my rice paper eggs in the morning. Here are a few ideas!
Chopped meat like ham or bacon or a little cooked spiced ground beef.
Sauteed vegetables like mushroom or zucchini.
Herbs like cilantro, chives, scallion, or parsley.
Pickled jalapenos.
Harder cheeses like parmesan would go well.
Whatever you add, just remember that they are supposed to be thin so use a light touch to the filling!
Has anybody tried these! They are my favorite quick breakfast at the moment!
Rice Paper Eggs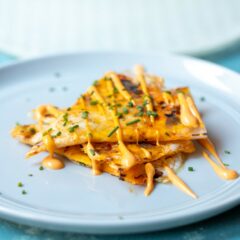 These rice paper eggs are a perfect fast breakfast. Just a few ingredients and they take literally minutes to make. Originally seen on TIkTok, this is my version of the viral street food recipe.
Ingredients
1

rice paper wrapper

1

tablespoon

chili crisp

,

or chili oil

1

large

egg

1

tablespoon

sriracha mayo

2

tablespoons

fresh tomatoes

,

chopped

1

teaspoon

chives

,

chopped
Instructions
Place the skillet over medium heat. Add rice paper wrapper and immediately top with chili oil or chili crisp. Spread the chili over the surface of the rice paper wrapper which will help it stay flat.

Crack an egg in the center of the rice paper wrapper and break it with a spatula. Spread the egg over the surface of the wrapper.

Add diced tomato or any other fillings you want.

When egg is mostly set, fold rice paper wrapper in half.

Slide rice paper eggs out of the skillet and cut into thirds. Drizzle with sriracha mayo and garnish with chives. Serve while warm.
Nutrition
Serving:
1
wrapper
|
Calories:
351
kcal
|
Carbohydrates:
13
g
|
Protein:
9
g
|
Fat:
30
g
|
Saturated Fat:
5
g
|
Polyunsaturated Fat:
9
g
|
Monounsaturated Fat:
14
g
|
Trans Fat:
0.1
g
|
Cholesterol:
194
mg
|
Sodium:
270
mg
|
Potassium:
161
mg
|
Fiber:
1
g
|
Sugar:
1
g
|
Vitamin A:
572
IU
|
Vitamin C:
5
mg
|
Calcium:
42
mg
|
Iron:
2
mg
Did you make this recipe?
Here are some other great recipes to try!