Over the years, I've developed a serious nag with the frozen breakfast burrito. Sure, you can wrap some stuff in a tortilla, stick it in the freezer, microwave the hell out of it the next day, and eat it.
It'll be okay. Of course, it won't be as good as a fresh one, and if you're stuck with a freezer full of them, you might lose interest over time.
My real problem with the frozen breakfast burrito is the tortilla. If you are microwaving the burrito, by the time the filling is thawed and hot, the tortilla is a nightmare. It's either tough and leathery or soggy.
There is an easy solution to this, which for some reason, I hadn't considered until recently. It's these Make Ahead Breakfast Burrito Pouches! You just freeze the filling! Then you microwave that and make the burrito fresh in the morning.
It's still really fast and tastes about as fresh as a frozen burrito can taste. It's AWESOME.
Make Ahead Breakfast Burrito Pouches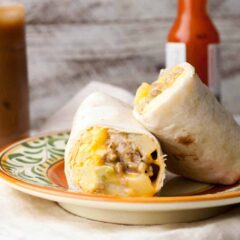 These easy breakfast burritos are perfect for weekday breakfasts and are ready in just a few minutes!
Ingredients
1

lb

pork sausage

1

lb

new potatoes

,

diced

½

white onion

,

chopped

1

green pepper

,

chopped

2

cloves

garlic

,

minced

6

large eggs

,

scrambled

2

tablespoons

olive oil

6

oz.

cheddar cheese

,

grated

1

tablespoon

seasoned salt

Salt and pepper

6

large flour tortillas
Instructions
Cube potatoes into 1/4-inch cubes and boil in lightly salted water until tender, 7-8 minutes. Drain potatoes and set aside.

In a large skillet add a drizzle of oil and add scrambled eggs over medium-low heat. Cook gently until eggs are just cooked through. Try not to overcook them. Remove eggs from skillet and set aside.

Add a fresh drizzle of oil to the skillet along with sausage. Turn heat up to medium. Cook sausage until browned, breaking it up as it cooks.

When sausage is completely cooked through, add chopped onions, peppers, and garlic and seasoned salt. Cook until veggies are slightly soft, another 2-3 minutes.

Add potatoes to the skillet and stir to combine. Adjust seasoning to your liking. (You could add chili powder or something to make it spicier if you like.)

Let sausage mixture cool for 5-10 minutes. Spreading it out on a sheet pan will let it cool faster.

Using freezer safe bags, divide eggs, cheese, and sausage mixture between 6 bags. Most of the bag should be the sausage and potato mixture. Press out as much air as you can from the bags.

Freeze pouches.

When ready to make a breakfast burrito unwrap a frozen pouch of burrito fillings in a microwave safe bowl. Microwave on high for 3-4 minutes until filling is thawed and steaming (cheese should be melted as well).

Scoop filling out of bowl onto a tortilla and roll into a tight burrito. Eat immediately!
Nutrition
Serving:
1
burrito
|
Calories:
609
kcal
|
Carbohydrates:
31
g
|
Protein:
28
g
|
Fat:
41
g
|
Saturated Fat:
15
g
|
Polyunsaturated Fat:
5
g
|
Monounsaturated Fat:
17
g
|
Trans Fat:
0.2
g
|
Cholesterol:
246
mg
|
Sodium:
2118
mg
|
Potassium:
678
mg
|
Fiber:
3
g
|
Sugar:
3
g
|
Vitamin A:
654
IU
|
Vitamin C:
32
mg
|
Calcium:
291
mg
|
Iron:
3
mg
Did you make this recipe?
Make Ahead Breakfast Burrito Pouches
Alright. Let's work through these. First, you'll need eggs obviously. I usually like one egg per burrito.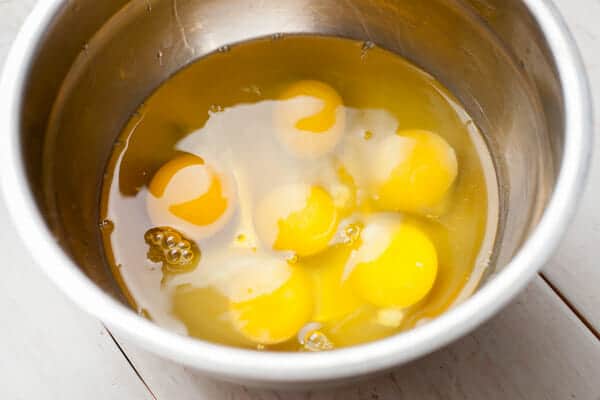 Scramble these and cook them gently in a skillet over medium low heat with a drizzle of oil or butter. Try not to overcook the eggs because they will be cooked again in the morning!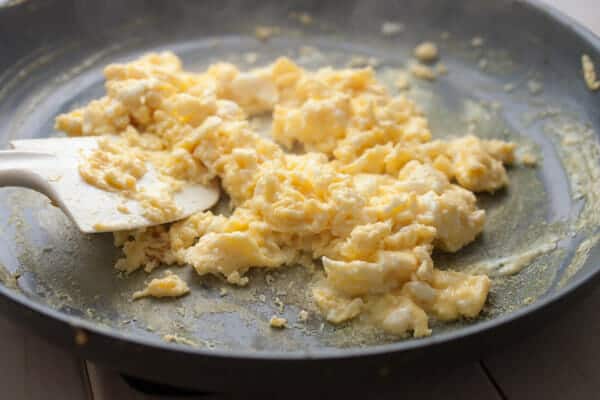 You could easily make the se vegetarian, but I like to add some sausage to mine. Once your eggs are done, wipe out the skillet and add some sausage. Cook the sausage over medium heat, breaking it up as it cooks.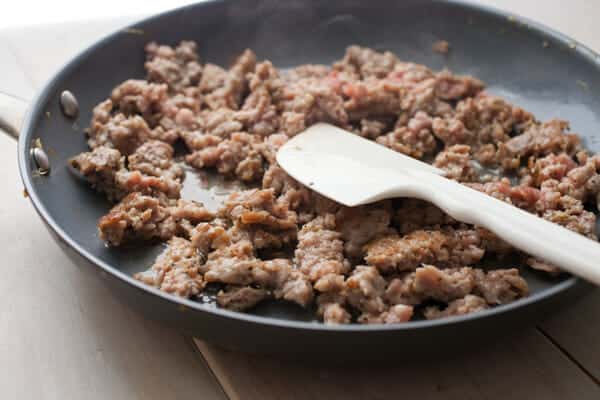 Potatoes are a must for me in a good breakfast burrito.
I like my potatoes to be very tender though so I recommend cubing them into small cubes and boiling them in salted water until they are tender.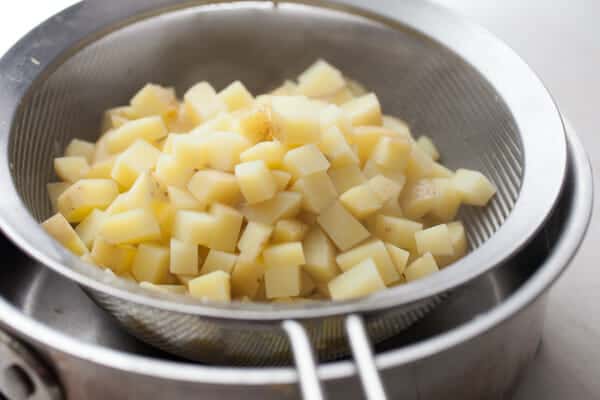 Then add the chopped peppers, onions, garlic, and potatoes to your skillet with the sausage.
For some reason, I think breakfast burritos taste really good with seasoned salt (like Lawry's) so I like a lot of it in my filling. You could also go a more traditional route and season the filling with chili powder, salt, pepper, paprika, etc.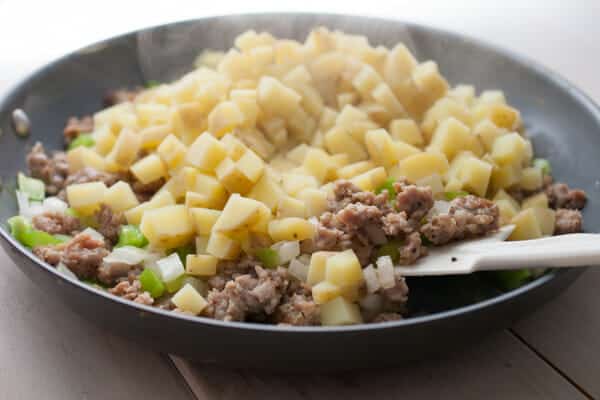 Now we are ready to make some pouches! The most important step here is to make sure your fillings are cool, or at least room temperature before you make the pouches. The filling will cool off faster if you spread it out on a plate or sheet pan.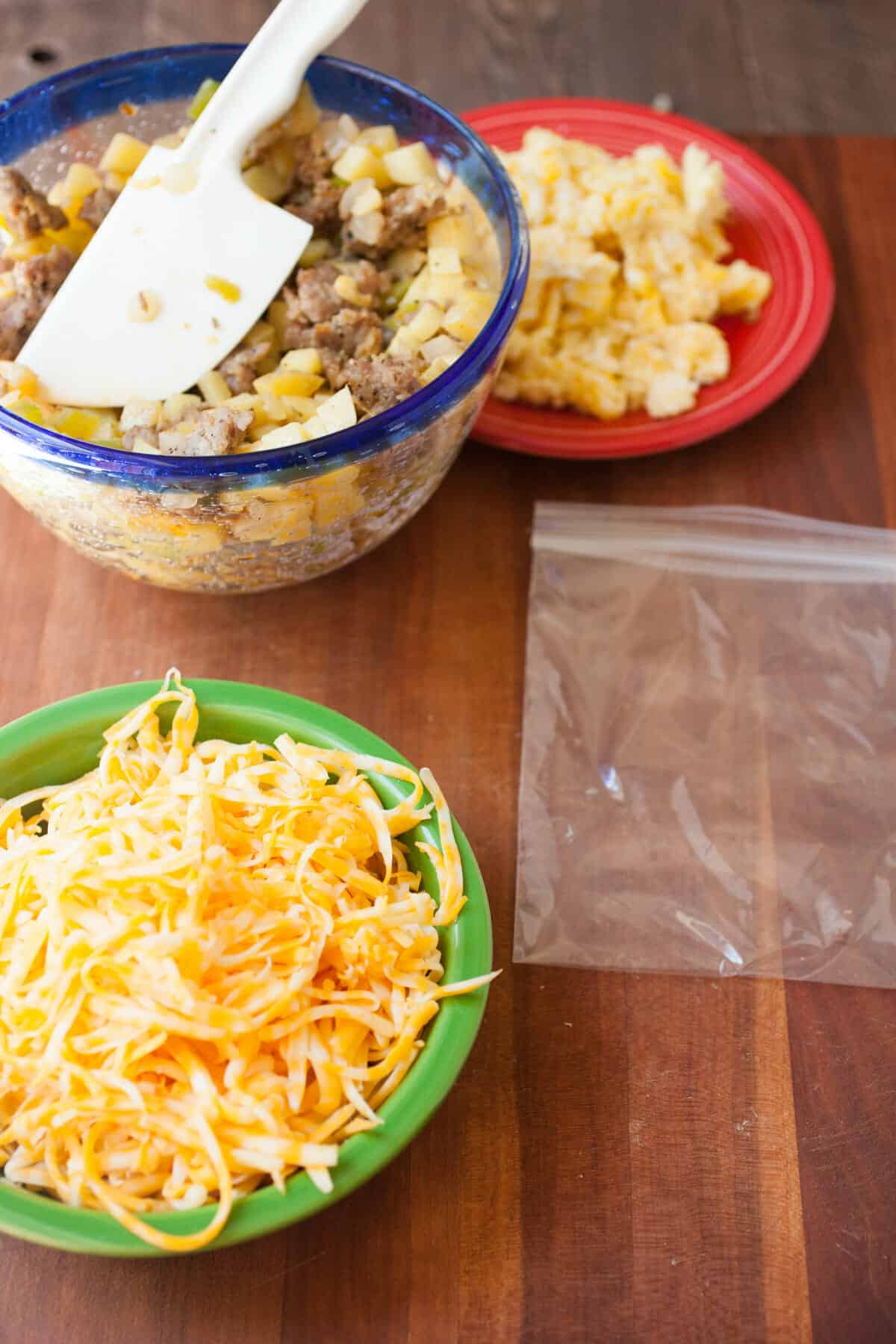 Most of the packet will be the sausage mixture. Then add some cheese and egg to each bag. You should get six stuffed sandwich bags of filling out of this recipe. You might have a little filling leftover even.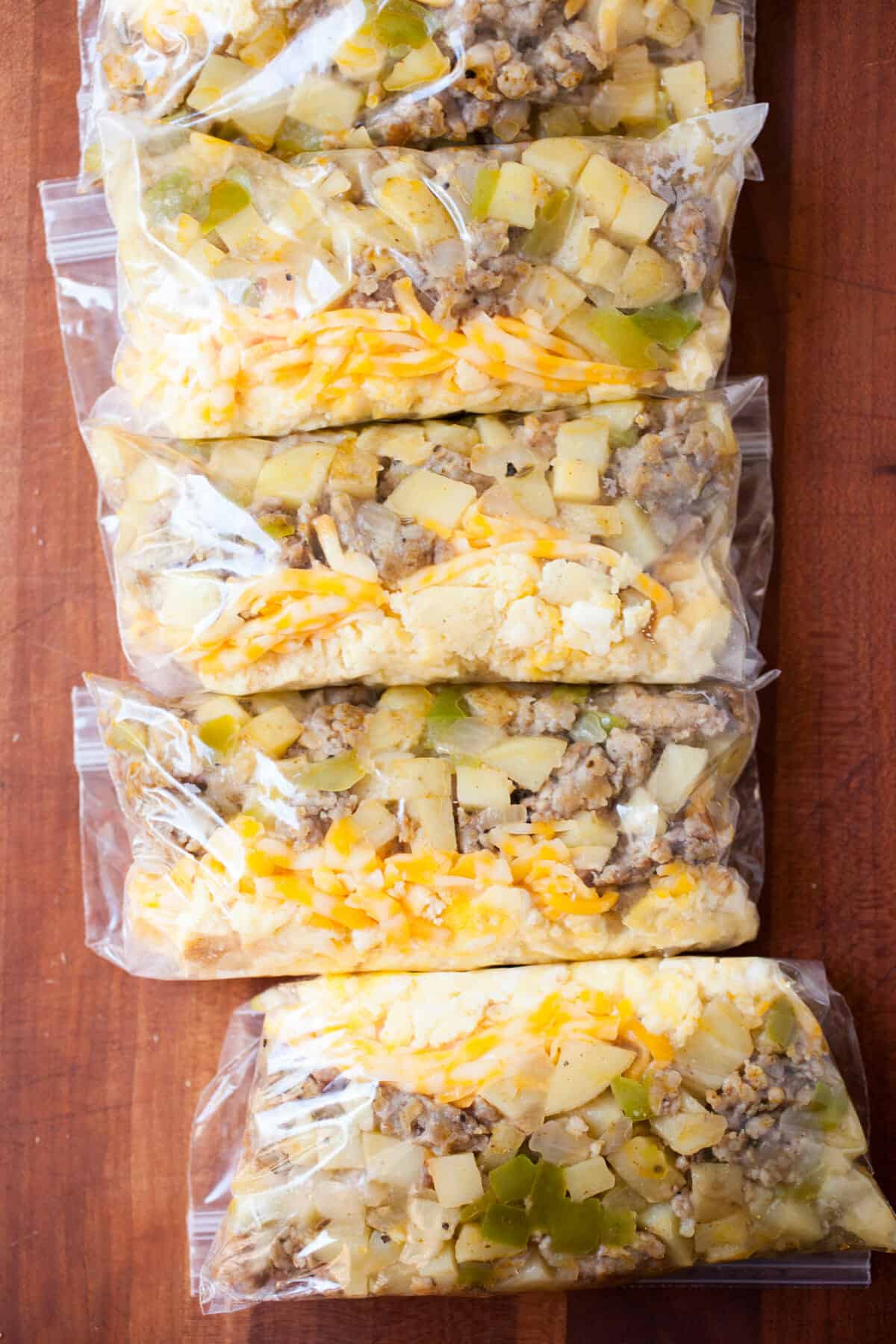 Need a fast breakfast option? Try my microwaved breakfast burrito!
Burrito Time
When you wake up and you're drowsy and hungry, this is what you want. Pull a pouch out of the freezer, unwrap it, and it'll look something like this.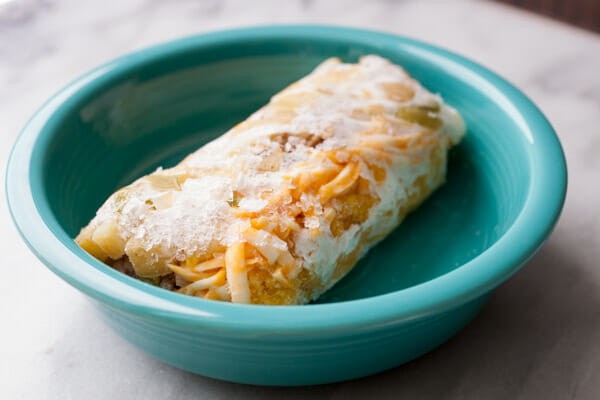 This is a solid block now so you'll need to microwave it for 3-4 minutes to thaw it completely and melt the cheese. This is when the tortilla DIES if you wrap it up before you freeze it.
This filling should be steaming hot when you pull it out.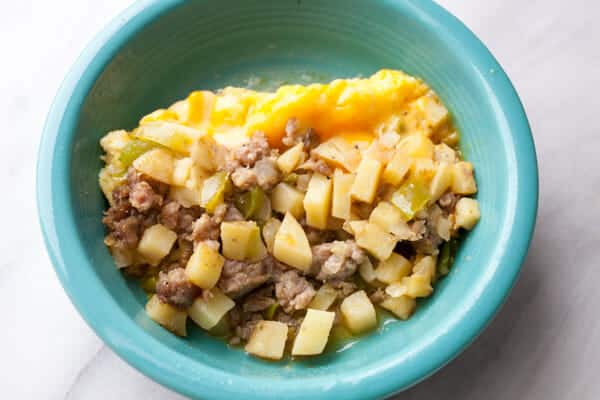 Now pull out a fresh tortilla, scoop in the filling, wrap it up and you're ready to go.
Start to finish the burrito takes maybe five minutes to make in the morning and it's really delicious.
It's my new favorite breakfast trick, for sure!
If you're a breakfast burrito fan, these make ahead breakfast burrito pouches are a must try!