This is a guest post by Anna Rider. Anna is a food writer who documents kitchen experiments on GarlicDelight.com with the help of her physicist and taste-testing husband Alex.
The last few weeks have been so chilly that I didn't step outside my front door for a week straight.
With powdery snow everywhere, my friend has been egging me on to make hot chocolate.
Who can argue? I love watching snowflakes swirl in the air while nursing a steamy cup of today's modern version of xocōlātl.
This spurred the questions: What's the best hot chocolate? Is my homemade version better than store-bought hot cocoa? It's time for another homemade trial!
If you're new to the homemade trial series, we pick a food (or drink) and make it from scratch. Then we compare the homemade version to the store-bought ones in the categories of TIME, COST, NUTRITION, and TASTE.
Which will win this homemade trial? Let's find out!
Anna's Version of Hot Chocolate
If you've ever pondered the difference between hot chocolate and hot cocoa, you're in good company.
Growing up, I drank plenty of hot chocolate made from a powdered mix. Add boiling water and, 2 minutes later, steaming hot chocolate was ready to imbibe.
When I was in my twenties, I visited France where I learned that European-style hot chocolate tasted nothing like the overly sweet cocoa mix that I was used to. Instead, hot chocolate was made from—you guessed it—solid chocolate. Usually, dark chocolate with at least 70% cacao.
Which tastes better? Hot chocolate or hot cocoa?
I did a taste test and concluded that hot chocolate made from baking chocolate was superior to hot cocoa because hot cocoa has a gritty texture from the cocoa powder. It's easier to make hot chocolate without annoying clumps that plague hot cocoa.
That's why my recipe uses baking chocolate to make this classic beverage.
If you prefer the taste and texture of hot cocoa, you can substitute the solid chocolate with ⅓ cup of unsweetened cocoa powder, ½ cup of sugar, and ⅓ cup of boiling water while keeping the other ingredients the same.
Homemade Hot Chocolate
This recipe makes European-style hot chocolate that's thick, rich, and dark. If you enjoy lighter hot chocolate, something more like chocolate milk, you can halve the quantity of chocolate. Use your favorite baking chocolate whether that's dark, milk, white, or semi-sweet chocolate.
Ingredients
4

cups

whole milk

1

teaspoon

vanilla extract

a pinch of salt

8

oz.

baking dark chocolate

,

chopped
Instructions
Heat ½ cup of milk on medium heat in a saucepan. Do not let this milk boil.

Add the vanilla extract and a pinch of salt into the milk.

Add the chopped chocolate to the milk mixture.

As the milk heats, the chocolate will begin to melt.

Whisk the melting chocolate into the milk until you have a smooth, thick chocolate sauce.

Once all the chocolate has been incorporated, whisk in the remaining milk.

Allow the hot chocolate to heat until it begins to steam but does not boil. It's ready to serve.

If you want to keep the hot chocolate warm, cover and turn the heat down to low.
Nutrition
Serving:
1
cup
|
Calories:
244
kcal
|
Carbohydrates:
19
g
|
Protein:
6
g
|
Fat:
16
g
|
Saturated Fat:
9
g
|
Polyunsaturated Fat:
0.5
g
|
Monounsaturated Fat:
4
g
|
Trans Fat:
0.01
g
|
Cholesterol:
15
mg
|
Sodium:
52
mg
|
Potassium:
386
mg
|
Fiber:
3
g
|
Sugar:
13
g
|
Vitamin A:
209
IU
|
Calcium:
171
mg
|
Iron:
3
mg
Did you make this recipe?
Tips for Making Homemade Hot Chocolate
It's hard to evenly melt chocolate in a large pot of milk. If you've ever struggled to mix chocolate and cream to make a smooth ganache, you'll understand.
Even though baking chocolate is less likely to result in clumps, I still take precautions. I melt the chopped chocolate in ½ cup of milk to ensure the chocolate fully melts and emulsifies before adding the rest of the milk.
This helpful step avoids the problem of ribbons of chocolate floating in your warm milk. Once you have a shiny chocolate sauce, you can add the remaining milk. Your hot chocolate is ready once it's warmed to your desired temperature.
While you can make this hot chocolate recipe in the microwave, it's faster on the stove for such large quantities of chocolate and milk. I have this 5-minute microwave hot chocolate recipe, which works well if you're making hot chocolate for 1.
To serve a party, I recommend using the stove or a slow cooker. A slow cooker is a great tool to keep the hot chocolate warm for hours. (Remember to keep the heat on low or the "keep warm" setting, and you might want to add extra milk to account for the evaporation.)
If you prefer lighter hot chocolate, use 4-6 oz. of chocolate. You'll get a thinner, sweeter, and less chocolatey drink.
Finally, here are a few ideas for how to spruce up the hot chocolate. Top with marshmallows, whipped cream, or powdered cinnamon before serving. Add chocolate shavings or rainbow sprinkles on top of the whipped cream.
Another option is to replace the vanilla extract with peppermint, almond, or orange extract. I like adding a shot of coffee to intensify the chocolate flavor.
My neighbor recommended peppermint schnapps and Baileys Irish Cream as fun additions.
Let's jump into comparing my homemade version to the store-bought options.
The Chocolate Competition
When I think of store-bought hot chocolate, a cocoa mix comes to mind. Sure enough, my local grocery store has a whole shelf of hot cocoa mixes. I picked the mix with the lowest amount of added sugar per serving.
Next, we have a coffee shop hot chocolate as a high-end contender. Since the pandemic began, my local coffee shop stopped serving drinks in reusable mugs but it allows customers to bring their own containers to cut down on disposable cups. I carried home the cafe's hot chocolate in my pink vacuum flask.
I saw the coffee shop owner froth the milk to make my hot chocolate so I'm feeling like this fancy version has a great chance of beating the homemade one. He makes hot chocolate by mixing chocolate syrup and my choice of milk (I picked whole milk).
Time
Making the homemade hot chocolate took about 10 minutes. Mixing the cocoa mix with boiling water took less than 1 minute. And the coffee shop took more than 10 minutes, including ordering, paying, and waiting for my drink.
It's an obvious WIN for the COCOA MIX in the category of TIME.
Cost
The coffee shop's hot chocolate is the most expensive option (almost 3 times the cost of homemade). That's expected. I'm paying for the experience of sitting down in a cozy cafe along with great service and a hot drink.
What's surprising is that the cocoa mix is almost the same price as the homemade version (I used premium ingredients like organic milk and a big hunk of chocolate).
So, I'm going to call it a TIE between the HOMEMADE and COCOA MIX in the COST category.
Nutrition
I predicted the NUTRITION category would be a wash like it was in the holiday fruitcake homemade trial. Indeed, the nutritional values across the 3 drinks are very similar.
he biggest difference between homemade and store-bought varieties is that the homemade version had less sugar. That's a big plus.
The COCOA MIX boasts artificial flavors, and its ingredients list contains chemicals like tetrasodium pyrophosphate (an emulsifier) and dipotassium phosphate (a dairy imitater to give a creamy mouthfeel).
I'm going to call the NUTRITION category a WIN for the HOMEMADE hot chocolate.
Taste
My kind neighbors who helped with the pie crust homemade trial and fruitcake trial served as taste testers for this trial.
My neighbor picked the coffee shop's hot chocolate as her favorite. "It tastes lighter than the other ones," she told me. The homemade option "was too fudgy."
Her husband picked the homemade version as his favorite because it had the best flavor. He correctly guessed the hot cocoa was from a mix and said the coffee shop version tasted like "someone added Hershey's syrup to hot milk." Bingo!
At this point, I asked Alex to break the tie. He picked the homemade version because it was less sweet, and he liked the strong chocolate flavor.
That means the HOMEMADE hot chocolate is the WINNER of the TASTE TEST
The Hot Chocolate Verdict
Here's the tally (TIME => cocoa mix, COST => tie between cocoa mix and homemade, NUTRITION => homemade, TASTE => homemade).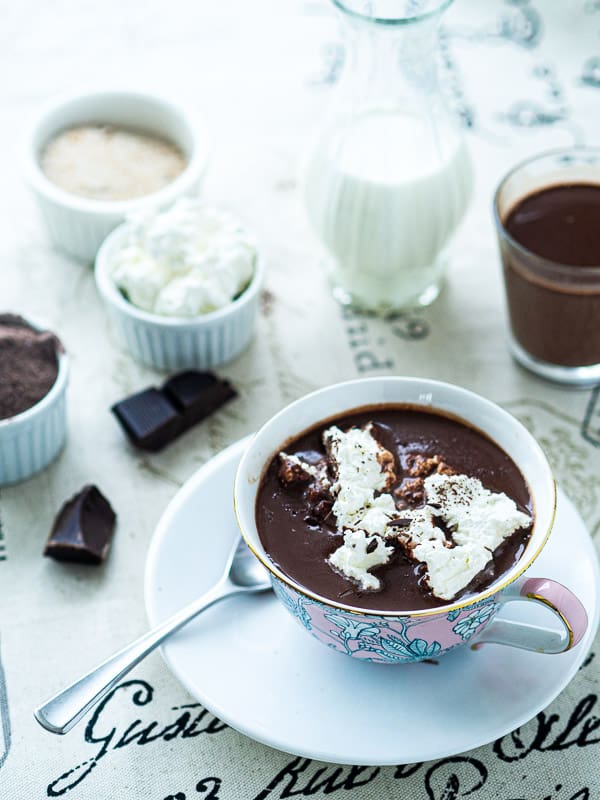 Based on the results, I'd consider the homemade hot chocolate a clear winner!
However, if I were looking for a cafe experience where I could chit chat with friends, the coffee shop's hot chocolate would be a frontrunner.
If I'm in the woods camping, the idea of lugging around a saucepan, chocolate, a knife and chopping board, fresh milk, and vanilla extract sounds absurd. Pass! I'd take the cocoa mix any day.
There you have it. The homemade hot chocolate is best if you have a stocked kitchen and want to control your sugar intake.
Do you agree? Are you a fan of hot cocoa? Are mini marshmallows mandatory on every cup of hot chocolate? Leave a comment to let us know.
Snack ideas to enjoy with your hot chocolate
I love crunchy snacks that blend sweet and salty when I'm drinking hot chocolate. These snacks deliver a touch of spice that brings out the chocolatey richness. Enjoy!
Photo Credits: Anna Rider