This recipe was updated February 13, 2020 to include new photos and descriptions!
I proclaim this Candied Bacon Chex Mix the snack of the long weekend. Chilling with friends at a casual party? Make this. Having family over for dinner? Make this. Sitting alone in your house and binging some real life crime documentary on Netflix? Make this.
You get the point. This snack mix needs to be in your life. It supposed to feed many souls, but I've about eaten a whole recipe worth of the stuff this week. Every time I stroll by it, I grab a handful. How could I not?!
The base is a pretty classic Chex mix, with seasoned salt and garlic powder, and is addictive enough on its own. Add some baked candied bacon to the mix though and forget about it.
Candied Bacon Chex Mix
A massive upgrade to the standard Chex Mix recipe with candied bacon! An addictive and delicious snack.
Ingredients
8

ounces

bacon

2

tablespoons

brown sugar

3

cups

rice chex cereal

3

cups

corn chex cereal

1

cup

roasted peanuts

2

cups

mini pretzels

2

tablespoons

reserved bacon grease

¼

cup

cup butter

2

teaspoons

seasoned salt

1

teaspoon

garlic powder
Instructions
Lay out bacon on a baking sheet lined with foil and bake at 350 degrees for about 10 minutes. Then sprinkle pieces with brown sugar and bake for another 10 minutes or so until the sugar is caramelized on the bacon and it is getting crispy. (Don't use thick cut bacon for this).

When bacon is browned and caramelized, remove it and let it cool on a plate. It will crisp up as it cooks. Drain off bacon grease and measure out two tablespoons.

Reduce oven heat to 300 degrees F. Melt butter and stir together with bacon grease, seasoned salt, and garlic powder.

In a large bowl toss together cereals, pretzels, and peanuts and mix well with butter mixture. Spread out on a baking sheet.

Bake mix for 15 minutes at 300 degrees F.

Chop candied bacon and add to snack mix. Return to oven for another 10-15 minutes, stirring halfway through.

Remove from oven and let cool. Snack mix is delicious at room temperature, warm, or cool. Store leftovers in fridge for a few days.
Nutrition
Serving:
1
Cup
|
Calories:
342
kcal
|
Carbohydrates:
33
g
|
Protein:
10
g
|
Fat:
20
g
|
Saturated Fat:
5
g
|
Polyunsaturated Fat:
5
g
|
Monounsaturated Fat:
9
g
|
Trans Fat:
0.03
g
|
Cholesterol:
18
mg
|
Sodium:
1014
mg
|
Potassium:
244
mg
|
Fiber:
3
g
|
Sugar:
4
g
|
Vitamin A:
498
IU
|
Vitamin C:
4
mg
|
Calcium:
83
mg
|
Iron:
6
mg
Did you make this recipe?
How to Make Candied Bacon
Any time I'm adding bacon to a snack mix or salad like this, I always think about candying it by baking it with some brown sugar. It's usually a great idea.
I make mine by baking the bacon (not thick cut) for about 10 minutes and then sprinkling on the brown sugar.
Then I bake it for another 10 minutes or so at 350 which is enough time to crisp the bacon and caramelize the sugar. If you added the sugar from the beginning, it burns by the time the bacon is done in my experience.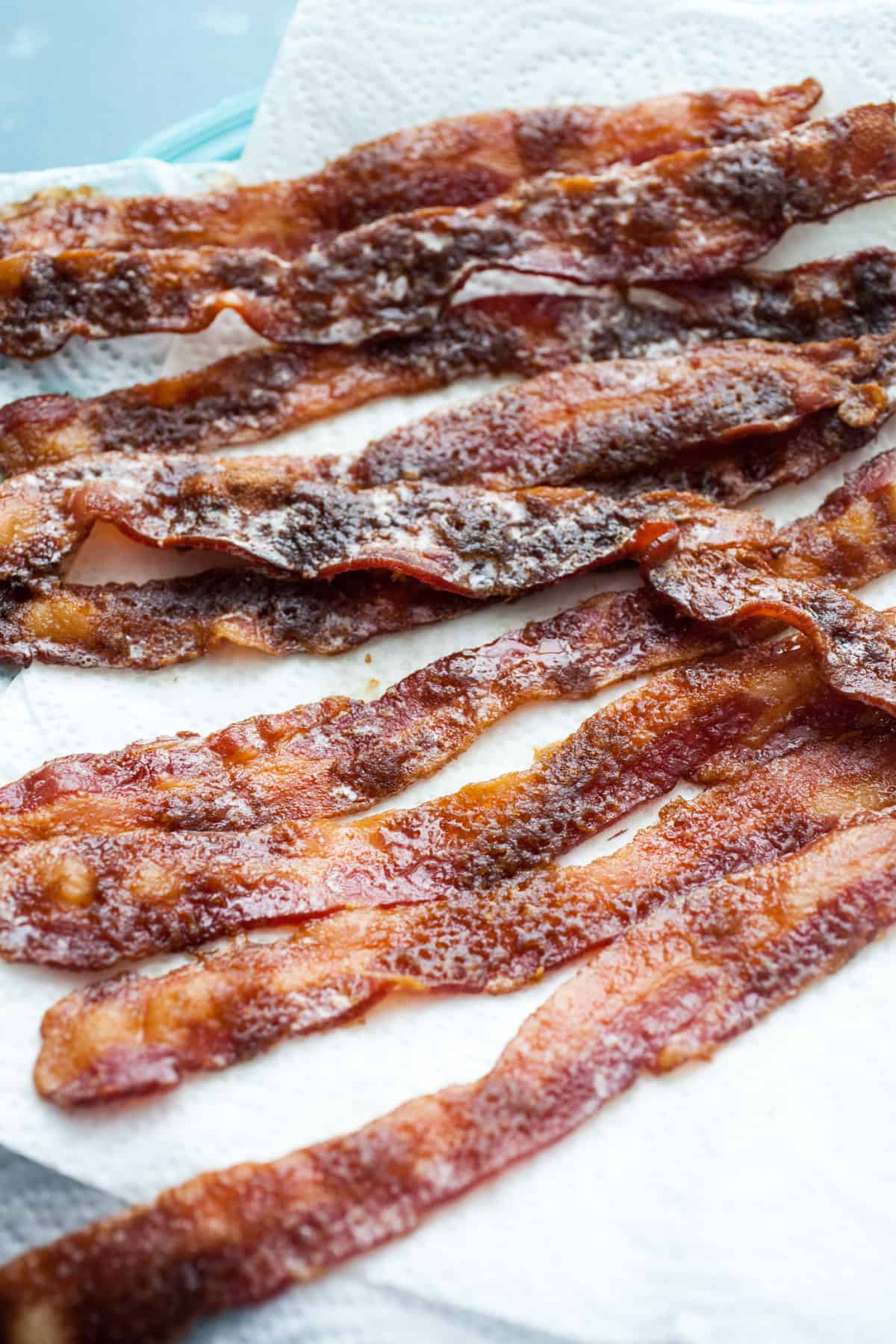 Bacon Chex Mix Sauce
The good thing about baking the bacon is you'll be left with a good amount of bacon grease! Measure out about 2 tablespoons (you can eyeball it) and mix it with melted butter, seasoned salt, and garlic powder. This is the sauce for the mix!
Baking the Chex Mix
Stir together the cereals, pretzels, peanuts and the sauce and spread them out on a baking sheet. Bake this Chex Mix deliciousness at 300 degrees F. for about 15 minutes. Then you can add the bacon (chopped) back in and continue to bake for another 10-15 minutes.
This recipe makes a good-sized bowl of candied bacon chex mix, which is good, because it will go fast!
Happy long weekend everybody (US readers)!
Here are a few other great snacks!
Peanut Butter Banana Muffins from Fox and Briar