This Homemade Chocolate Cake Homemade Trials is a guest post by Anna Rider! Anna is a food writer who documents kitchen experiments on GarlicDelight.com with the help of her physicist and taste-testing husband Alex. Be sure to check out Anna's French vs. American Chocolate Cake Comparison also!
If you hang out much around the Internet, you may have heard the Reddit lore of a baker who ran a wedding cake business. She confessed to a secret that could have ruined her life. The secret was that she charged hundreds of dollars for wedding cakes. And she made every cake starting from Pillsbury cake mix for $1 per box from Walmart. Her customers complimented her cakes and loved them.
In this homemade trial, we are wading into dangerous territory! We are going to compare homemade chocolate cake from scratch versus chocolate cake mixes. It's going to be controversial with surprising twists. Which version of chocolate cake is going to win?
In case you're new to the homemade trial series, Nick picks a food and makes it from scratch to compare it to a few popular store-bought versions in the categories of TIME, COST, NUTRITION, and TASTE.
Nick kindly invited me back after the homemade trial on gravy to run this homemade trial on made-from-scratch cake vs. cake mixes. Let's dive in!
Anna's Chocolate Cake Version
My homemade chocolate cake is a no-frills oil-based chocolate cake. Don't be fooled by its simplicity. This chocolate cake is a classic. Let your imagination run wild with all the different frostings, fondant decorations, and layering possible with this chocolate cake recipe as the foundation.
In this homemade trial, I baked a mega thick, one-layer chocolate cake and added a light layer of cream cheese frosting inspired by the frosting on Nick's Red Velvet Cupcakes. While most cakes these days are trendy two-layer or three-layer sculptures inspired by The Great British Bake Off (renamed to The Great British Baking Show on PBS), I decided to keep the cake as simple as possible to avoid skewing the taste tests.
One final note before we dive into the recipe: Alex and I live in Boulder, Colorado where the high altitude requires ingredient adjustments. The recipe below is tested for approximately 5,100-5,500 feet elevation. However, if you live at a lower elevation, there are adjustments listed below the recipe (or follow Nick's Better Than Sex Cake's chocolake sheet cake recipe).
Classic Homemade Chocolate Cake For High-Altitude Bakers
This is a classic homemade chocolate cake recipe with a rich chocolatey flavor and a moist crumb. Serve it with your favorite frosting for a delightful treat!
Ingredients
2

cups

3 tablespoons all-purpose flour

1

cup

cocoa powder

1 ½

cups

sugar

1 ½

teaspoons

baking powder

1 ½

teaspoons

baking soda

1

teaspoon

salt

1

cup

milk

½

cup

oil

2

eggs

1

tablespoon

vanilla extract

1

cup

4 tablespoons boiling water

Butter for the baking pan
Instructions
Preheat the oven to 350 degrees F.

In a medium bowl, combine the flour, cocoa powder, sugar, baking powder, baking soda, and salt.

In a large bowl, combine the milk, oil, eggs, and vanilla extract.

Add the dry mixture into the wet mixture and whisk until evenly combined. Using a stand mixer, it should take about 2 minutes to get all the lumps out.

Pour the boiling water into the cake mixture and whisk until evenly combined. The batter will be quite thin.

Butter the bottom and sides of a 10-inch round baking pan. Pour the batter into the baking pan and smooth out the surface using a spatula.

Bake the cake at 350 degrees F for 50 to 55 minutes until a tester comes out clean from the center. Your baking time will change if you use a different-sized pan. See below for tips.

Cool the cake for at least 10 minutes before frosting.
Nutrition
Serving:
1
Piece
|
Calories:
315
kcal
|
Carbohydrates:
51
g
|
Protein:
5
g
|
Fat:
12
g
|
Saturated Fat:
2
g
|
Polyunsaturated Fat:
3
g
|
Monounsaturated Fat:
7
g
|
Trans Fat:
0.04
g
|
Cholesterol:
30
mg
|
Sodium:
405
mg
|
Potassium:
174
mg
|
Fiber:
3
g
|
Sugar:
31
g
|
Vitamin A:
73
IU
|
Calcium:
72
mg
|
Iron:
2
mg
Did you make this recipe?
How to Make Chocolate Cake
Chocolate cake recipes are pretty standard. Here are the ingredients you need to make a classic chocolate cake.
The beauty of oil-based chocolate cakes is that you combine the wet and dry ingredients and that's it. There's no need to whip the butter and sugar until they're fluffy. You can use a stand mixer or hand mixer to whisk the wet and dry ingredients together. Unlike muffins, there's no fear of overmixing the ingredients.
The Low Altitude Adjustments
Because water boils at a lower temperature and cakes tend to collapse at higher altitudes, there is extra flour and water in the chocolate cake recipe. If you're making this homemade chocolate cake recipe at lower elevations, you can use these measurements instead:
2 cups all-purpose flour
1 cup boiling water
Or as I mentioned, you can use Nick's chocolate sheet cake recipe in his Better Than Sex Cake recipe.
The Chocolate Cake Competition
Alex and I decided to compare the Betty Crocker cake mix and a higher-end chocolate cake mix. We bought Whole Foods' store brand 365 chocolate cake mix. Let's see whether the Betty Crocker household name beats the high-end cake mix.
Time
Boxed cake mixes require oil, water, and eggs. Like the pancakes homemade trial, baking from cake mix saves you barely any time. Sure, you get a break from measuring flour, sugar, baking powder, and a couple of other ingredients. But you still need to add the wet ingredients yourself and whisk for 2 minutes. Plus, the Betty Crocker cake mix had high altitude adjustment instructions so I measured out extra flour, making the time savings near zero (the 365 cake had no high altitude adjustments).
Since there's extra work involved in cake mixes, I'll consider it a TIE in the TIME category.
Cost
It turns out that an entire cake from scratch or from cake mix is still cheaper than buying a slice of cake from just about any bakery.
Because cake mix requires oil, water, and eggs plus a decent amount of elbow grease, it's semi-homemade. So, it makes sense that the cost for homemade cake is very comparable in price to the high-end 365 cake mix.
What's surprising is that a slice of Betty Crocker cake is almost half the cost of a slice of Whole Foods 365 cake and homemade chocolate cake.
I'm going to have to give it to the CAKE MIX on COST.
Nutrition
When I told my friends that NUTRITION was one of the categories in the homemade trials, they laughed so hard. As Nick says in the muffin homemade trials, cake is basically blocks of carbs and sugar so it feels like a joke to evaluate this category.
But it's worth an earnest effort to calculate the nutrition. And, no surprise, all three cakes were similar in nutrition. Sure, the homemade chocolate cake was the highest in calories but the difference is minimal.
Let's talk about what was surprising about the ingredients. The 365 cake contained recognizable ingredients that were almost identical to the homemade chocolate cake except for the addition of "organic natural flavors" and xanthan gum. It's a "clean" ingredients list that looks pretty homemade.
The Betty Crocker cake, as you might have guessed, came with exotic ingredients that are unavailable to a home cook. In addition to corn syrup, the Betty Crocker cake mix had propylene glycol, sodium stearoyl lactylate, and other hard-to-pronounce chemicals. Knowing that propylene glycol is also used in anti-freeze and pharmaceutical products turns me off the Betty Crocker cake even if I know these food additives are safe and approved by the FDA. That's why it was critical that I deployed my poker face during the blind taste test to make sure I didn't bias the testers.
You can disagree with me, but I'm going to call the NUTRITION category a TIE because nobody is mistaking chocolate cake for diet food.
Taste
The taste test was by far the most hilarious part of this chocolate cake homemade trial.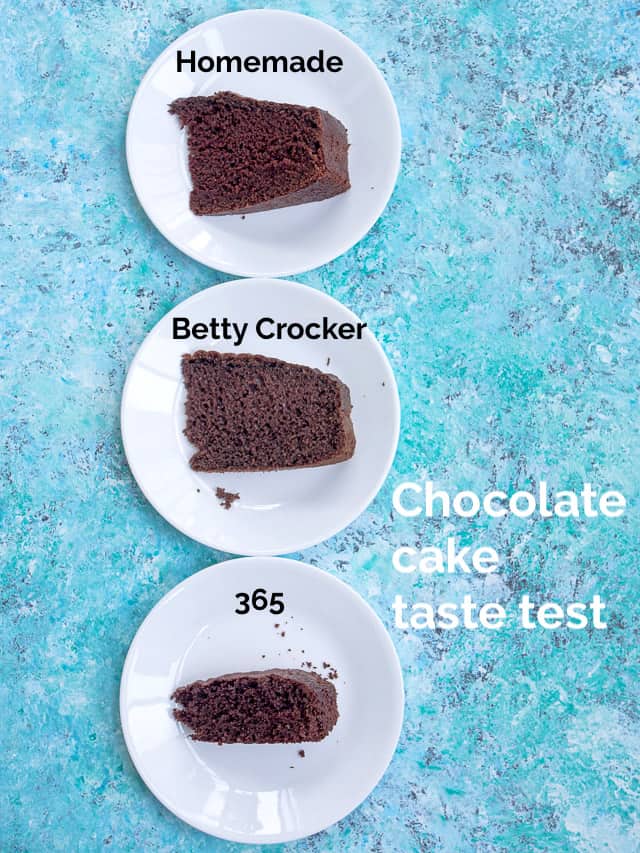 I recruited three neighbors, four friends, and one husband to participate in the taste test. You won't believe how seriously everybody took the role. One typically reserved friend spouted off strong opinions with detailed tasting notes. Who knew everybody is a secret food critic?! He called my homemade chocolate cake "a chocolate sponge without flavor" and said the Betty Crocker cake is "moist but I don't like fluffy cakes."
My neighbor told me she "really loved the richer chocolate taste and texture" of the 365 cake. She texted me later, 'it is denser and richer, feels more elegant."
And shockingly, almost all of my testers agreed. Six out of eight people picked the 365 cake as their first choice. The other two picked the Betty Crocker cake as their first choice because it was the moistest cake (thanks to that propylene glycol).
Sadly, nobody picked the homemade chocolate cake as their first choice. But what surprised me was that the homemade chocolate cake was everybody's second favorite cake. One friend told me that had she known which was the homemade chocolate cake, she would have certainly picked it as her first choice. In fact, she was horrified she picked the Betty Crocker cake as her favorite.
The TASTE category goes to cake mix. It's not even close!
NOTE FROM NICK: 💔😱
The Verdict
Let's look at the results (TIME => tie, COST => cake mix, NUTRITION => tie, TASTE => cake mix). While it hurts me to say this, I have to admit the cake mix wins this homemade trial. Nick had suspected as much but I was still holding out hope that my homemade chocolate cake could beat back the cake mixes.
Based on the homemade trial results, I'm beginning to think the wedding baker was onto something. Next time I'm in a rush to bake a cake, I'll seriously consider buying cake mix. Especially with the clean ingredients list in the 365 cake.
What do you think? Are you surprised the cake mix won? Are you on team homemade or team cake mix?
Drinks to Enjoy with Your Chocolate Cake