While I was working on this recipe, I was trying to think if I've ever had bad popcorn. The answer was totally yes, but I'm not sure that I've ever had popcorn so bad that I didn't eat it all anyway.
Whether it's movie theater popcorn completely doused in fake butter and salt or perfectly crafted artisan popcorn (which actually exists), I'll take it however I can get it. I find it to be the perfect snack in pretty much any form.
If I have my pick though, I'll take a salty-sweet popcorn. That's why I fell hard for this Mexican chocolate popcorn. It has a lot of spice on it and you might think it's a typo when you mix up a batch. It looks like a ton of spices for one bowl of popcorn, but trust me on it. When you combine it with the slightly sweet chocolate, it's totally works.
This is my new favorite popcorn flavor combo!
Mexican Spiced Popcorn
Mexican chocolate popcorn with a quick homemade spice mix and drizzled with lots of slightly sweet chocolate. A quick and addictive appetizer.
Ingredients
8

cups

cooked popcorn

2

tablespoons

unsalted butter

2

teaspoons

chili powder

1

teaspoon

ground cumin

1

teaspoon

ground cinnamon

1

teaspoon

kosher salt

Pinch

of cayenne pepper

3

ounces

semi-sweet chocolate

,

melted
Instructions
To cook popcorn, you can use an air popper or use a large sturdy pot. For the pot version, Get a medium to large pot with a tight fitting lid.

Add a single layer of kernels in the pot (about 1/4 cup) and add enough neutral oil to almost cover the kernels (about 1/4 cup).

Put the lid on tight and put it over medium-high heat. In a few minutes the kernels should start popping! Once they do, hold the lid on the pot with one hand and gentle shake the pan with the other hand.

After about a minute or two, the kernels should all (or mostly) be popped!

In a small bowl, mix together spices (chili powder, cumin, cinnamon, salt, and cayenne pepper). Melt butter and drizzle over cooked popcorn. Then toss with spice mix until completely covered.

Melt chocolate in microwave in 20 second bursts until it's smooth. Use a fork to drizzle chocolate over popcorn. Serve while warm or chill so the chocolate can set completely.
Nutrition
Calories:
264
kcal
|
Carbohydrates:
29
g
|
Protein:
4
g
|
Fat:
15
g
|
Saturated Fat:
8
g
|
Polyunsaturated Fat:
1
g
|
Monounsaturated Fat:
4
g
|
Trans Fat:
0.2
g
|
Cholesterol:
16
mg
|
Sodium:
603
mg
|
Potassium:
225
mg
|
Fiber:
6
g
|
Sugar:
8
g
|
Vitamin A:
533
IU
|
Vitamin C:
0.1
mg
|
Calcium:
30
mg
|
Iron:
3
mg
Did you make this recipe?
Mexican Chocolate Popcorn
Making the Popcorn
These days I've been rocking an air popper to make my popcorn and if you have one then you can totally use it. I wanted to do a version in a pot also though.
If you have any doubts on why you should be making your own popcorn, be sure to check out my Homemade Trials on popcorn. It's so much cheaper to make your own and homemade tends to taste better as well.
You can buy popcorn in bulk these days and it's super-cheap. If you want to upgrade your popcorn a bit though, you can usually find some fun multi-colored options also. Of course, it pops all the same color so it's kind of just for show…
If you're making your popcorn on the stovetop, I basically just add a single layer of kernels to a large 4-6 qt. pot. This works out to be about 1/4 cup for me, but I don't measure really.
Then I add enough oil to almost cover the kernels. This should be between 2-3 tablespoons but it depends a lot on your pan. Again, I don't really measure. When it looks like this, it's good.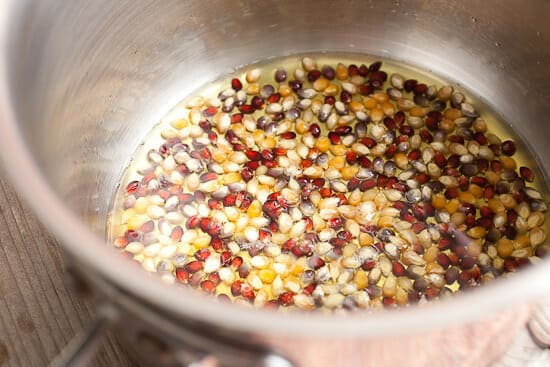 Add a lid and put the popcorn over medium-high heat. When the kernels start popping after a few minutes, start shaking the pop back and forth to make sure the kernels don't burn.
After a few minutes, you'll have a pot of perfectly popped popcorn! Say that 10 times fast!
Finishing the Popcorn.
At this point you can do all kinds of stuff with your popcorn, but this spicy/sweet mix is a good place to start.
I used a healthy mix of cumin, chili powder, salt, cayenne, and cinnamon.
Melt a few tablespoons of butter and drizzle that over the hot popcorn, then season with all the spice mix. It'll look like a lot, but you want each piece to have a good amount of spice on it. Some of the spice mix will end up in the bowl, but starting with a lot of spice will mean a good layer for your snack.
Now let's talk chocolate. I recommend keeping it simple. Find a good quality semi-sweet or dark chocolate that you like. Heat it in the microwave in 20 second bursts until it's smooth and melted. Then you can drizzle like crazy.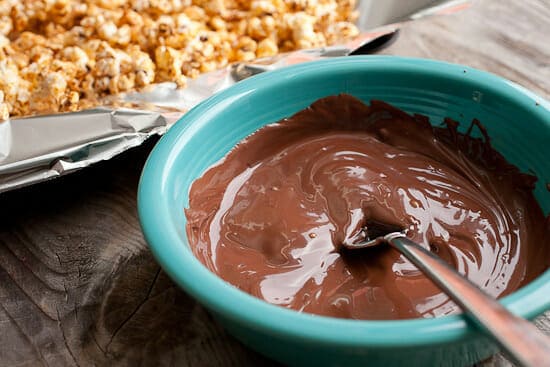 To make sure the popcorn gets an even layer of chocolate, I recommend spreading it out on a baking sheet and then drizzling with the chocolate. If you did it in a bowl, you would have uneven chocolate distribution!
I actually like to store this stuff in the fridge so it stays cold and the chocolate is crunchy.
The next time you have a snack craving, give this stuff a shot!