Raise your hand if you grew up thinking fig newtons were somehow healthy. ✋They are a cookie, people. But a really good one! These Homemade Fig Bars are a grown-up version of the fig newton, but relatively easy to make at home.
Plus, you'll have a little extra of the homemade fig jam filling which is a great topper for toast or oatmeal!
Why these aren't exactly fig newtons
When I was researching to make these, I started by thinking I would make actual homemade fig newtons. I quickly lost steam on that though when I saw how much work it involved. Piping bags, precise measurements, blah! If you do want that tutorial, I recommend Stella Parks's tutorial on Serious Eats.
No, these bars are a bit more rustic and approachable, but the flavor and texture are delicious. I was most inspired by Brown Eyed Baker's version of fig bars, although I changed the filling and added some nuts to my version for extra texture.
These were a fun baking project for someone who is admittedly not the best baker. I was pretty proud at how the fig bars turned out and they were a nice treat to have in the fridge for a week.
What kinds of figs to use
I wouldn't use fresh figs for this recipe. They have too much liquid in them and, honestly, should just be eaten fresh if you can find them. Or you could make this Fresh Fig Salad, of course.
The best kind of fig to use for these bars is a dried turkish fig, which are very available at most stores these days and end up making a wonderful fig jam.
How to Make Homemade Fig Jam
The filling for these fig bars has just a few ingredients, but you'll have to hunt down dried figs. That shouldn't be too hard these days. I found mine at a local grocery store (Sprouts). As I mentioned above, I like to use the Turkish figs.
Cut off the stems from the figs, halve them, and add them to a pot with water, orange juice, and lemon juice. Simmer that all together for a few minutes and then let them steep so they soften.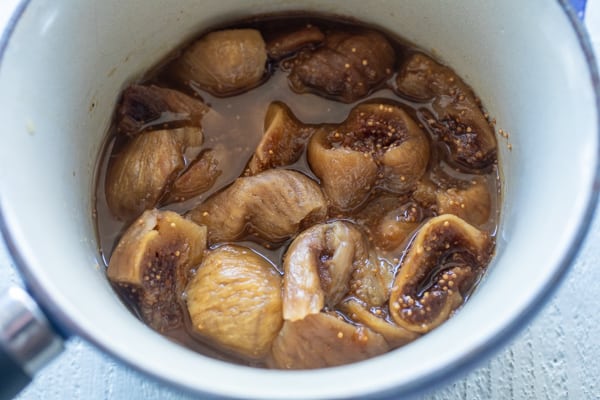 Add the mixture to a blender or food processor and pulse until smooth.
This jam will keep great in your fridge for a week or two and is good on all kinds of things!
Assembling the Fig Bars
Now for the assembly! I was a bit worried about this, but it turned out to not be that hard.
First, mix up your dough which ends up being basically a sugar cookie crust. See the full directions in the recipe below for exact steps. Essentially, you are making cookies though! Easy enough!
Save about 1/3 of the crust for the top of the bars.
Most importantly, line your 8×8 pan with parchment paper and spray it with nonstick spray. Make sure you leave enough paper overhanging so you can lift the bars up when they are done! Mine was a little short!
Press the crust dough into the pan to fit and then sprinkle with chopped pecans.
You could leave the pecans out, I guess, but I think they add some nice texture. Otherwise, everything in the bar is soft and they seem a bit limp. You could substitute other nuts like chopped pistachios, walnuts, or even just roasted peanuts.
Bake the crust at 350˚ F. for 18-20 minutes until it's golden brown. Then smear on a layer of fig jam. You can go pretty heavy with it if you want!
While your bottom crust bakes, take your reserved top crust and place it between two pieces of parchment or wax paper and roll it to fit your pan. It wouldn't be possible to press it into the pan since the jam filling is soft so you want to be able to just set it on top and have it fit.
Place the top crust in the fridge once it is rolled so it can firm up. Then once you've added your fig jam to the fig bars, you can plop on the top piece.
Sprinkle with sugar and bake for another 15-18 minutes. You want a golden brown crust on top and it should be cracking in spots.
Let the bars cool down before trying to remove them. You should be able to just lift up the parchment and they will come right out. If you screw up, like me, and don't leave yourself enough overhang to lift up, you can carefully flip the fig bars onto a plate and then flip them back over. Make sure they are completely cool if you try that method.
Slicing and storing the fig bars
You can slice up the fig bars once they are cool. 16 bars is pretty standard, but you could probably get 20 out of it if you wanted slightly smaller bars.
Sure, these aren't as perfectly shaped as fig newtons, but the flavors are very similar, if not better, and they are less finicky by a million miles.
Keep these fig bars in the fridge for up to a week or you can wrap them in plastic and freeze them for longer storage. They would freeze really great and you can just thaw them in the fridge before eating them!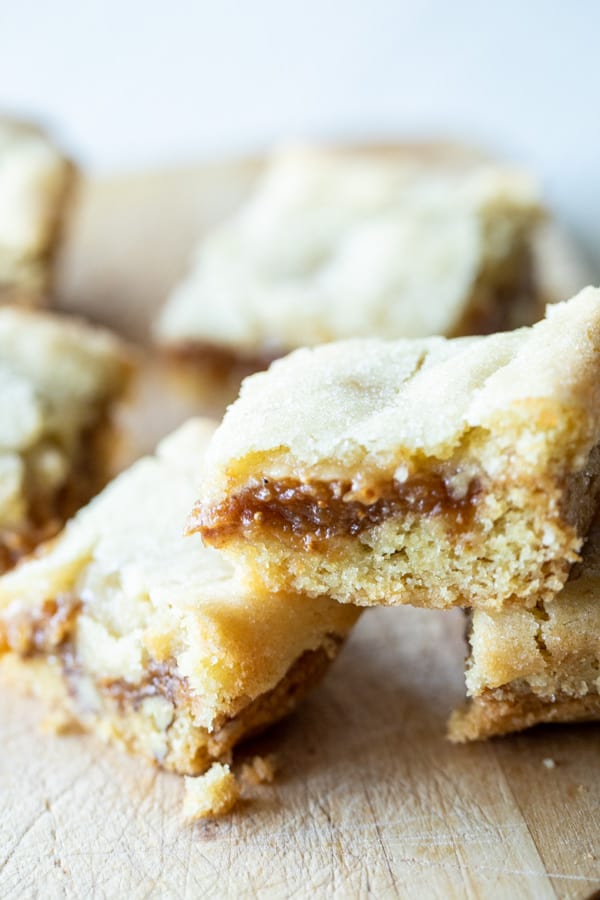 Homemade Fig Bars (Fig Newtons)
Homemade Fig Bars made with dried figs and a simple cookie crust. No finnicky fig newton style here, just really good bars that are much easier to make!
Ingredients
Fig Filling:
8

ounces

dried Turkish figs

,

stemmed and halved

1

cup

water

¼

cup

orange juice

½

lemon

,

juice only
Fig Bar Crust:
1 ½

cups

all-purpose flour

½

teaspoon

baking powder

¼

teaspoon

salt

8

tablespoons

unsalted butter

¾

cup

sugar

1

large egg

1

teaspoon

vanilla

½

cup

chopped pecans

½

cup

Fig Filling

,

or more depending on taste
Instructions
For Fig Filling:
Combine halved dried figs, water, orange juice, and lemon juice in a small pot over low heat. Bring to a slight simmer and simmer for 10 minutes. Then remove from heat and let sit for 10 minutes, covered. Once filling is cooled to at least room temperature, blend until smooth. Set aside.
To make fig bars:
Preheat oven to 350˚ F. In a stand mixer with a paddle attachment or with a hand mixer, combine sugar and butter and beat until light and fluffy.

In a separate bowl, stir together flour, baking powder, and salt.

When the sugar mixture is light and fluffy looking, after a few minutes of mixing, add egg and vanilla and combine slowly. Then add dry ingredients and mix until just combined.

Scoop out about 1/3 of the dough for the thinner top half of the bars. Place that half between two sheets of wax paper or parchment paper and roll into a rectangle to fit your 8×8 pan. Place in the fridge to firm up.

For the rest of the dough, prepare an 8×8 pan by lining it tightly with parchment paper and spraying it with nonstick spray.

Press the cookie dough into the pan until it's an even thickness. Sprinkle chopped pecans over the surface of the dough. Bake crust for 18 minutes at 350˚ F.
To Finish Bars:
When crust comes out of the oven, let cool briefly and once cool, add a layer of fig filling. I would use at least 1/2 a cup but you can use a little more if you want a thicker filling.

Remove the wrapping for the top piece of dough from the fridge and place it on top of the filling. Sprinkle lightly with sugar.

Bake bars again at 350˚ F. for another 15-18 minutes until the top is browned nicely and crispy.

Remove and let cool for 10 minutes before trying to remove. Remove bars by lifting up on the parchment paper. Once bars are out, peel away the parchment paper and cut bars into 16 even pieces (4×4).

Store bars in the fridge so they stay firm. Leftover fig filling is great on toast or oatmeal and will keep in the fridge for a week or two.
Nutrition
Serving:
1
Bar
|
Calories:
202
kcal
|
Carbohydrates:
30
g
|
Protein:
2
g
|
Fat:
9
g
|
Saturated Fat:
4
g
|
Polyunsaturated Fat:
1
g
|
Monounsaturated Fat:
3
g
|
Trans Fat:
0.2
g
|
Cholesterol:
25
mg
|
Sodium:
56
mg
|
Potassium:
141
mg
|
Fiber:
2
g
|
Sugar:
18
g
|
Vitamin A:
202
IU
|
Vitamin C:
4
mg
|
Calcium:
41
mg
|
Iron:
1
mg
Did you make this recipe?
Here are a few other great recipes to try!