I have recently became pretty addicted to RX Bars – specifically the black chocolate and sea salt bars. Ya, these ones. To make matters worse, my kids also like these bars. The only problem I have with this is that they are very expensive. HA! So, I figured I'd try to make some Copycat RX Bars and see how close I could get and maybe save a little $$$.
Luckily, the bars conveniently print the recipe on the label. The bars are basically a mix of dates, nuts, chocolate, and egg whites for protein.
The RX Bars that I've fallen for tend to run about $2/bar in the store. So if I have one for an after-workout snack and give my kids one to split, that's $4 in snacks!
So, let's see if we can improve!
What Nuts to use for RX Bars?
The nice thing about making these is you can use whatever nuts you want really. The wrapper recommends cashews. I used a mix of almonds and cashews.
I decided to process all my nuts so I would have a smoother bar. You could leave some of the nuts in pieces to give a chunkier texture (that's what RX bars do).
My Big boy food processor is packed away in the depths of my dungeon basement at the moment so I just had this little one to work with. It turned the nuts into a coarse meal rather than a smooth flour. Worked okay, but you could get them finer if you had a better food processor.
Egg White Protein
The wrapper for the RX Bars lists egg whites as the primary protein ingredient. I thought about trying these with actual egg whites but it would just be too wet of a mixture, which you would then have to bake. UGH.
Instead, I used egg white protein! This mixes easily into the bars. Only down side: EXPENSE. This jar ran me about $30 and was the most expensive thing in the bars by far.
This is a big jar though and I can get 4-5 batches of bars out of it.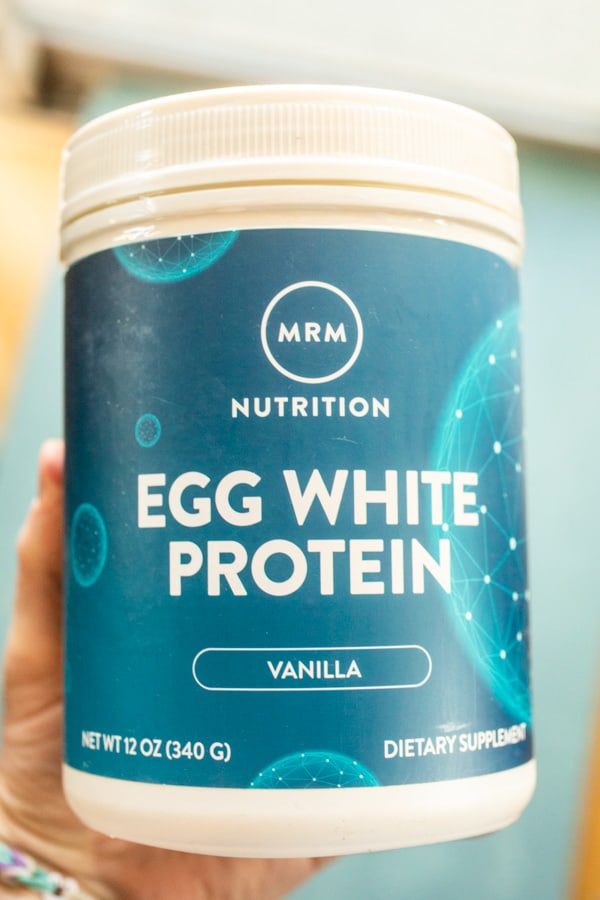 I mixed the protein powder with the processed nuts. Looking good.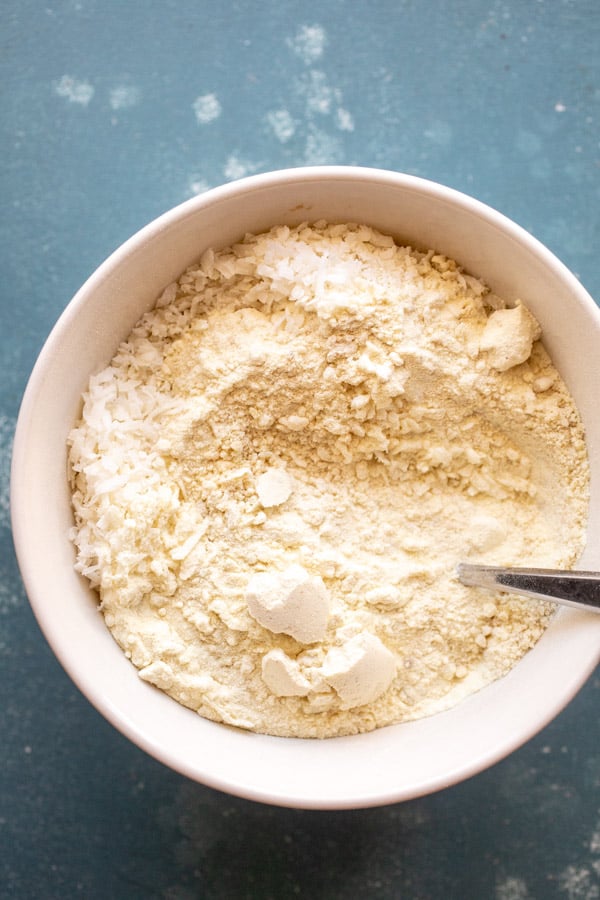 Finishing the RX Bars
Next up for these bars: DATES! I love using dates in bars and snacks. They add some great natural sweetness and work as a binder for the bars. Make sure to get fresh ones though that have lots of moisture in them. If you use months old dates from your pantry, they will probably be on the dry side.
Ideally, you want to pulse the dates and dry stuff together into a paste. I had to do this in a bunch of batches due to my tiny food processor. It still worked though!
My final version was much too dry to stick together but I could tell it just needed a little liquid to get there.
I stirred in my cocoa powder and then added some almond milk and the dough came together beautifully!
This was really good at this point!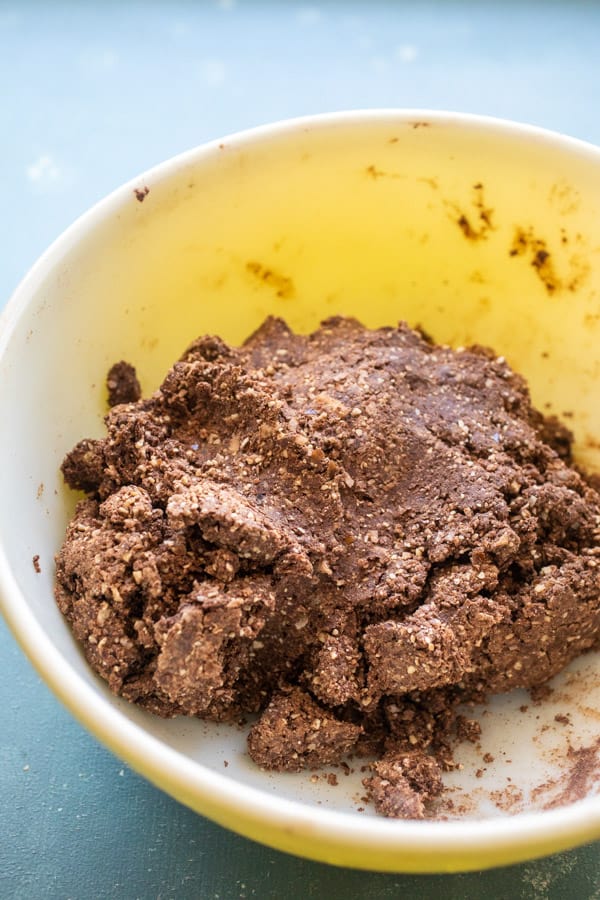 To finish the Copycat RX Bars, just press the mixture into a baking dish lined with wax paper. Sprinkle liberally with coarse sea salt.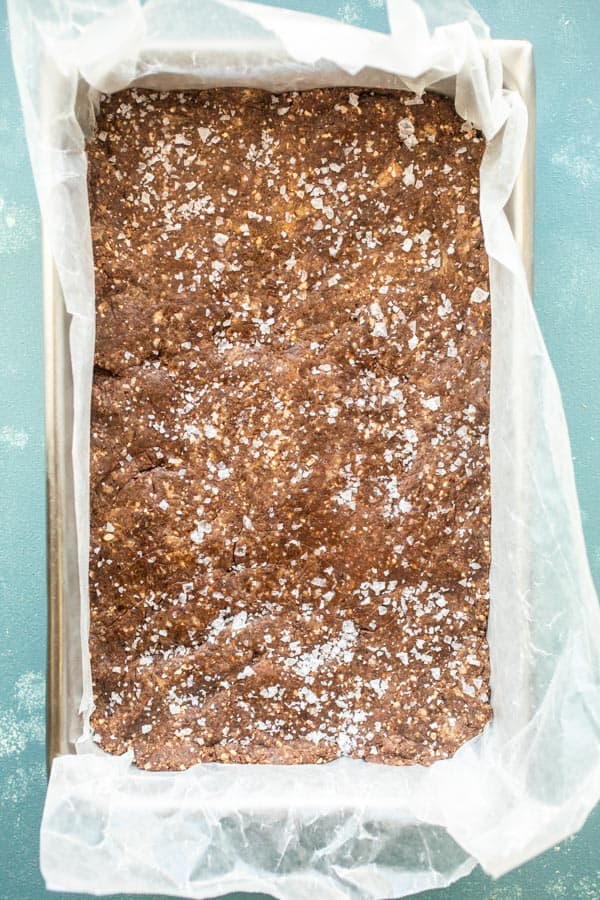 I found these easiest to cut after letting them rest in the fridge for about an hour. Then you can chop them up and wrap them individually in wax paper.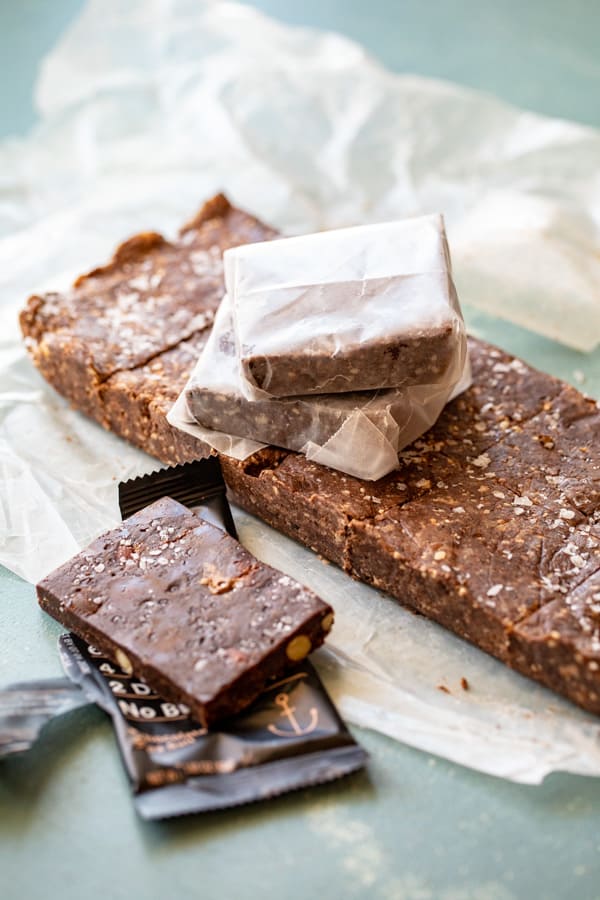 My texture turned out much different than the original RX bars. The original bars have a really smooth texture with big chunks of nuts while mine were a more even texture. This is actually personal preference. My kids prefer the ones without huge chunks. I liked both.
Also I added way more salt than in the original because salt = delicious.
Cost Comparison Between Bars
I did a quick back-of-the-envelope calculation on these bars and my bars worked out to about $1.40-$1.50/bar. The ingredients in the bars are still pretty pricy! Nuts are expensive and date are expensive and egg white protein is REALLY expensive.
If you wanted to get the price down, you could use a different protein powder and use a cheaper nut, like peanuts. That would knock a lot off the price.
As-is though, I loved these bars and they were actually really easy to make and would've been even easier if I had a big food processor!
Dive in and make some RX Bars!
Copycat RX Bars – Chocolate and Sea Salt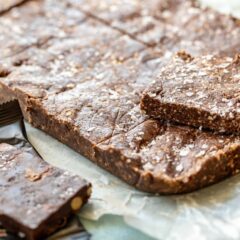 They are so easy to eat on the go and have great nutrition. I thought I would try to make a big batch on my own and they turned out excellent! Try out my homemade Chocolate and Sea Salt RX Bars for a great kid snack or after workout pick-me-up!
Ingredients
1

cup

raw almonds

1

cup

raw cashews

1 ½

cups

egg white protein powder

1

pound

dried dates

½

cup

cocoa powder

¼

cup

almond milk

Coarse sea salt

,

for garnish
Instructions
Add nuts to a food processor and pulse until they are in a coarse meal. Mix with egg white protein powder and cocoa powder.

Working in a few batches, depending on the size of your food processor, add dates and the dry ingredients to the processor and pulse until it combined. Transfer to a bowl and repeat with all the dates and dried ingredients.

The mixture will probably be too dry to stick together on its own. Add almond milk until the mixture just sticks together, probably 1/4 cup. Mix well and knead the dough to combine.

Press dough into a 9×13 pan lined with wax paper. Try to make the bars an even layer. Sprinkle liberally with salt.

The bars will be easiest to cut if you let them rest in the fridge for an hour or so.

Cut the bars into 15 bars and wrap individually in wax paper.

The bars will keep well in the fridge for up to two weeks.
Nutrition
Serving:
1
bar
|
Calories:
238
kcal
|
Carbohydrates:
30
g
|
Protein:
14
g
|
Fat:
10
g
|
Saturated Fat:
1
g
|
Polyunsaturated Fat:
2
g
|
Monounsaturated Fat:
5
g
|
Trans Fat:
0.001
g
|
Cholesterol:
18
mg
|
Sodium:
24
mg
|
Potassium:
401
mg
|
Fiber:
5
g
|
Sugar:
21
g
|
Vitamin A:
32
IU
|
Vitamin C:
0.2
mg
|
Calcium:
85
mg
|
Iron:
2
mg
Did you make this recipe?
Here are a few other great snack ideas!