The Internet is always impressed with mini breakfast items. But, making one really big thing like this Cast Iron Giant Blueberry Pancake is substantially easier than making a million tiny pancakes. I mean, like, WHO has the time?!
I actually think it tastes better too to make a larger thing than many smaller things because it's very easy to overcook mini items.
This giant pancake puffs up beautifully and has these almost crispy edges thanks to the heat from the cast iron skillet. Technically, I guess you could use any pancake recipe and try to cook it this way, but this one works particularly well. I adjusted the leavening ingredients a bit to account for it all cooking together in a pan.
Make this big beauty of a giant blueberry pancake!
Homemade Blueberry Pancake Batter
This is a really easy pancake batter with a few twists.
This version doesn't have any sugar in it and instead uses maple syrup. I like the natural sweetener as it has more flavor than plain cane sugar, but you could use cane sugar if it's all you have. You could also substitute honey if you prefer that flavor profile. For me, since pancakes taste good with syrup, I like to use syrup!
I always recommend whisking the dry and wet ingredients separately and then stirring them together.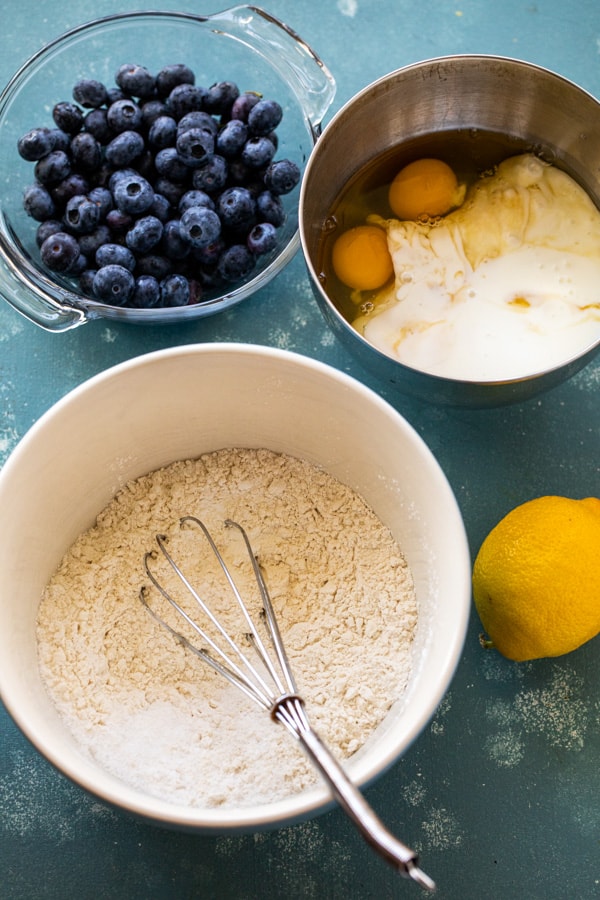 Once the batter is mixed, add in the melted butter, lemon zest and blueberries. Don't skip the lemon zest! It adds a wonderful brightness to the pancake.
Cooking a Pancake in Cast Iron
Many pancakes are cooked in nonstick skillets or on griddles, but cast iron is truly the special breakfast tool you need. Generally, I'll make things like this one of these easy dutch baby recipes or this Cheddar Scallion dutch baby is really special as well.
This giant blueberry pancake though is much thicker than those version and gets nice and crispy around the edges.
There are only two tips to remember for cooking a pancake in a cast iron skillet. First, it's helpful to preheat the skillet. I like to do this as my oven preheats to make sure the sides and bottom of the skillet are evenly heated.
Second, while cast iron skillets are fairly nonstick, you do need to add some fat to the skillet to help the pancake from sticking. I like to melt about 2 tablespoons of butter into the skillet right before I pour in my batter.
Cooking the Giant Blueberry Pancake
After the cast iron skillet has preheated for a few minutes in the oven, remove it and place it over medium heat on the stove. Melt about two tablespoons of butter in the skillet.
When the butter is melted and bubbling, use a spatula to spread it out over the skillet and then pour in the pancake batter. I like to save a few blueberries to dot on top of the pancake.
Cook the pancake on the stovetop for a minute or two and then transfer it to the oven to finish baking. Starting it on the stovetop ensures you have a really nice crispy bottom and finishing it in the oven makes it puff up and cook evenly.
The blueberry pancake will need to bake for about 20 minutes if you are using a 10 inch skillet or 12-15 minutes if you are using a larger 12-inch skillet. Counter-intuitively, it cooks faster in a larger skillet because it has more surface area and you'll end up with a thinner pancake.
The finished pancake will be cracked in spots and you can use a tester to make sure it's cooked through all the way in the center.
Let the pancake cool for a few minutes and then carefully flip it out onto a plate. I thought the color was perfect on this! Nicely browned!
Slicing and Serving
Slice the blueberry pancake into wedges and serve with butter and maple syrup! The pancake is best if you serve while warm.
Other Ideas for Giant Cast Iron Pancakes
Instead of blueberries and lemon, here are few other add-in ideas!
Chocolate chips – Sprinkle them on top before baking!
Peanut butter and mashed banana
Cheddar and scallion – savory version!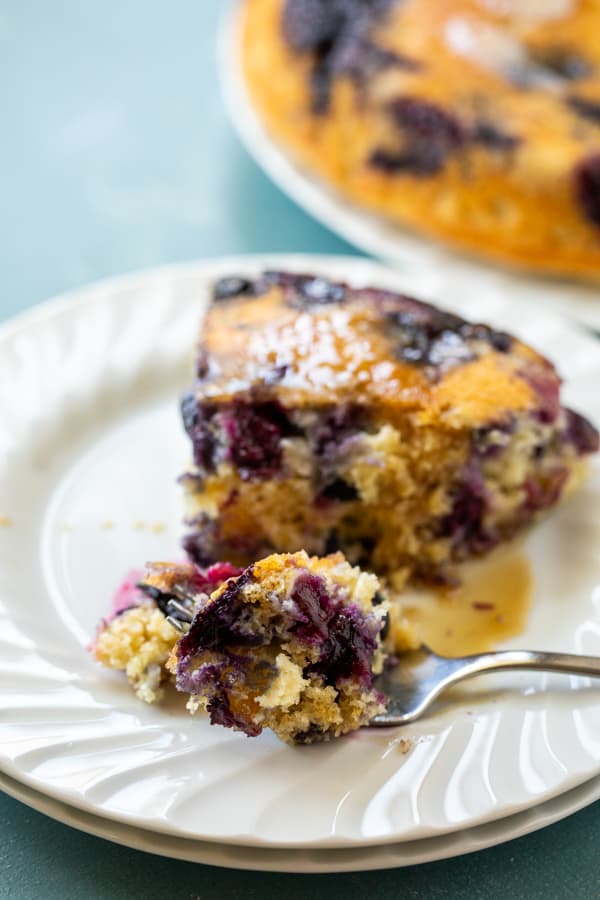 Storing and Reheating the Pancake
If you are just serving this to your family, you'll probably have some leftovers. Let the pancake cool to room temp and then either store it in an airtight container or wrap it tightly in plastic wrap and store it in the fridge for a few days.
Reheating the pancake is easy. It actually reheats just fine in the microwave. Cut a wedge and microwave for 30 seconds on high and it'll be ready to serve!
Giant Cast Iron Blueberry Pancake
Forget making a million small pancakes. Make one giant one in a cast iron skillet! This one is packed with fresh blueberries and lemon! A super-easy summer breakfast!
Ingredients
1 ½

cups

all-purpose flour

2

teaspoons

baking powder

½

teaspoon

baking soda

2

teaspoons

kosher salt

2

large eggs

1 ⅓

cups

buttermilk

¼

cup

maple syrup

¼

cup

butter

,

divided

1

cup

fresh blueberries

1

lemon

,

zest only

Maple syrup and butter

,

for serving
Instructions
Preheat oven to

350

°F

. Place a cast iron skillet in the oven to preheat with the oven. You should use at least a 10-inch skillet or a 12-inch skillet will make a thinner pancake.

In a medium-large bowl, whisk together flour, baking powder, baking soda, and salt.

In a separate bowl, whisk together eggs, buttermilk, and syrup.

Stir the wet ingredients into the dry ingredients and mix until just combined and no dry flour is showing.

Pour in 2 tablespoons of melted butter along with most of the blueberries (save a few for dotting on top) and the lemon zest.

Remove cast iron skillet from the oven (careful it's hot) and place on stove over medium heat. Add 2 tablespoons of butter and melt. When butter is melted and bubbling, pour in pancake mixture. If you reserved a few blueberries, distribute them over the surface of the pancake.

Cook pancake for a minute on the stovetop and then transfer back to the oven. Bake pancake for 18-20 minutes until it is set in the center and the edges are starting to brown. If you use a larger 12-inch skillet, baking time will be closer to 12-15 minutes.

Remove pancake and let cool for a few minutes. Then carefully flip the pancake out onto a plate. Slice the pancake and serve with butter and syrup!
Nutrition
Serving:
1
slice
|
Calories:
292
kcal
|
Carbohydrates:
41
g
|
Protein:
7
g
|
Fat:
11
g
|
Saturated Fat:
6
g
|
Polyunsaturated Fat:
1
g
|
Monounsaturated Fat:
3
g
|
Trans Fat:
0.3
g
|
Cholesterol:
81
mg
|
Sodium:
1148
mg
|
Potassium:
202
mg
|
Fiber:
2
g
|
Sugar:
14
g
|
Vitamin A:
421
IU
|
Vitamin C:
12
mg
|
Calcium:
176
mg
|
Iron:
2
mg
Did you make this recipe?
Here are a few other great recipes!