It turns out there are a ton of delicious brunch places in the Denver area. I would argue there are probably more here than in the DC area. One popular one that I've yet to make it to is called Snooze. This place frequently has lines around the corner and I have a hard time justifying the wait when I can normally make something pretty close at home.
Especially if I can get my hands on their pancake recipe courtesy of Bon Appetit!
Since I haven't actually had their version of these Buttermilk Blueberry Pancakes, I can't say that I made them as good or better, but I can say that when I made them they were damn good and actually pretty straightforward.
The two tricks to the recipe are: 1) Streusel topping. Why not put it on pancakes? 2) Don't mix the blueberries into the batter. Put them on each pancake.
Buttermilk Blueberry Pancakes
Homemade Blueberry Pancakes are stuffed with more blueberries than you would think. These are tangy, fruity, and wonderful!
Ingredients
Streusel:
½

cup

rolled oats

¼

cup

all-purpose flour

2

tablespoons

brown sugar

¼

cup

unsalted butter

,

melted
Pancakes:
2

cups

all-purpose flour

¼

cup

sugar

2

teaspoons

baking powder

1

teaspoon

baking soda

1

teaspoon

kosher salt

2

large eggs

3

cups

buttermilk

¼

cup

unsalted butter

,

melted and cooled

2

cups

blueberries

Butter

,

for cooking

Maple syrup

,

for serving
Instructions
Preheat oven to 350 degrees F. For streusel, stir together flour, oats, and sugar and spread out on a baking sheet lined with parchment paper. Drizzle streusel with melted butter and toss everything to combine.

Bake streusel for about 17-20 minutes, stirring a few times as it bakes, until streusel is golden brown and crunchy. Remove, let cool while you make the pancake batter, and crumble.

For batter, whisk together dry ingredients for the batter. Separately, whisk together buttermilk, melted and cooled butter, and eggs.

Stir wet ingredients into dry ingredients. If the batter is very thick, feel free to add a bit more buttermilk.

Heat a large griddle or skillet over medium heat. Add a small pad of butter to the pan and melt or drizzle with vegetable oil. Once hot and bubbling, add ⅓ cup of pancake batter for each pancake.

Dot each pancake with fresh blueberries. Be liberal with them. Cook the pancake for 3-4 minutes until they start to bubble on the surface and firm up around the edges.

Flip the pancakes carefully and cook for 2-3 minutes on the second side.

Serve the pancakes immediately or keep warm in a 200 degree F. oven while you cook the rest.

Serve the pancakes with lots of streusel and maple syrup.
Nutrition
Serving:
1
Pancake
|
Calories:
764
kcal
|
Carbohydrates:
101
g
|
Protein:
18
g
|
Fat:
33
g
|
Saturated Fat:
19
g
|
Polyunsaturated Fat:
2
g
|
Monounsaturated Fat:
9
g
|
Trans Fat:
1
g
|
Cholesterol:
163
mg
|
Sodium:
1295
mg
|
Potassium:
458
mg
|
Fiber:
5
g
|
Sugar:
37
g
|
Vitamin A:
1166
IU
|
Vitamin C:
7
mg
|
Calcium:
369
mg
|
Iron:
5
mg
Did you make this recipe?
Buttermilk Blueberry Pancakes
The Secret Crumble
I never would've thought to put streusel on pancakes but I'm going to do it regularly now. It's adds some great crunch to the pancakes and makes them more hearty. Plus, it's a really easy streusel to mix up.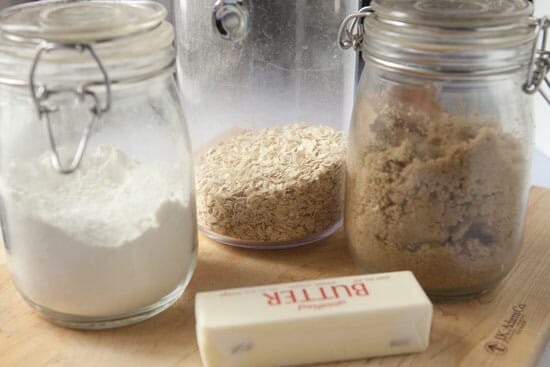 Just stir together the oats, flour, and brown sugar on a baking sheet lined with parchment paper.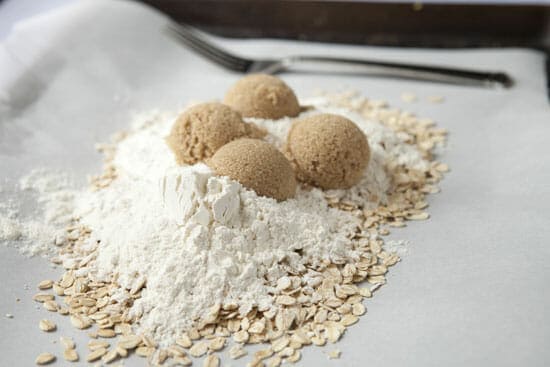 Once it's mixed together, drizzle on some butter. Actually, it's kind of a lot of butter, but whatever.
Toss this all together and it's ready to bake!
Take the streusel at 350 degrees F. for about 17-20 minutes until it's browned and crispy. Stir the streusel every five minutes or so as it bakes to make sure it cooked evenly.
Then you can let it cool and crumble it up.
The Batter
While the streusel bakes, you can work on the batter. The batter is pretty straightforward honestly. Definitely easier than the cloud cakes recipe (my other favorite pancake method). Just whisk together the dry ingredients and wet ingredients separately and then stir the wet into the dry.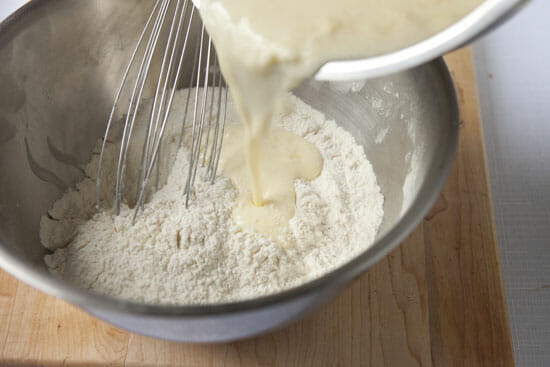 The batter should be smooth and fairly thin. If the batter is really clumpy or very thick, feel free to add a bit more buttermilk to thin it out.
Cooking the Pancakes
The original recipe says to use vegetable oil to cook the pancakes, but I always use butter to cook my pancakes so that's how I did it.
Heat your griddle or skillet over medium heat and add a small dab of butter or a drizzle of oil to the pan. Once it's bubbling and hot, add about 1/3 cup of batter.
Then dot each pancake with blueberries. Feel free to use a liberal hand with the blueberries.
Cook the pancakes for 3-4 minutes until they are bubbling on the top and slightly firm around the edges, then hold your breath and give them a flip!
Hopefully you'll see this!
Cook the pancakes for a minute or two on the second side and serve them up immediately. If you want, you can keep cooked pancakes warm in a 200 degrees F. oven while you make the rest of the pancakes. You should get 10-12 pancakes out of the recipe.
Obviously, serve these Buttermilk Blueberry Pancakes with a big spoonful or two of the streusel and real maple syrup.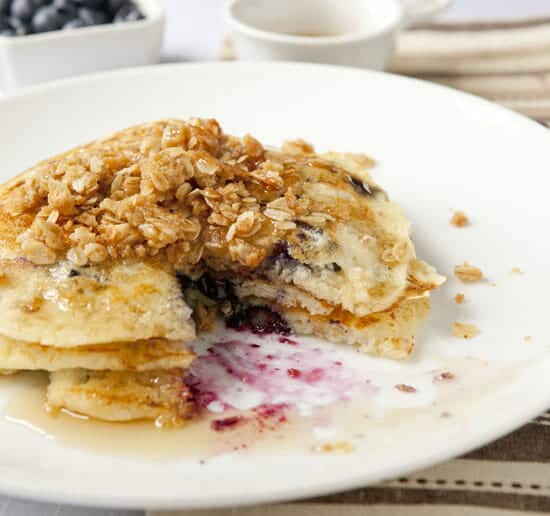 These pancakes are blueberry packed, but they are also nice and tangy because of the buttermilk.
I do intend to make it Snooze someday, but I must say it's hard when you can avoid the lines and make these delicious guys at home.