Here's the truth: I make recipes for Macheesmo at random times. Given that I work, and am trying to heal my knee, and do other important stuff like catch up on Mad Men, I just don't always make recipes when it would make sense to do so.
These Date and Honey Pancakes for example — I made them at 3PM on a Wednesday. My plan was to make them, photograph them, and freeze them until later so Betsy and I could eat them.
That mostly worked until I tasted them.
Then I proceeded to eat three of them for a little afternoon snack.
I couldn't stop eating them. Even my dog was looking at me like I was a crazed man.
So yea… these are some of the best pancakes I've ever made. They are 3PM pancakes.
Date and Honey Pancakes
Light and fluffy pancakes studded with sweet dates. Honey replaces in this pancake recipe to give them a really rich flavor.
Ingredients
1 ½

cups

flour

2

teaspoons

baking powder

½

teaspoon

salt

4

tablespoons

unsalted butter

,

melted (plus some for cooking)

3

tablespoons

honey

1 ½

cups

milk

1

large egg

1

orange

,

zest only

8

dates

,

seeded and chopped
Toppings:
Powdered sugar

Butter

Maple Syrup
Instructions
Cut dates in half and remove seeds, then dice. Set aside for later.

Mix together dry ingredients in a large bowl.

Whisk wet ingredients in a small bowl.

Stir wet ingredients into dry ingredients. If it is really thick, add a bit more milk. Add in orange zest and mix well.

Heat griddle or pan over medium heat. Add butter and melt.

Once butter is hot and bubbling, pour in ⅓ cup pancakes. Once pancakes are in, dot with chopped dates.

Cook pancakes on side one until they are firm around the edges and bubbling in the center, about 3 minutes. Then flip!

Cook on side two for another 2 minutes until the pancakes are cooked through.

Top pancakes with butter, syrup, and powdered sugar and serve immediately!
Nutrition
Serving:
1
Pancake
|
Calories:
445
kcal
|
Carbohydrates:
68
g
|
Protein:
10
g
|
Fat:
16
g
|
Saturated Fat:
9
g
|
Polyunsaturated Fat:
1
g
|
Monounsaturated Fat:
4
g
|
Trans Fat:
0.5
g
|
Cholesterol:
82
mg
|
Sodium:
556
mg
|
Potassium:
366
mg
|
Fiber:
3
g
|
Sugar:
29
g
|
Vitamin A:
633
IU
|
Vitamin C:
18
mg
|
Calcium:
266
mg
|
Iron:
3
mg
Did you make this recipe?
Date and Honey Pancakes
The Pancake Batter
The batter for these guys is pretty standard, but I do like the honey substitution for what is normally plain old sugar.
You have to use less honey and it gives the pancakes a really complex flavor. Plus, honey and dates are one of the oldest flavor combos in existence so you know it'll be good.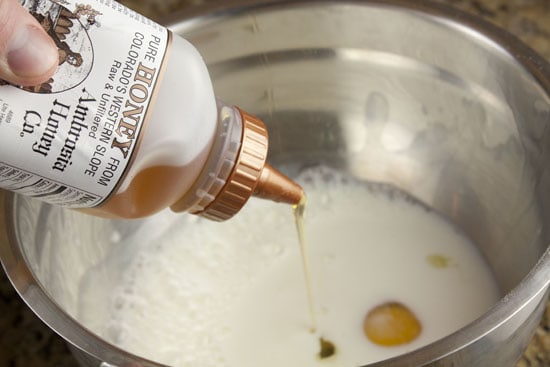 Just stir together the dry ingredients in a bowl and whisk the wet ingredients in a separate bowl.
Then stir them together!
The batter is simple and a good example of why I rarely use pre-made pancake mixes.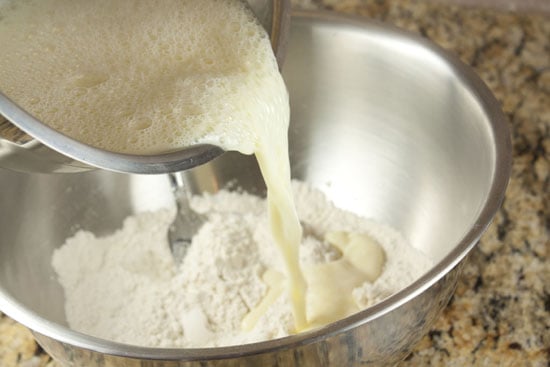 The orange zest in this recipe is optional, but it adds a really nice citrus kick.
You could leave it out though and still have some rockin' pancakes.
Pancake batter can be a tricky thing to master. You want it thick, but not too thick.
Honestly, I usually make a test pancake and then adjust my batter by adding a bit more milk. Normally, I make my batter too thick to start which is because I think I never measure my flour accurately enough.
Anyway, the batter should be thick, but pourable. If you make a small test pancake and the pancake is really thick, then stir in a few extra tablespoons of milk to the batter.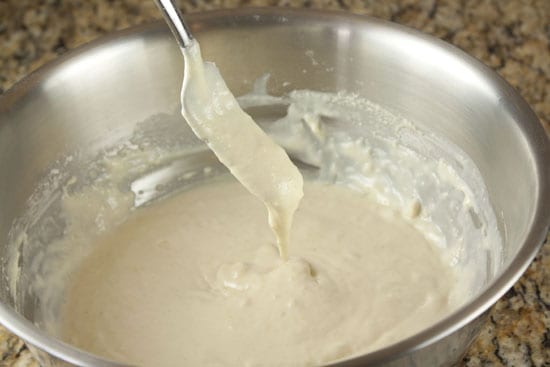 It's a date
Dates are quickly becoming one of my favorite things to have in the fridge. They are a great snack to give you a sweet fix and you can add them to all kinds of recipes.
Don't forget that dates have seeds in them. You'll need to slice them in half and pick out the seeds. Then you can just roughly dice them for this recipe.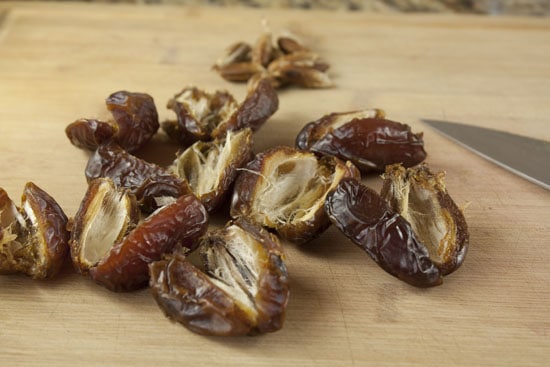 Cooking the Date and Honey Pancakes
I made some really big pancakes for this post. I would recommend making them a bit smaller than I did.
Go with about 1/3 of a cup of batter per pancake.
I like to cook my pancakes in melted butter and you could use a griddle or a large skillet. The griddle helps just because you can make a bunch at once. Cook pancakes over medium heat so they don't burn.
After you pour the batter, dot each pancake with some dates. I prefer this to adding the dates to the batter just so they are evenly distributed.
Once the pancakes have bubbles on the surface and are firm around the edges, give them a flip!
These turned out perfectly.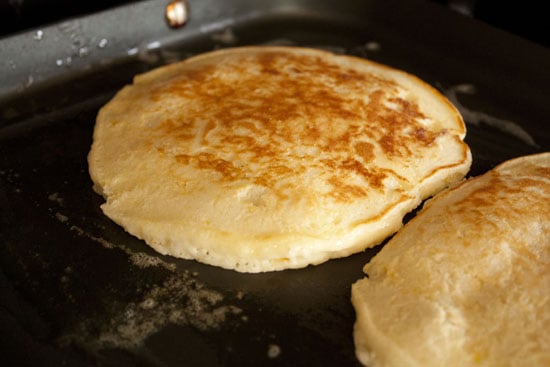 They will need to cook for 5-6 minutes total and most of that cooking should be on the first side.
Once they are done, serve them up as soon as possible!
I like mine with a dollop of butter, some powdered sugar ,and a good drizzle of syrup.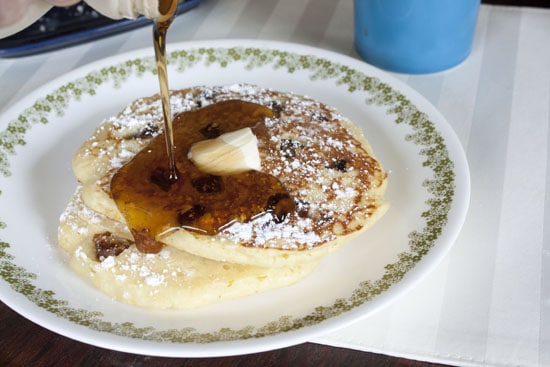 A good cup of coffee is also essential in my opinion.
The pancakes are on the sweet side, but the orange helps make them not overly sweet.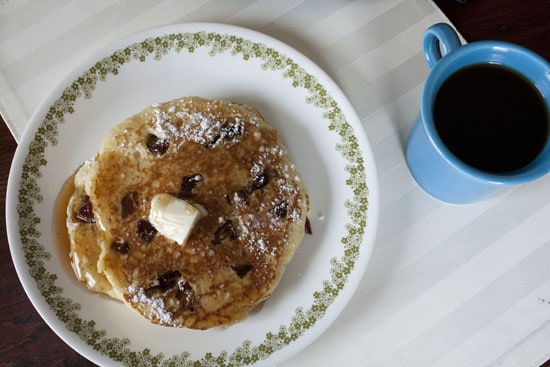 I think these Date and Honey Pancakes are my favorite pancakes I've made on Macheesmo.
That should be enough of a statement to get you to try them out.
Find more breakfast and brunch ideas here: Happy Mornings