This list was updated on January 7th, 2020 to include a bunch of new recipe ideas!
When my wife, Betsy was in her first two trimesters of her first pregnancy meals weren't always a walk in the park. Over the years, I've been compiling these tips and meals for pregnant women to hopefully help out with meal-time struggles!
Feeding my wife healthy and delicious meals during her pregnancy was an area that I was positive (like, absolutely) that I would be able to nail. After all, feeding people is kind of what I do. If I can't feed my own wife during cravings, sickness, and other strange pregnancy states, I should probably just hang up my blogging boots.
In the beginning, I was ready and, I thought, armed with the following theories about feeding a pregnant momma:
– How hard could it be? She's going to be hungry all the time. (NOT TRUE)
– She's growing a human. She needs to eat a lot. (NOT TRUE)
– Just find out her cravings and then it will be easy to satisfy them. (NOT EVEN REMOTELY TRUE)
Pregnancy Aversion to Foods
Betsy and I were somewhat mentally ready for the dreaded morning sickness of pregnancy. Bets was ready to feel gross on occasion and I was ready to play around with different recipes to find pregnancy meals she could enjoy.
What we weren't exactly ready for was a lingering four month slog where Bets couldn't eat a shifting field of foods. Some days it was almost hour to hour. Some days it would be super specific (no eggs allowed) and some days it would drift into the vague abyss (no cooked vegetables… like none at all).
Try to find a recipe on my site that doesn't include any cooked vegetables. It's pretty damn tough. I struggled with that one.
Betsy and I weren't really ready to go public with the news so I wasn't writing much about this issue, but now that it's out there and most of the sickness issues are behind us, I thought it would be fun to share some of the recipes (and tips) that actually worked for us.
Maybe this list of Easy Meals for Pregnant Women will help you now, or in the future.
And, by all means, if you happen to have some recipes that helped you or your significant other get through the first few months of baby growing, please leave a comment below!
Tip 1: Think Smells
One big rule I learned is to not just think about how a food tastes, but how it smells. This not only includes the finished version but in all of the food states.
One of Betsy's biggest aversions was to cooked onions. Or more specifically, her aversion was to the smell of onions cooking.
Smells are very different than flavors and it helps to be aware of strong smells that might be off-putting.
Tip 2: Focus on Textures
This is actually a good rule for cooking in general, but many times I think Betsy wasn't against the food exactly, but the texture of the dish.
She tended to do well with super-crunchy dishes or creamy things. So a really fresh crunchy salad was totally fine or a big bowl of creamy potato soup.
Of course, not every person will be the same, but it's helpful to try to identify what textures work and then find other dishes that have those textures.
MEALS FOR PREGNANT WOMEN – 23 RECIPES THAT WORKED FOR US!
Here's a roundup of the recipe types that worked really well for Betsy, after much trial and error. Of course, some of these may or may not work for you depending on your personal aversions, but you should find some things in the list that sound good!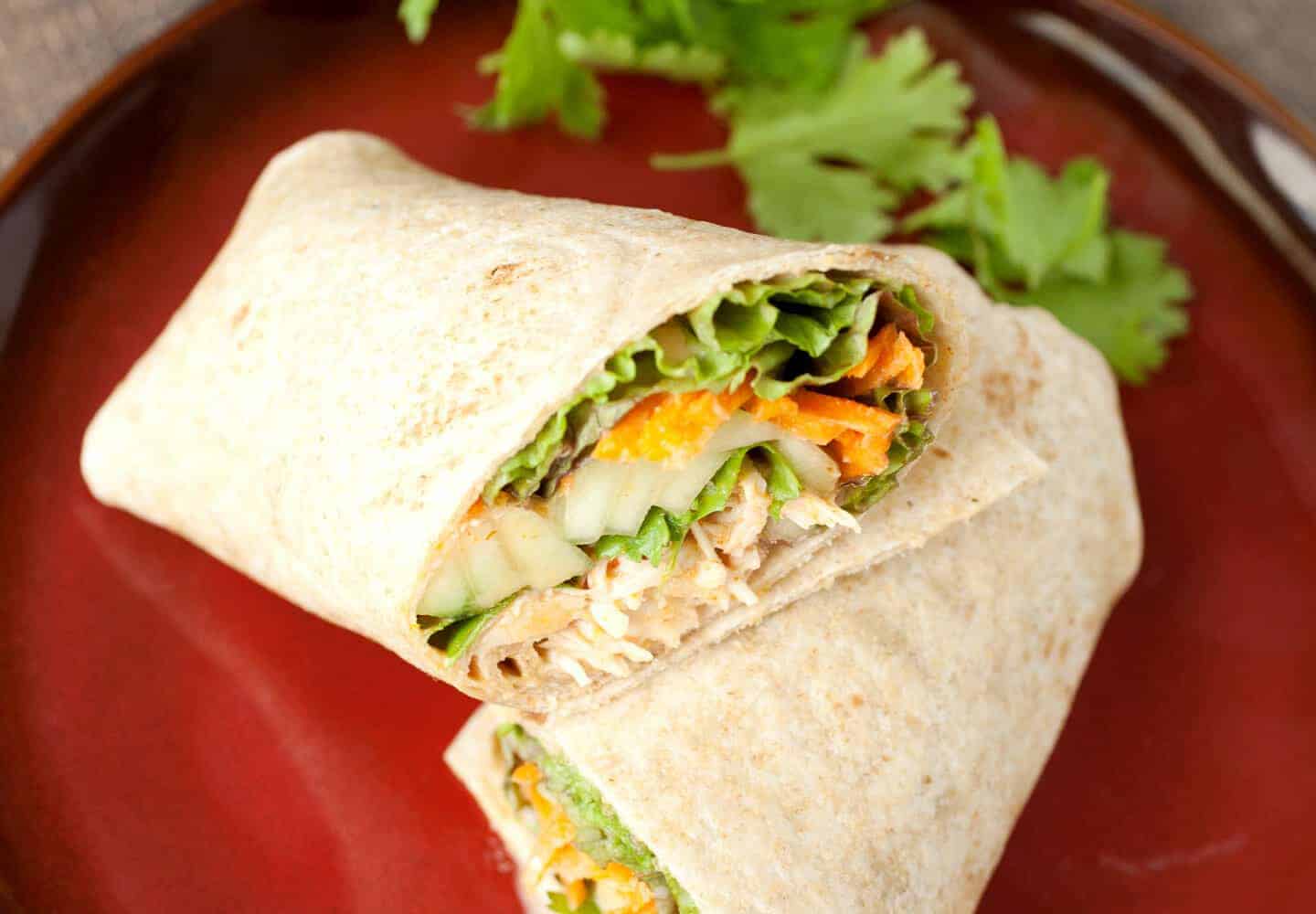 This recipe is one of many that I've found might work for lunches. It has some strong flavors (spicy), but the coconut is actually pretty mellow and a refreshing flavor that can be easy on the stomach.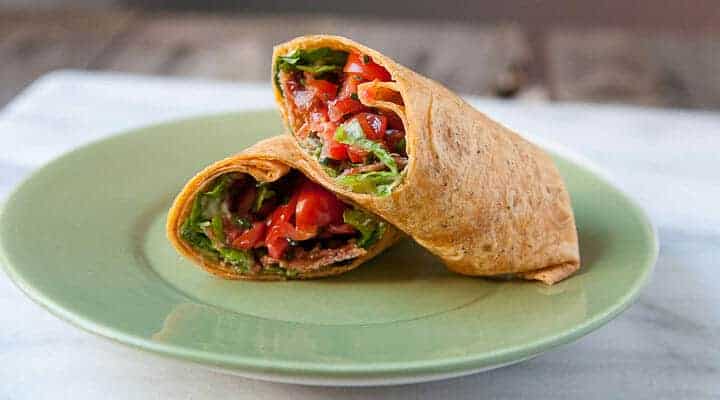 Another good wrap idea that has good textures in it if you prefer crunchy things. The crunchy bacon and crispy tomato and lettuce is a great combo. Plus, the wrap has no strong vegetable flavors (onions) so it's pretty mild.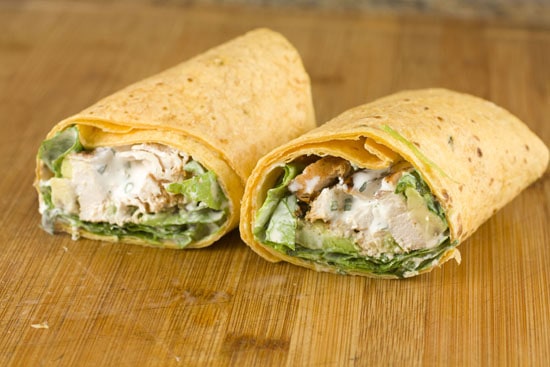 This wrap was a lunch that Betsy could easily eat (and enjoy). The wrap would change a bit each week, but her favorite was basically this marinated chicken, grilled, and wrapped with really crunchy lettuce, crunchy bacon, tomato and avocado.
If you happen to have a slight sweet tooth during pregnancy, this oatmeal bowl is an awesome option. It basically tastes like a cinnamon roll but has whole oats so there are worse things you could start your day with!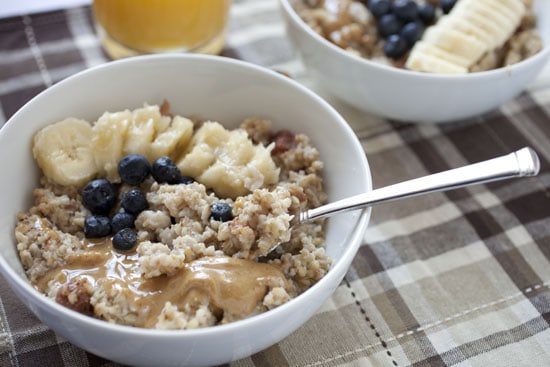 I feel like Betsy didn't have more sickness in the morning. It was more of a constant annoyance, but breakfasts definitely were an issue. We landed on oats as a cure. The good thing about oats is they are completely bland and you can change them up depending on the food aversion of the day.
We would tend to go with some sort of berry and nut butter most days of the week but even just oatmeal and butter could be a great breakfast option.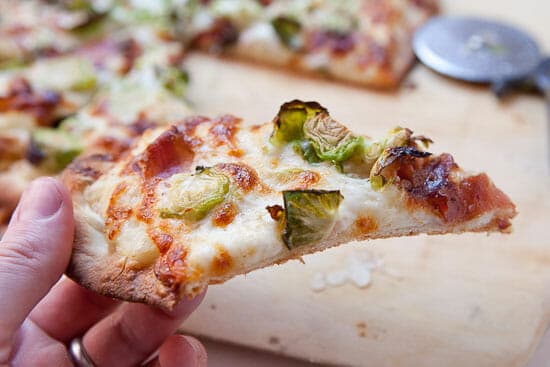 Okay. Ignore the Brussels sprouts on the above photo because that was a big NO GO in our house. But, this mashed potato pizza (and pizza in general) was generally something Betsy could eat as long as didn't have a ton of vegetables on it. The carb-on-carb combo on this pizza was sometimes exactly what Betsy was craving.
I also did not complain.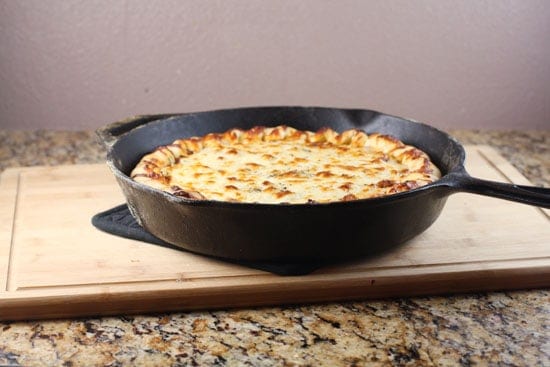 More options in the pizza category, this one a bit more classic. Easy-to-make and always delicious. If the homemade crust is too much, just use a store-bought pound of dough – you probably have enough to worry about anyway!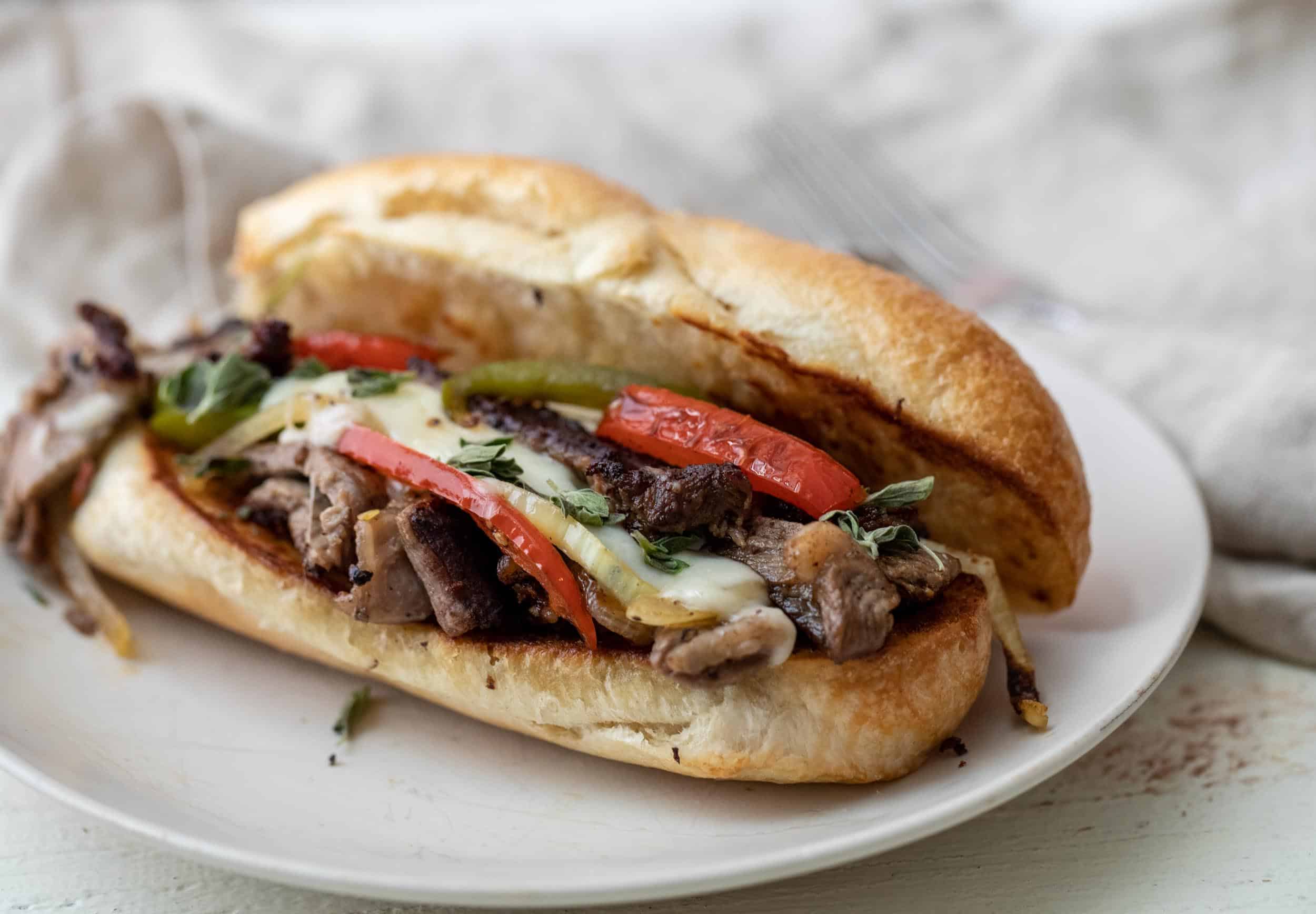 The onions and peppers might be a trigger for some women, but you can easily leave them out. Sometimes Betsy was craving STEAK and this is a great quick option for a meat-heavy meal.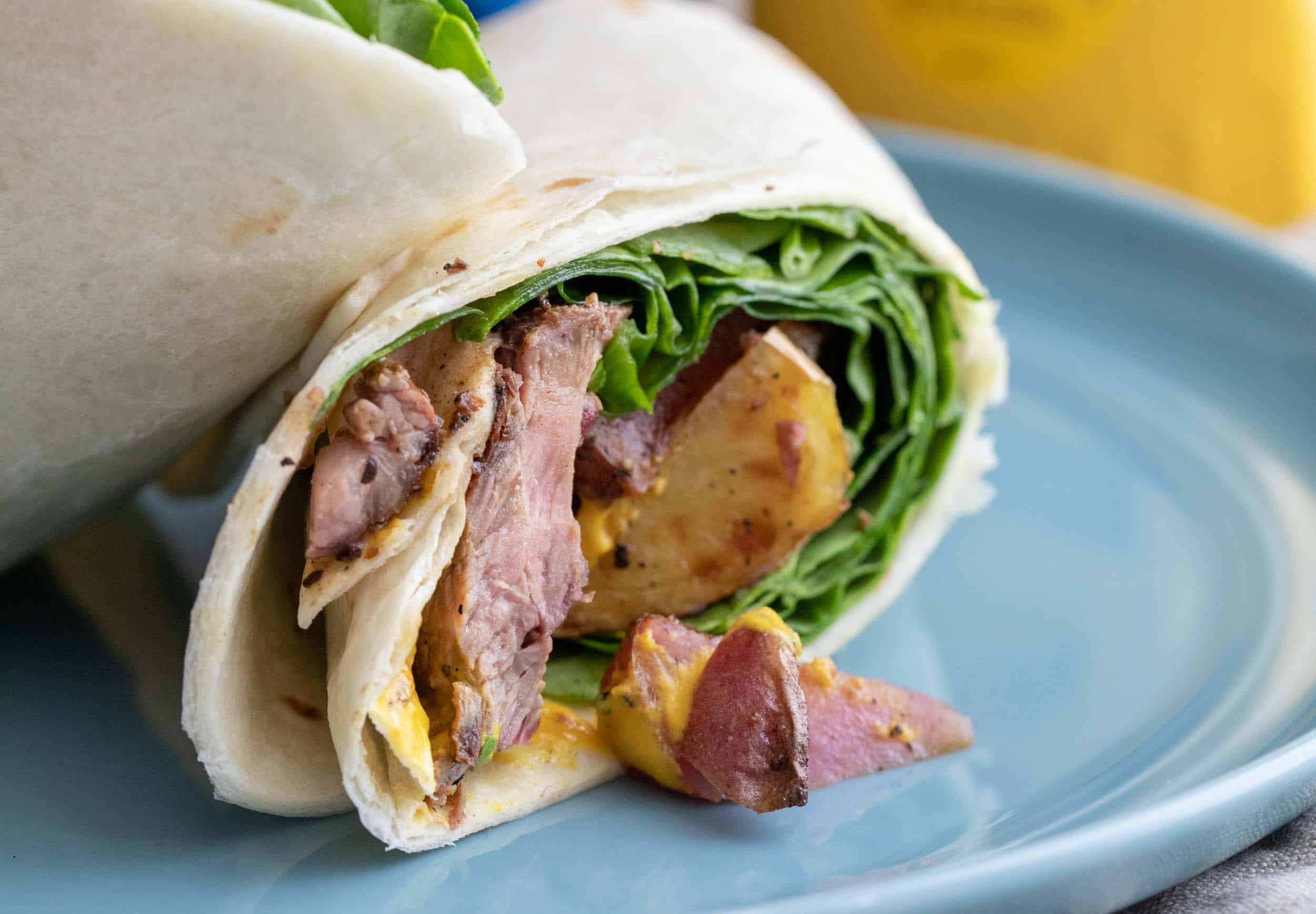 This is kind of a combo between the steak idea and the wrap concept. Betsy couldn't eat mustard (and actually still doesn't like it) but again that's an easy leave-out option for the wraps. It's a hearty wrap that can be served for lunch or dinner.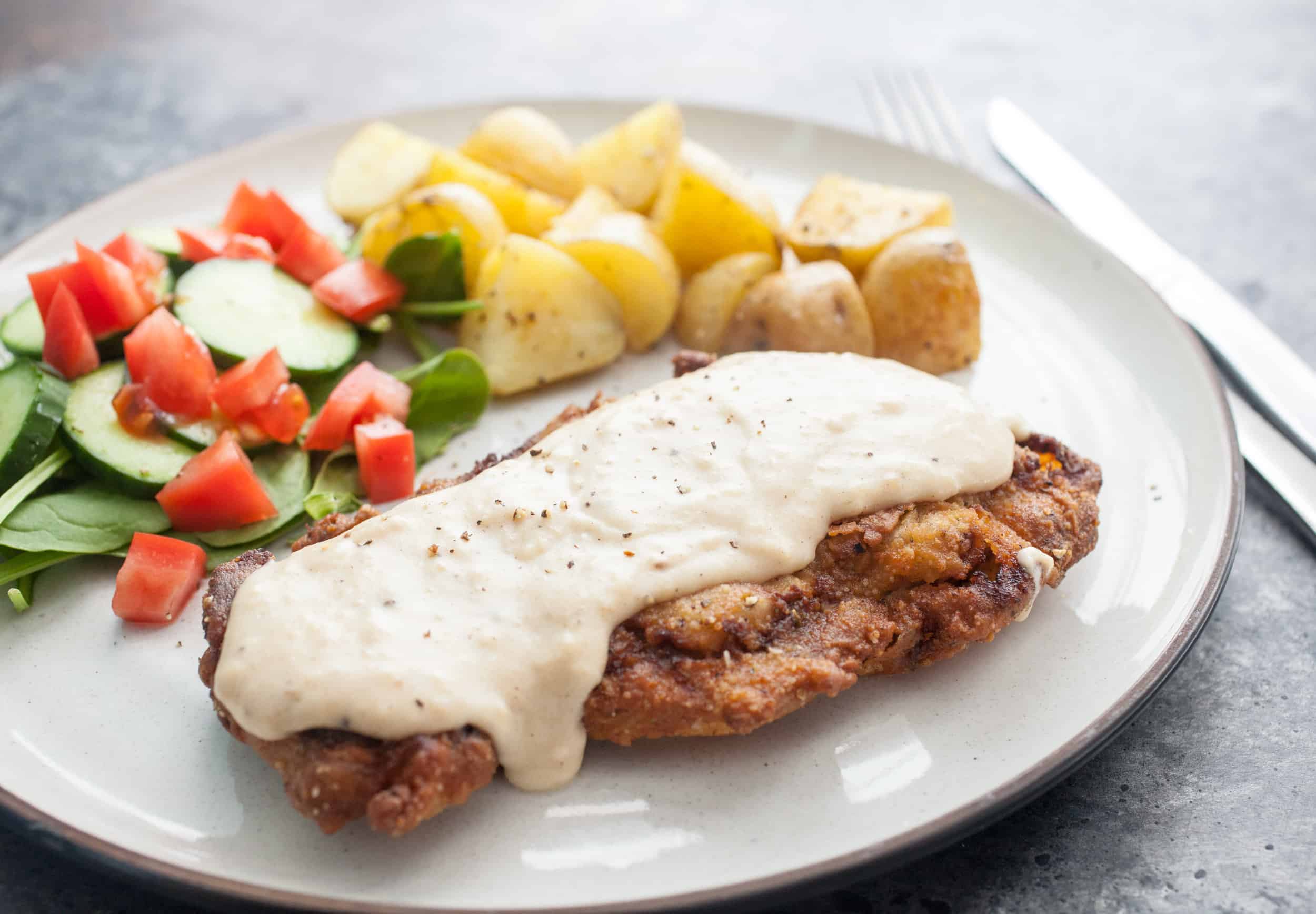 If your pregnant momma is craving comfort food, this chicken fried steak is worth the work. Crispy breading with a creamy gravy could satisfy certain cravings for sure. Plus, limited vegetable smells, which was always a trigger in our house.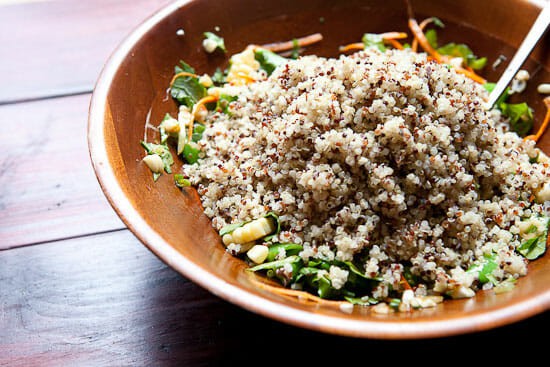 After we exhausted the chicken wrap situation for lunch, we learned that Betsy could handle a very simple quinoa salad. The one we landed on was actually much simpler than the one in the above recipe. Essentially, I would just cook quinoa and toss it with crunchy snap peas, pumpkin seeds, and a very light dressing.
This worked well and I felt good for feeding her something I could generally qualify as healthy.
This salad is so healthy and can be customized easily based on tastes. The basics of it have a nice mix of protein ingredients and crunchy ingredients without any super-strong flavors. The eggs might be a reach for some though!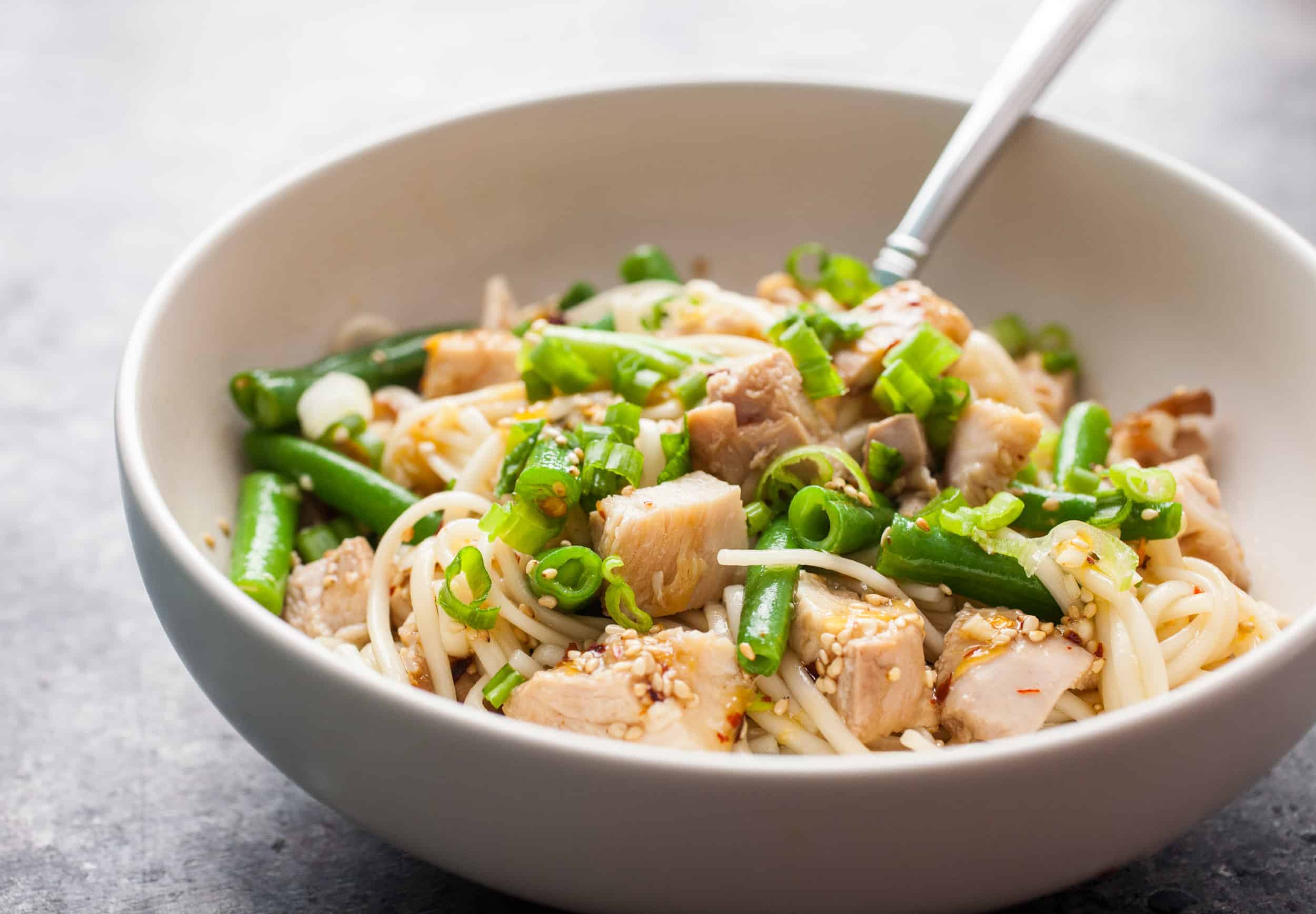 I love the chicken and noodle combo for this dish and since it's cold the flavors are pretty mild. The scallions were a no-go for my wife, but they are easy to leave off.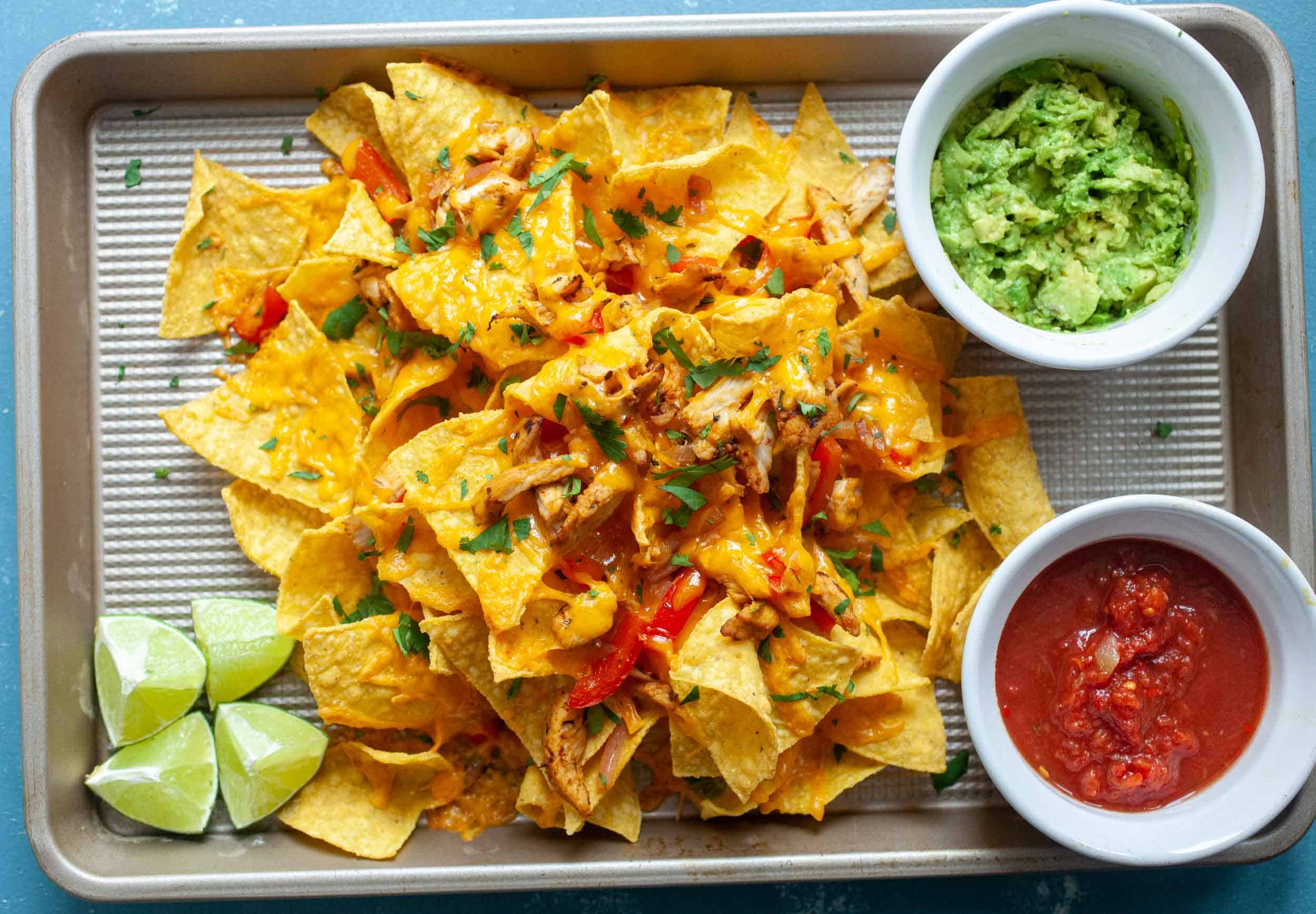 Not ALL Tex-Mex is a hit with pregnant cravings, but Betsy generally liked crunchy Tex-Mex items. So nachos like this were a pretty sure-fire win for dinner.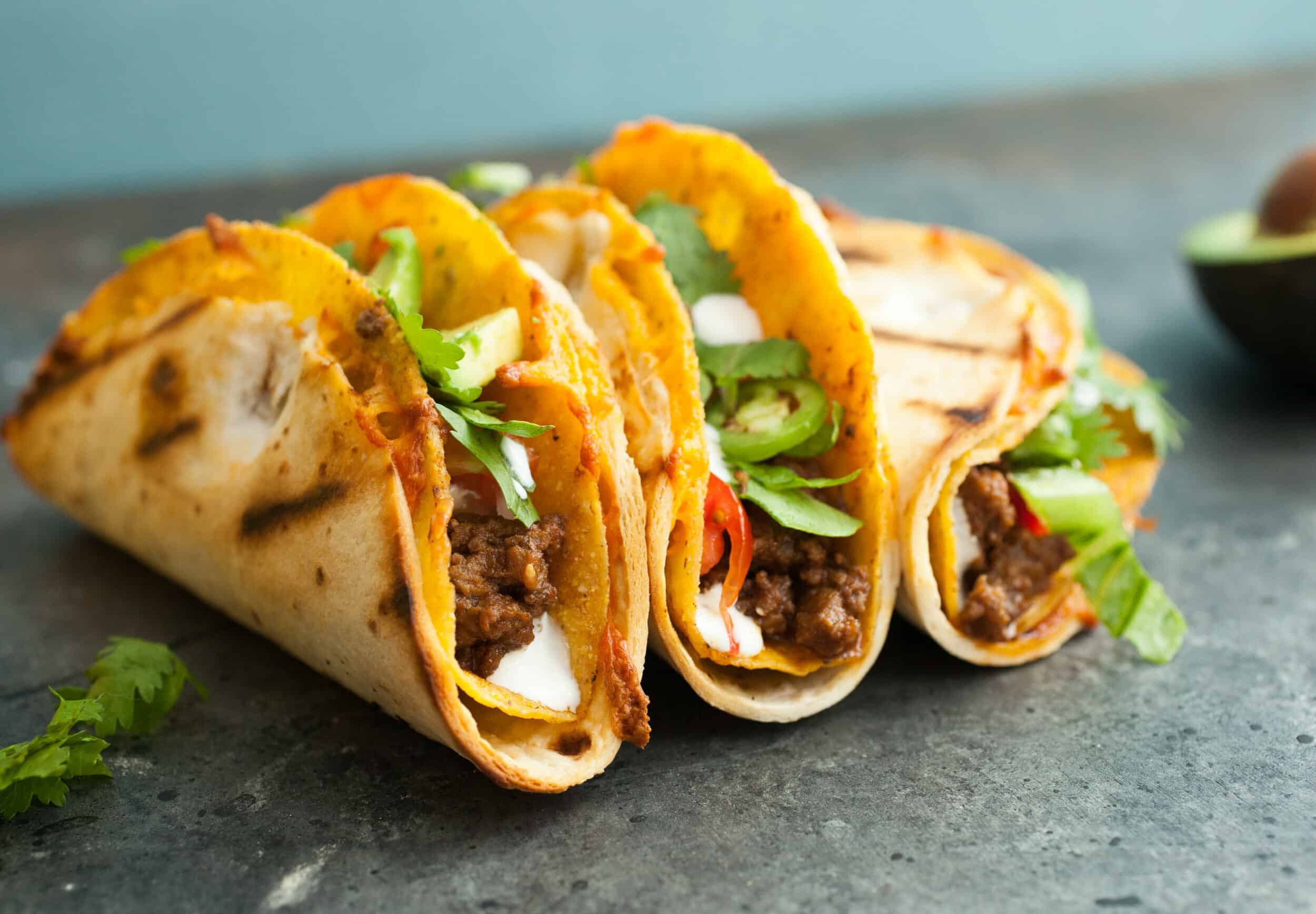 More Tex-Mex! Crunchy tacos were always a hit, but these were like the pinnacle of Taco love. Basically double-wrapped tacos with cheese between the two layers. Crushing cravings!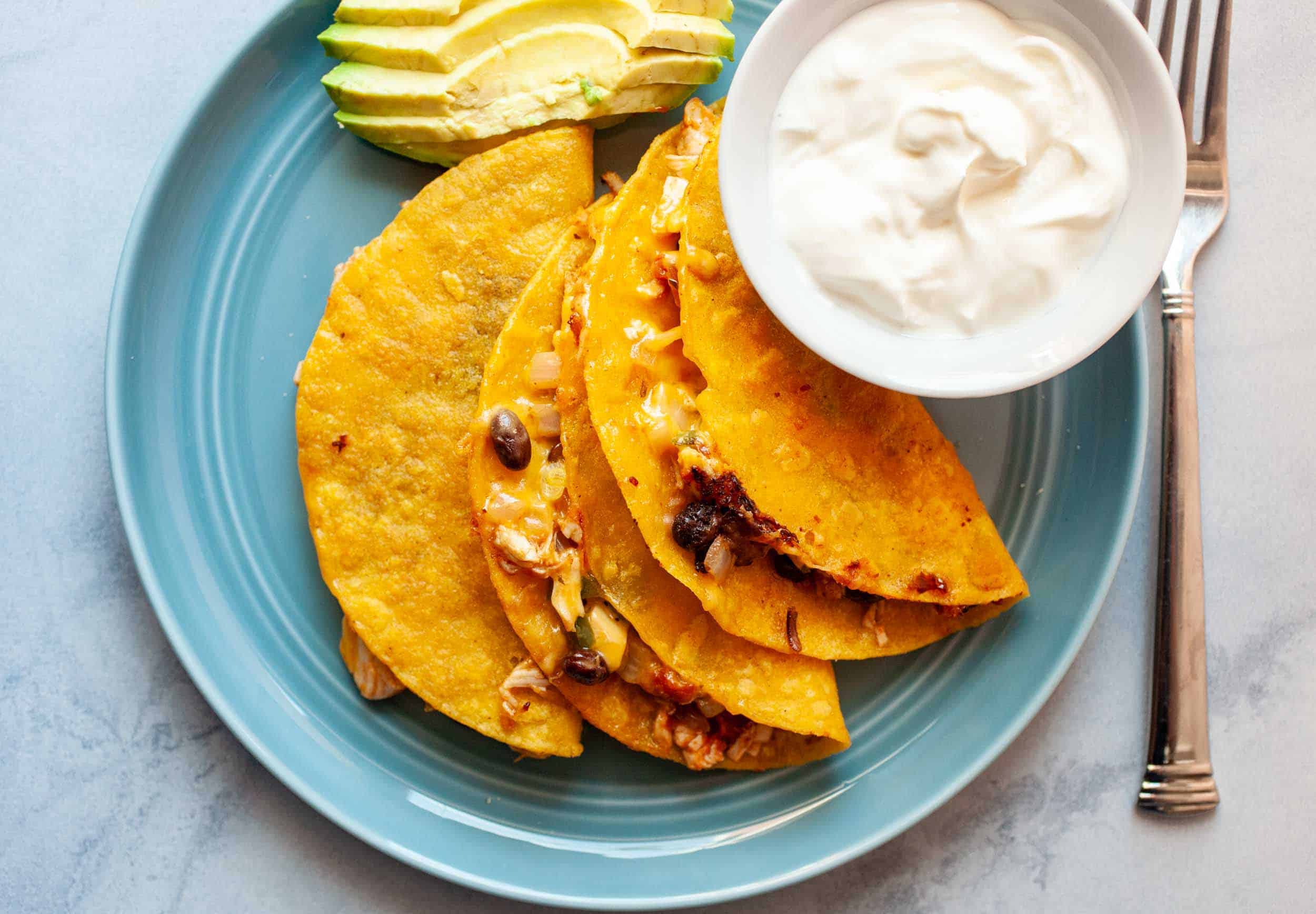 Again, these are all about texture. Crunchy is the name of the game here and these little tacos get super crispy on a griddle.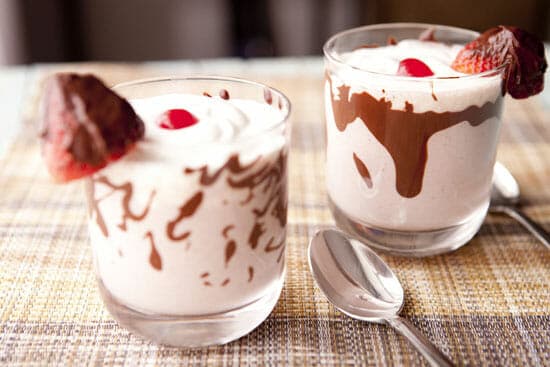 After four months of pregnancy, Betsy had actually lost weight. The doctor was very quick to inform us that this was not a good situation.
She prescribed daily milkshakes. Betsy had no problem housing some milkshakes. When she couldn't overcome, I helped.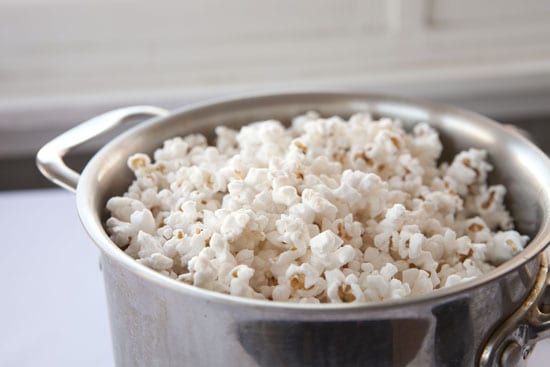 While some days were sweets focused, most days for Betsy involved a salty craving. Good seasoned popcorn was something she could always eat for her entire pregnancy.
It was bland, but salty and had a good texture. That combo seemed to work for her.
I really pride myself on making good pasta sauces and interesting pasta combinations. This was not to time to do this. Betsy craved pasta, but it had to have almost nothing on it. Maybe a super light tomato sauce or butter sauce was fine, but simple was the rule for sure.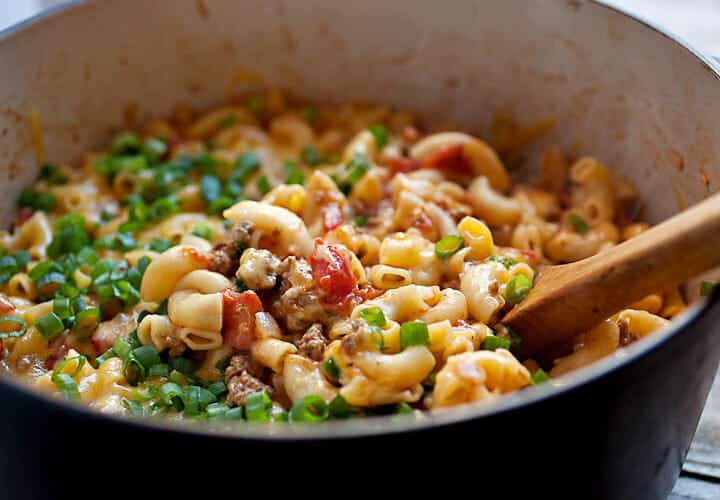 In the complete option direction, sometimes Betsy craved big flavor pasta and this cheeseburger pasta was a good combo of comfort food, noodles, and protein.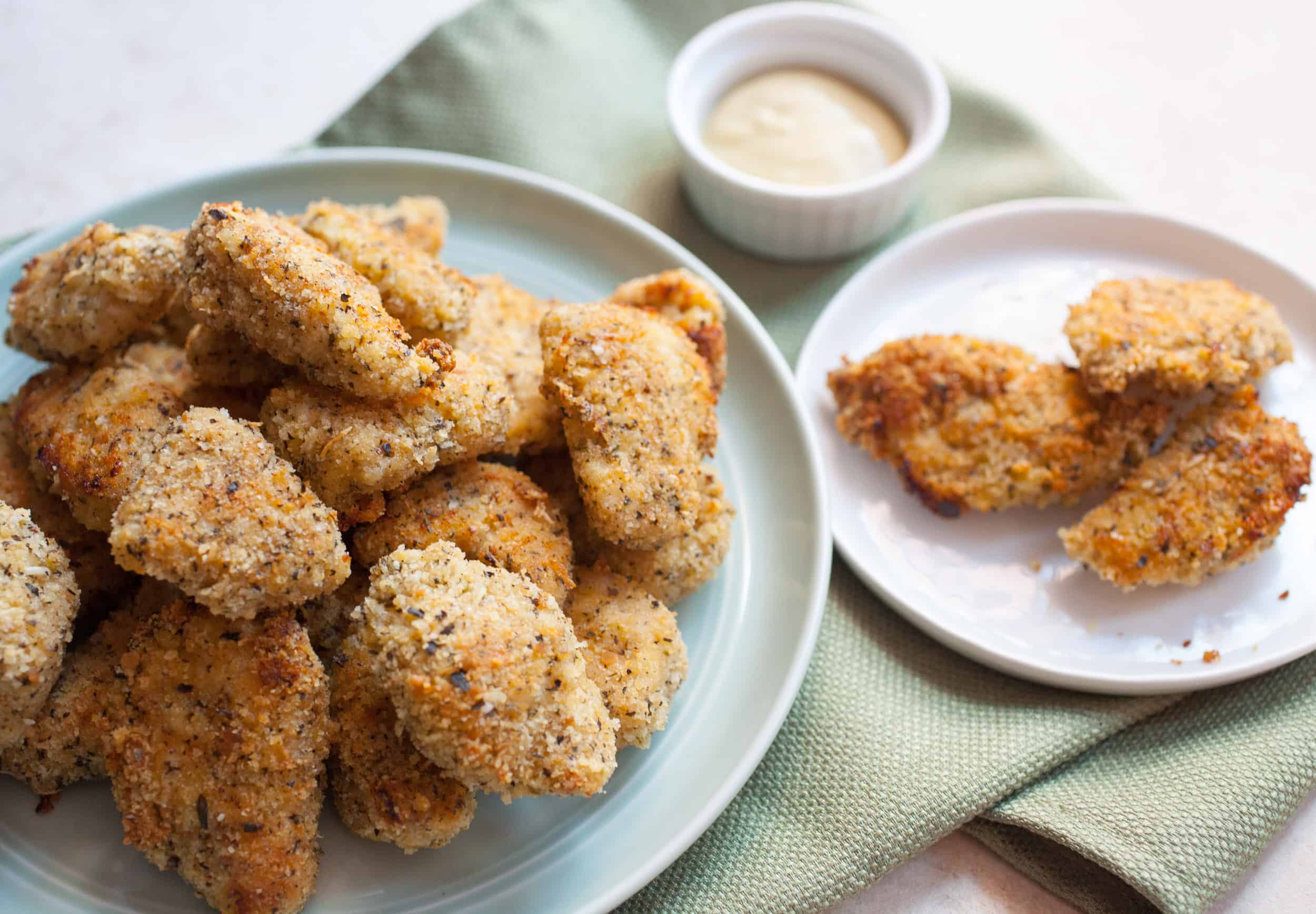 These Baked Nuggets are one of my favorite takes on chicken nuggets. They are crispy and perfect for dipping. Bets didn't like many dipping options but did like them just normal!
The Crispier the better for Betsy and these super-crispy smashed breakfast potatoes were generally okay for a breakfast options. She would skip the egg, but just have a big pile of potatoes, sometimes with ketchup.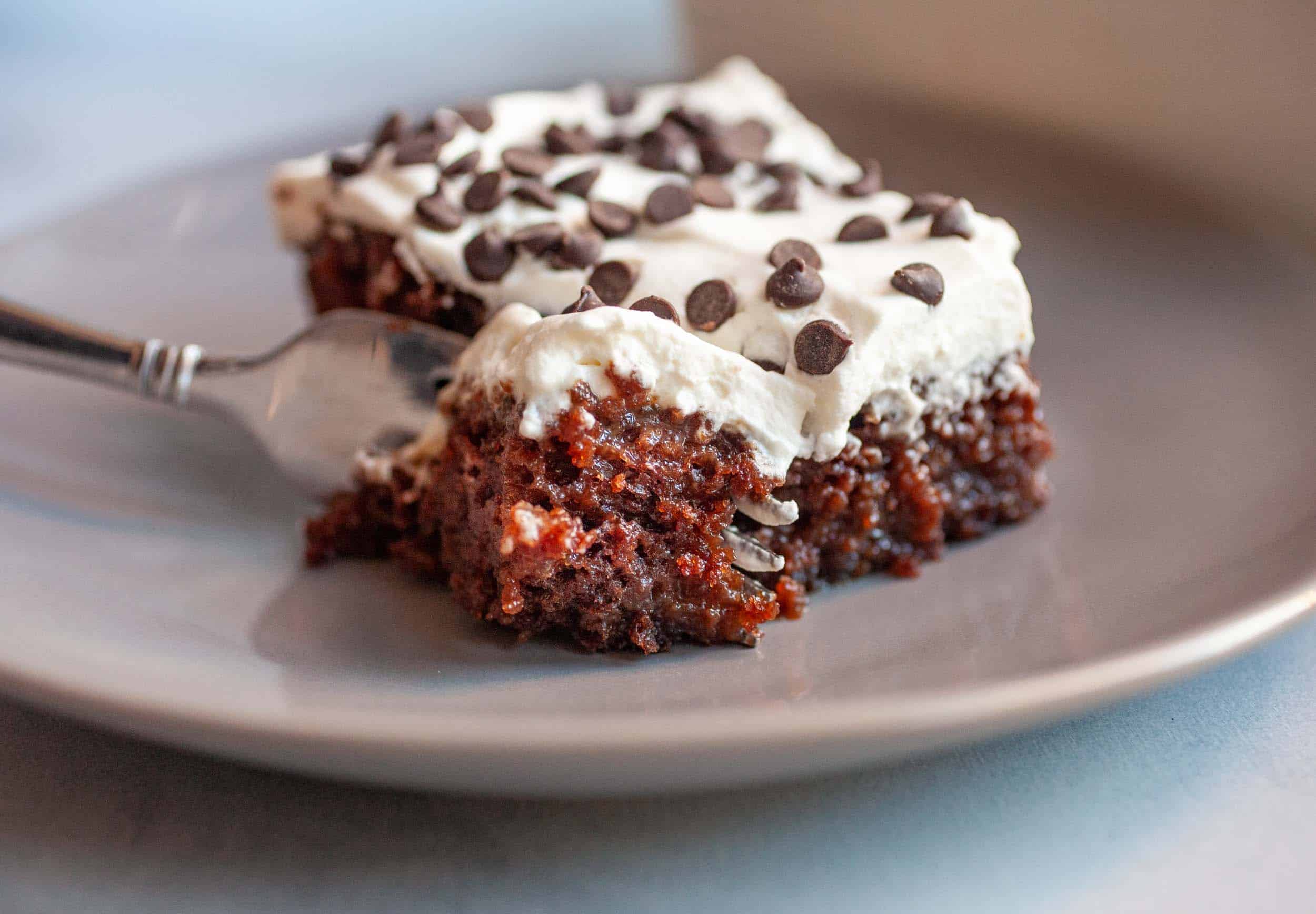 When the sweet tooth craving hit, it hit hard and big-flavored cakes were a good solution. This cake has chocolate, caramel, and a whipped cream topping. A favorite!
Have any Tips!?
I'm sure there are many out there that are going through pregnancy meal woes now or will in the future. It's always good to have a list of ideas of tips and tricks, like this list of Meals for pregnant Women, that might work.
If you have a favorite recipe that was all you (or your sig. other) craved while pregnant, leave a comment!
Let's feed pregnant mommas!