Comfort food got its name for a reason. After you have a good homemade meal like this classic chicken fried steak, it's almost impossible not to smile.
Now I know that there's a few different ways to make this dish. Some people actually deep fry the steak and in some places you'll see the steak fried and then simmered in the gravy.
I like to make mine like I always had it growing up and like I prefer my fried chicken: pan-fried. It makes for a perfectly crispy crust and then you have the base for a really awesome white gravy.
So that's how I made it for this post and, like I said, it's hard not to be happy while you're eating this meal.
Chicken Fried Steak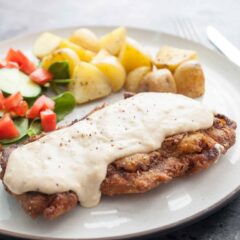 This classic chicken fried steak is everything you would expect from a diner dinner, except made at home! YUM!
Ingredients
1

pound

steak

,

sliced thin

2

Cups

all-purpose flour

1

Tablespoon

paprika

1

Teaspoon

cayenne

2

Cups

buttermilk

,

or you can use a few eggs

Salt and pepper

A few cups neutral oil for frying
For Gravy:
4

Tablespoons

flour

2

Tablespoons

butter

2

Tablespoons

oil from frying

2-3

Cups

milk

Salt and pepper
Instructions
Slice steaks about 1/4 inch thin and pound out with a tenderizer. Season well with salt and pepper.

Add flour to a large bowl and add seasonings. Don't be shy on the seasoning.

Add the steak cuts to the buttermilk (or a few whisked eggs). Then move them to the flour mixture to make for a nice even coating over the steak. Let cuts sit while you prepare oil.

Add oil to a large pan over medium high heat until hot. Test oil by sprinkling in some flour. It should sizzle immediately. You just need a small coating of oil in the pan. The oil should come up about halfway on the steaks.

Add steak cuts to the oil and cook for about 4 minutes per side. Work in batches and make sure the steaks are cooking evenly and not touching.

Remove steaks to a plate lined with a paper towel to drain. Let oil cool off a bit in the pan.

Pour off all the oil in the pan except about 2 Tablespoons and leave all the browned bits.

Add butter pan and scrape up any stuck bits of steak. Put pan back over low heat.

Sprinkle in flour and whisk to make a roux. Cook for about a minute until roux is lightly brown in color.

Whisk in milk slowly, adding milk about 1/2 Cup at a time. Keep whisking and any lumps should smooth out. Add milk and cook until thick and smooth. Season heavily with salt and pepper.

Serve steaks with lots of the gravy along with sides like potatoes, salad, or biscuits.
Nutrition
Serving:
1
steak
|
Calories:
695
kcal
|
Carbohydrates:
66
g
|
Protein:
38
g
|
Fat:
31
g
|
Saturated Fat:
15
g
|
Polyunsaturated Fat:
2
g
|
Monounsaturated Fat:
11
g
|
Trans Fat:
0.2
g
|
Cholesterol:
112
mg
|
Sodium:
279
mg
|
Potassium:
775
mg
|
Fiber:
3
g
|
Sugar:
12
g
|
Vitamin A:
1659
IU
|
Vitamin C:
0.4
mg
|
Calcium:
313
mg
|
Iron:
6
mg
Did you make this recipe?
Prepping the steak
The key to a good chicken fried steak is making sure that the steak is thin and also very tender. When you get your steak, it'll most likely be too thick to use as-is. I was able to butterfly my steak so I got two cuts out of one basically.
The nice thing about this meal is that a pound of steak feeds four people pretty easily. Cutting it thin like this makes for a lot larger portion than you'd think.
If you have a tenderizer, give each cut a good pounding and then season them well with salt and pepper.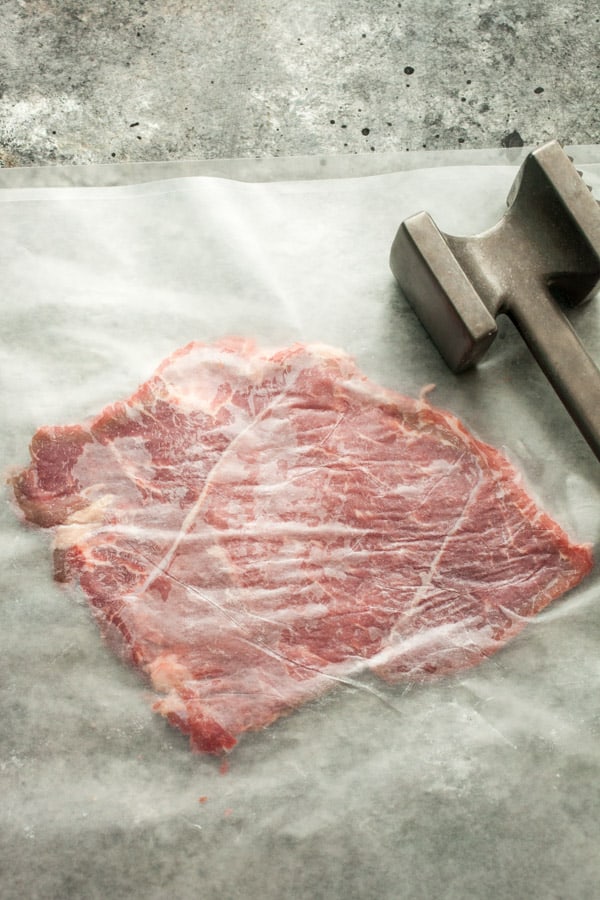 Next, add your flour to a large bowl and season it well with paprika, cayenne, and salt and pepper. You can go pretty heavy on the seasoning here since only a small amount of it will stick to the steaks.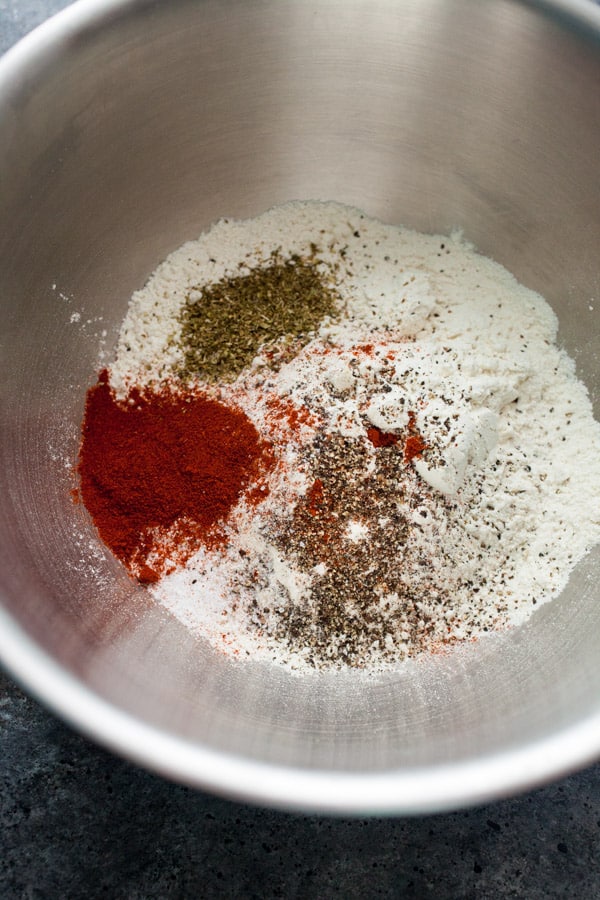 As far as the coating goes, I used buttermilk for my steaks because that's what I'd use for chicken, but if you don't have any you could just as easily whip up a few eggs and use that to coat the steak.
If you're using buttermilk, I like to let my steak sit in the buttermilk for at least 30 minutes. This is optional, but I think it gives the finished steak a nice flavor and juiciness (kind of like buttermilk fried chicken).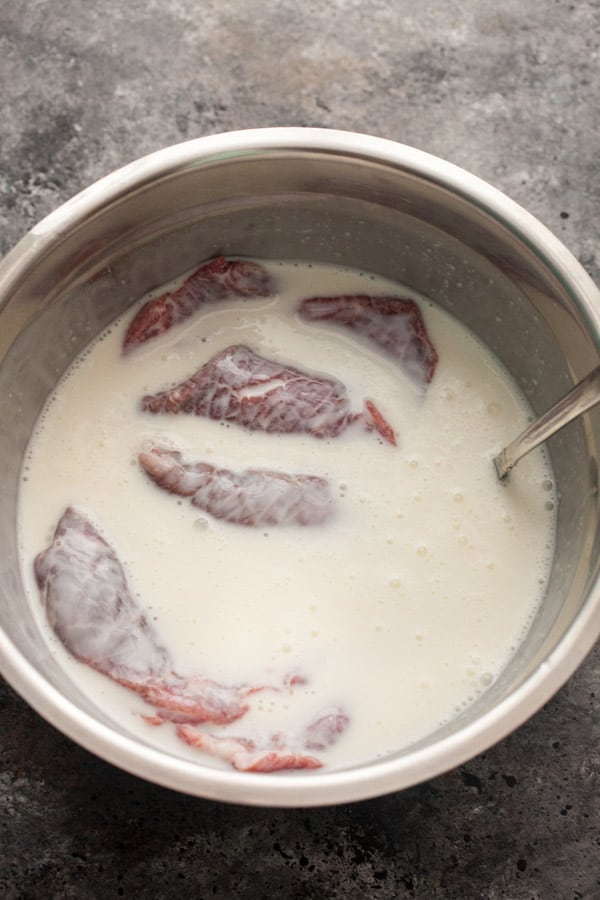 Then it goes in the flour mixture! If you want a really thick crust you could double dip into the flour, then buttermilk, then flour, but I think one dip is enough.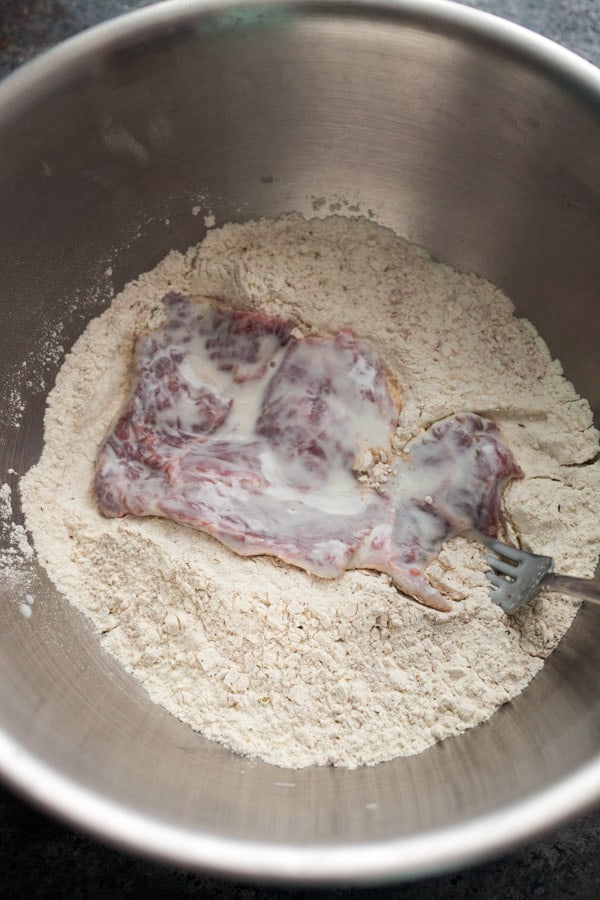 Let this sit for a few minutes while you get the oil hot in your pan. As far as pans go I think a cast iron pan is your best option for this meal. It has really even heating and is great for pan frying things like this.
You seriously don't need a lot of oil for these since they are so thin. Probably a cup or two of oil should do the trick depending on the size of your pan. To test the heat of the oil, sprinkle in some flour and if it sizzles immediately then it's ready to go.
Carefully lay the steaks in the hot pan (keep the heat on medium-high). Make sure that they aren't touching. You'll probably want to work in batches to make sure the steaks are browned nicely.
The oil should only come about half-way up the steaks.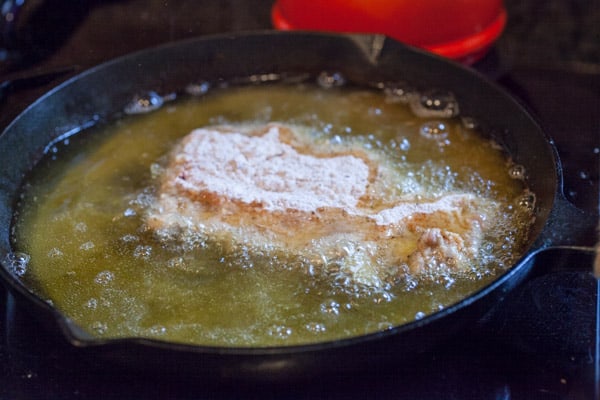 These guys will cook really fast. A lot faster than chicken. Probably three or four minutes per side and they'll be done. Remove them to a plate lined with some paper towels so they can drain a bit. They should be really crispy and golden brown.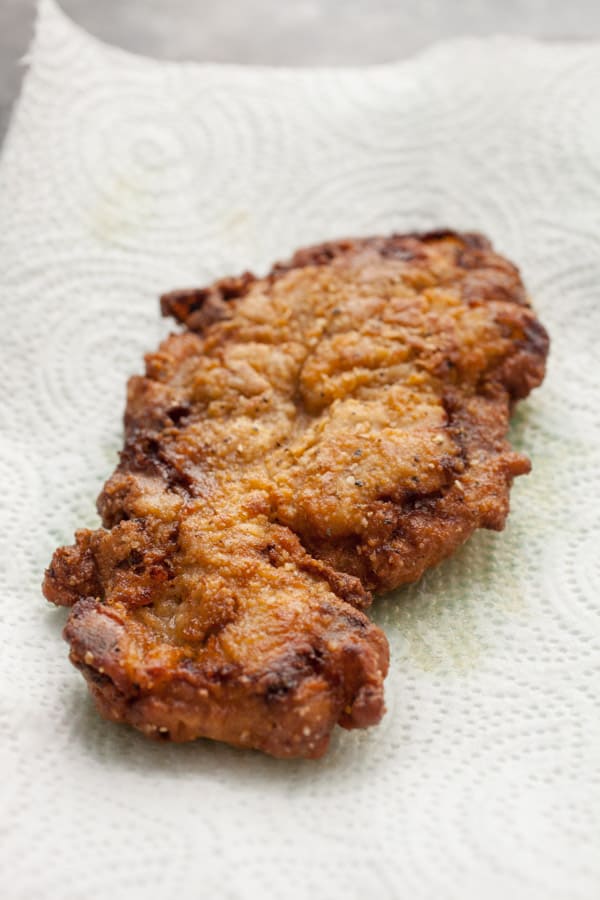 Let's Talk Gravy!
After you fry all your steaks, you'll be left with a good amount of oil and tons of browned bits in the pan. Turn off the heat and let the pan cool off for a few minutes. Then pour out most of the oil, but try to keep as many of the browned bits in the pan.
Ideally, you want to leave about 2 Tablespoons of oil in the pan, but just eyeball it. Then put the pan back on the heat over low heat and add a few tablespoons of butter.
Once the butter melts, try to scrape up as many of the browned bits as possible and sprinkle in the flour. Whisk everything together to form a pretty thick paste. The important part about this is that you want basically equal parts flour and liquid so you might need to add more flour or less depending on how much butter/oil you have in your pan.
Again, just eyeball it.
Once you get your roux made, let it cook for 30 seconds or so and then start whisking in your milk. Don't add all the milk at once. Add it in about 1/2 Cup increments and whisk like crazy so the roux and milk combine into a creamy and thick mixture. Don't worry if your gravy has a few lumps in it. Just keep whisking and they should smooth out.
Cook, and keep whisking, until the gravy is thick and smooth. Season really well with salt and pepper.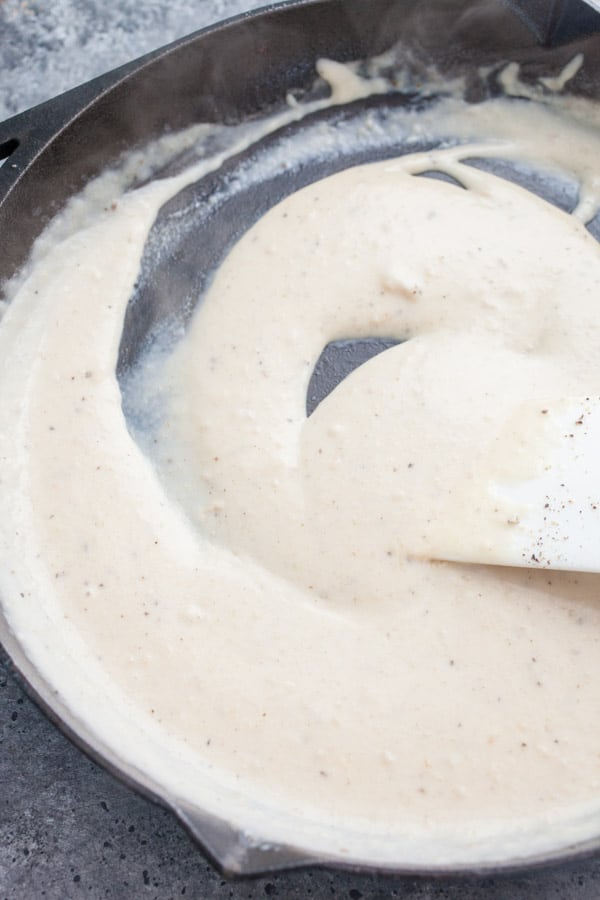 I served my steaks with the potatoes and a side salad (healthy!).
Be sure to go heavy on the gravy…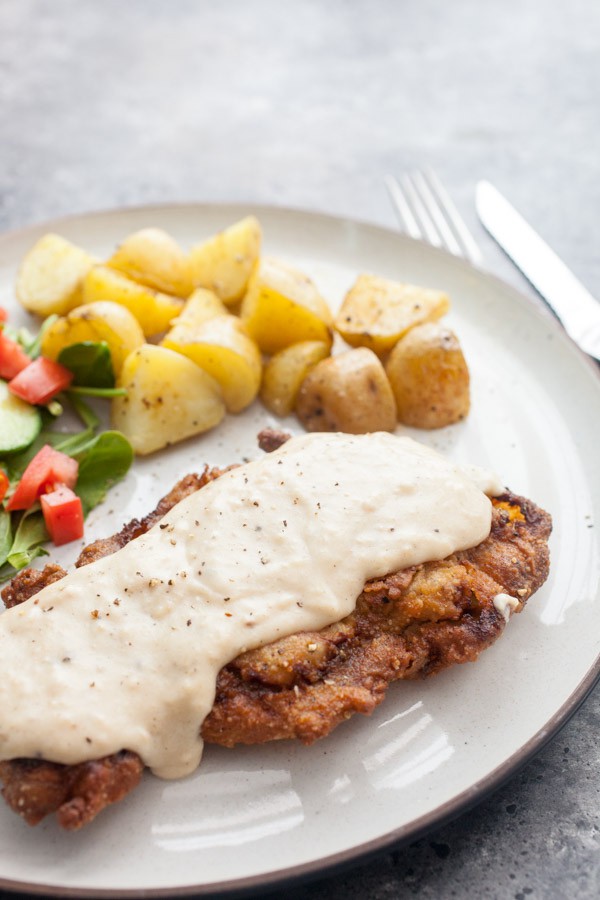 There's really nothing fancy about this classic chicken fried steak but it's pretty much my definition of great comfort food.
It's not something that I would want to eat every day, but sometimes it really hits the spot.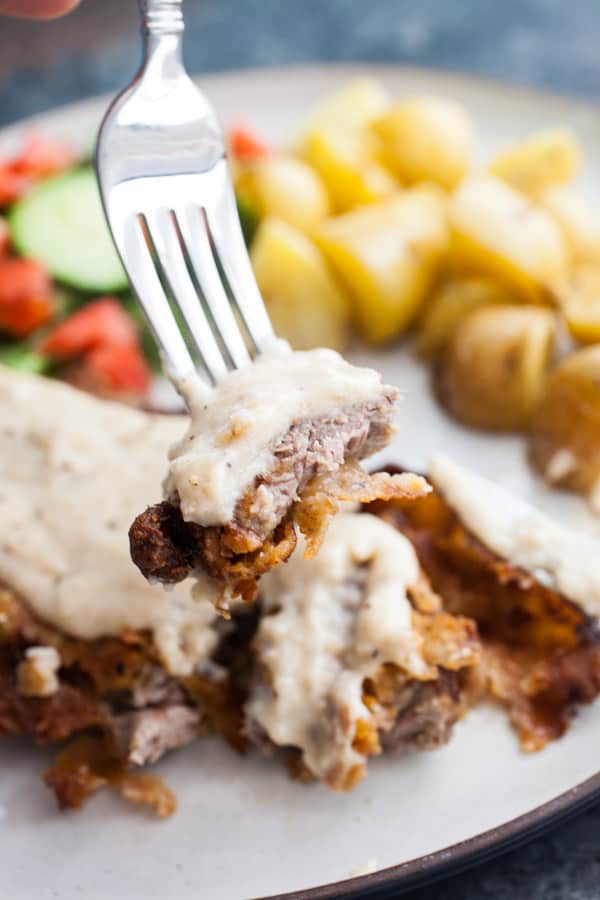 Here are a few other Classic Comfort Food Recipes: