The best part about learning to cook is when you nail a dish. It's not like you just pass and make something edible. It's when you kill it! People are fighting over the leftovers. That's what every cook wants.
And I have to say that I killed this dish. Everything just worked. It's one of my favorite kinds of dishes (good hot and cold). It has some nice summer veggies, some chunky marinated chicken, and delicious Asian flavors.
This isn't an overly complicated salad. It has just a few ingredients so be sure to hunt out the best and freshest that you can. Especially this time of year, make sure you find some really nice fresh green beans or snap peas to use. It makes a huge difference.
Also, the original recipe called for boneless skinless chicken breasts, but I used chicken thighs and they worked even better I think. It's a lot more flavorful, but use whatever you like best.
Asian Chicken Noodle Salad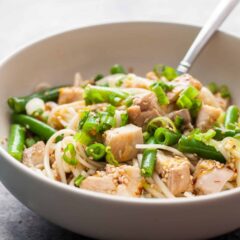 Udon noodles, marinated chicken, and summer veggies are tossed with Udon noodles and a tasty mango-sesame dressing.
Ingredients
12

ounces

snap peas or green beans

,

strings removed, blanched

8-9

ounces

package of Japanese Udon noodles.

1

Tablespoon

sesame seed oil

1 ½

pounds

chicken thighs or breasts

6

scallions

,

thinly sliced

1

Cup

or more of the below dressing

Toasted sesame seeds for garnish
Chicken Marinade:
1

Tablespoon

vegetable oil

1

Tablespoon

sesame oil

1

Tablespoon

soy sauce

1

Tablespoon

rice wine vinegar
Mango-Sesame Dressing:
½

cup

vegetable oil

½

Cup

Major Grey's Mango Chutney

¼

Cup

rice vinegar

3

large garlic cloves

,

crushed

1 ½

Tablespoons

soy sauce

1

Tablespoon

sesame oil

1

Teaspoon

red pepper flakes

1

Teaspoon

Dijon mustard

,

optional
Instructions
Combine the chicken marinade ingredients and marinate your chicken for 30 minutes or so while you prep the other ingredients.

Whisk together all the dressing ingredients in a medium bowl. If you want a smooth dressing, pulse in a blender. I left mine a bit chunky.

Wash and clean your beans or peas and chop your scallions. Blanch you green veg in boiling salted water for about 60 seconds until bright green. Scoop the veggies out of the water and rinse with cold water to stop the cooking.

Cook your udon according to the package in the same water that you blanched the peas. Once it's done, drain it, rinse with cold water, and toss with 1 Tablespoon of sesame oil to keep the noodles from sticking.

To cook the chicken, grill it for about 15-20 minutes until the breasts are cooked all the way through. I cooked mine in a cast iron skillet by searing the breasts for about 4 minutes per side over high heat and then finishing the cooking in a 350 degree oven for 20-25 minutes.

Let the breasts rest for a few minutes, then dice them up.

Stir together the chicken with the noodles, green beans, and scallions. Add the dressing and mix together.

Serve either at room temperature or chilled, topped with sesame seeds and maybe chopped peanuts.
Notes
Adapted from Bon Appetit June 2010.
Nutrition
Serving:
1
bowl
|
Calories:
736
kcal
|
Carbohydrates:
51
g
|
Protein:
27
g
|
Fat:
48
g
|
Saturated Fat:
9
g
|
Polyunsaturated Fat:
19
g
|
Monounsaturated Fat:
15
g
|
Trans Fat:
0.2
g
|
Cholesterol:
111
mg
|
Sodium:
988
mg
|
Potassium:
425
mg
|
Fiber:
4
g
|
Sugar:
20
g
|
Vitamin A:
924
IU
|
Vitamin C:
39
mg
|
Calcium:
52
mg
|
Iron:
3
mg
Did you make this recipe?
This recipe looks like it has a huge amount of ingredients, but most of them are repeats and if you have a well-stocked pantry you'll probably have a number of them already.
Asian Chicken Noodle Salad
The original recipe doesn't say to do anything to the chicken besides grill it but I had all of these awesome oils and stuff that go in the dressing so I decided to whip up a very quick marinade for the chicken. It worked great. I just marinated the chicken for about 30 minutes while I prepped some other ingredients.
You could do longer obviously if you wanted to.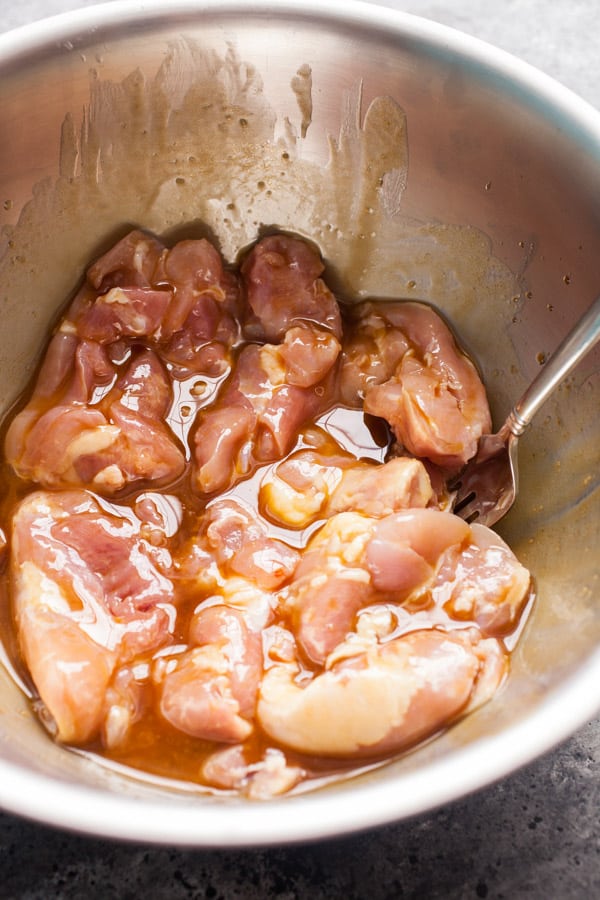 The Dressing
Oh this dressing knocked me off my feet. I'd never used the Mango chutney that the recipe recommended. This stuff was out of this world delicious.
It's spicy and sweet and salty and rounds out the dressing perfectly. Track it down!
The recipe says to blend all these ingredients together but I just whisked everything together in a bowl. If you want a smooth dressing then blend it obviously, but I don't mind a few delicious mango and garlic chunks in my dish. Plus it's a lot easier and quicker than busting out a blender.
Other Salad Ingredients
Besides the chicken and the dressing, you'll just need green beans or snap peas, scallions, and udon noodles to finish off this salad.
The Udon
The recipe called for fresh Udon noodles but I wasn't exactly clear on how to get a hold of those so I used some dried that I found. I thought they worked great. I'm sure fresh would be good also, but if you can't find any don't let that stop you from making this dish.
Blanching the Peas/Cooking the Noodles
You can do both of these things in the same large pot of salted water. Cook your peas first, then the noodles in the same water.
To prep your peas, snap off the ends and pull out the string along the side of the snap peas. Once you have the whole batch done, give them a dip in the boiling salted water. If you're using green beans, just chop the ends off.
Let them cook for about a minute. Don't over cook them! Then remove them to a colander with a slotted spoon and run them under cold water to stop the cooking. You could also dunk them in an ice bath if you wanted.
They should be really green and still slightly crunchy. As with most things, soggy is bad.
Once your beans are done, you can cook the noodles in the same water from your peas! Cook it according to the directions on your package. I've cooked Udon many times now and I've always found that the package over-estimates the amount of time it takes to cook. You don't want really mushy noodles.
For example, my package of noodles said to cook for 8-10 minutes and I cooked mine for 6. After they're cooked, drain them in a colander and rinse them with cold water!
Mix the noodles and peas together and toss with the sesame oil which will prevent the noodles from sticking together.
Cooking the Chicken
Ideally, you could grill your chicken which would probably take 15-20 minutes depending on the size of your chicken pieces. I cooked mine in a cast iron pan though.
If you're using cast iron, get your pan hot over medium-high heat and then add your chicken breasts or thighs. Sear them for about 4 minutes per side until they are nice and browned. Then transfer the pan to a 350 degree oven and finish cooking the chicken which will probably take about 20 minutes depending on size.
Mine came out great.
Finishing the Salad
Finishing the salad is pretty straightforward. Chop up your chicken into chunks. Slice your scallions. Add your chicken and scallions to your noodles and peas. Then toss in your salad dressing and mix everything together!
Plate it up and sprinkle on some sesame seeds if that's your thing!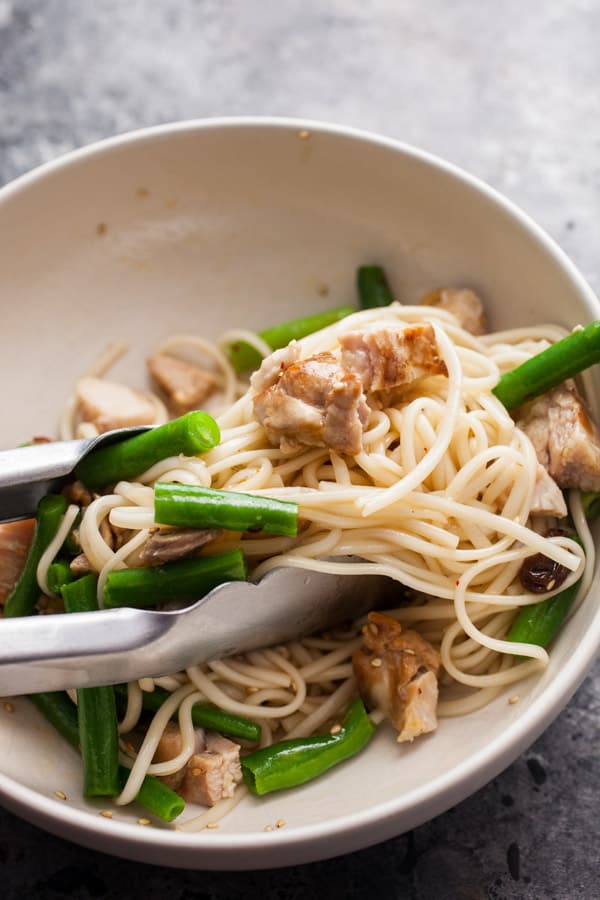 Betsy thought that this was one of the best salad dishes I've made in awhile. I had to agree. It was also awesome for lunch the next day as a cold salad.
This was a great dish to cook and a wonderful dish to eat!
Has anyone else tried this Mango Chutney? Man that stuff is good.