It's is hot and smoky in Denver now and I'm craving cool cocktails that are refreshing and light. This Michelada Recipe is something I crave when the weather is blistering hot and if I'm doing summer right, I always have it on standby in my fridge.
It's the perfect light drink and goes well with all kinds of meals. Personally, I like it as a happy hour drink especially with some guacamole on the side – like this street corn guacamole or my favorite molcajete guacamole!
What is a Michelada?
A Michelada is essentially a bloody mary but instead of vodka you pour in a light beer that makes it bubbly and fizzy! While you could use a store-bought bloody mary mix, I like to make a Michelada mix that is a bit lighter than my standard Bloody Mary mix.
This is seriously my new favorite drink and while it might sound a bit crazy (especially if you aren't a Bloody Mary fan), trust me when I say that micheladas are so refreshing. It's a great example of the sum of two things being way better than their parts.
Use this Michelada recipe and bring a big pitcher of the mix to your next (hopefully soon) outdoor party!
Basic Michelada Ingredients
This Michelada recipe starts with a mix that is very similar to a good bloody mary mix but you want it to be a lot lighter. It doesn't need all the intense spice (like horseradish) that a good bloody mary needs.
I keep my mix pretty simple, but I do add one slightly weird ingredient that I think gives it some interest: pickle juice! You could leave it out if it sounds weird to you or you don't like pickles, but it gives the drink a nice sour and salty note.
Instead of normal tomato juice, I like to use Clamato juice for these because it has a lot of spices already in it and is savory and delicious. If you want to use normal tomato juice you definitely can but add some lemon juice, celery salt, salt and pepper, and a bit more hot sauce to the mix.
Also, lots of lime goes in!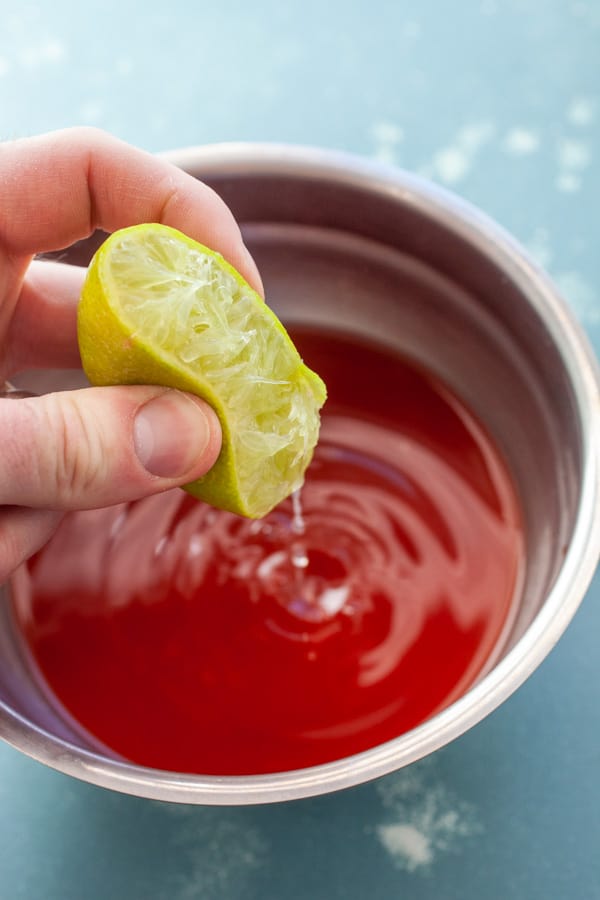 Do you have to use Clamato for Michelada recipe?
Clamato juice is a great base though so unless you are making a vegetarian version I recommend starting with it. That said, if you wanted a heavier base, you could use a store-bought bloody mary mix.
If you want to start completely from scratch you could start with tomato juice and add celery salt, salt, pepper, and hot sauce to taste.
The pickle juice is kind of my secret ingredient though. It doesn't take much and you can't even taste it specifically, but it rounds out all the flavors and gives it some salt and acid flavors without a lot of spice.
This is a lot thinner than a standard Bloody Mary Mix.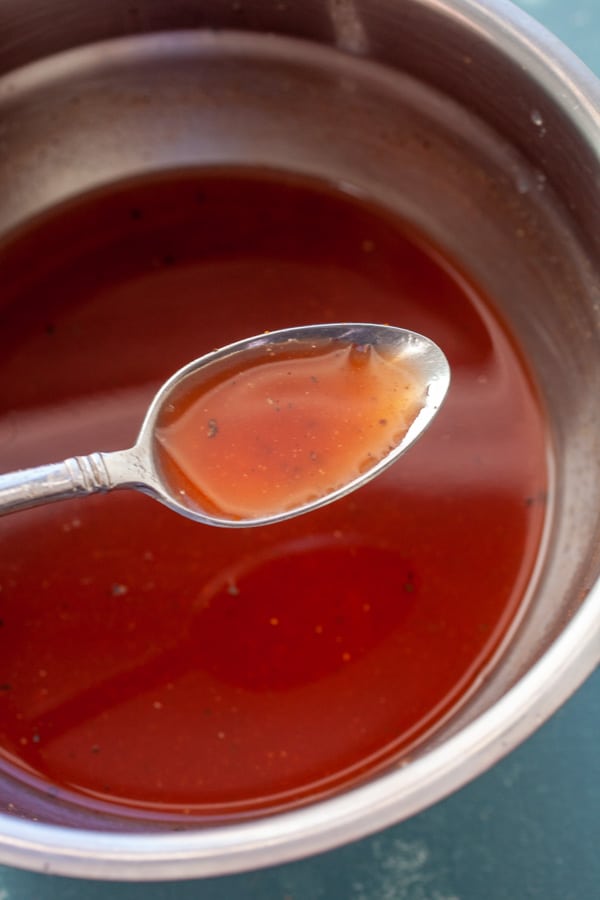 I made the recipe just enough for three or four large micheladas, but feel free to make a huge batch of this and keep it in the fridge until needed.
Making the Chili Salt Rim for Micheladas
Who doesn't love a good salted rim on a cocktail? For this Michelada recipe I like to mix some Old Bay, chili powder, and celery salt in with my kosher salt for a rim salt mix.
Just rub a lime along the rim of your glass and dip it in the salt!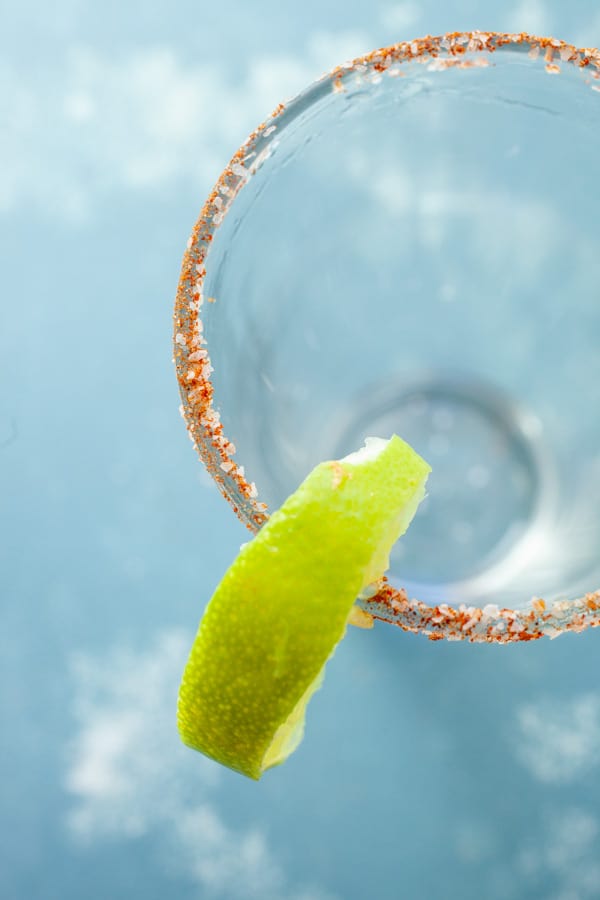 Note that you'll never use all the salt that's in this recipe but you need enough to cover the bottom of a bowl so you can dip in the glass.
What kind of beer to use for micheladas?
In short, a light Mexican lager is traditional and I'm not sure I would mess with it. Something like Tecate or Modelo is always a hit. You could also use an American lager like coors or Budweiser but I wouldn't get heavier than that with anything like an amber or IPA.
Making the Michelada from scratch
This is easy stuff. Add some ice to a tall glass and add 1/2 cup of the michelada mix to the glass. Then pour in your beer! You probably won't be able to fit all the beer in the glass unless you have a really big glass but you can add more beer as you drink it. Most restaurants will serve the extra beer on the side and you can do the same!
I recommend a light Mexican lager for Micheladas. My personal favorite is Tecate, but you do you.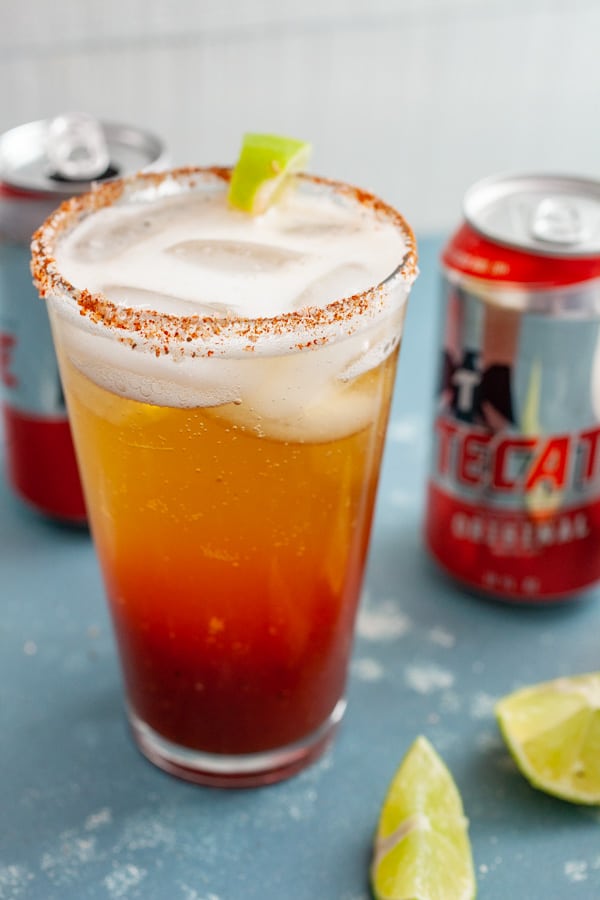 These Micheladas are about as refreshing as it gets!
If you've never had a michelada cocktail before, go grab the stuff while it's hot outside and make these.
They crush the heat!
Anybody a Michelada fan? Leave a comment!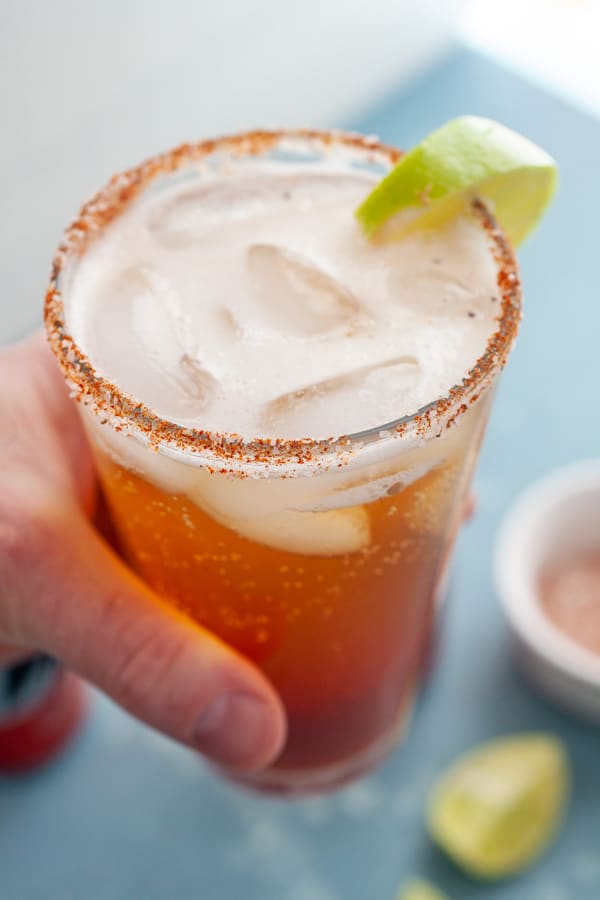 Michelada Recipe
This Homemade Michelada recipe starts with a light tomato mix and a special secret ingredient. A delicious drink you have to try!
Ingredients
2

light lager beers

1

cup

clamato juice

2

teaspoons

pickle juice

1

teaspoon

Worcestershire sauce

½

teaspoon

hot sauce

½

lime

,

juice only
Michelada Salt:
2

tablespoons

kosher salt

1

teaspoon

Old Bay seasoning

1

teaspoon

celery salt
Instructions
Stir together all the ingredients except the beer and salt ingredients. Store in the fridge until needed.

Stir together three salt ingredients.

In tall glasses, rub the rim with limes and dip in salt. Add ice and about 1/2 cup of michelada mix. Then top with beer and serve extra beer on the side!

Stay cool.
Nutrition
Serving:
1
drink
|
Calories:
186
kcal
|
Carbohydrates:
21
g
|
Protein:
3
g
|
Fat:
0.2
g
|
Saturated Fat:
0.1
g
|
Polyunsaturated Fat:
0.1
g
|
Monounsaturated Fat:
0.03
g
|
Sodium:
8306
mg
|
Potassium:
425
mg
|
Fiber:
1
g
|
Sugar:
5
g
|
Vitamin A:
585
IU
|
Vitamin C:
28
mg
|
Calcium:
50
mg
|
Iron:
1
mg
Did you make this recipe?
Making the Michelada Mix in Advance
The base of these micheladas can easily be made in advance and actually keeps well in the fridge for at least a week. Also the chili lime salt rim keeps for weeks as well in an air-tight container. You could also FREEZE the mix if you wanted to make a bunch of it and have it ready for whenever a party arrives!
Here are a few other favorite Cocktails!