Happy Cinco de Mayo week! If you're me, you'll be on the lookout for a delicious margarita at some point this week and so I thought I would just bring you these delicious Peach Habanero Margaritas! There's plenty of time to make these happen at some point this week and you definitely should!
This recipe is loosely inspired by a cocktail I had in New Orleans many years ago on the Hot Tin Roof Bar. It was a mezcal based drink that was shockingly spicy. I like spicy things and even I said, "WHOA".
That version used mango, which you could substitute easily in this recipe, but I used frozen peaches just because they are readily available. Either works and cools down the heat from the habaneros. Either fruit is fine though and the key is the homemade habanero fruit syrup that goes so well with tequila.
And trust me. You need something to cool it down. This syrup pulls no punches. I blended up the seeds and everything. The syrup alone will make your eyes water. Be careful with it! About an ounce of it to a drink is a good start. Go up to two ounces if you dare. It's potent stuff, but also perfect with tequila on a hot sunny day.
CHEERS to Spicy Habanero Margaritas!
Habanero Syrup for Peach Margaritas
The only thing you need to really prep for these bad boys is the simple syrup, which is simple to make but not simple on flavor. Just a few ingredients cooked down over low heat with water until the sugar dissolves. No need to boil them or anything.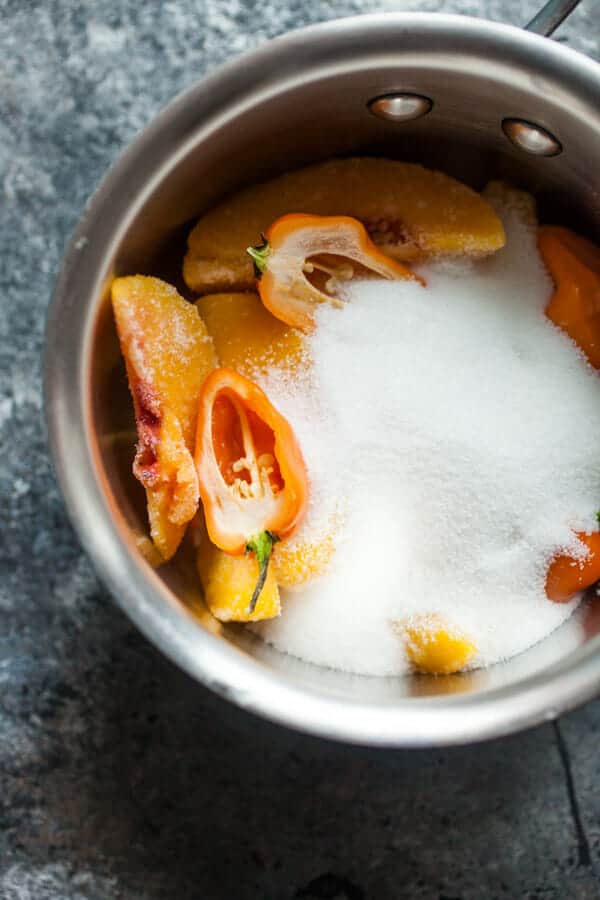 Then you just have to let this cool down so you can blend it. If you're me, and impatient, you can stick it over an ice bath for rapid cooling.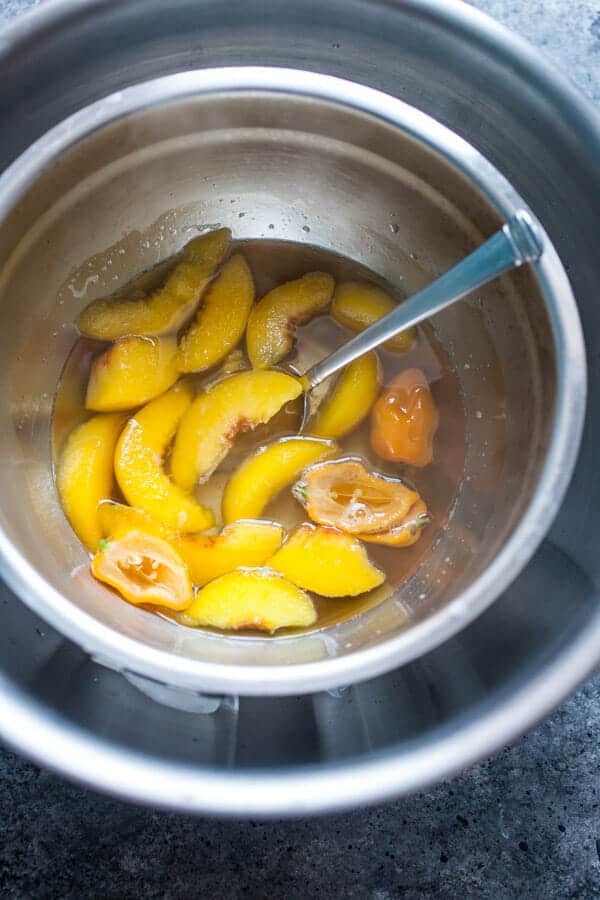 Again, I blended up the whole peppers with the peach and everything and just transferred it to a jar for storage. This syrup will keep fine in the fridge for weeks. It's REALLY SPICY.
If you want to tone it down a bit, you could remove the seeds from the peppers before blending. But I suggest just going for it.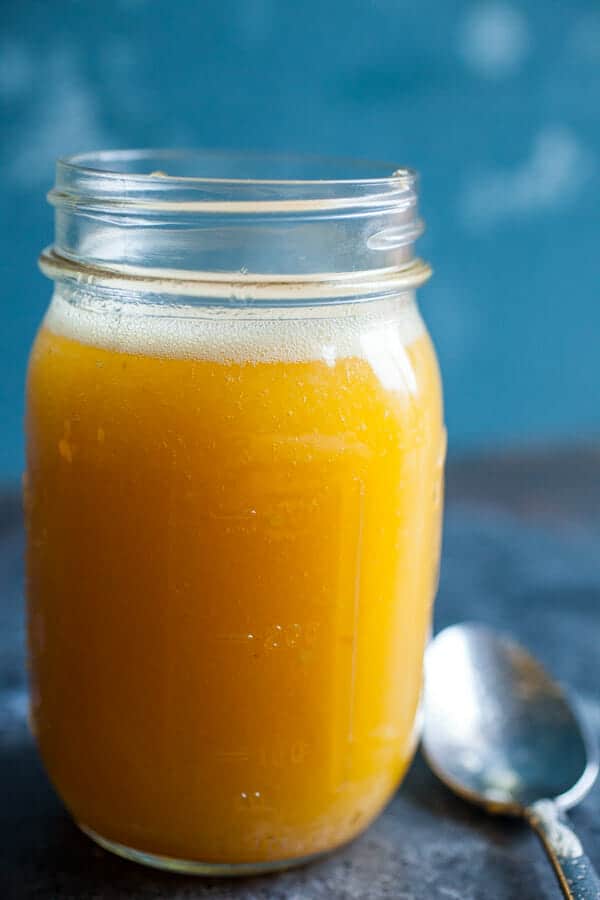 If you have enough guts to try the habanero peach syrup by itself, you'll agree it's basically a dare. But, it does chill out once you mix it with other cocktail ingredients and it gets watered down a bit.
I like to keep this syrup in a mason jar in the fridge and it will keep fine for a few weeks. If it smells weird, then toss it and make a fresh batch!
What liquors could you mix with the habanero syrup?
I think tequila or mezcal works very nicely with this syrup, but if tequila isn't your thing, you could do vodka or rum as well. Vodka doesn't bring much flavor to the party so I would maybe add some sparkling water as well. Rum would be a nice twist and bring out even more sweetness to the drink.
Another option for liquor choices would be bourbon and you'd end up with something similar to a fruity bourbon drink like this watermelon bourbon smash except it would also be spicy!
Making a Habanero Margarita
For two margaritas I usually use three ounces of the spicy syrup and three ounces of tequila or mezcal plus 4-5 ounces of good quality margarita mix.
Shake the ingredients well with ice and then Strain the margaritas into a few glasses with some salt on the rim and you're ready for a taco. Garnish the margaritas with some fresh lime wedges or a slice of fresh peach if you happen to have one.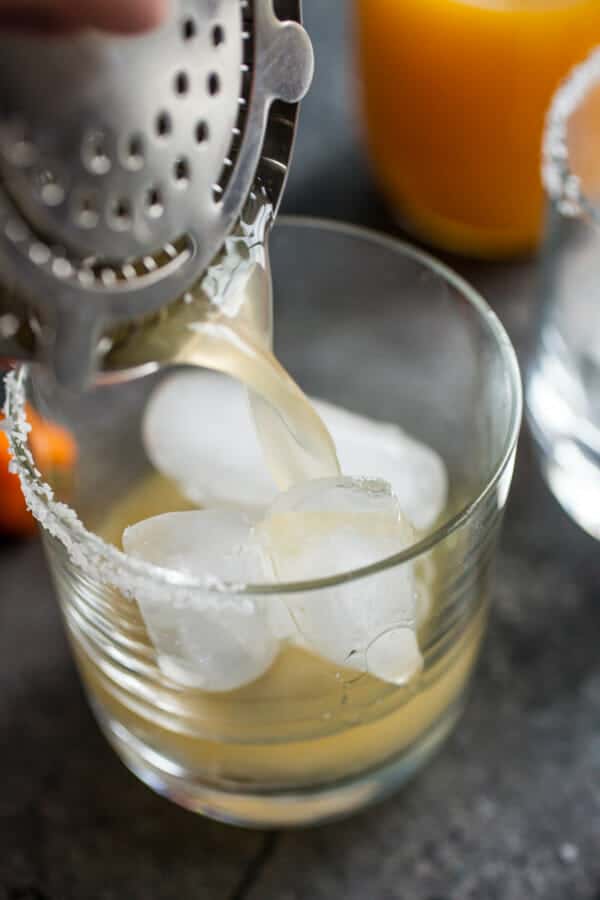 In theory I could drink half a dozen of these on a warm sunny day, but in practice drinking more than two is pretty tricky because they are 🔥!
Send these habanero peach margaritas to a spice lover, or better yet, just make them!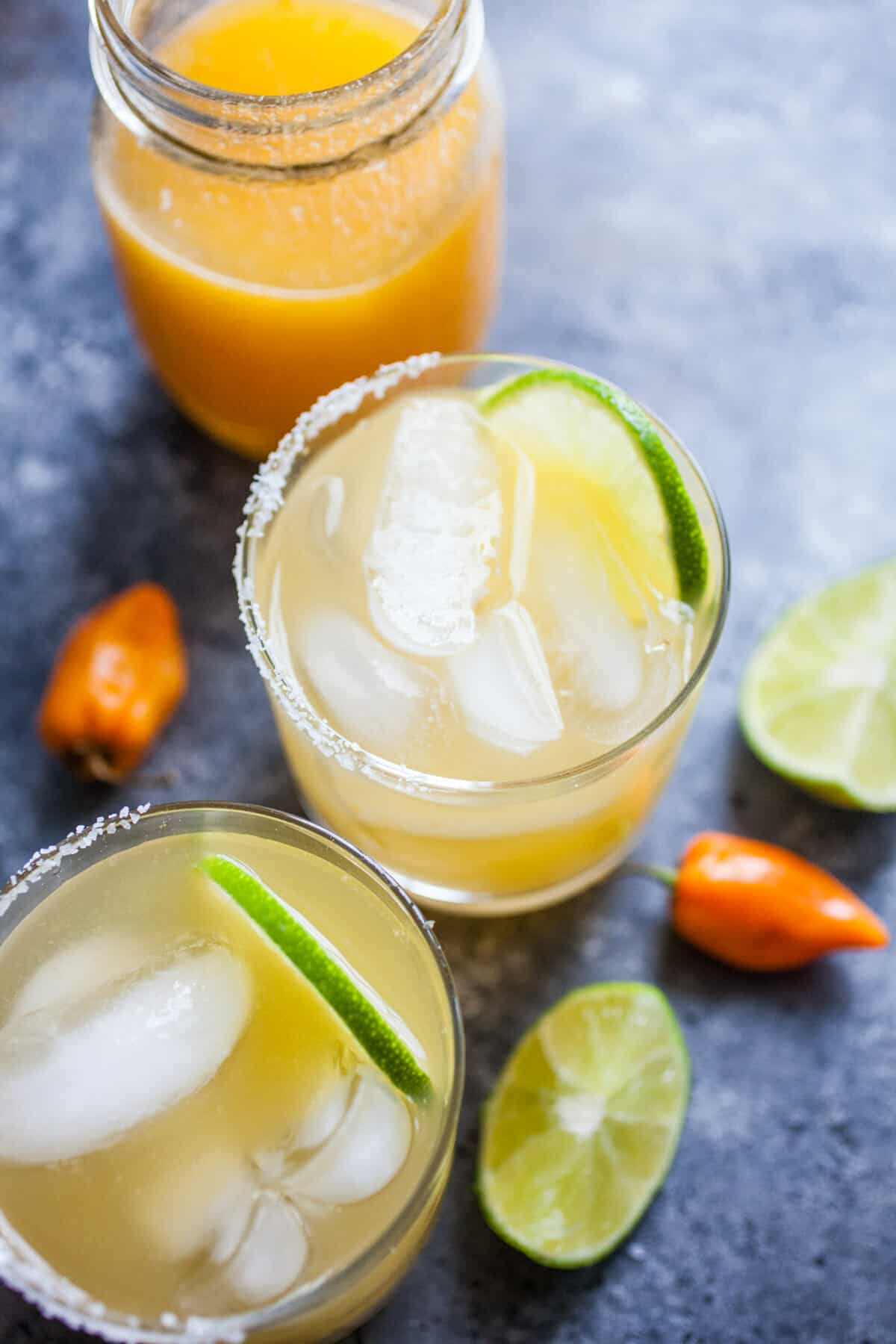 Habanero Peach Margaritas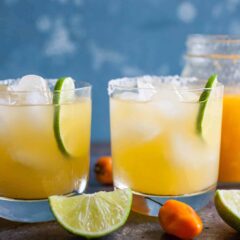 These margaritas pack a serious punch and are SO addictively spicy. You can't drink them too fast though! The perfect mix of sweet and heat!
Ingredients
Habanero Peach Syrup:
1

cup

frozen peaches

1

cup

water

½

cup

sugar

2

fresh habanero peppers

,

halved
Two Margaritas:
3

ounces

tequila or mezcal

2-3

ounces

peach habanero syrup

4-5

ounces

margarita mix

1

ounce

fresh lime juice

Salt for rim
Instructions
To make syrup, add all ingredients in a small pot over low heat. Stir together until the sugar is dissolved and the mixture is lightly steaming. No need to boil. Remove from heat and let sit for five minutes. Then cool either by placing in the fridge or add the pot to an ice bath to cool rapidly. Blend mixture to finish syrup. Optionally strain out any solids.

To make a margarita, combine syrup (2-3 ounces per two margaritas depending on how spicy you can take it), with margarita mix, fresh lime, and tequila or mezcal. Shake well with ice. Strain into glasses with a salt rim. CHEERS!
Nutrition
Serving:
1
Margarita
|
Calories:
69
kcal
|
Carbohydrates:
13
g
|
Protein:
0.2
g
|
Fat:
0.1
g
|
Saturated Fat:
0.003
g
|
Polyunsaturated Fat:
0.02
g
|
Monounsaturated Fat:
0.01
g
|
Sodium:
9
mg
|
Potassium:
24
mg
|
Fiber:
0.2
g
|
Sugar:
13
g
|
Vitamin A:
59
IU
|
Vitamin C:
4
mg
|
Calcium:
4
mg
|
Iron:
0.1
mg
Did you make this recipe?
Here are a few other Cinco de Mayo essentials!