Between baseball play-offs, the end of MLS season, and obviously all the football games, I've been craving some chicken wings lately. Of course, the Macheesmo chicken wings archive is, well, robust, but I wanted to make something new and different. These Tequila Lime Chicken Wings are different from my normal wings recipe because they aren't really spicy! But, they are delicious!
Marinating wings in a tequila, lime, honey mixture gives keeps them really juicy while they cook, but it also makes the skin super crispy thanks to the sugars in the marinade. This is the perfect recipe if you are making wings for someone who doesn't like spicy food!
Read on to see my tips and tricks for making great chicken wings including how to cook these wings in the oven, air-fryer, and grill!
How to prepare the Chicken Wings
While you can buy chicken wings that are already cut into chicken wing sections (drumette, flat, etc.), it's more likely that you will find fresh chicken wings that are whole. That's no big deal as you can quickly cut them into pieces with a good sharp knife.
Use your knife to slice between the joints in the wing and slice between the drumette and the flat. Once those have separated, slice the wing tip off the flat and discard the wing tips (or save them for stock if you have a bunch).
Once you have all your rings prepped, you can move onto the marinade for these tequila lime chicken wings!
Can you use frozen wings for this recipe?
Most frozen wings are already breaded (buffalo wings style) and you can't use them for this recipe. You need fresh chicken wings. That said, if you have just plain chicken wings that are frozen, you can thaw them and use them in this recipe without a problem.
Tequila Lime marinade Ingredients
While this marinade isn't particularly spicy, it does have a lot of flavor. In a bowl, mix together the tequila, lime juice, lime zest, honey, olive oil, garlic (or add 1 teaspoon garlic powder), jalapeno, cumin, paprika, granulated onion, salt, and black pepper.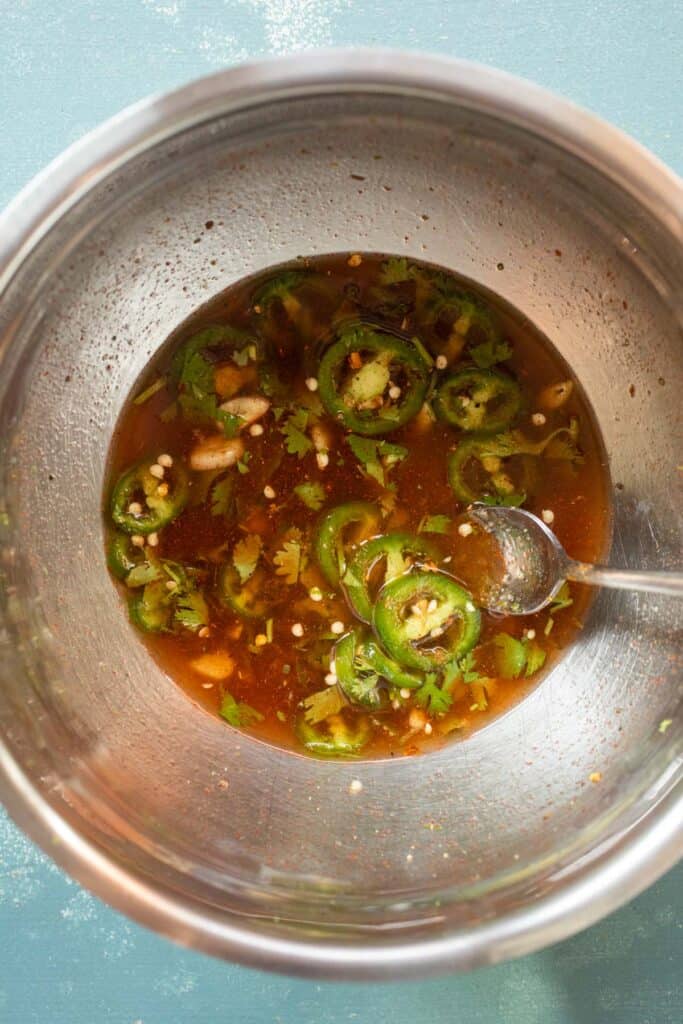 While the lime juice is important for the acidity in the marinade, the big citrus flavor in the marinade actually comes from the lime zest. Don't skip it!
As far as tequila goes, you can use any blanco tequila. There's a lot going on in this recipe so no need to use something super expensive.
The chicken wings should marinate in this delicious mix for at least an hour or overnight is fine as well.
How to dry chicken wings
Once the chicken wings have marinated for at least an hour, pull them out of the marinade and let them dry on a few paper towels. The more dry you can get the wings at this stage, the crispier they will be when you cook them.
While you can discard the marinade if you are looking to kick the wings up a notch, check out the section below on making a glaze out of the marinade. It's not 100% essential and I tried some wings without the glaze and they were still very delicious. It's a bonus step though!
Baking the wings
For a marinated wing like this, I prefer to bake them. It's easy to bake them and you can cook them all at once so you don't have to bother with multiple batches.
Once your wings are dry, lay them out on a baking sheet lined with foil so the skin-side of the drummette or flat is up. Sprinkle the wings with a little extra black pepper and bake them for 45-50 minutes. No need to flip them or anything – just let them go.
Grilling the wings
If you still have your grill accessible, you can absolutely grill these wings. You can view my full tutorial on how to grill wings, but basically you want to cook them over indirect heat for 45-60 minutes until they are cooked through and tender. Then move them to direct heat for a few minutes to give them a really nice crust on them. Be sure to spray your grill with nonstick spray or rub it with oil to prevent the chicken wings from sticking!
People try to rush grilled wings and you should avoid that urge. Let them cook slowly and then hit them at the end with some direct heat!
Air-frying the chicken wings
Air-frying wings are all the rage these days. The benefit of air-frying wings is that you don't need a lot of oil and you can do a small batch of the wings. You can probably fit 1-1 1/2 pounds of wings in an air fryer batch so you would probably need to cook these in 2-3 batches to get through them all. That's not the end of the world, but it ends up being about the same amount of time as baking the wings and more hand-holding as you have to keep switching batches.
If you want to air-fry a batch though, make sure the wings are very dry and, optionally, dust them with some baking powder for some extra crispiness. They will need to air-fry for about 20-25 minutes at 375˚F.
Other methods for cooking the wings
Of course, you could traditionally fry the wings. Heat up some oil in a deep fryer and dunk them in for about 10 minutes. If you do traditionally fry them, be sure to make the glaze below as they will need a sauce.
While I didn't try it, I think these wings would also be great if you made them sous-vide like my sous vide wings recipe. Worth a shot maybe!
Making the Glaze
When you remove the wings from your marinade, strain out the solids in the marinade (garlic, jalapeno, etc.) and add the marinade to a small saucepan with two tablespoons of sugar. Bring this mixture to a simmer over medium heat and simmer the glaze for 5-6 minutes until it thickens. This tequila lime sauce is packed with flavor!
You can use this glaze once it has cooled slightly and thickened to brush on the chicken wings when they are done! SO GOOD! It's kind of a next level move for these Tequila Lime Chicken wings!
Serving the wings
Serve these wings with a big plate of celery and a few limes for squirting on top. The fresh lime juice is a really nice addition. Of course, a creamy dip like blue cheese dressing or ranch dressing is always welcome when it comes to wings!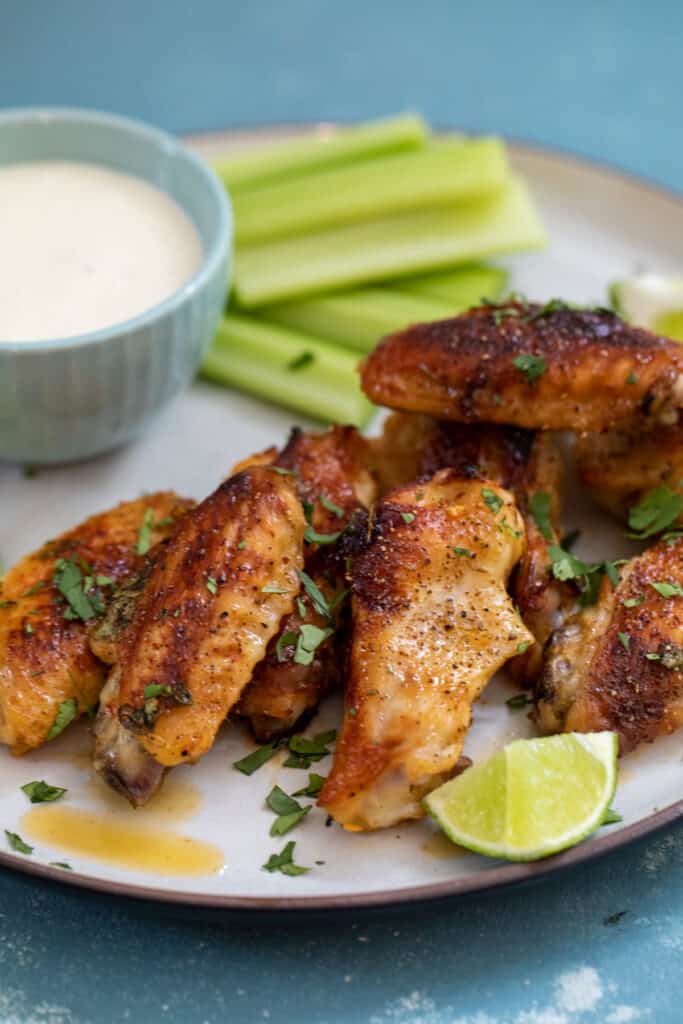 Storing and reheating
Chicken wings store really well for later and these will keep in the fridge for up to five days without a problem. It's best to reheat them in a 350˚F oven for 20 minutes so they can crisp up again. I wouldn't microwave them as the skin will get really soggy.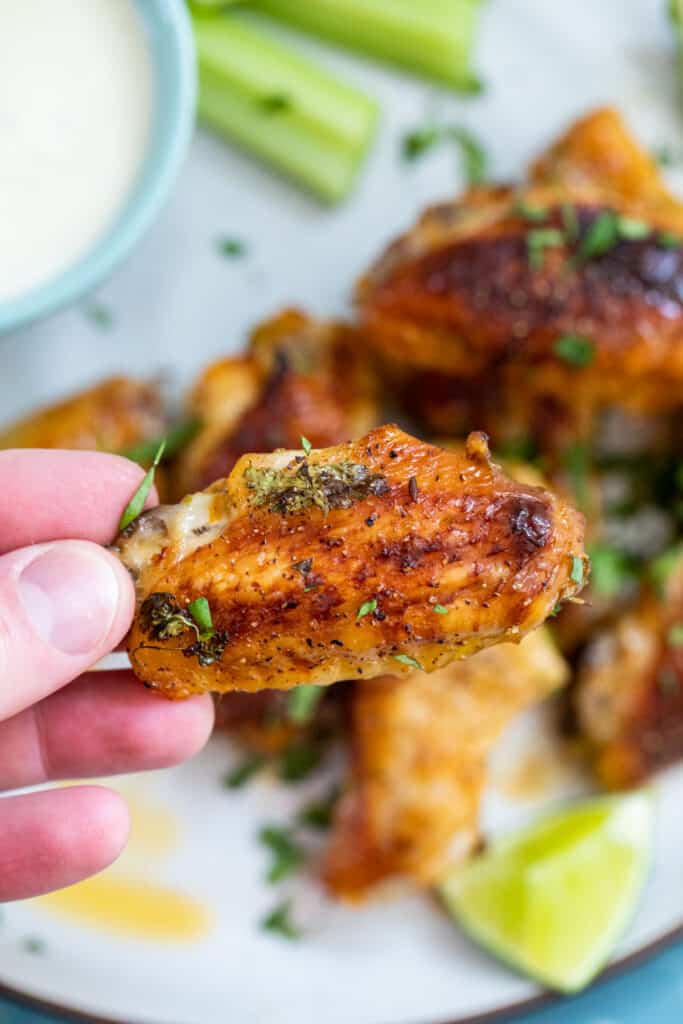 Tequila Lime Chicken Wings
These Tequila Lime Chicken Wings are juicy, crispy, and coated in a sweet Tequila Lime Glaze.
Ingredients
3

pounds

fresh chicken wings

,

cut into drummettes and flats

½

cup

tequila

2

limes

,

zest and juice

¼

cup

honey

3

cloves

garlic

,

sliced

2

tablespoons

cilantro

1

jalapeno

,

sliced thin

1

teaspoon

cumin

1

teaspoon

paprika

1

teaspoon

onion powder

1

teaspoon

kosher salt

½

teaspoon

black pepper
Instructions
Whisk together tequila, lime juice, zest, honey, garlic, cilantro, jalapeno, and spices. Add chicken wings to a sealable bag with marinade and store in fridge for at least an hour.

Remove wings from marinade and strain marinade if you are making the glaze below. Dry wings well with paper towels.

Lay out wings, skin-side up, on a baking sheet lined with foil. Bake at 400˚F for 50-55 minutes until they are nicely browned on top and tender and juicy on the inside. They should reach an internal temperature of 170˚F.

Serve wings immediately with veggies and dip of your choosing or glaze with sauce below.

To make the glaze, strain leftover marinade and add to a small pot with 2 tablespoons sugar. Bring to a simmer over medium heat and simmer for 5-6 minutes, stirring regularly, until sauce thickens. Then let cool and brush on wings when they come out of the oven.
Nutrition
Serving:
6
wings
|
Calories:
562
kcal
|
Carbohydrates:
23
g
|
Protein:
34
g
|
Fat:
30
g
|
Saturated Fat:
8
g
|
Polyunsaturated Fat:
6
g
|
Monounsaturated Fat:
12
g
|
Trans Fat:
0.3
g
|
Cholesterol:
141
mg
|
Sodium:
719
mg
|
Potassium:
380
mg
|
Fiber:
1
g
|
Sugar:
18
g
|
Vitamin A:
592
IU
|
Vitamin C:
16
mg
|
Calcium:
48
mg
|
Iron:
3
mg
Did you make this recipe?
Here are a few other great recipes to try!