It seemed right to start off my five recipes for the 10 Ingredient Challenge with an appetizer and when it comes to using hot sauce in an appetizer you better believe I think first of chicken wings.
Now, chicken wings can get crazy complicated these days. I've been to some bars with, like, thirty different kinds of chicken wings. That's all fine and good, but what I really want is just a delicious, spicy wing. I don't need anything fancy.
The sauce for this Spicy Baked Parmesan Wings recipe really only has three ingredients, but it tastes really complex and savory thanks to a healthy dose of Parmesan cheese and as much Tabasco® as you can handle.
Baked Parmesan Wings
As easy as homemade chicken wings can get! Baking the wings is so easy and the flavorful sauce has only three ingredients!
Ingredients
2

pounds

chicken wings

¼

cup

tomato paste

2

tablespoons

Tabasco®

2

tablespoons

neutral oil

1

tablespoon

water

¼

cup

grated Parmesan cheese

Salt and pepper

Extra Parmesan for garnish
Instructions
Preheat oven to 400 degrees F. Chop wings in half to separate drumsticks if they aren't already cut.

Lay wings out on a baking sheet lined with parchment paper and season with salt.

Bake wings for 30 minutes at 400 degrees F.

Meanwhile, whisk together sauce in a medium bowl. Season sauce with a pinch of salt and pepper.

WHen wings are done baking, brush sauce liberally on each wing. Return to oven for 10 minutes.

Serve wings while hot with grated Parmesan cheese. Feel free to serve with a dipping sauce and veggies.
Nutrition
Serving:
6
wings
|
Calories:
372
kcal
|
Carbohydrates:
4
g
|
Protein:
25
g
|
Fat:
28
g
|
Saturated Fat:
8
g
|
Polyunsaturated Fat:
8
g
|
Monounsaturated Fat:
10
g
|
Trans Fat:
0.3
g
|
Cholesterol:
100
mg
|
Sodium:
500
mg
|
Potassium:
378
mg
|
Fiber:
1
g
|
Sugar:
2
g
|
Vitamin A:
494
IU
|
Vitamin C:
9
mg
|
Calcium:
77
mg
|
Iron:
2
mg
Did you make this recipe?
Spicy Baked Parmesan Wings
Baking the Wings
I go back and forth on whether it's better to bake or fry wings. Frying them is the traditional way to make them but it does require a bunch of extra setup. This can really put off some home cooks so I decided to bake these guys this time around.
Baking them couldn't get easier. Just chop your wings into pieces if they aren't already separated and spread them out on a baking sheet lined with parchment paper. Season the wings just with some salt.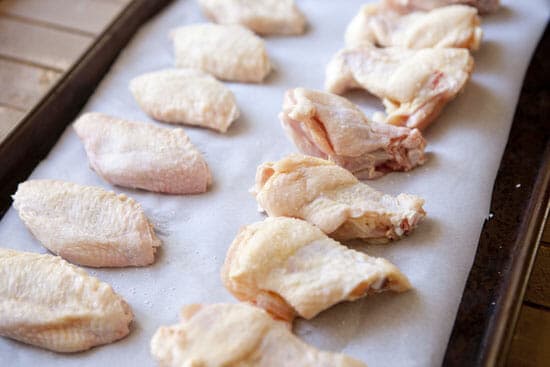 Bake these guys, skin-side up, for 30 minutes at 400 degrees Fahrenheit.
They will actually crisp up a bit as the fat renders out in the skin. They should be completely cooked through at this point, but we aren't done yet.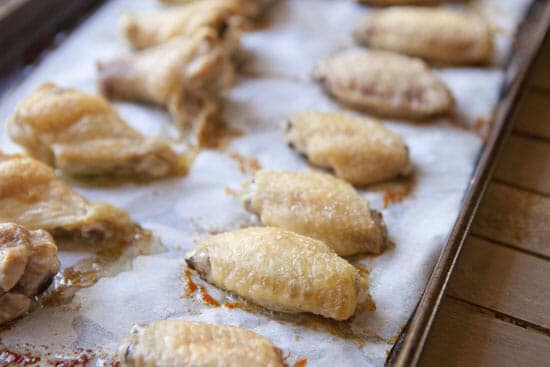 Getting Saucy
Like I said, this sauce is about as easy as sauce gets. You really just need these three items.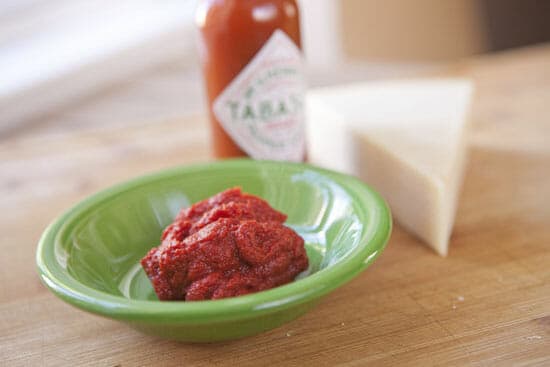 Whisk these together with a bit of oil and water just to thin the sauce and season the sauce with a pinch of salt and pepper.
It's ready to go now!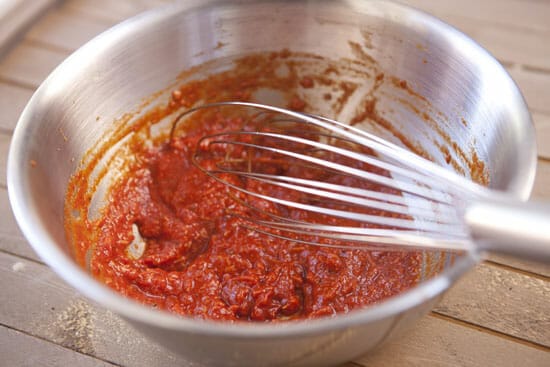 When the wings are done baking, give them a healthy coating of the sauce. You can really slather it on these guys.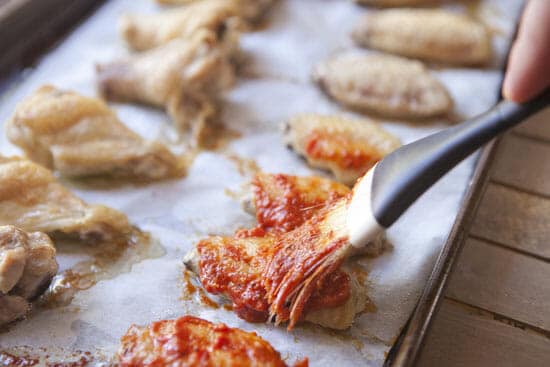 Bake the wings a second time with the sauce on for 10 more minutes.
The sauce will thicken on the wings and create a glaze of sorts. Oh… your kitchen will also smell amazing. So get ready for that.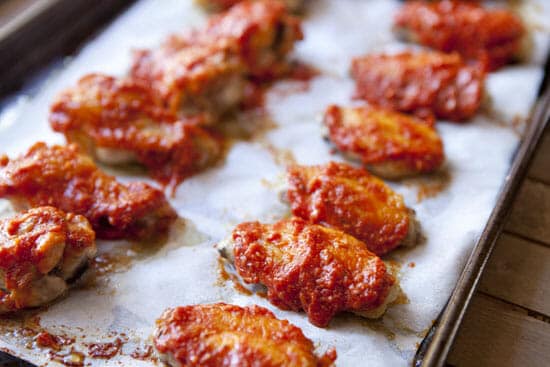 When these Spicy Baked Parmesan Wings come out of the oven, garnish them with some extra grated Parmesan cheese and serve them while they are piping hot.
You could serve these guys with dip if you want, but I found that they were delicious plain. Just like this.
The interesting thing about these Spicy Baked Parmesan Wings is that they taste much more complicated than they are. They have a nice smokey heat thanks to the hot sauce, but are also savory and completely addictive.
It's football season right now (and also baseball playoffs) and I can't think of a better game day appetizer than a big plate of these guys!
Here are a few other great wings recipes!