I always find it to be a losing game to try and define the "Best of" something in a city. The Best Burrito in Denver. The Best Burger in Denver… I could give answers to these, but they are easily debatable.
One that I would feel the most comfortable with is wings. The best wings I've personally had in Denver is at a small place in a little row of shops called Grillin' Wings and Things (RIP). When I first saw their name I thought, "Not very original." But you don't need to be original when you make good food.
Their name perfectly describes what they do. They grill wings… and things. And they do it well.
It turns out that grilling wings is actually one of the easiest and best ways to make them. No need to bust out the fryer or anything like that. Just light the grills and stack it with wings. It's the best thing to do for a grilling weekend or game day.
Plus, unless you live in Denver, you can't get Grillin Wings and Things (yet) so you'll have to make them!
How to Grill Chicken Wings
As a disclaimer, I have no idea how GW&T actually makes their wings. I actually think they might pre-bake them low and slow (like these) and then just finish them on the grill. If you're not running a restaurant though, you can start and finish them on the grill.
The first thing you need to consider for grilled chicken wings is what sauce or rub you are using. If you're using a dry rub only, you can rub your wings with it right from the beginning. If you're using a sauce or a fresh rub (like the jerk rub I used in this post), you don't want to add that until later or it'll just burn.
So, in most cases, you want to just toss your wings with some neutral oil, salt, and pepper.
You can grill wings over charcoal or gas. Either way, the key is to make sure you have a section of your grill that is hot (like really hot) and a big section of the grill that is indirectly hot.
When I use gas, I'll just turn one burner one medium-low. For charcoal, once your coals are going, just push them to one side of the grill. Make sure you light enough charcoal to keep the heat going for two hours.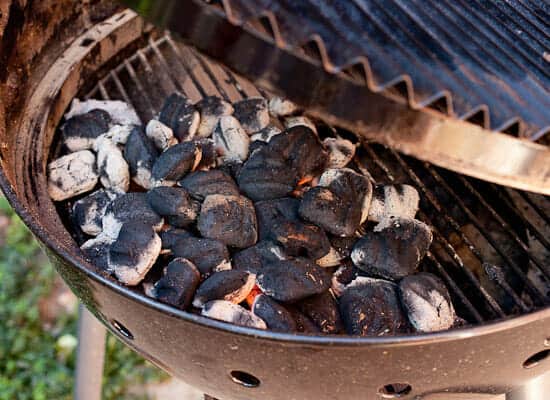 The Indirect Phase
The first step of grilling wings is just to slowly cook the wings over indirect heat. You don't really have to worry about these much assuming your indirect area isn't too hot.
Maybe rotate the wings from front to back every 20 minutes or so, but really they can just chill on the grill (close the grill to speed up the process).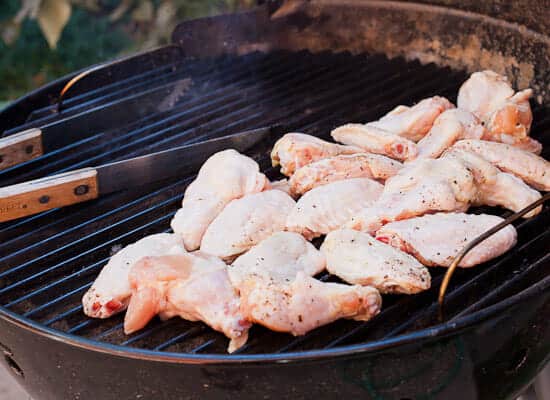 The Jerk Rub
The sauce/rub you use isn't really important. Once you have the method down you can use anything.
I tried something new though and made a jerk rub for my wings. It was basically just lots of spices, scallions, garlic, ginger, and habanero peppers pulsed together.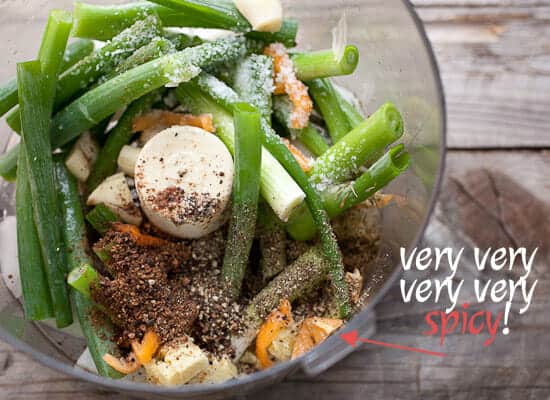 It smelled SO GOOD.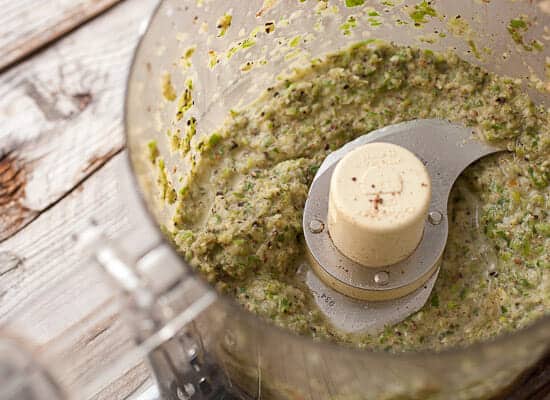 The Direct Heat Phase
I'd say at a minimum your wings will need to be on the indirect heat for 45 minutes. An hour is better. They are hard to overcook. You could leave them on for two hours. Assuming your grill isn't too hot, the wings will just get more tender because more of the fat will break down.
Before you move on, I'd recommend testing a wing to make sure it's cooked through.
Now it's time to toss with your sauce of choice. This might be a classic buffalo sauce or, in my case, this killer jerk rub.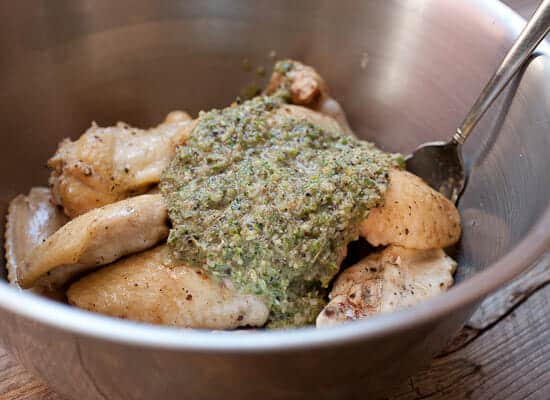 After you've sauced the wings, stick them back on the grill, but this time on the direct heat.
As my friend Matt would say, "BLAST 'EM!"
Don't leave the grill while these are over the high heat. They can burn quickly. Use tongs to turn them pretty constantly. They shouldn't need more than a few minutes to get nice and crispy.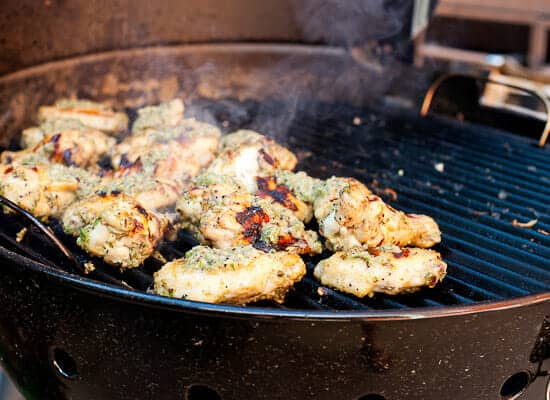 Serve these right off the grill with your favorite dipping sauce and lots of celery and carrots.
If you're not grilling wings this fall, you're doing it wrong!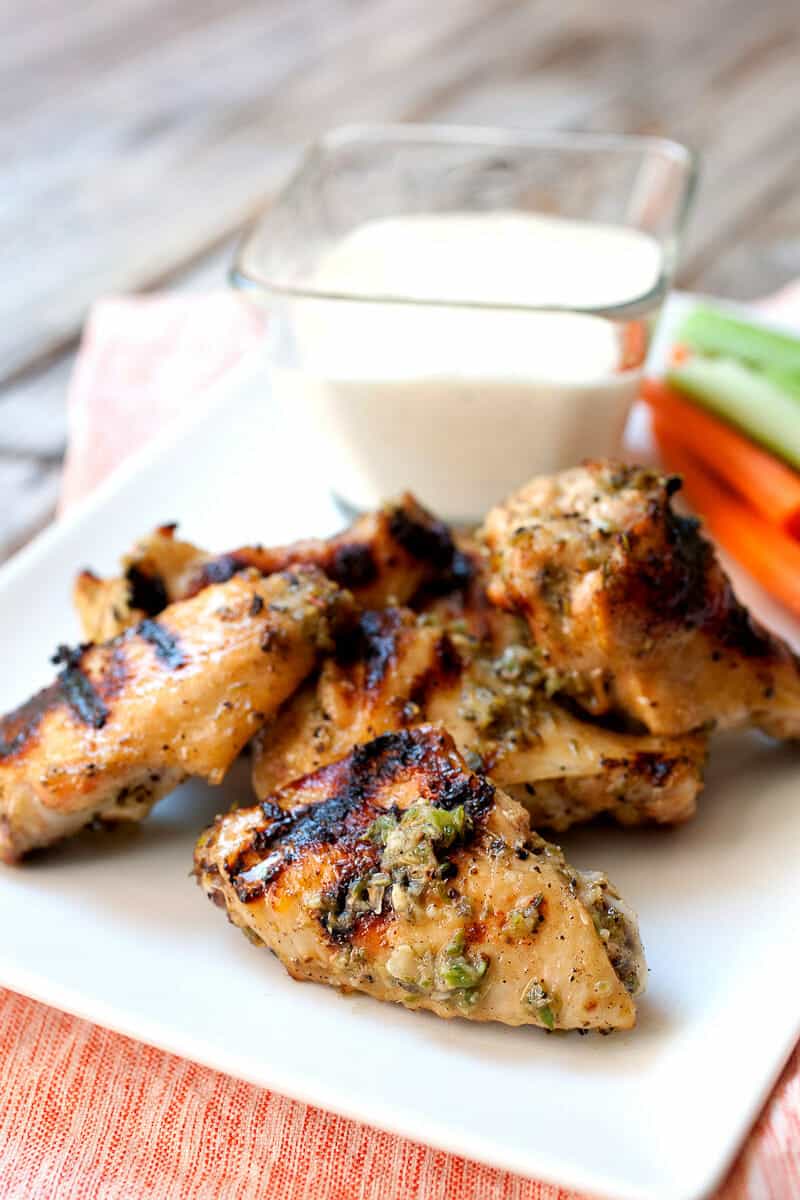 Grilled Chicken Wings
Grilling wings works every time and is easier than frying them! You can serve grilled chicken wings with almost any sauce or rub!
Ingredients
3

pounds

chicken wings

2

tablespoons

neutral oil

1

teaspoon

kosher salt

1

teaspoon

black pepper

Blue cheese dressing

,

for serving
Jerk Rub:
4

scallions

,

chopped

2

tablespoons

onion

1

habanero pepper

,

seeded

½

inch

peeled fresh ginger

2

cloves

garlic

1

teaspoon

dried thyme

1

tablespoon

dried allspice berries

1

tablespoon

honey

1

lime

,

juice only

½

teaspoon

salt

½

teaspoon

pepper

¼

cup

neutral oil
Instructions
Note: If you're using a dry rub for your wings, you can add the dry rub before you grill. If you are using a sauce or a rub with fresh herbs/spices, then cook the wings without it and add it during the sauce phase of the recipe below.

If your wings are whole, cut off the tips and save them for chicken stock (or toss 'em). Cut the other part of the wings into the drumsticks and the flats. Toss the wings with a few tablespoons of oil, salt, and pepper. These are ready for the grill if you aren't using a dry rub!

Prepare your grill for indirect grilling. If you're using a charcoal grill, heat a good amount of charcoals (enough for 2 hours of cooking) because you'll need that indirect heat for quite awhile and then you'll need the direct heat at the end. When your coals are hot, push them mostly to one side of your grill.

If you're using gas, just turn on one of your burners on medium-low (either the back or far side of the grill depending on your grill).

Start wings on the coolest part of the grill (very indirect heat). Cover the grill and let the wings cook there for 20 minutes. Then rotate the wings and cook them for another 20 minutes. Do another rotation and another 15-20 minutes.

The good news is that it's almost impossible to overcook these wings. As long as they aren't being exposed to direct heat, they will be fine. I've cooked mine over indirect heat for up to two hours with no problems.

After your wings have cooked over indirect heat, they should be definitely cooked and fall-off-the-bone ready. Test one though to make sure! But, the skin will also be soggy still. After the wings come off the indirect heat, toss them some of the sauce or fresh rub you are using.

Transfer the wings back to the direct, hottest part of the grill. Don't leave! These will cook very quickly now. Keep turning the wings with tongs as they crisp up and get nice char marks. At most they should cook for 3-5 minutes over the direct heat. (If you're using a gas grill, crank up your burner to high before doing this.)

Serve finished wings with blue cheese dressing and carrots and celery.
Nutrition
Serving:
8
wings
|
Calories:
622
kcal
|
Carbohydrates:
9
g
|
Protein:
34
g
|
Fat:
50
g
|
Saturated Fat:
11
g
|
Polyunsaturated Fat:
18
g
|
Monounsaturated Fat:
16
g
|
Trans Fat:
0.5
g
|
Cholesterol:
141
mg
|
Sodium:
1010
mg
|
Potassium:
377
mg
|
Fiber:
1
g
|
Sugar:
5
g
|
Vitamin A:
436
IU
|
Vitamin C:
13
mg
|
Calcium:
49
mg
|
Iron:
3
mg
Did you make this recipe?
FAQ on Grilled Wings!
Should I use propane or charcoal for grilling chicken wings?
It doesn't matter, but I would make sure you have an indirect heat section and a direct heat section. You want to start the wings over indirect heat (very low heat if you're using propane) and then transfer them to direct heat grilling to finish them.
How long does it take to grill wings?
At least an hour if you're doing it correctly over indirect heat. Don't try to rush them or you'll end up with charred wings and not tender or cooked through interior. Slow is the way to success. If you want to hit them with some direct heat at the very end of grilling, that's fine!
What rub should I use for grilling wings?
You can use any rub! For this version I used a jerk seasoning, but don't feel limited there. Even just salt and pepper turns out great if you toss them in a sauce near the end.
Should I marinate wings before grilling them?
It's not really necessary, but if you wanted to do something like these pickle back wings, you absolutely can. The worry of adding a marinade is that the wings might stick to the grill so be sure to dry out the surface of the wings and oil your grill grates before cooking.
Here are a few other great wings recipes!