Chicken wings are one of my favorite appetizers to make. Some days I'm happy to make a dinner out of them in fact!
Chicken wings can be finicky though. Of course, you can toss them in the fryer, but that can have different results depending on how big the wings are. You can also use my low and slow method if you have 4 hours of prep time.
I started playing around with the idea of sous vide chicken wings because I figured if you can cook them perfectly in the sous vide machine, then you can finish them quickly whenever and however you want!
Let's dig in!
What is Sous Vide Cooking?
Sous Vide sounds fancy, but it super easy. It translates directly to "under vacuum" because you want to make sure to seal the food without air in it. Then you cook the item at a very particular temperature in a water bath that is circulating around the food.
You do need a sous vide cooker to really make it work, but if you are a decent home cook, I highly recommend a sous vide cooker. They are great and make some dishes super easy.
Why Cook Chicken Wings Sous Vide?
Ultimately, you still have to cook the wings either in the oven or in the fryer once they are done in the sous vide machine. When the wings come out of the sous vide cooker, they will be cooked through, but kind of sad and lacking all texture.
So why do it? Well, two reasons in my mind.
First, you can remove all guessing from the cooking. The wings will cook through completely and be perfectly cooked no matter how big they are.
Second, while there is still some cooking needed to finish the wings, it's much faster. Normally it would take me 45-60 minutes to make a few batches of wings in the fryer, but if you have them cooked already, it's a 10 minute process!
How to Prep Chicken Wings for Sous Vide
Since we are cooking these in vacuum-sealed bags, I like to go ahead and separate the wings into drumettes and flats. I like to cook the drumsticks for about 15 minutes longer in the sous vide cooker so they are very tender.
Just season the wings with salt and pepper before sealing them up.
Now for sealing! I like to use a vacuum sealer for my wings like the Foodsaver. This is easy to use but is one extra piece of equipment.
If you don't have a vacuum sealer (I didn't when I started cooking sous vide), you can add the wings to a large zip top bag and slowly submerge the bag in water. When the bag is completely submerged, seal it up. The water will push out any extra air and you'll end up with basically the same sealed bag without air in it!
Cooking the Wings Sous Vide
I like to heat my water to 165˚F for chicken wings. This makes sure they are completely and safely cooked and also starts to break down the fat in the wings so they are super tender.
Flats need only 60 minutes. Drums need a little longer to be perfect. This is pretty finicky on my part. You could cook them all together without issue, but it's not that much work to separate them.
These were my finished sous vide wings! Cooked through and tender, but the texture is obviously not great!
Drying the Chicken Wings
The chicken wings will have a lot of liquid in the bags. You want to drain this off (or save it for chicken stock). If you are in a rush, you can add the chicken wings to a bowl with some paper towels to dry them off.
If you have longer, you can spread them out on a wire rack in the fridge for a few hours (or overnight) and let them air dry.
I tried both ways and both were great. Whatever your schedule allows is what I would do.
What you don't want to do is store the chicken wings in the fridge in the bag you cooked them in. If you do that, the fat will congeal on the wings and it'll be REALLY hard to get them dry and clean for cooking.
Finishing the Wings: Two Ways
Once you are ready to finish the wings, you have two options I think. First, you can finish them in the broiler on high heat. I broiled mine for five minutes in the broiler and they were reasonably crispy. Really good once they were sauced!
The ultimate way though is to fry them. Toss the sous vide wings in some fry oil at 350-375˚F for just 3-4 minutes and they will be SO crispy on the outside and tender and perfect on the inside.
Saucing the Wings
I mixed up a simple buffalo sauce for this batch: Some butter, tomato paste, hot sauce, and garlic powder. So good! You could use your favorite sauce though or browse some of my other chicken wings recipes for other sauce ideas!
Storing the Wings
Once your wings are cooked, they keep well in the fridge for 3-4 days and if you have sauced them you can reheat them in the oven until warmed through or just toss them in the microwave for a minute.
Wings are my favorite!
These sous vide chicken wings are fall-off-the-bone tender and while you do need some equipment, the cooking is SO simple. It's basically a set it and forget it method for amazing chicken wings every time.
If you're a sous vide fan, get on board with these!
Sous Vide Chicken Wings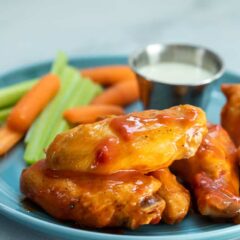 Chicken wings are one of my favorite game day appetizers but they can be a hassle to make. Try this Sous Vide method which requires a little extra prep, but results in absolutely tender and perfect wings and less day-of cooking time!
Ingredients
4-5

pounds

raw chicken wings

1

teaspoon

kosher salt

1

teaspoon

black pepper

Blue Cheese

,

for dipping

Oil

,

for frying

Celery and carrots
Easy Buffalo Sauce:
¼

cup

butter

2

tablespoons

tomato paste

2

cups

Franks hot sauce

½

teaspoon

garlic powder
Instructions
Cut wings into drumettes and flats. Separate them together and season all the chicken wings with salt and pepper.

Place all the drumettes in a bag and seal with a vacuum sealer or use the displacement method to seal the wings (see below). Do the same with the flats. Try to get the wings in a single layer so they cook evenly.

Heat your sous vide cooker to 165˚F. Place the wings in the circulating water bath and cook flats for 60 minutes and drumettes for 75 minutes.

When wings are cooked, remove them from the cooking bags and let dry. You can do this either by laying them out on a wire rack in the fridge for 4-5 hours or overnight, or placing the wings on some paper towels to dry off faster.

Note: If you store the bags in the fridge without draining them, the fat from the wings will congeal back on the wings, making them harder to finish.

Finishing the wings: There are two options to finish the wings:

Broiling: Place the wings in an even layer on a baking sheet and broil at high heat for 5 minutes. This will crisp up the wings although not as much as option two.

Frying: Heat fry oil to 350-375˚F and fry the chicken wings for 4 minutes per batch. They will be crispy and cooked through perfectly!

For the sauce, combine butter, tomato paste, hot sauce, and garlic powder and bring to a simmer in a medium pot over low heat. When wings are done finishing (fry or boil) transfer them right away to the sauce.

Serve wings immediately with blue cheese or ranch and veggies on the side.

Leftover wings store fine in the fridge for 3-4 days. Reheat in the microwave for a minute on high or bake them until warmed through.
Nutrition
Serving:
5
Wings
|
Calories:
111
kcal
|
Carbohydrates:
2
g
|
Protein:
1
g
|
Fat:
12
g
|
Saturated Fat:
7
g
|
Polyunsaturated Fat:
0.5
g
|
Monounsaturated Fat:
3
g
|
Trans Fat:
0.5
g
|
Cholesterol:
31
mg
|
Sodium:
4415
mg
|
Potassium:
96
mg
|
Fiber:
0.5
g
|
Sugar:
1
g
|
Vitamin A:
479
IU
|
Vitamin C:
2
mg
|
Calcium:
9
mg
|
Iron:
0.3
mg
Did you make this recipe?
Here are a few other great chicken wing recipes!