There are many different kinds of burgers in the world. While the thinner smashburger style burger has been very popular in the last few years, there is another kind of burger which shouldn't be forgotten: The Steakhouse burger!
This burger tends to be thicker, much more substantial, and piled with toppings. While you could maybe eat two smashburgers or something with some fries, these are a one-and-done meal!
Read on and let's learn how to make these special burgers at home so you don't have to actually visit a steakhouse to make them happen!
What is a steakhouse burger?
There are a few key ingredients or steps that set a steakhouse burger apart from other burgers.
First, is the quality of the ground beef. If you are capable, it will be worth it to grind your own burger meat for these burgers. That will ensure a really high quality meat and also the right fat content for the ground beef. If you can't do that, at least ensure you get at least 15% fat in your ground beef and getting a custom ground chuck or something from the butcher would be well worth it.
Second, the size of these hamburger patties should be substantial. These are not skimpy thin burgers. These should be meaty, charred, and juicy burgers. I like to go with 8-ounce burger patties for my steakhouse burgers, but I've seen other recipes that go as high as 10 ounces for the patties.
I also think a good steakhouse burger should have caramelized onions, cheese, and a great homemade sauce on the burger, but those are more personal preference as I've seen steakhouse burgers with a variety of toppings.
How to shape and season patties
These are big boy burgers. Take your time when you're shaping the patties and working with the ground beef. I like to mix in a little Worcestershire sauce into my ground beef to amp up the savory notes of the burger.
Then shape the 8-ounce patties into large disks and be sure to put a nice thumb-sized divot into the beef patties. These are so big that as they cook, they will start to shrink up and if you don't have some space in the center, you'll get the classic amateur football patty rather than a nice flat steakhouse burger.
Season the patties really well with kosher salt, black pepper, and granulated garlic. You could add other seasonings or spices but those are not negotiable in my opinon.
Making the caramelized onions
There's one ingredient that I think is pretty essential to these burgers: Caramelized onions. Slice up a few white or yellow onions and let them cook slowly in a cast iron skillet or good nonstick skillet for at least 30 minutes until they get golden brown.
You can cook these in butter or olive oil or both and near the end you can add a splash of balsamic vinegar or Coke to the skillet to deepen the flavor and sweeten the onions.
Grilling the burgers
Grilling these burgers is ideal. Put them on a medium-high heat grill for about 6-7 minutes per side. That might seem like a lot for a burger, but these are very thick.
Assuming you want your burgers to be medium, I like to pull the burgers when they hit an internal temperature of about 140˚F in the thickest part of the burger. You can go a bit lower if you want them rarer, but don't go too low or they won't be cooked through.
If you want to add cheese to these (YES), I recommend American cheese or Muenster cheese. Add it in about the last minute of grilling so it gets nice and melted but doesn't just burn off the burgers.
These burgers should be served on a toasted brioche bun if you can find them.
Making the burger sauce
For the homemade burger sauce, I stirred together a mix of mayonnaise, good stone ground mustard, and ketchup. You could also add some relish or diced pickle if you wanted.
That will be a nice mix of sweet, savory, and creamy and works great as a special burger sauce.
Other toppings ideas for these steakhouse burgers
You can really get creative with the toppings on these steakhouse burgers. They are so rich and substantial that they can hold up to some big toppings.
Here are a few ideas!
Instead of caramelized onions, sautee some sliced mushrooms in butter a use those as a savory topping.
Fry up some onion strings or purchase crispy onion straws to add to the top.
Tomato, lettuce, crispy bacon, and avocado are all good ideas.
While these steakhouse burgers can hold up to big toppings, I would limit the toppings to 2-3 as you don't want to get too crazy with them.
What to serve with these burgers
Fries would be the standard, of course, but honestly, I like to serve these at home with a big salad like maybe one of my Big Ass Salads or my red potato bliss salad or if they are in season, this Grilled Peach Salad!
These are so hearty that something light is a good idea in my opinion.
Reheating these steakhouse burgers
If you have an extra steakhouse burger (or half of a burger), you can reheat these in a 350˚F oven until they are warmed through and the cheese is remelted. They are so thick that they actually reheat well without drying out.
Ultimate Steakhouse Burgers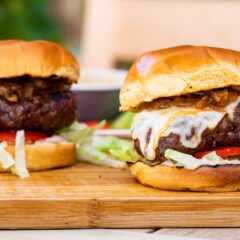 Amazingly juicy steakhouse burgers with caramelized onions are so easy to make at home! Top with a homemade burger sauce and you'll be in heaven.
Ingredients
Caramelized Onions:
1

tablespoon

olive oil

2

large onions

,

sliced thin

½

teaspoon

teas kosher salt

1

tablespoon

unsalted butter

1

tablespoon

balsamic vinegar

1

tablespoon

fig jam

,

optional
Steakhouse Burgers:
2

pounds

ground beef

2

tablespoons

Worcestershire

1

teaspoon

kosher salt

1

teaspoon

black pepper

1

teaspoon

granulated garlic
Burger Sauce:
½

cup

mayonnaise

1

tablespoon

mustard

1

tablespoon

ketchup
Other fixing:
Brioche Buns

Butter Lettuce

Ripe Tomatoes

4

slices

Muenster cheese
Instructions
For the onions: Add olive oil to a large skillet over medium-low heat. Add sliced onions and cook, stirring occasionally, until onions are completely soft and start to caramelize/brown. Don't rush this. It should take around 30 minutes. Near the end add salt, butter, and balsamic to get some additional color and sweetness. If the pan is really dry, add a splash of water.

Optionally, add a spoon of fig jam to the skillet for extra sweetness. Remove caramelized onions from the heat.

For burgers: Add Worcestershire sauce to meat and shape into four 8-oz patties. Put a thumb-sized divot in the center of each patty and season well with salt, pepper, and granulated garlic.

Grill burgers over medium-high heat for 6-7 minutes per side or until they reach an internal temperature of 140˚F for medium burgers.

Serve burgers on toasted buns with burger sauce, lettuce, tomato, and caramelized onions on top.
Nutrition
Serving:
1
Burger
|
Calories:
977
kcal
|
Carbohydrates:
12
g
|
Protein:
47
g
|
Fat:
81
g
|
Saturated Fat:
28
g
|
Polyunsaturated Fat:
14
g
|
Monounsaturated Fat:
30
g
|
Trans Fat:
3
g
|
Cholesterol:
207
mg
|
Sodium:
1278
mg
|
Potassium:
844
mg
|
Fiber:
1
g
|
Sugar:
7
g
|
Vitamin A:
421
IU
|
Vitamin C:
6
mg
|
Calcium:
274
mg
|
Iron:
5
mg
Did you make this recipe?
More recipes to try!