I've hosted and been to grill parties where you get one of two things if you are a vegetarian: either a frozen, bland veggie burger or a huge portabella mushroom tossed on the grill. This Vegetarian Mushroom Burger is my absolute favorite burger to make for vegetarians. To be honest, I like it more than many beef burgers!
It's that good!
Mushrooms are just the right idea for a veggie burger. They are really savory, have nice texture, and mix nicely with tons of other ingredients.
This mushroom burger was the result of some serious testing after I had some vegetarian friends in town. I set out to make a really good veggie burger made out of mostly mushrooms.
I thought these Mushroom Burgers were the best veggie burgers I've ever made. Not only that, but my friend said it tasted better than Michel Richard's $16 veggie burger at Central in Washington, DC.
I'll take that.
Homemade Mushroom Burgers
Mushroom burgers are the most meaty veggie burger that you'll find. All you really need for these delicious burgers is a bunch of mushrooms!
Ingredients
1½

pounds

cremini mushrooms

3-4

dried shiitake mushrooms

½

cup

white onion

,

diced

1

cup

breadcrumbs

2

eggs

½

cup

oat flour

,

or other flour

⅓

cup

Parmesan cheese

,

grated

½

teaspoon

cayenne pepper

2

tablespoons

soy sauce

2

tablespoons

fresh parsley

,

chopped

2

tablespoons

olive oil

Pinch

of salt

2

cups

breadcrumbs

,

for forming patties
Burger fixings:
Buns

Swiss cheese

Tomatoes

Red Onion

Pea Sprouts

Avocado
Instructions
Wash and dice cremini mushrooms. Add dried mushrooms to a few cups of boiling water to reconstitute.

Add olive oil to a large skillet over medium heat. Once hot, add diced mushrooms. Add diced dried mushrooms as well once reconstituted. Let mushrooms cook until they release their liquid and dry out a bit, about 7-8 minutes, stirring regularly. Add onions and continue to cook for a few more minutes.

Remove mushroom mixture from pan and add to food processor. Pulse a few times to roughly grind mushrooms. You don't want them completely smooth, but like a very rough paste.

Stir in eggs, flour, breadcrumbs, and other ingredients. The finished mixture should be wet, but not liquid. It should roughly hold its shape. If it is really wet, add more breadcrumbs or flour in 1/4 cup batches.

Sprinkle two cups of breadcrumbs in a large baking dish. Form six large patties with mushroom mixture. As you form the patties, place them in the breadcrumbs and turn them to completely coat each patty in breadcrumbs, forming a crust.

Once all the patties are formed and in the breadcrumb mixture, let sit in the fridge for 30 minutes.

Grill burgers over high heat for 5-6 minutes per side until the outside is nice and crispy. Add swiss cheese if you want during the last 2-3 minutes of cooking.

Serve with normal burger fixings on grilled buns.
Nutrition
Serving:
1
Burger
|
Calories:
523
kcal
|
Carbohydrates:
53
g
|
Protein:
26
g
|
Fat:
23
g
|
Saturated Fat:
10
g
|
Polyunsaturated Fat:
3
g
|
Monounsaturated Fat:
8
g
|
Trans Fat:
0.01
g
|
Cholesterol:
93
mg
|
Sodium:
920
mg
|
Potassium:
754
mg
|
Fiber:
4
g
|
Sugar:
6
g
|
Vitamin A:
618
IU
|
Vitamin C:
3
mg
|
Calcium:
542
mg
|
Iron:
4
mg
Did you make this recipe?
How to Make A Mushroom Burger
This probably isn't a surprise but you need a lot of mushrooms to make these burgers. The burgers are mostly mushroom with just a few other add-ins to give some extra texture and flavor.
I really like cremini mushrooms. They aren't the cheapest mushrooms, but are far from the most expensive and have great texture and flavor. White button mushrooms are cheaper but I think they lack a bit in the flavor department.
Whatever mushroom you decide to use, clean them and dice them up.
For some variety, I also reconstituted a few shiitake mushrooms in hot water and then chopped those and added them to the mix.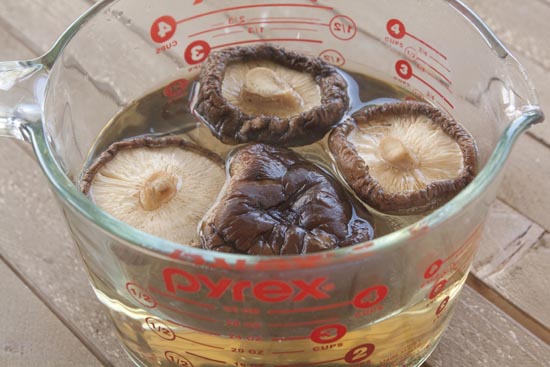 To start the mixture, add some olive oil to a large skillet over medium heat. Once hot, add all the diced mushrooms and a pinch of salt. Cook them until the mushrooms release their liquid and then dry up a bit.
Then you can add the diced onion and cook for a few more minutes. This whole cooking process will take 8-10 minutes.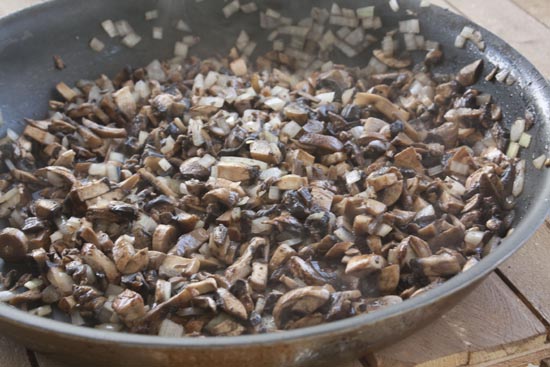 Making the Mushroom Burger Patties
To get a really nice texture for these mushroom burger patties, it helps to have a food processor. If you do have one, you can just add the mushrooms and onions to the processor and pulse until the mixture is a rough paste. You don't want it completely smooth. Some chunks are good.
If you don't have a food processor, you can just dice everything really finely and continue with the recipe.
Next, just stir in all the other ingredients in a large bowl!
Depending on the amount of liquid in your mushrooms, you might need to add more flour or breadcrumbs. The mixture should hold its shape, but not be dry or crumbly at all. It should be pretty wet and even a bit sticky.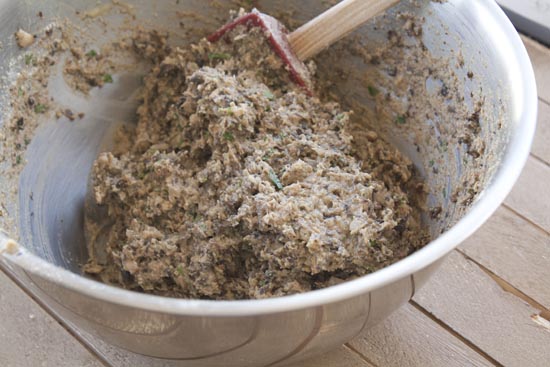 Shaping the Mushroom Burger Patties
There's a constant push and pull with veggie burgers. You don't want them dry, but you have to have them dry enough to hold their shape!
Here's how to solve the problem. Make the patty mixture a bit on the wet side. It should hold its shape, but just barely.
Then pour a bunch of breadcrumbs in a large baking dish and as you form the mushroom patties, dunk them in the breadcrumbs to form a crust around the patties. This crust will let the burgers keep their shape and give them some structure so they can stay on the grill, but it won't dry them out on the inside.
It's the most important step!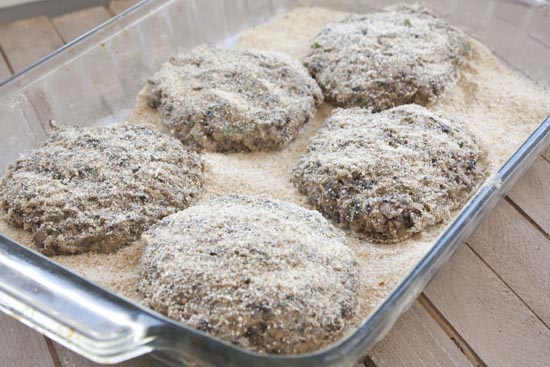 Let the burgers sit in the breadcrumbs for 20-30 minutes in the fridge so they can really form a nice crust.
Then toss them on a high heat grill for about 5-6 minutes per side until they get nice and crispy on the outside. The burgers will be pretty sturdy and hard to overcook honestly.
If you are using cheese, add it with 2-3 minutes left.
You can also cook these mushroom burger patties in a skillet over medium-high heat for 4-5 minutes per side. They should get a nice crust on both sides.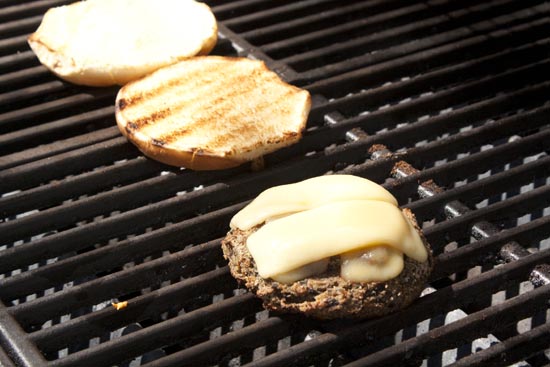 Once these guys are done, you can top them with any of your standard, favorite burger toppings.
On this day, I used some avocado, tomato, red onion,and pea sprouts.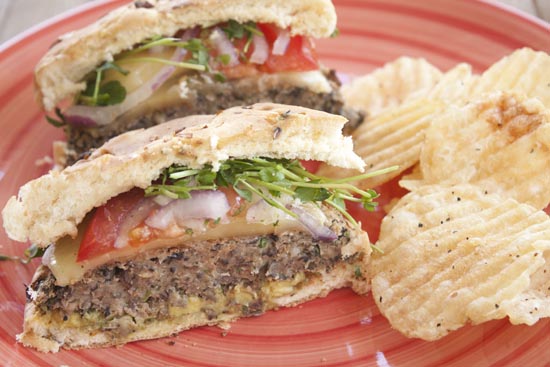 I'm not even exaggerating when I say that I would choose this mushroom burger recipe over probably 90% of beef burgers in the world. It's super-flavorful, has a great texture, and actually tastes kind of meaty.
If you are looking for a good veggie burger recipe or are just in some sort of grilling rut, give these a shot!
Here are a few other great burger recipes!
Philly Cheese Steak Burgers from Dinner Then Dessert