When I was in New Mexico last week, I ate my fair share of Mexican food. I didn't have a single enchilada though so I was happy to see that it won the poll while I was gone!
One thing I did see a lot of while I was there was green chiles. Good ones. One day I drove by a grocery store with the windows down and the smell of roasting chiles floated right into my car. Turns out if you buy a huge bag of chiles there, they will roast them on-site for you. Pretty cool stuff.
I had to pass on the chiles unfortunately because I didn't have a great way to transport them.
But when I got back home, I had chiles on the mind still so I wanted to somehow incorporate them into these Squash Enchiladas.
Green Chile Squash Enchiladas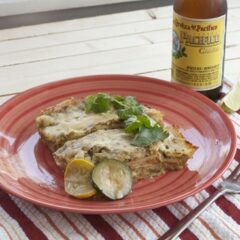 Sauteed squash and zucchini folded inside corn tortillas and smothered with a spicy green chile sauce. Also, lots of cheese obviously!
Ingredients
Green Chile Sauce:
3-4

poblano peppers

3-4

Hatch peppers or other spicy green chile

5

large tomatillos

4

cloves

garlic

2

tablespoons

cilantro

2

cups

vegetable broth

1

tablespoon

cornstarch + 1 tablespoon water

1

tablespoon

honey

Dash of balsamic vinegar

Salt and pepper
Filling:
2

medium squash

,

sliced

2

medium zucchini

,

sliced

1 ½

cups

Cotija cheese

,

crumbled

1

tablespoon

chili powder

2

tablespoons

olive oil

Salt and pepper

12

medium corn tortillas

Vegetable oil

8-10

ounces

pepper jack cheese

,

grated
Instructions
For sauce:
Wash peppers and lay them out on a large baking sheet. Half tomatillos and add to baking sheet cut-side up. Bake at 450 degrees for 10 minutes.

Remove peppers and turn to make sure they are roasting evenly. Add garlic cloves to the baking sheet and return to oven. Bake for another 8-10 minutes.

Remove peppers and let cool slightly. Slice ends off of peppers and scoop out most the seeds. Add peppers, tomatillos, garlic, and a handful of cilantro to a blender. Blend until smooth.

Return mixture to a medium pot and add broth, honey, vinegar, and cornstarch slurry. Stir and season with salt and pepper. Reduce heat and let simmer for 5-10 minutes. Let cool slightly before using for enchiladas.
For filling:
Slice zucchini and squash thin. Add olive oil to a large skillet over medium-high heat. Season with salt and pepper and chili powder. Cook for 7-8 minutes stirring occasionally until veggies are slightly browned, but not soggy.

Add veggies to a large bowl to cool slightly. Then stir in crumbled Cotija cheese.
For Enchiladas:
Add a small drizzle of oil to a small skillet. Add a corn tortilla and let the corn tortilla cook in the skillet over medium heat until it is warm, about 10 seconds per side.

Dip the tortilla in the green chile mixture and then lay flat on a surface. Add a small handful of squash filling and roll up tortilla.

Add tortilla to a 9×13 baking dish with some green chile sauce spread in the bottom. Continue rolling enchiladas until you fill the dish. YOu should get 10-12 enchiladas.

Pour any remaining sauce over enchiladas and top with grated pepper jack cheese.

Cover dish with foil and bake at 350 degrees for 20 minutes. Remove foil and bake for another 10 minutes.

Serve enchiladas with fresh cilantro, hot sauce, and sour cream!
Nutrition
Serving:
1
Plate
|
Calories:
858
kcal
|
Carbohydrates:
103
g
|
Protein:
33
g
|
Fat:
40
g
|
Saturated Fat:
20
g
|
Polyunsaturated Fat:
3
g
|
Monounsaturated Fat:
13
g
|
Cholesterol:
101
mg
|
Sodium:
1659
mg
|
Potassium:
2127
mg
|
Fiber:
18
g
|
Sugar:
22
g
|
Vitamin A:
41969
IU
|
Vitamin C:
178
mg
|
Calcium:
984
mg
|
Iron:
6
mg
Did you make this recipe?
Squash Enchiladas
The Sauce
I kind of just winged this enchilada sauce, but it turned out to be really tasty. I would bet that if you could get your hands on some legit Hatch peppers, it would be even better. I used a mix of poblanos and anaheim peppers which had some heat to them.
I laid out all my peppers on a baking sheet with a few halved tomatillos and then roasted them at 450 degrees for about 10 minutes. Then I took them out, flipped them just to make sure they were cooking evenly, added a few cloves of garlic to the sheet tray, and roasted them for another eight minutes or so.
Once everything was roasted, I cut off the stems, removed the seeds and blended everything with some fresh cilantro.
Then I combined that blended mixture with the vegetable stock, a shot of honey and vinegar, a pinch of salt and pepper, and a mixture of cornstarch and water just to thicken the sauce a bit. Let that simmer for a few minutes and you are in business!
The Filling
I wanted to keep this filling on the lighter side so I went with a veggie filling that was mostly zucchini and squash with some crumbled cotija cheese.
For the zucchini and squash, it's a good idea to cook them a bit just to cook out some of the water. I sliced them (not super thin) and added them to a skillet over medium heat with a drizzle of olive oil, a pinch of salt, and a pinch of chili powder.
Cook it for just 4-5 minutes until the veggies start to brown, but you don't want them to be soggy at all.
Let the veggies cool for a bit and then toss them with some crumbled cotija cheese.
Cotija cheese, if you aren't familiar with it, is the Mexican equivalent of feta. It's dry, salty, and crumbles easily. I like it in this filling because it doesn't melt into just a big sloppy mess.
If you can't find Cotija cheese, I would try it with feta.
Making the Enchiladas
I don't do anything fancy when it comes to my enchilada rolling. Basically, if you make a huge mess then you are probably doing it right.
My general set-up goes like this:
1) Add a drizzle of vegetable oil to a small skillet over low heat. Once it's hot, toss in a corn tortilla and heat it on both sides for about 10 seconds.
2) Use tongs to transfer hot tortilla to green chile sauce.
3) Remove tortilla from sauce and set on a surface. Top with handful of the filling. Roll tightly.
4) Add to a 9×13 baking dish that's been spread with some sauce which will help prevent sticking later.
So you'll end up with something that looks like this.
Repeat until you have crammed in as many enchiladas as you can fit and then pour the rest of the green chile sauce over the top.
It'll be a big, hot, delicious mess.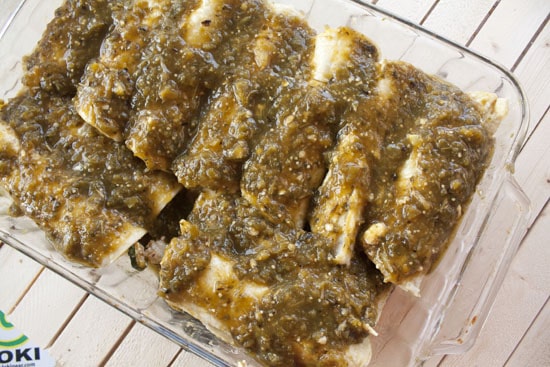 Top this all with a good amount of grated pepper jack (or your favorite) cheese and you are in business.
You could easily make this dish in advance up to this point if you wanted and then just bake it when you are ready.
Cover the dish with foil and bake it for 20 minutes at 350 degrees. Then remove the foil and bake it for another 10-15 minutes until the cheese is bubbling and the edges are slightly browned.
Serve these guys up with some cilantro, hot sauce, sour cream, and cold beer. Lots of cold beer.
These Squash Enchiladas have great flavor and I've never had an enchilada like it honestly. The one trick is to make sure you don't overcook the squash or the filling will be a big on the soggy side.
I thought these guys tasted really authentic even though I don't have an ounce of Mexican blood in me!