They say that the sign of a true chef is being able to cook eggs in dozens, if not hundreds, of different ways. For so long in my home cooking, I couldn't master the soft-boiled egg. It seemed like something that I would leave to fancy brunch places. Then, years ago, I discovered this method of making perfect soft-boiled eggs.
I used to drive myself crazy trying different ways of making soft-boiled eggs, but I don't even bother with other methods now. I use this method and only this method and have made literally hundreds of soft-boiled eggs over the years.
The first time I tried this method, years and years ago, I remember almost crying with happiness at how easy it was and how absolutely perfect the eggs turned out.
So, for your brunch well-being (and your wallet) read on and master these awesome soft-boiled eggs!
Tutorial Video
Choosing Eggs for Soft-boiled Eggs
For this method to work, the only things you need to remember when picking out the eggs are:
1) Get large or extra-large eggs.
2) Move the eggs straight from the fridge to the hot water. You don't want them to come to room temperature before cooking.
3) For peeling, it helps to have slightly older eggs. That said, I've used new eggs from the store before and it works okay if you follow the peeling instructions below, but it's always easier to peel slightly older eggs because the shell separates some from the whites.
Okay, let's get to the fun part!
Cooking The Eggs
There are a million variables that go into Soft Boiled Eggs. Cook's Illustrated did a massive spread many years ago detailing all the possible variables that go into soft-boiled eggs.
In short, the main issue with reproducing good soft-boiled eggs is that when you put the eggs in water, the water decreases in temperature and takes a while to return to the right temperature. So depending on the pot you are using, how many eggs you're cooking, and your water levels, you can get pretty drastic results.
The way to remove this variable by using a very small amount of water. While it's a bit counter-intuitive, the less water you have in the pot, the better results you will have. You want the water to return to a rapid boil as soon as possible so don't use more than about a 1/2 inch of water in the pan.
What this means is that you are basically steaming the eggs instead of boiling them and the little amount of water in the pan will rapidly return to a boil regardless of how many eggs you cook.
Over the years, I've used this method for a single egg for me for breakfast or as many as a dozen eggs for a brunch party. It just works!
The method is really very easy.
Add 1/2 inch of water to your pan and bring it to a rapid boil over medium-high heat. Once it's boiling, add in your eggs in a single layer in the pan.
How long to cook soft-boiled eggs
Cover the lid, return the pan to the heat, and set a timer for exactly 6 minutes 30 seconds. 390 seconds. No more. No less.
The pan should almost immediately return to a simmer which is what you want.
This timing should really work unless you have ridiculously large or small eggs, in which case you could adjust by 30 seconds either direction but for most standard-sized large or extra-large eggs, six and half minutes is perfect.
When the timer goes off, it's very important to stop the cooking as soon as possible so remove the lid and immediately run the eggs under cold water for thirty seconds.
This completely stops the cooking.
At this point the eggs are done!
You can eat them immediately or save them for later. The whites will be nicely set and the yolks still runny.
Peeling Soft Boiled Eggs
Peeling eggs is always stressful. Especially if you know you've cooked them perfectly, it sucks to lose eggs because you can't peel them.
To be honest, I don't think there's a 100% way to make sure you can peel the eggs right every time. I even tried the blow method which works great on hard-boiled eggs but leaves you with a handful of runny yolks for these.
The best chance you have is to make sure you are using slightly older eggs and to start cracking them at the larger end of the egg.
There's a little air bubble that is normally on that end and you can use that to get a good start peeling. Work slowly and use the membrane around the egg to help lift the shell away from the egg.
It takes a bit of patience but I can usually peel one in about a minute or less.
To be honest, not all of my eggs peeled perfectly. One had some cracks but still very edible and one was a complete loss. I would guess that if I'm cooking a dozen eggs, I'll get one or two that turn out less than perfect, but still cooked perfectly and very edible.
What to serve with soft-boiled eggs
I serve soft-boiled eggs with SO many dishes. You can change up eggs benedict by serving them with soft-boiled eggs rather than poached. This is actually easier if you are serving a lot of eggs benedict like possibly in these Reuben benedicts or these Duff Goldman benedicts.
You can also serve them in savory breakfasts like this vegetarian congee or this savory bacon oatmeal dish. Either of those would benefit from a jammy soft-boiled egg.
I would even serve an egg like this over a hearty salad. Think of this protein salad or even this roasted cauliflower salad!
Can you make these in advance?
Of course you can! Once they are soft-boiled, store them in the fridge for up to a few days. When you are ready to serve, reheat them in a pot of simmering water for about a minute and that will reheat the eggs. Then peel and serve them as you would if they were fresh out of the pot!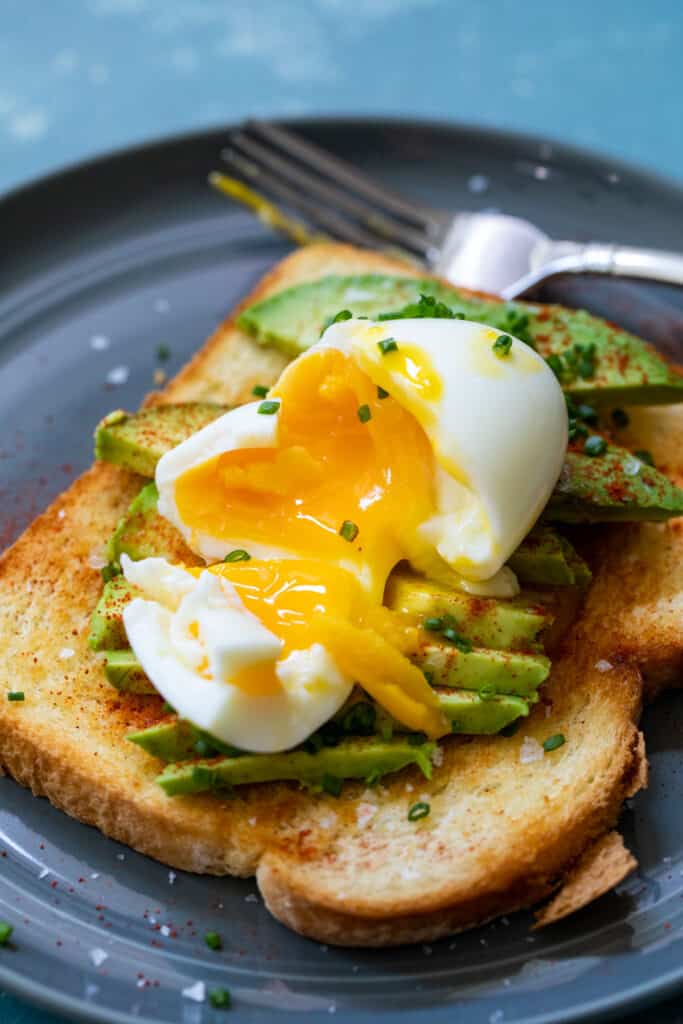 Soft-boiled Eggs
Make your own soft boiled eggs at home using the best and easiest method I've found. This recipe works great every time!
Instructions
Bring about 1/2 inch of water to a boil over medium high heat in a pot big enough to hold your eggs in one layer.

When water is boiling, add eggs straight from the fridge.

Cover pot and let cook for 6 1/2 minutes exactly.

Uncover pot and run cold water over eggs for 30 seconds.

Peel eggs starting with the larger end of the egg and slowly working up the egg.

Eat eggs immediately on whatever you want or store them for later!
Nutrition
Serving:
1
egg
|
Calories:
63
kcal
|
Carbohydrates:
0.3
g
|
Protein:
6
g
|
Fat:
4
g
|
Saturated Fat:
1
g
|
Polyunsaturated Fat:
1
g
|
Monounsaturated Fat:
2
g
|
Trans Fat:
0.02
g
|
Cholesterol:
164
mg
|
Sodium:
62
mg
|
Potassium:
61
mg
|
Sugar:
0.2
g
|
Vitamin A:
238
IU
|
Calcium:
25
mg
|
Iron:
1
mg
Did you make this recipe?
Here are a few other great recipes to try!