Have you ever had a professional chef laugh in your face and tell you they were going to kill your dreams?
Well, I have and let me tell ya… it's intimidating (even if I know that it's all in good fun).
Because I was so focused on my own version of eggs benedict during Food Fighters, I wasn't able to really focus on what Duff was up to until the episode aired. Then I saw how close he was to beating me!
Brioche? Pancetta? White wine hollandaise sauce?
That all sounds damn good and I imagine that if he had a few extra minutes, it might have been a different outcome! I had to try out his version of Classic Eggs Benedict just to see…
Duff's Eggs Benedict
My take on Duff Goldman's Eggs Benedict recipe from his appearance on Food Fighters. Perfect for breakfast or brunch.
Ingredients
4

pieces

brioche

3-4

oz.

pancetta

,

crispy

4

large eggs

,

poached

¼

cup

white vinegar

,

for poaching
Hollandaise sauce:
1

large egg yolk

3

tablespoons

white wine

1

lemon

,

juice only

1

cup

unsalted butter

,

melted

Pinch

of salt and pepper
Instructions
For the pancetta, add to a cold nonstick skillet over low heat. Let cook until pancetta gets really crispy, flipping halfway through. It should take 8-10 minutes to get crispy. Remove pancetta from the skillet and let drain on a paper towel.

Cut brioche rounds out of thick slices and brown slightly in pancetta drippings over low heat.

For hollandaise sauce, put a small pan of water on to simmer. In a medium non-reactive bowl, whisk together egg yolk, white wine, lemon juice, and a pinch of salt and pepper. Whisk over the water batch until mixture is steaming. Then slowly drizzle in melted butter until sauce is emulsified. It should coat a spoon, but not be super-thick.

Set hollandaise sauce aside. Add vinegar to a medium pan of steaming water. Stir with a spoon and drop in eggs. Let eggs poach for 3-4 minutes until the whites are just set.

Carefully remove eggs and let them drain on a paper towel.

Build benedicts by adding pancetta to brioche. Top with poached eggs and drizzle heavily with sauce. Finish with a sprinkle of coarse ground black pepper.
Nutrition
Serving:
2
Benedicts
|
Calories:
773
kcal
|
Carbohydrates:
8
g
|
Protein:
19
g
|
Fat:
74
g
|
Saturated Fat:
39
g
|
Polyunsaturated Fat:
7
g
|
Monounsaturated Fat:
24
g
|
Trans Fat:
2
g
|
Cholesterol:
578
mg
|
Sodium:
430
mg
|
Potassium:
313
mg
|
Fiber:
2
g
|
Sugar:
2
g
|
Vitamin A:
2068
IU
|
Vitamin C:
29
mg
|
Calcium:
95
mg
|
Iron:
2
mg
Did you make this recipe?
Classic Eggs Benedict
Pancetta – Classy Bacon
Pancetta, if you've never used it, is basically Italian bacon. It usually comes in really thinly sliced rounds. If you want to keep these in perfect rounds, you can bake them between sheets of parchment paper and they will stay perfectly flat.
For something like this Classic Eggs Benedict though, you can just toss the pancetta in a cold skillet over low heat. You want to slowly render out the fat so the pancetta gets crispy.
When it's done, the pancetta might be a bit crumbly, but that's totally fine. It's just getting stacked on bread anyway.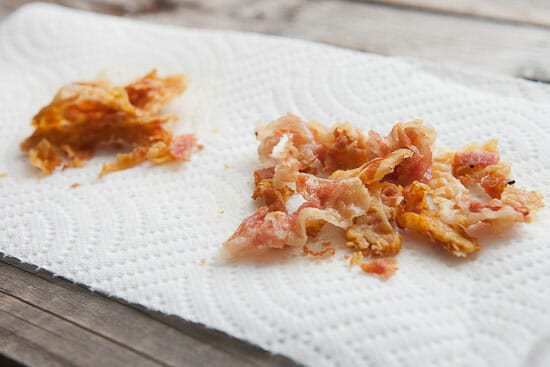 Brioche Bread
I've used a ton of different bases for eggs benedict. Everything from baguette, to English muffins, to puff pastry and sourdough.
I have to admit though… brioche is an awesome choice. It's a little sweet and sturdy. It browns nicely and pairs perfectly with the salty toppings.
You could just do whole pieces, but I cut some rounds out for my dish.
I actually just toasted the brioche briefly in the fat that rendered out of the pancetta.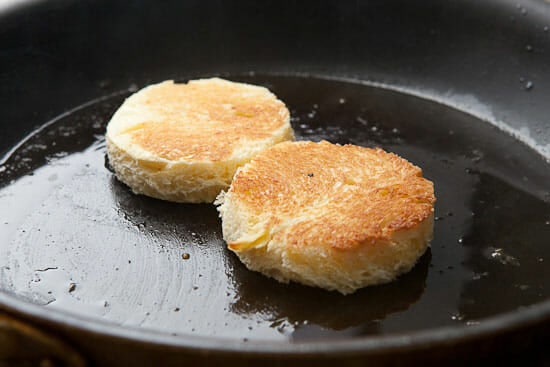 Hollandaise for Days
As Duff said, "Hollandaise is just a stupid mayonnaise!" He's right! It's not terribly complicated and is mostly butter. It helps to have a really good egg yolk and Duff adds some white wine and lemon into his version.
I really liked the white wine. It gives the sauce some tang.
Just whisk together all the sauce ingredients except the butter in a non-reactive bowl over a simmering water bath. When the mixture is frothy and steaming you can start whisking in the melted butter.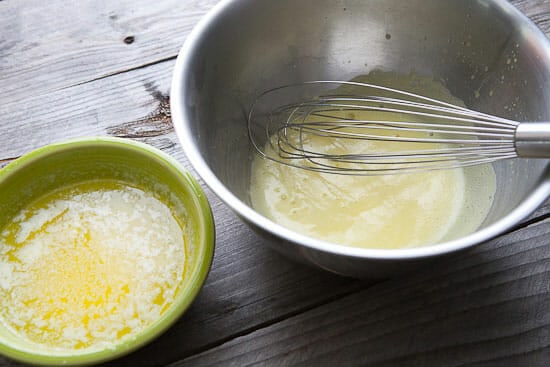 Start slowly with the butter until the sauce starts forming and then you can add it in larger batches.
The sauce should coat a spoon, but not be thick like mayo. If it's too thick, you can whisk in a bit more lemon or white wine, but I found the amounts I listed in the recipe to work well.
Poaching Eggs for Classic Eggs Benedict
I've talked about poaching eggs a bunch on Macheesmo. You don't need any fancy equipment. Just a shallow pan of water and some vinegar. Bring the water to a simmer (but not a boil) and drop in the eggs. The vinegar will make the eggs pull together and form tight balls.
Depending on how many eggs you are cooking, the temp of your water, and a few other factors, these will need to poach for 3-4 minutes. I like to try to loosen and flip my eggs (very carefully) after 2 minutes.
Use a slotted spoon to carefully lift the eggs out and you can poke them to make sure they are mostly cooked, but the yolks are still soft.
When they are ready, let them drain on a paper towel so the extra liquid can drain off. If you don't do this, you'll end up with soggy bread!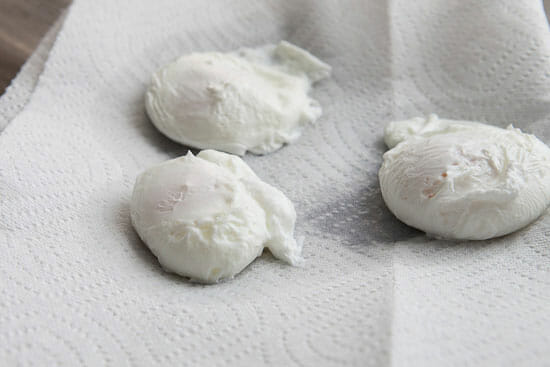 I always recommend poaching 1-2 extra eggs just so you have some room for error.
Look at this beauty though!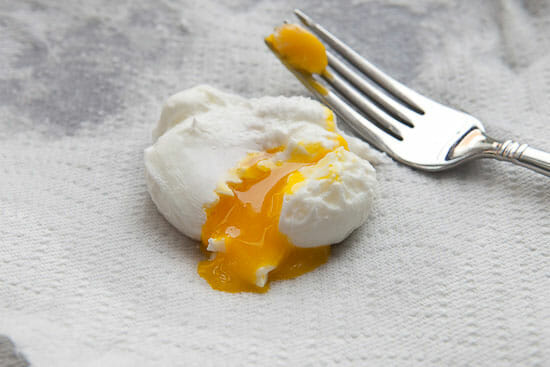 Making the benedict is pretty straightforward then: brioche, crispy pancetta, eggs, hollandaise, and a sprinkle of black pepper.
I took a bite of this sucker and thought to myself, "Wow. I almost lost that round!"
It's a way good Classic Eggs Benedict and one that I'll crave in the future, for sure!