This post is sponsored by Bob's Red Mill. They make a huge range of quality products including the Steel Cut Oats I used for this post. Check them out on Facebook and follow them on Twitter for lots of fun recipe ideas.
Team: This is not a drill. Savory oatmeal is something that needs to catch 🔥 🔥 in the US. In many cultures there is a savory porridge style dish, rice congee for example, that's simple to make and popular.
This dish doesn't really exist in America. Maybe you could make an argument that this American savory porridge situation is grits, but that's pretty regional. Meanwhile, most people have the base of a delicious savory porridge just sitting in their pantry: OATMEAL.
Personally, I recommend using steel cut oats for this dish because they end up having a great texture and are heartier than the quick cooking oatmeal version. If you do use rolled oats or quick cooking oats, subtract 1 cup of liquid from this recipe. You won't need as much liquid to cook the oats.
But, if you have a few minutes, try this recipe with real steel cut oats. It's mind-blowing. You'll be questioning your oatmeal choices for all those days before you made oatmeal this way. It's a total breakfast game changer!
Savory Ginger Mushroom Oatmeal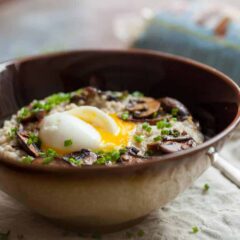 Savory oatmeal is one of my favorite underrated breakfasts. People are skeptical about it, but once they try it, they will quickly fall in love.
Ingredients
1

cup

steel cut oats

3

cups

water

1

cup

vegetable stock

1

tablespoon

butter

8

oz.

cremini mushrooms

1

inch

fresh ginger

,

peeled and minced

Dash of soy sauce

Pinch

of red pepper flakes

Scallions

,

garnish
Instructions
In a medium pot, add water and stock and bring to a simmer. Add steel cut oats and turn heat down to low. Let oats simmer until they are tender, about 30 minutes. Stir regularly and add more water if the pot looks dry at any point.

For mushrooms, add butter to a large skillet. Slice mushrooms and add to the skillet. Cook over medium heat until the mushrooms lose their liquid and cook down, about 5 minutes. Then add ginger and a dash of soy sauce. Remove from heat.

For soft-boiled eggs, bring an inch of water to a rapid boil in a pot with a lid. Gently add eggs to the water (they wont be covered, it's fine). Return cover and let the eggs cook rapidly for 6.5 minutes. Then drain eggs and rinse with cold water for 30 seconds. Then carefully peel eggs starting with the fatter end of the egg.

Once oats are done, stir in half of the diced mushrooms. Divide oatmeal between bowls and top with extra mushrooms, scallions, and egg. Enjoy!
Nutrition
Serving:
1
bowl
|
Calories:
196
kcal
|
Carbohydrates:
30
g
|
Protein:
8
g
|
Fat:
6
g
|
Saturated Fat:
2
g
|
Polyunsaturated Fat:
0.1
g
|
Monounsaturated Fat:
1
g
|
Trans Fat:
0.1
g
|
Cholesterol:
8
mg
|
Sodium:
263
mg
|
Potassium:
262
mg
|
Fiber:
5
g
|
Sugar:
2
g
|
Vitamin A:
213
IU
|
Vitamin C:
0.1
mg
|
Calcium:
56
mg
|
Iron:
2
mg
Did you make this recipe?
Savory Ginger Mushroom Oatmeal
I used Bob's Red Mill Steel Cut Oats for my version of this savory oatmeal. On a whim, I compared their oats to some bulk steel cut oats I had in my pantry. The difference was noticeable. The Bob's Red Mill oats had a more consistent texture and had a deeper golden color.
To cook the oats, bring the liquid to a simmer. I like to use mostly water, but add in some stock to enhance the savory flavors. Then stir in the oats!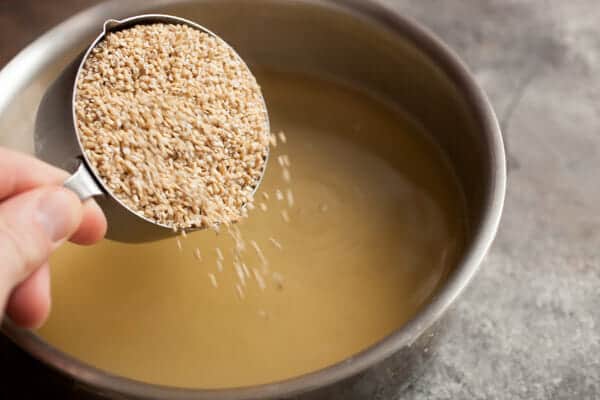 Simmer the oats on low heat, covered, for about 25-30 minutes until they are tender. Stir them regularly and don't be afraid to add more liquid if they seem dry.
Meanwhile, it's mushroom time! Mushrooms have a great savory flavor and are easy to make for a breakfast dish like this.
I sliced my mushrooms and added them to a skillet with some butter. Cook them over medium heat until they cook down a bit and then add the minced ginger, soy sauce, and a small pinch of red pepper flakes.
When the mushrooms are finished, remove about half of them, chop them up, and stir them into the oatmeal. Save the rest for topping each bowl.
The soft-boiled egg really takes this dish over the top. You could do an over-easy egg if you don't feel confident in making soft-boiled eggs.
Here's the soft-boiled egg method I use that works pretty flawlessly.
The rest is pretty straightforward. Spoon some oatmeal into bowls, top with mushrooms and chives, and add your egg to the center.
Sriracha? Sure! But this savory ginger mushroom oatmeal is good just like this!