It's no secret that I've become a huge fan of the soft-boiled egg. After failing at them for months and months I finally figured out how to nail them and have been sticking them on top of everything I can think of since then.
This Ham Breakfast Bowl is my most recent creation that's basically an excuse to throw an egg on something. What I love about this dish though is just how much chard you can shove in the bowl. One huge bunch of chard is divided between two servings so you are getting a good dose of veggies to start the day.
I could have this for breakfast or lunch and be full for the entire day.
Greens and Ham Breakfast Bowl
A quick and filling breakfast bowl made with lots of wilted chard and ham. Topped with a soft-boiled egg and avocado of course!
Ingredients
6

ounces

ham

,

diced

1

large bunch swiss chard

,

chopped

¼

red onion

,

sliced thin

1

teaspoon

olive oil

1

avocado

,

sliced

Hot sauce

Salt and pepper
Instructions
Dice ham and rinse and dice chard. Try to cut out any of the large ribs in the chard.

Add ham to a large skillet over medium heat with a small drizzle of olive oil. Cook until ham starts to brown slightly, about five minutes. Add chard and sliced red onion and cook until chard starts to wilt, about another 2-3 minutes.

Season veggies with salt and pepper and divide between two large bowls.

Top with avocado slices, an egg (poached, soft-boiled or over-easy), and a dash of hot sauce.
Nutrition
Serving:
1
bowl
|
Calories:
458
kcal
|
Carbohydrates:
11
g
|
Protein:
26
g
|
Fat:
35
g
|
Saturated Fat:
9
g
|
Polyunsaturated Fat:
4
g
|
Monounsaturated Fat:
20
g
|
Trans Fat:
0.01
g
|
Cholesterol:
216
mg
|
Sodium:
1131
mg
|
Potassium:
902
mg
|
Fiber:
7
g
|
Sugar:
2
g
|
Vitamin A:
1852
IU
|
Vitamin C:
18
mg
|
Calcium:
58
mg
|
Iron:
3
mg
Did you make this recipe?
Ham Breakfast Bowl
Simple Breakfast Bowl Ingredients
There is really only a few ingredients in this Ham Breakfast Bowl. You could, of course, add other veggies, but I recommend going heavy on the greens. If you don't have any swiss chard, you could use kale or just a metric ton of spinach. Just get it in there.
This is the amount of chard I used for one serving. It's about 3 cups of chopped chard.
I cut off the very thick stems but left the thinner parts of the stem. They give some nice texture to the bowl.
Cooking the Ham Breakfast Bowl
This is pretty straightforward to make. If you use a large skillet and start the heat on medium-low you don't actually need to add any oil to the pan. The ham has plenty of fat and will do just fine without oil.
If your ham is very lean or something though you might want to add a drizzle of oil. Either way, just cook the cubed ham until it's browned a bit and starting to crisp.
Then toss in the onions and chard. Assuming you rinsed your chard (you should rinse your chard), the water sticking to the chard will create some steam and wilt the veggies.
After a few minutes of cooking you'll be left with something like this!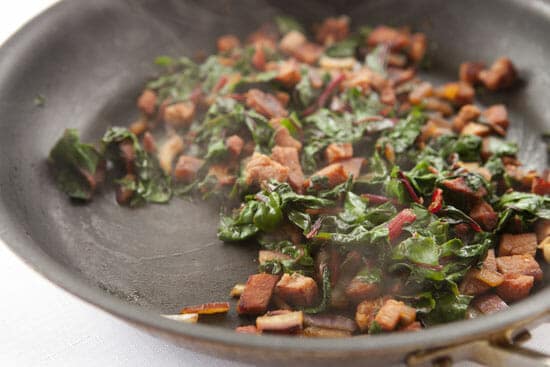 Breakfast Bowl Eggs
The egg is very important to this Ham Breakfast Bowl, but it's not really important how you cook the egg. I soft-boiled mine, but you could also poach the egg or also just fry it over-easy.
I made two eggs but accidentally cracked one while I was soft-boiling it. OOPS.
This is my breakfast changing walkthrough on the perfect soft-boiled egg.
When the eggs are done, just pile your bowl base into a large bowl.
I somehow created the illusion that this bowl is floating in the ether for this photo. It is not. It is on a white tablecloth. Float on you crazy breakfast bowl.
Then add on your egg and half an avocado, sliced up. Drizzle the whole thing with some hot sauce (optional) and a pinch of salt and pepper and dig in.
Nothing fancy about this, but a perfect spring breakfast in my opinion since you should start seeing lots of good spring greens in the stores.
If you have any fun additions to this breakfast bowl, leave a comment!
Other fun recipe ideas!