I know. It's summer. These are spring rolls. I'm not confused as to what the season is. These Spicy Garlic Chicken Spring Rolls are actually the perfect meal for a hot day. They are light, refreshing, and perfect for a quick lunch or dinner.
These spring rolls are packed with spice and substantial enough to eat as a light summer dinner. They are crisp, with some snap to them, and just spicy enough to wake up the tastebuds.
Hello tastebuds! Are you there? It's me. Spicy chicken spring rolls!
Cooking the Sriracha Chicken Strips
The marinade for this chicken packs a punch! Before cooking the chicken, I recommend slicing it up into strips which will make it easy to stuff in the rolls later. Then just stir it together with all the delicious marinade stuff.
You don't need to marinate this chicken for long. A few minutes will be more than enough time to give the chicken some great flavor. You could, of course, prep it hours in advance also.
Cook the sriracha chicken in a hot skillet over medium-high heat until the strips are cooked through and charred in places. The marinade will turn into a sort of sticky sauce on the strips. So good!
Set aside the chicken once it is cooked so it can cool a bit before wrapping it into the spring roll wrappers.
Alternatively, if you wanted to use ground chicken for the filling, you can. I find it a bit easier to roll the wrappers with a full strip of chicken in the middle of each wrapper, but if you prefer ground chicken, that will work also.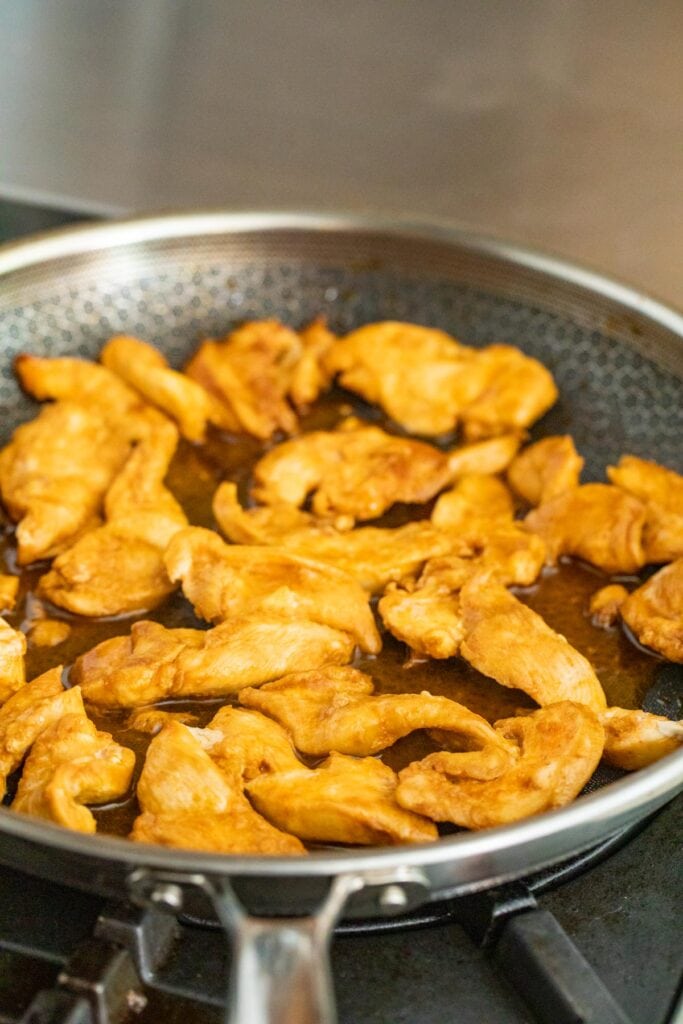 What sort of wrapper to use?
It can be a little daunting to find the right kind of wrapper for these rolls if you are new to Asian cuisine. The best wrappers to use are rice paper wrappers that are sometimes labeled spring roll wrappers. You can find a wide variety of these on Amazon but honestly, most grocery stores have at least one brand of these wrappers.
Note that these spring roll wrappers are NOT egg roll wrappers which are made out of flour and typically fried or baked. Spring roll wrappers don't need to be cooked once they are stuffed so you can serve them right away.
Making the sesame dipping sauce
I like a light dipping sauce for these spring rolls. I stir together some soy sauce with lime juice, sesame oil, and a pinch of sugar. If you wanted this dip to be spicier, add some sriracha or use the spicy version of sesame oil.
Alternatively, you could make a peanut sauce for dipping like the one in this Thai Spaghetti Squash recipe.
Making the Spring Rolls
While the chicken cooks, take your time prepping the other ingredients for the spring rolls. You want nice even strips of red pepper and carrot so they roll nicely. It's good chopping practice!
If you're too lazy to chop, you can also just grate the veggies on a box grater.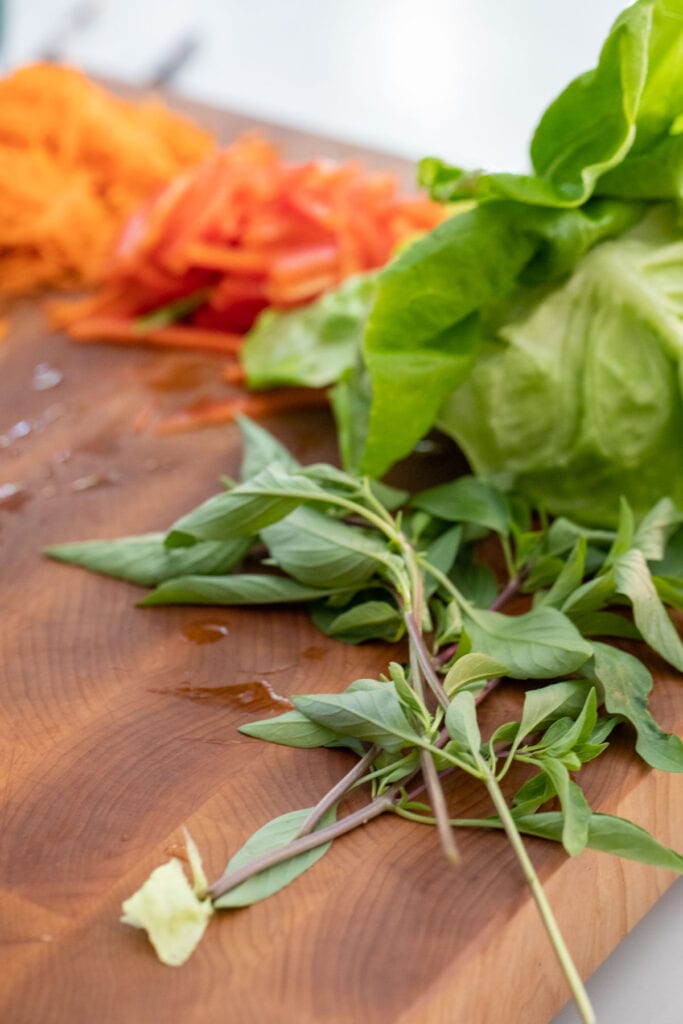 Working with one rice paper wrapper at a time, set it on a plate with warm water and let it sit for a few seconds. Flip it a few times to make sure it is evenly soaking. After 10-15 seconds it should be nice and flexible.
Transfer the rice paper to a clean surface and start stacking up the fillings. If you want the wrappers to be very pretty, put a few leaves of basil as the very first layer in the wrap. When you roll up the wrap, the basil will show on the outside, which is very pretty. After the basil, I like butter lettuce, then chicken, then carrots, red peppers, and any other crunchy vegetables you like. Be sure to leave some room around the edges so you can roll the wrapper.
Once it's stuffed, tuck the ends into the center and roll it into a tight cigar. As you roll it, try to keep some tension on the roll so it stays really tight.
Once you get the hang of it, you can do these pretty quickly. While the rice paper looks really fragile, I think you'll find that they are sturdier than they look. You can pack them full and roll them tightly.
I like to slice mine in half to show off the filling and make for easier dipping.
As with any spring roll, the veggies you use are up to you. Feel free to customize to your liking with things like radishes, cucumber, green onion, and cilantro, but man are these worth making. Betsy and I ate them for dinner one night and I had a few for lunch the next day as they keep great in the fridge.
Healthy, filling, and perfect for summer!
An alternative to spring rolls
If rolling these seems too daunting, I get it. An alternative recipe idea here with the same flavors is to make a bowl. Make the chicken and prepare your vegetables. Instead of rice paper, cook rice noodles and add those to a bowl. Top with all the ingredients and drizzle on the sauce.
Less work, but pretty much the same flavors. Just less portable!
Storing the spring rolls
This recipe makes more spring rolls than you can eat at once unless you are starving or feeding a party, but the rolls do keep pretty well for a few days. I like to store the spring rolls in an air-tight container or you can roll them in plastic wrap or foil.
After a few days, the rice paper wrappers will get pretty soggy and start to fall apart. Be sure to eat them before then!
Sriracha Chicken Spring Rolls
Chicken spring rolls seasoned with loads of garlic and sriracha and rolled with bunches of fresh vegetables. This works great for a meal or appetizer!
Ingredients
1

pound

chicken

,

sliced in strips

2

tablespoons

sriracha

2

cloves

garlic

,

minced

2

tablespoons

soy sauce

1

tablespoon

sesame oil
Spring roll materials:
Rice paper wrappers

Lettuce

Carrots

,

sliced or grated

Red pepper

,

sliced

Fresh mint or basil
Dipping Sauce:
¼

cup

soy sauce

1

lime

,

juice only

Pinch

of sugar

Dash of sesame oil
Instructions
In a medium bowl, combine sliced chicken, sriracha, minced garlic, soy sauce, and sesame oil. Stir together well and let sit for a few minutes.

In a cast iron skillet or large heavy skillet, cook chicken over medium-high heat until the strips are cooked through, about 5-7 minutes. They should get slightly browned on the edges and the sauce should get sticky. Remove from heat.

Prep all the other spring roll fillings: slicing peppers and carrots, washing herbs, and chopping lettuce.

TO make a spring roll: Get a large plate and fill it with hot water. Add a single rice paper wrapper to the plate and flip for a few seconds until the wrapper turns flexible.

Transfer the soaked wrapper to a clean surface. Place some lettuce in the middle and top with a chicken strip or two. Then top with all the other veggies.

Working at one end, fold the edges of wrapper up over the center and then roll the wrapper up and over the fillings, almost like a burrito. Keep some tension on the wrapper as you roll it so it stays nice and tight.

Repeat until your fillings are used. Serve with dipping sauce. It can be helpful to cut spring rolls in half for easier dipping.
Nutrition
Serving:
2
spring rolls
|
Calories:
308
kcal
|
Carbohydrates:
24
g
|
Protein:
20
g
|
Fat:
14
g
|
Saturated Fat:
4
g
|
Polyunsaturated Fat:
4
g
|
Monounsaturated Fat:
6
g
|
Trans Fat:
0.1
g
|
Cholesterol:
60
mg
|
Sodium:
1260
mg
|
Potassium:
229
mg
|
Fiber:
1
g
|
Sugar:
1
g
|
Vitamin A:
124
IU
|
Vitamin C:
8
mg
|
Calcium:
35
mg
|
Iron:
2
mg
Did you make this recipe?
Here are a few other great spring roll recipes to try!