After a long summer and upcoming weekends of sports watching, I've been on the hunt for salads that are packed with flavor and very healthy. This Quinoa Spinach Salad has enough going on that it tastes delicious, but is loaded with healthy ingredients.
This quinoa spinach salad is light, but filling, and is a recipe that could be eaten on its own as a lunch but also as a side dish for dinner.
At our house, we will go through stretches where we will eat this salad for pretty much three days straight either for lunch or dinner every day. No regrets there.
If you're in a bit of a meal slump, take the time to make this quinoa salad recipe and recharge the batteries.
How to cook Quinoa
I cook quinoa basically like I cook rice. I rinse it well in cold water, then simmer it partially covered, and then steam it.
If you have a wire mesh strainer it makes it a lot easier to do these steps.
Generally, you only need about two cups of boiling water per cup of dried quinoa.
Rinse the quinoa and then boil it, partially covered, and let it simmer on low for 15-18 minutes. It's done with the quinoa is tender. Whatever you do… don't cook the quinoa until the water is evaporated. Never use that as a judge for when something is done. It'll frequently lead to overcooking.
Instead, when the quinoa is tasting good (and isn't crunchy) just drain off any extra water, cover the pot, remove it from the heat, and let it steam for five minutes.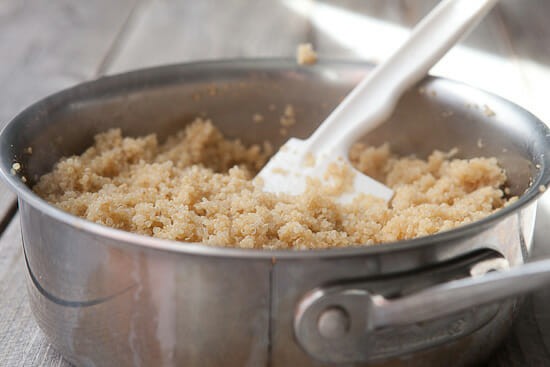 The resulting quinoa will be light and fluffy and not thick or sticky at all.
The Spicy Yogurt Dressing
Betsy thought this salad didn't really need a dressing, but I always like making homemade dressings. This one only has four ingredients but goes really well with the crunchy veggies.
Yogurt. Olive oil. Jalapenos (seeds removed). Lime juice. You're in business.
Blend it up in a small food processor until it's smooth and serve this on the side so people can add it to the salad. I wouldn't just toss this all in the quinoa spinach salad as it will just make it too soggy. It should be drizzled over the salad.
You could store this dressing in a mason jar in the fridge for up to a week without issue.
This creamy pecorino dressing or this Jalapeno ranch dressing would go great on this salad as well!
Pretty Roasted Beets
To give the salad a little sweetness, I roasted a few candy beets. I like these because they don't stain as much as red beets and have a tiny bit more sweetness to them. If you can't find them, I would use golden beets.
Chop off the roots and stems and roast the beets for around 40 minutes at 375 degrees F. Then let them cool and peel and chop them up. I went with little matchstick shapes.
Making the Quinoa Spinach Salad
When you're ready to make the actual salad, rinse the spinach well and dry it well. That second part is really important. Water on the spinach will make the salad degrade faster. It'll cut down your storage time by a lot.
Chop up the spinach so it's in slivers. I prefer to use adult spinach for this, but if you wanted to use baby spinach I would still run a knife through it a few times.
Add all the veggies to a large bowl. You'll need a big boy bowl for this.
Add the quinoa very last. You want the quinoa to be room temperature so it doesn't wilt the spinach. Folding it in last will help it to not clump in the salad.
Just look at all the colors!
It just looks healthy right?
Pin it, share it, save it, make it, and EAT IT.
Substitutions and Ideas
This salad is very flexible so feel free to make it your own based on what you have available. Here are some ideas!
Add other vegetables to the mix like cherry tomatoes (halved), fresh peppers, or sweet corn.
Instead of quinoa, try other healthy grains like brown rice.
​Add fresh herbs to the salad like mint, fresh basil, or chives.
Feel free to add more add-ins like kalamata olives, feta cheese, toasted pine nuts, dried cranberries, or sunflower seeds!
Storing this quinoa salad
This salad will keep great in the fridge for a few days. If you plan to store it for later, I would NOT dress the entire salad. The dressing will break down the salad quickly so store the dressing separately and dress it right before serving.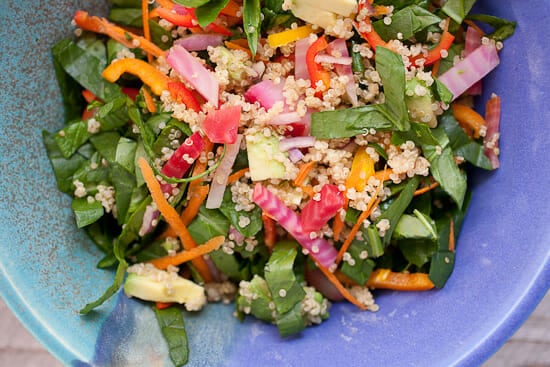 Reset Quinoa Spinach Salad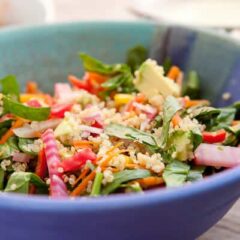 Quinoa Spinach Salad loaded with roasted beets, grated veggies, and fluffy quinoa and drizzled with a spicy jalapeno yogurt dressing!
Ingredients
2

cups

cooked quinoa

3

small candy beets

,

roasted

1

bunch adult spinach

,

chopped

2

carrots

,

grated

5-6

small sweet peppers

,

chopped

¼

red onion

,

chopped

1

avocado

,

chopped

Salt and pepper
Spicy Yogurt Dressing:
1

cup

yogurt

¼

cup

olive oil

1

jalapeno

,

seeded

1

lime

,

juice only
Instructions
Cook quinoa according to package. I like to rinse mine under cold water, then add it to simmering water in a 2-1 ratio of water to quinoa. Partially cover it and let it simmer on low for 15-18 minutes. Then strain it to remove any extra water and return to a hot pan. Cover and let steam for 5 minutes. Then fluff with a fork.

Cut stems and roots off of beets and roast for about 40 minutes at 375 degrees until they are a bit tender with a fork. It's okay if they aren't completely roasted. A little crunch is fine. Let beets cool for a few minutes and then peel and chop into matchsticks.

Make dressing by combining ingredients in a small food processor and pulse until smooth. Set aside until needed.

Rinse spinach well and dry it. Then chop it roughly. Add it to a salad bowl with other veggies (grated carrot, peppers, onions, avocados, and beets).

Add quinoa to the salad last and toss to combine.

Serve salad with dressing on the side.

Extra salad and dressing keeps well in the fridge fro 3-4 days.
Nutrition
Serving:
1
bowl
|
Calories:
217
kcal
|
Carbohydrates:
24
g
|
Protein:
5
g
|
Fat:
13
g
|
Saturated Fat:
2
g
|
Polyunsaturated Fat:
2
g
|
Monounsaturated Fat:
8
g
|
Cholesterol:
4
mg
|
Sodium:
57
mg
|
Potassium:
573
mg
|
Fiber:
6
g
|
Sugar:
8
g
|
Vitamin A:
4991
IU
|
Vitamin C:
105
mg
|
Calcium:
67
mg
|
Iron:
2
mg
Did you make this recipe?
Here are a few other great recipes to try!