Very high on my list of baffling grocery store aisles is the salad dressing section. When I look down that section I see wasted money and calories. Most of the dressings use cheap oils and lots of salt and then they charge you $4/bottle for the stuff.
To be fair, this Pecorino Dressing might cost $4 to make. I didn't do the exact calculations, but it's leaps and bounds ahead on the flavor train thanks to using really good pecorino cheese.
I've said it before and I'll say it again, but once you start feeling comfortable mixing your own salad dressings, you can just eliminate that aisle all together from your grocery store lists.
Creamy Pecorino Dressing
A creamy pecorino dressing that starts with a buttermilk base. This delicious dressing is the perfect topper for a light summer salad.
Ingredients
¼

cup

mayonnaise

⅓

cup

buttermilk

½

cup

grated pecorino cheese

1

tablespoon

olive oil

1

teaspoon

Dijon mustard

1

teaspoon

crushed black peppercorn

Dash of hot sauce

Pinch

of kosher salt
Instructions
Grate pecorino cheese. Add all ingredients to a mini food processor and pulse until smooth.

Season dressing with salt and hot sauce to meet your tastes. Store in the fridge until needed.
Nutrition
Serving:
3
tbsp.
|
Calories:
127
kcal
|
Carbohydrates:
2
g
|
Protein:
3
g
|
Fat:
12
g
|
Saturated Fat:
3
g
|
Polyunsaturated Fat:
5
g
|
Monounsaturated Fat:
4
g
|
Trans Fat:
0.02
g
|
Cholesterol:
14
mg
|
Sodium:
183
mg
|
Potassium:
38
mg
|
Fiber:
0.2
g
|
Sugar:
1
g
|
Vitamin A:
67
IU
|
Vitamin C:
0.003
mg
|
Calcium:
109
mg
|
Iron:
0.2
mg
Did you make this recipe?
Pecorino Dressing
Dressing Basics
Once you get the hang of salad dressings, you can whip up a batch of very good dressing in under 10 minutes. I say this recipe takes 10 minutes, but that probably includes the time it takes to make the actual salad as well.
The thing about salad dressings that takes some time to get the hang of is figuring out a balance that works for you. If you're going for a creamy dressing like this one, you need some rich elements like mayo or olive oil, but you also need some tangy flavors (I use buttermilk and mustard). Most of the actual flavor in the dressing comes from pecorino cheese, lots of crushed black peppercorns, and a few dashes of hot sauce.
I took notes and played around with the ratios of these ingredients until I found something that I liked, and you should feel free to do the same. That's half of the fun of it. The other half of the fun is eating it!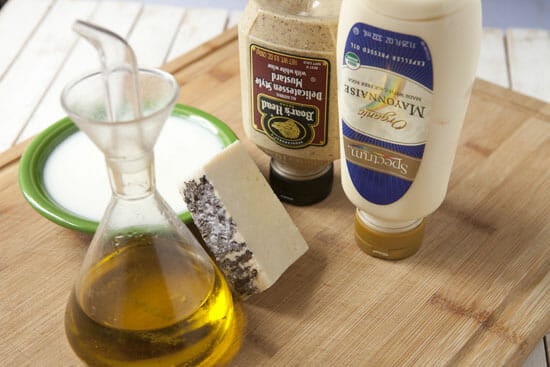 When it comes to the cheese, it adds a nice depth of flavor to the dressing. I used pecorino cheese, but any aged hard cheese would work fine. Really good parmesan would work equally well although it tends to be a bit more expensive I think.
I just grated up a big mound of the stuff and tossed it in.
Quite honestly, you can just whisk all the ingredients for this Pecorino Dressing together and call it a done deal, but if you have a little food processor, use it to ensure that the ingredients are emulsified nicely.
A few pulses will do the trick!
I added two ingredients to the dressing after pulsing it a few times. First, I added a lot of fresh crushed black peppercorns. I used about a teaspoon and they really help round out the flavors in the dressing. I also tossed in a few dashes of hot sauce to give it some spice.
The finished Pecorino Dressing should be on the thin side for easy drizzling.
I think this Pecorino Dressing works best over tangy salads. When I served this version, I drizzled it over a salad of greens, strawberries, blueberries, red onion, avocado, and slivered Parmesan cheese.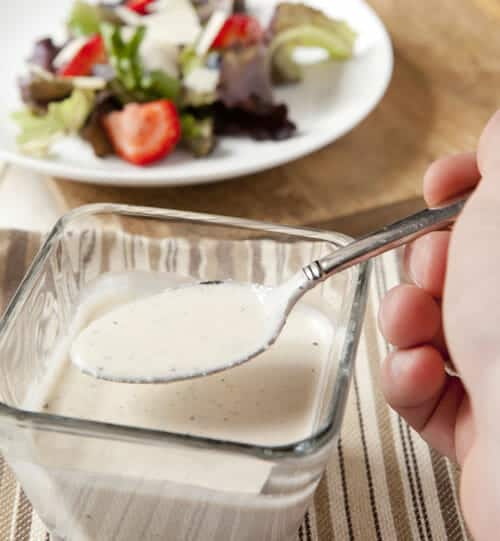 I make way more salad dressings than I post on Macheesmo, but I had to share this one with you all.
It was really delicious and helps drive home my salad dressing argument.