Ramen is one of those meals that can be very intimidating. You hear stories about a chef who has trained for years just to perfect a noodle or a stock. People take ramen very seriously. But, this Quick Pork Ramen Recipe is for the busy home cook.
I'm a believer that the perfect can be the enemy of the good and this is especially true in the kitchen. Do I wish I had a huge container of perfectly simmered stock in my fridge? Absolutely. Do I wish I knew how to make fresh Udon noodles from scratch like this chef? Definitely.
But, I don't and I don't and I still want to eat ramen that I make at home. And I want it to be done in about 45 minutes so I can do it on a weekday!
This quick pork ramen recipe, which I call my Cheater Ramen, is my answer. It's relatively easy to make, but it has a few tricks that make it better than out-of-the-box ramen.
Compromise can be a good thing. A really good thing.
Making the Ramen Broth
Three important pieces of ramen: Stock, noodles, toppings. Let's handle all of them in turn, starting with teh stock.
Ramen stock is an institution. Some restaurants start their stocks days before you order it and some chefs spend good chunks of their careers perfecting simple ramen stock.
So, I appreciate that, but maybe there is some halfway measure which can bring us good stock flavor without years of practice. The answer is to amp-up store-bought or homemade sauce with miso paste!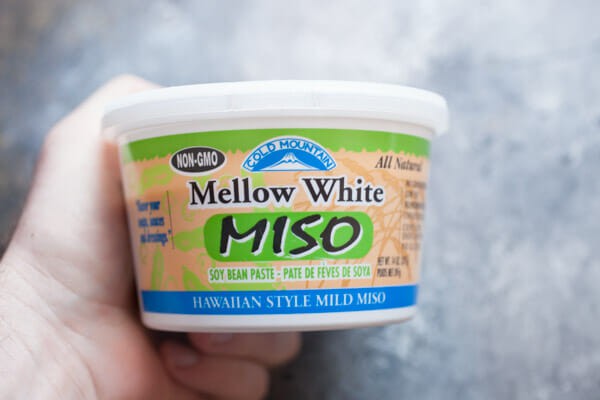 I add a few spoonfuls of miso paste to my stock with some butter (for fat) and soy sauce and gently heat it. No need to boil it. It's surprisingly delicious for something that takes just a few minutes.
Again, I do not claim that this is AS good as a traditional ramen stock, simmered for hours with bones and then purified, but it's pretty darn good for a 10 minute fix.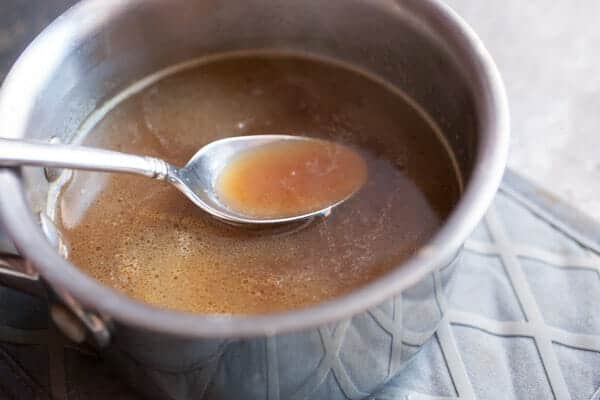 Okay! Let's move onto part two of a good ramen bowl: the pork!
Roasting the Pork Loin for Ramen
I wanted some pork for my ramen bowl so I worked up a quick Hoisin pork loin. I know this might look hard, but it's actually easy. I recommend marinating the pork loin the night before, and then it roasts for about 20-25 minutes while you work on the other stuff.
As it roasts (at 400 degrees F.) flip the pork loin a few times as it roasts and please be sure to use a meat thermometer. When it hits 145 degrees F. in the thickest part, it's done. The worst thing is an overcooked pork loin!
After it comes out, let it rest for a few minutes and then slice it nice and thin for the quick pork ramen recipe.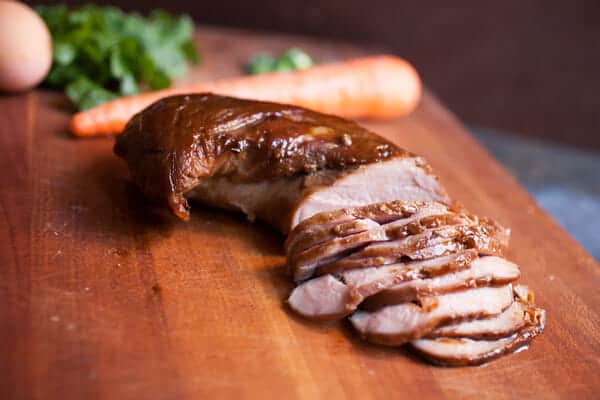 This pork is good on so many things. You could also add it to a soba dish or just topped on a plain salad would be great. You may have some leftovers so put them to use!
What kind of noodles to use for ramen?
I've had a bunch of different ramen noodles. Sometimes they will be thick and chewy and sometimes they are thinner and more delicate. It depends on the region and the restaurant making them.
For me, I think that using Udon noodles is best and if you can find them try to find the fresh Udon noodles. These are available at most Asian grocery stores. If you can't find those, then you can go with dried Udon noodles. Just be sure to not overcook them or they will fall apart in your soup bowl.
Finishing the Pork Ramen
While the pork loin roasts, you can cook the noodles and prep the veggies. I also like to make a few soft-boiled eggs which take about 10 minutes.
So everything kind of comes together at the same time which is nice.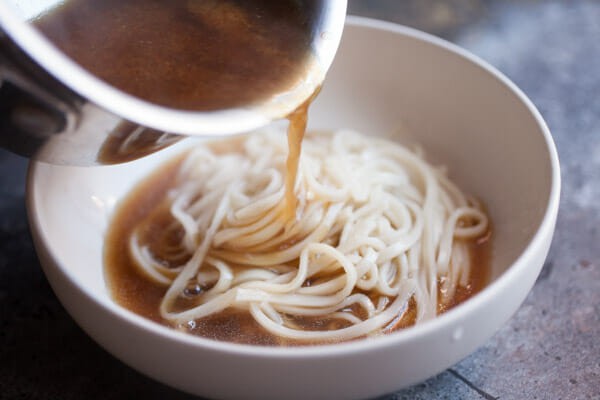 If you wanted to leave out the pork or the egg, that would be just fine. It's a great bowl of food no matter what. I also added some sesame oil and sesame seeds to mine.
Of course, there are dozens of add-ins you could add to your bowl of ramen. Some other ideas are kimchi, fresh herbs, sesame seeds, or a drizzle of sesame oil or chili oil. If you want to add more veggies to the bowl, try sauteed bok choy, slivered carrots, sliced radish, or roasted mushrooms!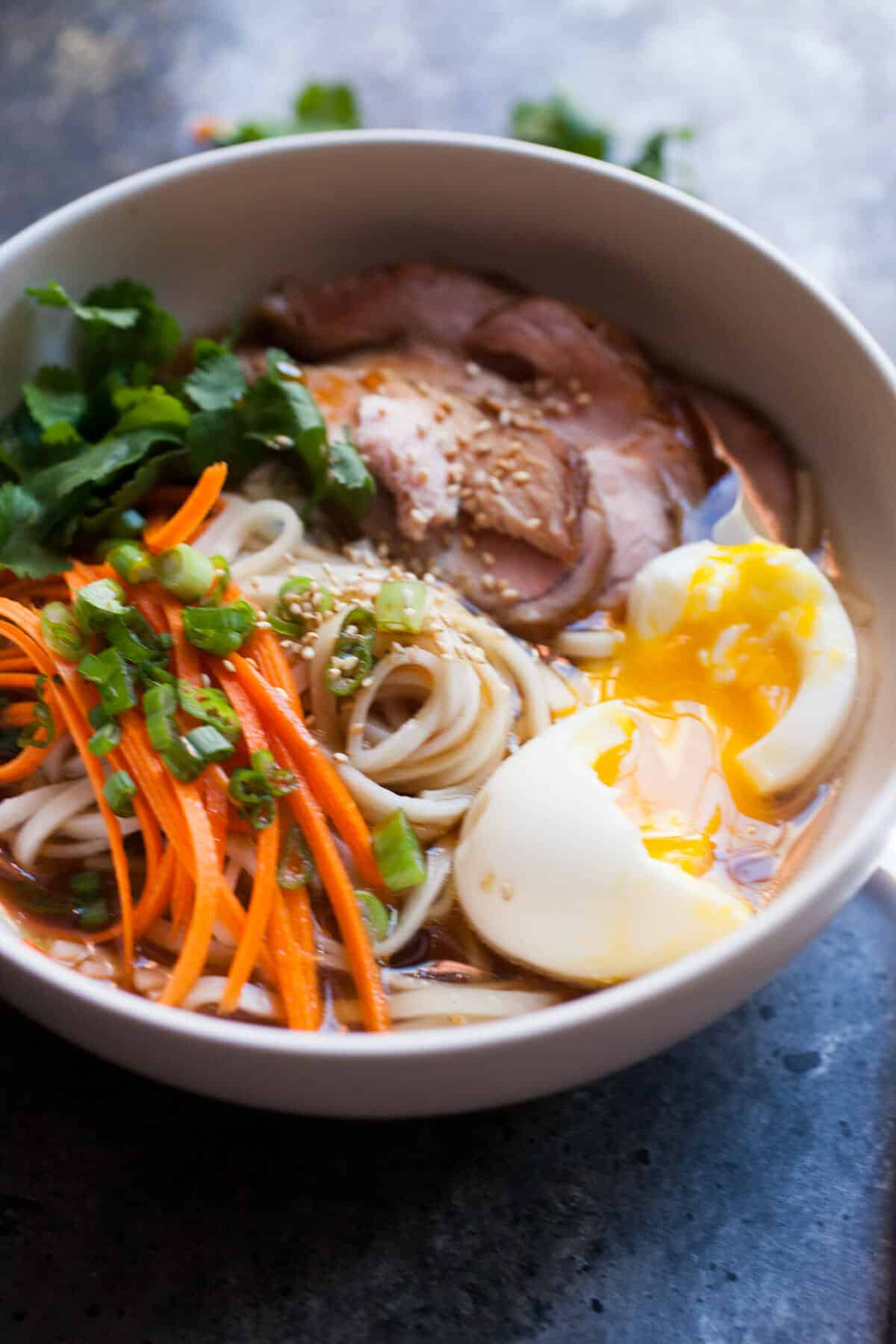 There's a happy medium in the home cook's world between cooking projects and easy dinners. This quick pork ramen recipe is a nice middle ground and I think you'll love it.
Cheater Weeknight Ramen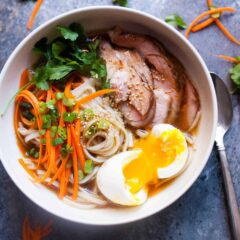 A few shortcuts plus a few tricks makes for one great bowl of doable pork ramen!
Ingredients
Cheater Ramen Stock
3

cups

beef stock

2

teaspoons

white miso paste

1

tablespoon

butter

1

teaspoon

soy sauce
Hoisin Pork Loin (optional, but good)
1-1 ¼

pound

pork loin

3

tablespoons

soy sauce

2

tablespoons

honey

2

tablespoons

brown sugar

2

tablespoons

hoisin sauce

1

tablespoon

rice wine vinegar
Other Fixings
8

oz.

Udon noodles

Grated carrot

Scallions

Cilantro

Sesame oil

Sesame seeds
Instructions
For cheater stock, combine beef stock, miso, butter, and soy sauce in a pot and warm over low heat. It should never boil, but a light simmer is okay.

For pork loin (optional, but good), mix together all ingredients in a bowl and pour over pork loin. Ideally, do this a few hours in advance or the night before so pork can marinate.

Place pork in a roasting pan and roast at

400

°F

. for 20-25 minutes until the thickest part of the pork loin registers at least 145 degrees F. Flip the pork every 10 minutes and baste with any marinade in the pan.

Remove pork and let rest.

Meanwhile, prep other ramen ingredients including cooking the noodles according to package, grating carrot, and chopping herbs, and making

Soft Boiled Eggs

.

Slice pork thin into coins. Divide noodles between bowls and pour in warmed ramen stock. Top each bowl with some pork, an egg, veggies, and a drizzle of sesame oil and sesame seeds. You can also add soy sauce and chili oil if you want!
Nutrition
Serving:
1
bowl
|
Calories:
582
kcal
|
Carbohydrates:
60
g
|
Protein:
52
g
|
Fat:
15
g
|
Saturated Fat:
5
g
|
Polyunsaturated Fat:
2
g
|
Monounsaturated Fat:
5
g
|
Trans Fat:
0.1
g
|
Cholesterol:
261
mg
|
Sodium:
2273
mg
|
Potassium:
986
mg
|
Fiber:
4
g
|
Sugar:
23
g
|
Vitamin A:
328
IU
|
Vitamin C:
0.1
mg
|
Calcium:
60
mg
|
Iron:
3
mg
Did you make this recipe?
Storing this Pork Ramen for Later
All of the pieces of this pork ramen will keep well for days, but it's important to store the ingredients separately. If you store the noodles in the broth, they will soak up all the broth and get super-soggy.
Storing them separately though will mean they keep better and then you can combine them and reheat them on a per-bowl serving size.
Reheat the pork ramen in a pot over low heat. Add the stock first and then reheat the noodles and pork in the stock. Top with all the same veggies or what you have available. For leftovers, just a few sesame seeds and soy sauce makes for a great lunch!
Here are a few other great noodle recipes!