This Easy Ramen Chicken Noodle Soup recipe has become one of my go-to soup recipes that I look forward to each fall. The soup uses simple ingredients, is very kid-friendly, and comes together in literally a few minutes and takes some shortcuts. But, still has great flavor!
After my young kid tried a bite of this chicken ramen soup he said:
"Dada, I like this soup."
A few minutes later:
"Guess what Dada. I really do like this soup!"
Then Dad gets up and does congratulations laps around the living room and house, pumping his fist in celebration.
This actually happened. My picky eater children (who are pretty good at trying stuff most nights) both absolutely demolished this chicken ramen soup. One kid loved the soup itself and was drinking it from the bowl and eating the chicken by the handful. The other, meanwhile, focused on the noodles, alternating between slurping them slowly and jamming them into her mouth as fast as possible.
My kids have since grown up, but still enjoy this soup any time I make it!
Mom and Dad loved the soup also, but I will admit that I added some chili paste to mine to kick up the spice a bit. Mostly what I love about this ramen chicken soup though is that it's EASY to make, even on a weeknight if you have the chicken prepped in advance. And it's a great introduction to some new flavors for kids in an easy format.
There's curry in this soup! There's coconut! These are both things that my kids claim to not like.
But now I guess they like them. Of course, it may not stick next week, but as any parent with dinnertime struggles will tell you, you take a win when you can get a win.
Ingredients you'll need for this soup
The key to this soup is that you really don't need much to make it happen. Here are the basics!
Ramen – The noodles for this soup are just instant ramen. You could use any brand or style you like. I buy the cheap ones!
Chicken and chicken broth – You could simmer your own or buy a rotisserie chicken. I usually go rotisserie chicken just for ease.
Curry – I like a little curry paste in this soup. It makes it more interesting and as long as you keep the amount low, kids still love it.
Coconut Milk – This makes the broth rich and creamy.
Aromatics – Peppers, onions, garlic, and ginger are all things that should be in this soup!
How to Make this easy Ramen Broth
Traditional ramen broth is kind of a special thing. If you are making a bone-based stock it can require literally days of simmering, skimming, and reducing. The only kind of ramen broth I've tried to make from scratch is this dashi ramen I made many years ago (pre-children).
If you do want to make a weekend out of it and make some delicious homemade ramen broth, the best walkthrough I've seen on how to do it (and on my list to try someday) is this ramen broth walkthrough from The Food Lab.
But the perfect is the enemy of the good when it comes to home cooking and this chicken ramen soup has great flavors with some shortcuts! For 30 minutes of work, it's hard to beat!
How to Make Ramen Noodle Soup
This chicken ramen soup has really basic flavors and is about as easy as soup gets to toss together. I start with coconut oil but you could use any oil or even butter if you wanted.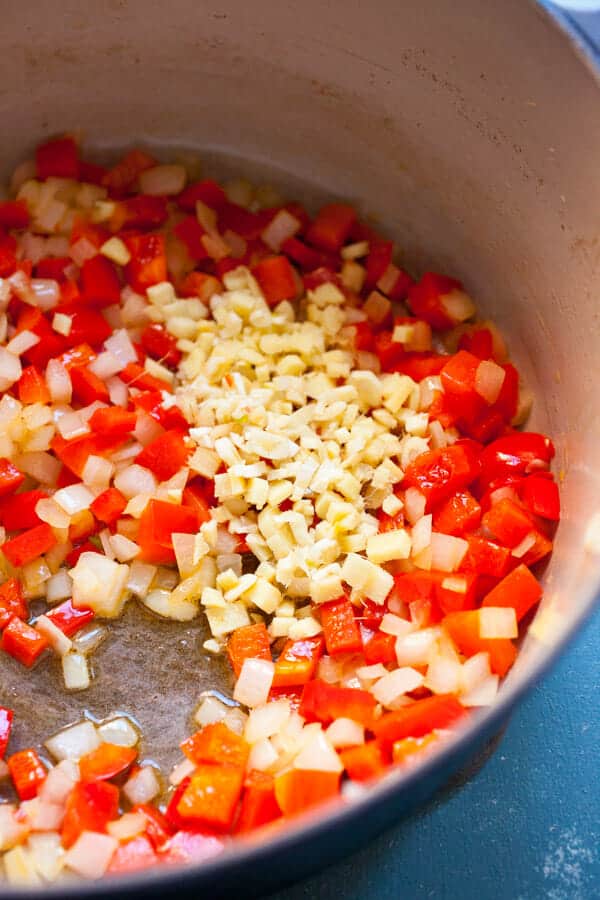 Cook the onions and red pepper for a few minutes until they soften and then add the fresh ginger and garlic. Stir those ingredients together until they are softened, but not browned at all.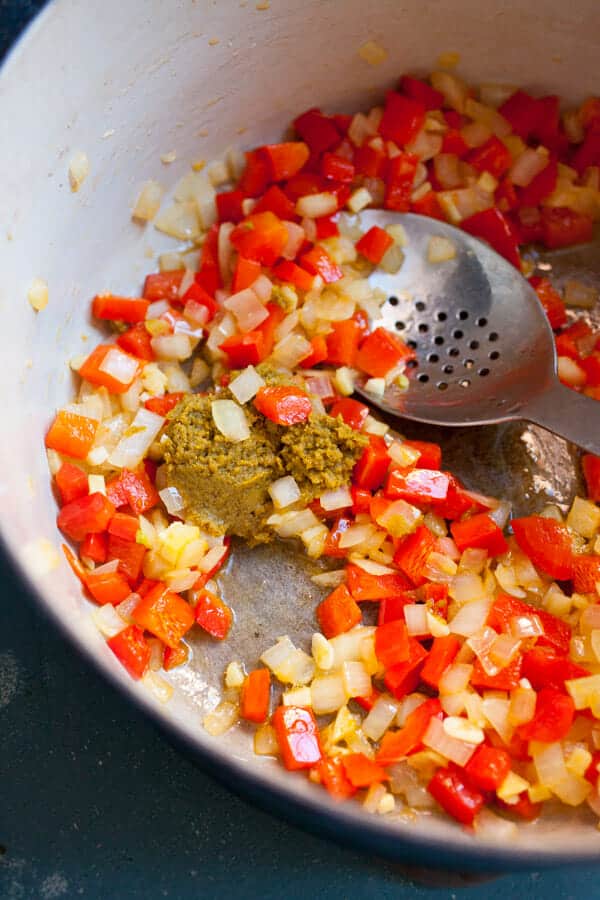 You might be inclined to leave the curry paste out for kids, but push the boundaries on it! Just make sure you don't get a spicy one. I like a nice mild green curry paste and I only add about a tablespoon which gives a hint of curry but not enough that kids will be able to pick it out.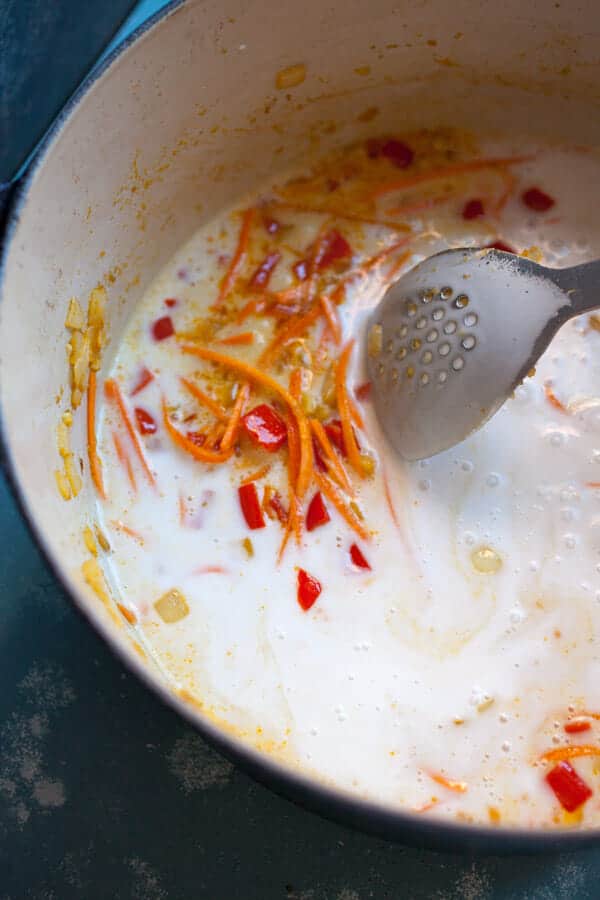 Then add some coconut milk, chicken stock, and shredded carrots. Bring that all to a light simmer over medium heat.
I understand that this isn't a classic ramen stock by any means, but the soup ends up being delicious and it's a great short-cut for a busy weeknight.
Then add some shredded chicken and peas. You're almost there! Around now is also when I'll start tasting the soup and adjusting for seasoning (salt and black pepper).
Finally, the noodles! One packet is enough to give some body to the soup. If you have a noodle-crazed family, you could add two, but know that it'll soak up a lot of liquid and you'll end up with almost more of a saucy noodle dish than a soup. Either way is good though!
When the noodles are cooked (2-3 minutes) it'll be ready to serve! Fresh cilantro is a good garnish, but optional. A drizzle of sesame oil would be a nice touch also.
I think everyone in your family will love this easy chicken ramen soup recipe that is definitely kid-friendly and adult approved as well. Enjoy!
Substitutions and Suggestions
This is an incredibly flexible soup recipe. Here are some substitution ideas!
Feel free to change up the base aromatics in the soup. Adding a stalk of celery, some green onions, or other root vegetables to the pot would work great.
For a vegetarian version, omit the chicken and add mushrooms or cubed tofu.
Add soft-boiled eggs for a heartier soup.
Add Thai chiles or a scoop of chili garlic sauce for a spicy kick.
Storing this soup for later
This ramen chicken noodle soup keeps really well, but know that the noodles will get pretty soggy as it sits in the fridge. It'll be fine though for up to five days and you can reheat it gently on the stovetop or in the microwave.
The soup makes great lunches as well!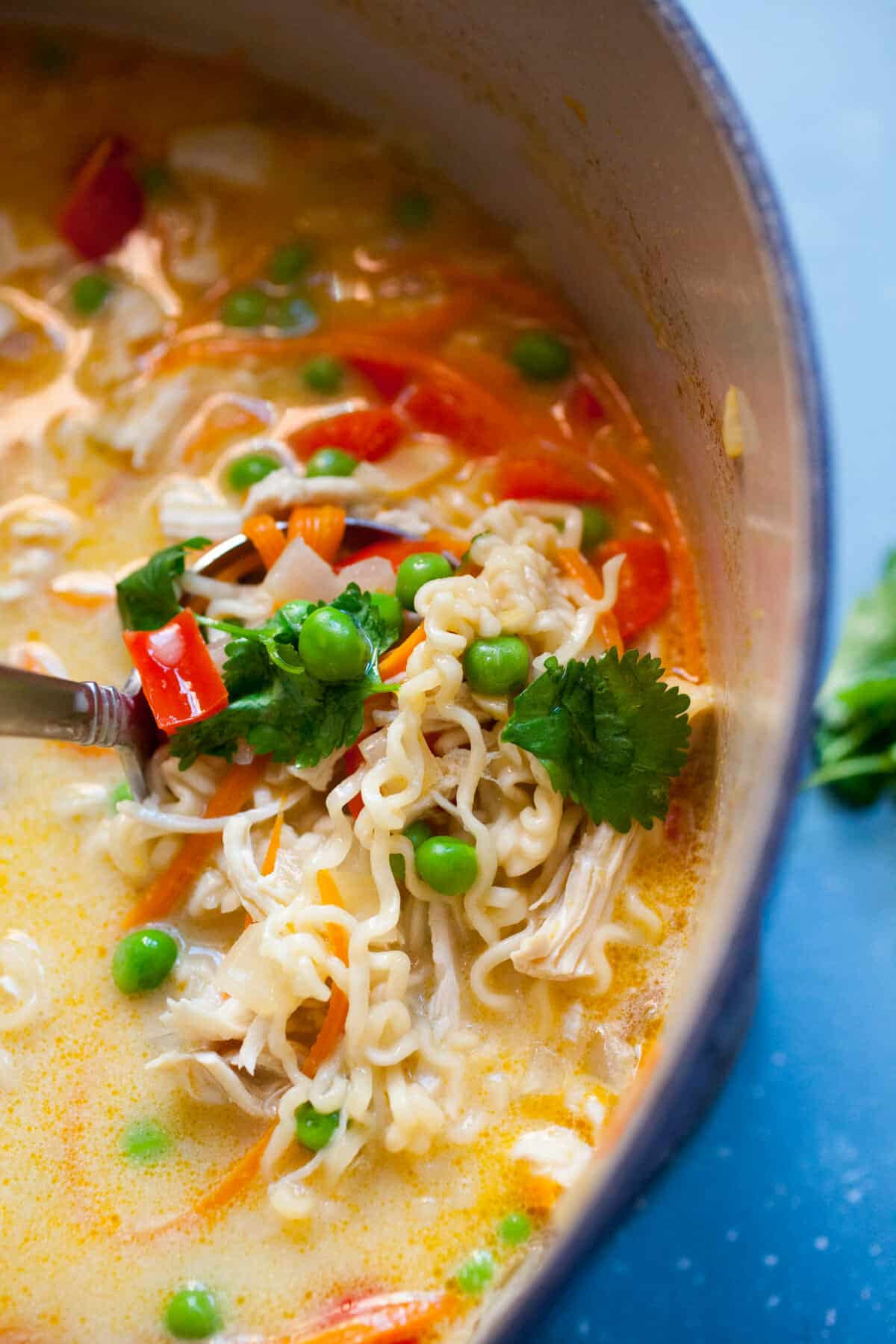 Kid-Friendly Chicken Ramen Soup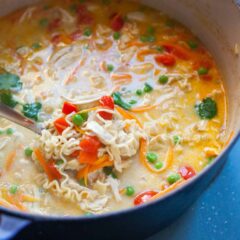 A simple and non-spicy easy chicken ramen soup recipe that is a great introduction to some new flavors for kids!
Ingredients
1

tbsp

coconut oil

1

medium onion

,

diced

1

red pepper

,

chopped

2

cloves

garlic

,

minced

2

inches

fresh ginger

,

peeled and minced

1

tbsp

green curry

,

not spicy

1

carrot

,

shredded

2

14-oz. cans coconut milk

1

quart

chicken stock

1

lb

shredded chicken

1

cup

sweet peas

1

package ramen noodles

,

discard seasoning

Salt and pepper

Lime wedges

,

garnish

Fresh cilantro

,

garnish
Instructions
For chicken, either use leftover chicken, purchase a rotisserie chicken and shred it, or blanch 1 pound of chicken breasts in lightly salted, barely simmering water, until cooked through (12-15 minutes) and then let cool and shred.

To start soup, add coconut oil to a large sturdy pot over medium heat. Once coconut oil is melted and hot, add onions and peppers and cook for a few minutes until soft.

Add garlic, ginger, and curry paste (green non-spicy is my preferred one for this soup). Cook for one minute.

Add shredded carrot, coconut milk, and chicken stock and bring to a simmer. Simmer for a few minutes to thicken the soup.

Add shredded chicken and peas and turn heat down to low. Cook for a few minutes to combine flavors. Taste soup and season to taste with salt and pepper.

Right before serving, add 1 package of ramen noodles to the soup (discard flavor packet).

When noodles are cooked, serve the soup garnished with limes and fresh cilantro.

Optionally, if your kids or you are really into noodles, you can add a second packet of ramen, but it will really soak up a lot of liquid and you'll be left with more of a noodle dish than a soup. Both are good though!
Nutrition
Serving:
1
bowl
|
Calories:
246
kcal
|
Carbohydrates:
14
g
|
Protein:
25
g
|
Fat:
10
g
|
Saturated Fat:
4
g
|
Polyunsaturated Fat:
2
g
|
Monounsaturated Fat:
3
g
|
Cholesterol:
61
mg
|
Sodium:
296
mg
|
Potassium:
514
mg
|
Fiber:
3
g
|
Sugar:
6
g
|
Vitamin A:
2934
IU
|
Vitamin C:
38
mg
|
Calcium:
35
mg
|
Iron:
2
mg
Did you make this recipe?
Here are a few other great soup recipes!