Many people think that the culmination of becoming a good cook is making an elaborate cake or fancy dessert or something, but my culmination is being able to toss together fast and delicious weeknight meals that are low-stress, delicious, and keep well for leftovers. This Ramen Noodle Salad checks all the boxes!
The steak in this recipe can be almost any steak that grills well. I would stay away from the super-pricy cuts and stick with a flank steak or flat iron steak (although those can be a bit pricy these days also). They are great on the grill and work well in a salad.
The really key thing for this recipe is the citrus dressing which I literally just shake together in a jar. It ties everything together though and is a must-try for this recipe!
Why use ramen noodles for a salad
I like to use ramen noodles for salads like this for a few reasons. For starters, they are cheap and I almost always have some in my pantry! They also cook incredibly fast and go with many flavors and toppings.
The noodles hold up well if they are warm or cold and store well for leftovers. You can top with lots of fresh vegetables and almost any protein (like steak) and it'll be great.
Don't worry too much about the brand of ramen – any will work – but because you aren't using the seasoning packet, I would just use the cheaper brands.
Making the steak for this salad
Let's talk steak! I used a flatiron steak for this version which is a bit thicker than a flank steak and much thicker than a skirt steak, but you can use any of those since you should slice the steak into bite-sized pieces for the salad. Your cooking time will just need to adjust slightly.
I seasoned mine liberally with Montreal steak seasoning and a drizzle of olive oil but you could use any steak rub or just salt and pepper if you have nothing else!
Grill the steak over medium-high heat for 7-8 minutes per side until it has some char on all sides and hits around 140 F˚ in the thickest part of the steak. If you don't have a grill handy, you could sear the steak in a cast iron skillet for a few minutes per side and then finish the steak in the oven until it hits about 135-140˚F.
Cooking time could vary a lot based on the thickness of the steak so I highly recommend using a meat thermometer to make sure you nail the temperature.
When the steak comes off the grill, let it rest for a few minutes and then slice it up!
Substitutions for Steak
I get it. Steak can be pricy and isn't for everyone. Luckily this ramen noodle salad is flexible enough to use a variety of proteins. Here are some options!
Any grilled pork or chicken would work fine for this salad. Grilled pork chops, sliced thin, would be great.
In a true time crunch, you could use a rotisserie chicken and just shred it and add it to the salad.
Try some seafood like salmon or shrimp on the salad. You could use the same salmon I used for these spicy salmon bowls!
Go vegetables! Double up on the veggies. You could add some sauteed mushrooms, crunchy bell peppers, corn, peas, shredded carrots, slivered green cabbage… you get the idea!
My favorite vegetables for this salad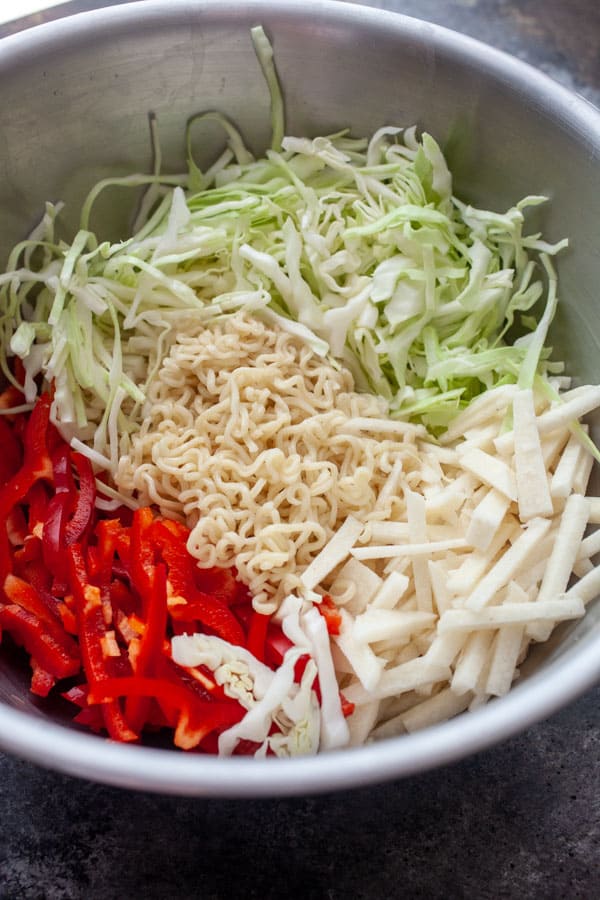 It's important to use some crunchy, fresh vegetables in this mix. I used basic ramen noodles for my version and added sliced cabbage, jicama, red peppers, cilantro, and cashews.
There are SO many vegetables that would work here so I could encourage you to raid your pantry and use this recipe as a clean-out opportunity. Any crunchy items would probably work well here.
Make this ramen noodle salad faster
Need a time short-cut for this salad? Use a rotisserie chicken for the protein and grab a bag of broccoli slaw or coleslaw mix and use that as the vegetables for the salad. No chopping needed!
Broccoli salad would be my choice as it tends to be really crunchy and would add good texture to the salad.
Making The Citrus Salad Dressing
This dressing has more ingredients than I would normally toss in a dressing, but they all do something so just give it a shot! Grate the ginger and mince or grate the garlic. Then toss everything in a jar with a lid and shake it up with the honey, tahini, soy sauce, and fresh citrus juice!
You could also add the ingredients to a bowl and whisk together until they are combined.
As with any salad dressing, I'd recommend you taste the salad dressing to make sure the flavors are working.
Assembling this salad is as easy as dividing the ramen salad between plates, topping with some sliced grilled steak, and drizzled heavily with the dressing!
This salad makes great lunches for the week but just store the items separately. If you tossed the salad, the steak, and the dressing all together it would get a bit sad after a few days.
Try out this Ramen Steak Salad! It's was a big hit at our house!
Ramen Steak Salad with Citrus Dressing
This Ramen Steak Salad is the perfect example of a hearty and fast weeknight dinner. Ready in minutes and packed with flavor! Don't forget the quick citrus dressing! It totally makes the salad work. The salad also makes great lunches!
Ingredients
1 ½

pounds

flank steak or flatiron steak

1

tablespoon

Montreal Seasoning

6

ounces

ramen

,

2 packages cooked and drained (discard seasoning)

½

jicama

,

sliced

2

cups

sliced cabbage

1

red pepper

,

sliced

⅓

cup

fresh cilantro

¼

cup

peanuts or cashew
Citrus Dressing:
1

lemon

,

juice only

1

lime

,

juice only

2

tablespoons

soy sauce

2

tablespoons

tahini

1

tablespoon

honey

1

clove

garlic

,

minced

1

inch

fresh ginger

,

grated

2

teaspoons

sesame oil

⅓

cup

extra virgin olive oil
Instructions
Preheat grill to medium-high heat. Rub steak well with Montreal seasoning and let rest for a few minutes.

Grill steak for 7-8 minutes per side until internal temperature reaches 140 F˚ in the thickest part. That will give you a nice medium-rare steak. Cooking time may vary depending on thickness of the steak.

When steak comes off the grill, let rest for 5 minutes and then slice against the grain into thin strips.

While steak is cooking or resting, make ramen (discard seasoning package). Then toss ramen with sliced jicama, cabbage, red peppers, cilantro, and nuts.

For dressing, add all ingredients to a jar with a lid and shake well to combine.

Serve salads by dividing ramen and veggies salad on plates. Top with sliced steak and drizzle with citrus dressing.

Store ramen salad, steak, and dressing separately. Ingredients will keep well for 5 days and makes for great weekday lunches.
Nutrition
Serving:
1
Plate
|
Calories:
780
kcal
|
Carbohydrates:
51
g
|
Protein:
48
g
|
Fat:
44
g
|
Saturated Fat:
11
g
|
Polyunsaturated Fat:
7
g
|
Monounsaturated Fat:
24
g
|
Cholesterol:
102
mg
|
Sodium:
1477
mg
|
Potassium:
1105
mg
|
Fiber:
9
g
|
Sugar:
10
g
|
Vitamin A:
1124
IU
|
Vitamin C:
88
mg
|
Calcium:
122
mg
|
Iron:
7
mg
Did you make this recipe?
Here are a few other great steak recipes!