Happy New Year! I imagine many people have a goal to eat healthier in 2023 and having a good, high protein breakfast is a great way to start. Many protein-packed breakfasts require fancy ingredients or prep time, but this protein breakfast sandwich is ready in literally five minutes and you probably have everything you need to make it!
One of my everlasting goals with this here little blog is to get people on the fast breakfast train. Since becoming a parent, I really understand the stress of mornings. Getting everybody out the door looking presentable and feeding them something is a struggle for families.
So this is just another option in that long list of options including homemade instant oatmeal and coffee mug sandwiches.
This version, which seriously takes five minutes to make, is jam-packed with protein. It's a great way to start your day and it'll keep you energized until lunch.
Have the ingredients on hand this week and don't skip breakfast!
Comparing this breakfast sandwich to fast food
People think that zipping through the fast food drive-through is the best way to get a fast breakfast, but I think I can make this sandwich faster than it takes to go through the drive through.
Also, comparing this to the classic the Egg McMuffin, it has about 20 grams of protein instead of 14 grams. It's also crushes the fast food breakfast on taste and you can customize it to your liking, wrap it up to go, and save money.
Have I convinced you to try it yet?!
Why is protein important in the morning?
I'm not a nutritionist, but I find that if I don't have some protein first thing in the morning, I end up feeling really sluggish before lunch and also end up snacking more and feeling hungrier throughout the day.
This article is a great quick summary of some of the benefits of protein in the morning. Most Americans tend to eat most of their protein intake closer to dinner. An easy switch to having more energy throughout the day is just to move some of that protein intake, purposefully, to breakfast.
Easy Breakfasts that provide high protein like these healthy breakfast sandwiches are a great start to the day!
Black Beans Are My Secret Protein Ingredient
Rather than deal with a slice of ham or something, the quick way to get some extra protein in a sandwich is black beans! They are so good on a breakfast sandwich and frequently overlooked!
I just drain and rinse them really well and then mash them with some spices and a pinch of salt.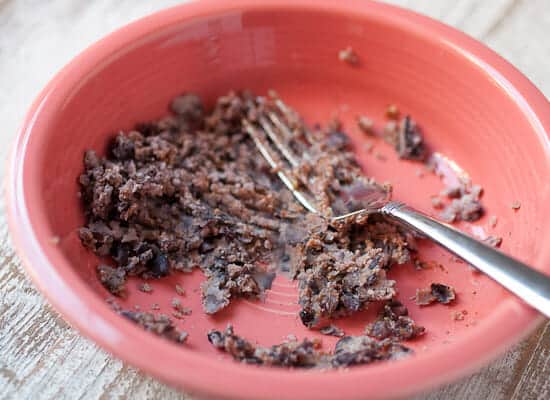 The beans can then be spread right on a toasted English Muffin for the sandwich and you can store the leftovers in the fridge for future sandwiches.
Making a fast microwaved egg
I'm a huge egg fan for breakfast and have some sort of egg almost every day.
To be honest, microwaved eggs are not my favorite, but they have a time and place and they actually work fine on a sandwich like this. The key is to really scramble them well to get in some air and then microwave the egg for about 65-70 seconds.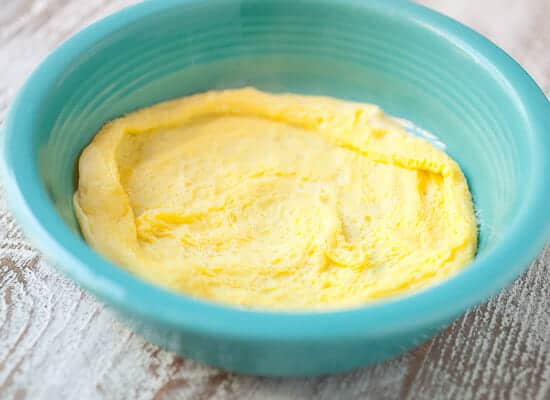 The egg should puff up and then be ready to go!
Use a fork or something to fold the egg over itself into a shape like the muffin your gonna stick it on. Then add some cheese. A little cheese goes a long way here. I like cheddar but use whatever you have!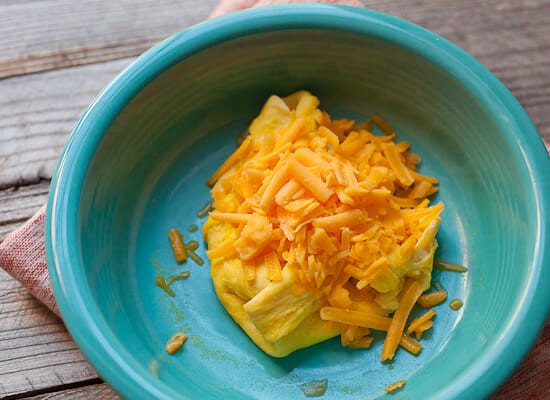 Then back in the microwave for 10-15 seconds.
Boom.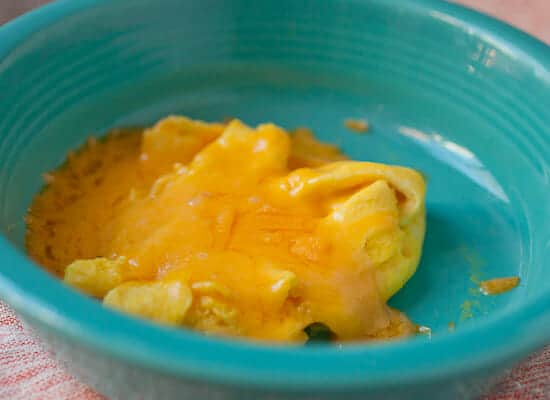 Toast your English Muffin and slather on the black beans. Then top that with some avocado or guacamole if you have some and a sprinkle of salt.
Slide on your egg and sprinkle on a dash of hot sauce if that's your thing!
Eat this thing immediately or wrap it in aluminum foil and take it to go!
Seriously. Five minutes. Breakfast is ready.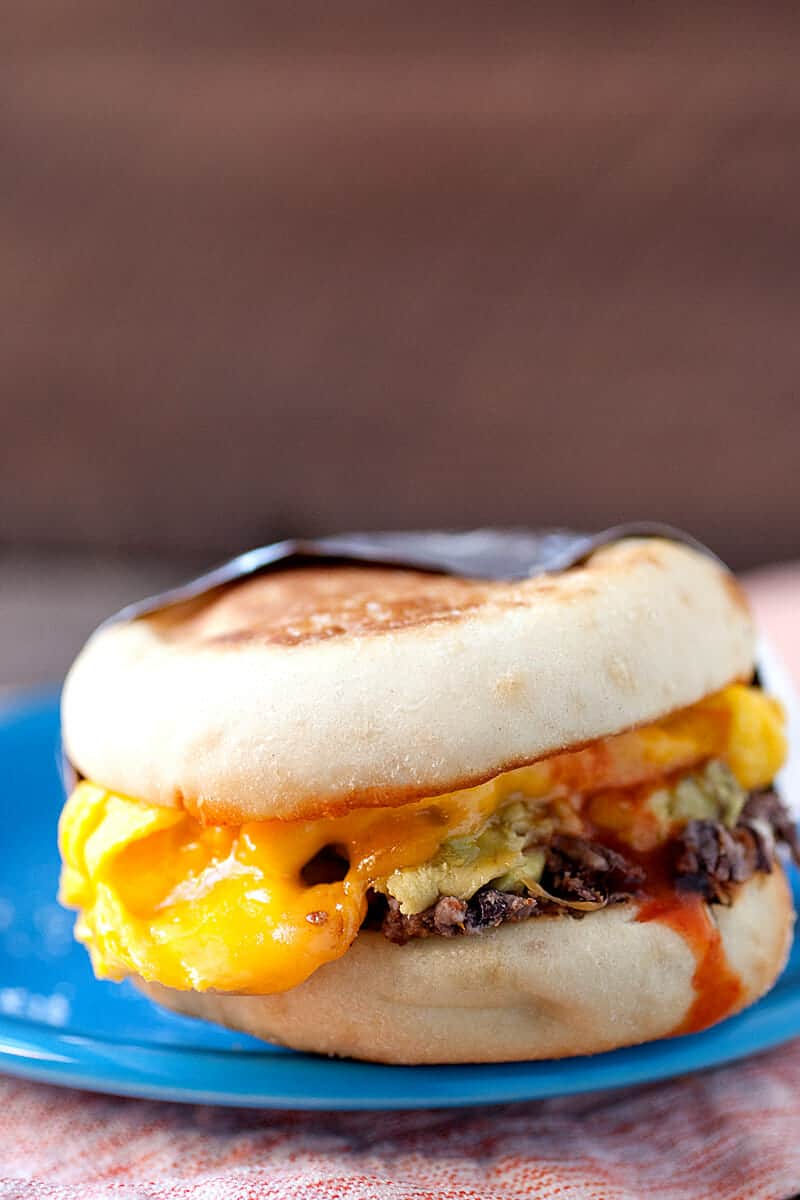 Can you make these protein breakfast sandwiches in advance
If you are into meal-prepping, you might think that you can make a bunch of these sandwiches in advance. While you can do that, I think the flavor really suffers. The muffins get soggy and the eggs are just lackluster.
These protein breakfast sandwiches are so fast that I'd recommend making them the day you are eating it to it stays fresh and tastes delicious.
If you want a make-ahead breakfast sandwich, you might try these Mile High Breakfast Wraps.
Substitutions and Ideas
You can truly make this protein breakfast sandwich your own. Here are a few ideas that keep the protein levels high.
Protein Breakfast Sandwich
This quick sandwich can be ready in no time and is packed with protein and good fats to kick your day off. Skip the fast food!
Ingredients
1

english muffin

,

toasted

¼

cup

black beans

Pinch

of chili powder

Pinch

of garlic powder

¼

avocado

,

mashed

1

large egg

½

ounce

cheddar cheese

,

grated

Hot sauce

Salt and pepper
Instructions
Toast English muffin.

Whisk egg in a bowl and microwave on high for 65 seconds. Remove egg and fold it into a circle shape the size of the muffin. Top with cheese and microwave for another 15 seconds.

Mash black beans (drained and rinsed) with chili powder, garlic, and a pinch of salt and pepper.

Spread black beans on the english muffin and top with the avocado. Place hot cheesy egg on top of the 'cado and season with salt and pepper. Add a dash of hot sauce.

Eat the sandwich right away or wrap it in heavy duty foil and take it on the go!
Nutrition
Serving:
1
sandwich
|
Calories:
392
kcal
|
Carbohydrates:
41
g
|
Protein:
18
g
|
Fat:
18
g
|
Saturated Fat:
5
g
|
Polyunsaturated Fat:
3
g
|
Monounsaturated Fat:
8
g
|
Trans Fat:
0.02
g
|
Cholesterol:
178
mg
|
Sodium:
424
mg
|
Potassium:
543
mg
|
Fiber:
9
g
|
Sugar:
1
g
|
Vitamin A:
456
IU
|
Vitamin C:
5
mg
|
Calcium:
172
mg
|
Iron:
2
mg
Did you make this recipe?
Here are a few other great recipes to try!