I've made many breakfast sandwiches over the years and hope to make many more. This sausage breakfast sandwich is just a classic that should be in every breakfast maker's wheelhouse.
Rather than use a pre-made sausage patty, I used a smash burger technique for a very thin and crispy sausage patty which goes well on a breakfast sandwich.
These are fast sandwiches to make and you can make them to order or you can make a big batch of them, freeze them, and reheat them when needed!
Tricks for a great breakfast sandwich
I consider myself a bit of a breakfast sandwich expert so let me impart some wisdom on the breakfast sandwich.
First, make sure to use a good bread. English muffins are the classic for breakfast sandwiches and work well, but bagels are great also. I would stay away from sandwich bread which isn't sturdy enough.
Second, use a marbled egg which is cracked in a hot skillet or on a griddle. Then bust the yolk and lightly scramble it as it cooks. This is easier to shape and also has a nice texture to it for a sandwich.
Third and maybe the most important is to use some fat for your sandwich. It may sound crazy but adding some mayo to your sandwich is a wonderful way to give it some needed moisture. You can't really taste the mayo, it just acts as a kind of sauce for the sandwich. I first tried this trick for my take on the Hodgman breakfast sandwich!
Ingredients for my sausage breakfast sandwich
This is not rocket science. Ingredients for breakfast sandwiches are pretty straightforward but the technique is where the magic happens.
English muffin – A given. I'm not a brand loyalist when it comes to English Muffins.
Eggs – Obviously you'll want eggs. I like large eggs, lightly scrambled. You could use egg whites as well.
Swiss Cheese – American cheese would be a great substitution as well.
Breakfast Sausage – I like to use a loose sausage for this version so you can smash it.
Mayonnaise – A good schmear helps this sandwich along.
Hot sauce – Optionally, I like a dash of hot sauce to give some flavor to the sandwich.
How to make a smashed sausage patty
This is my fun twist on a sausage breakfast sandwich. Divide your loose sausage into 6 balls (for 1 pound of sausage). That means slightly more than 2 ounces per patty.
Heat your griddle or skillet over medium heat and once hot, add a very tiny amount of non-stick spray or olive oil. Then add the ground pork sausage and use some weight (I like a piece of foil and a small cast iron skillet) to smash the sausage patty down until it's very thin. Smash it hard for 10 seconds.
Then you can remove the weight and season the sausage with a pinch of salt and pepper. Cook the patty for about 90 seconds per side. It'll cook very quickly because it is so thin. You should always test the pork to make sure it's cooked through.
You can use the patty right away or if you are good, you can smash a bunch of them at once and make a breakfast sandwich assembly.
Building the breakfast sandwich
Other than the sausage patty, I like to toast the muffin on a griddle so it's toasted on one side.
For the egg, crack an egg on the griddle or skillet with a little butter or olive oil and break the yolk so you can make a marbled egg. As it cooks, use a spatula to shape it into a round shape, roughly like the muffin.
I don't really like using a mold and prefer a more free-form egg, but you can use an egg mold if you want.
Cook for about two minutes total on the egg. Add a slice of cheese to it near the end. You can place a metal bowl over the egg to steam it and melt the cheese if you want.
Alternatively, you could make this sandwich with a runny yolk or sunnyside up egg, but that's not my preferred egg for a breakfast sandwich like this, especially if you are freezing them for later.
Add a schmear of mayo to the bottom bun and then the sausage patty. Top with egg and cheese and a dash of hot sauce if you want. Add the top bun and wrap the sandwich tightly in foil.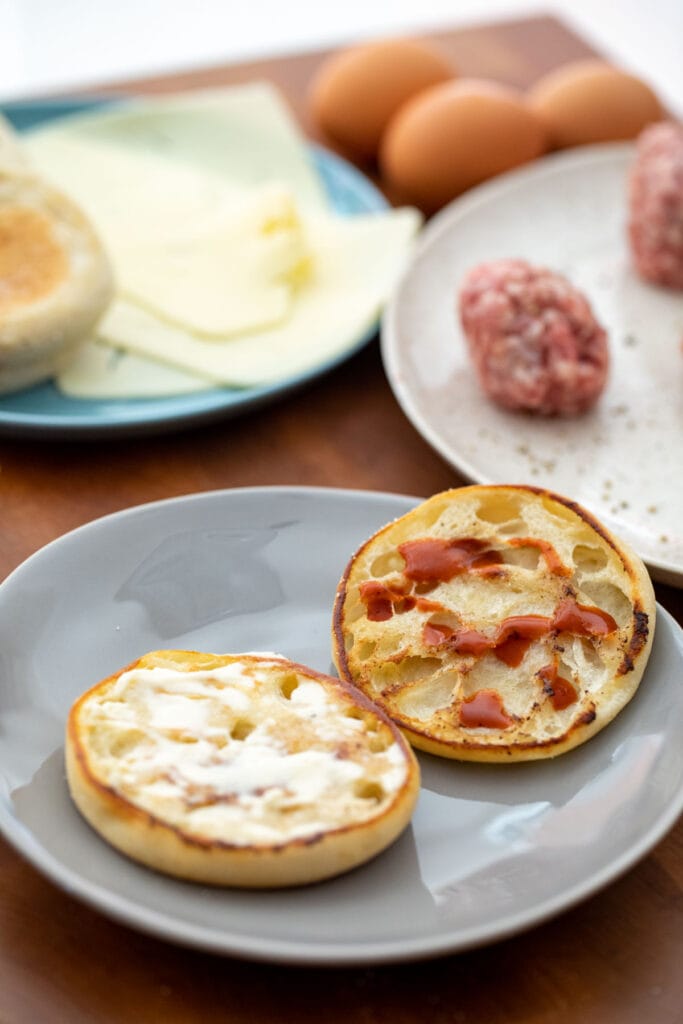 I think this sandwich is best if you let it sit for 5 minutes before eating or you can wrap thes and freeze them for longer storage.
Wrapping and freezing the sandwich for later
If you are making extra sandwiches (you should), then wrap each sandwich tightly in foil and then you can stick them in the freezer for later.
The frozen sandwiches will keep just fine for a few months in the freezer!
Reheating frozen breakfast sandwiches
Ironically, it can take about as long to reheat a frozen sandwich as it takes to just make one from scratch.
Here is my preferred way to reheat these sandwiches. I start them in the microwave (remove the foil obviously). Microwave them on high for two minutes to thaw the sandwich and heat them all the way through. Make sure the sandwich is warmed through before you go on to the next step.
The downside of microwaving the sandwiches is that the bread will get very soggy. So after the microwave, I like to add the sandwiches to a skillet over low heat to re-crisp up the bread. Just cooking it for a minute or two per side will re-crisp the bread and make for a perfect sandwich.
Smashed Sausage Breakfast Sandwich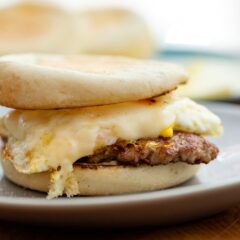 These sausage breakfast sandwiches are quick to make and use a smashburger technique on the sausage for a thin, crispy patty. Make a batch and freeze them!
Ingredients
1

pound

breakfast sausage

6

large

eggs

6

slices

Swiss Cheese

6

English Muffins

6

tablespoons

mayonnaise

Olive oil

,

for cooking

Salt and pepper

Hot Sauce

,

optional
Instructions
Divide sausage into 6 even balls, a little over 2 ounces each. Season balls lightly with salt and pepper.

Heat a griddle or skillet over medium heat. Once hot add a small drizzle of oil and add a sausage ball. Place foil on top of the sausage and press the ball flat with something heavy like a small cast iron skillet. Press it hard for 10 seconds to flatten and sear the patty.

Let the sausage cook for one minute and then flip. Cook on second side for 90 seconds or until sausage is cooked through.

In the same skillet or griddle if you have room, toast your muffin and add some oil and crack in your egg. Break the yolk and stir it loosely to marble the egg. As the egg starts to set, use a spatula to form it into sandwich shape.

Near the end of cooking the egg, add a slice of cheese. Cover the egg to steam for a minute with a bowl or lid.

Build the sandwich by adding some mayo to the bottom bun of the sandwich. Top with smashed sausage patty, cheesy egg, and top bun with some hot sauce.

Wrap sandwich in foil and let rest for five minutes.

Repeat with all sandwiches (you can do more than one at a time). Wrap extras and freeze for up to 3 months.
Nutrition
Serving:
1
sandwich
|
Calories:
597
kcal
|
Carbohydrates:
27
g
|
Protein:
27
g
|
Fat:
42
g
|
Saturated Fat:
13
g
|
Polyunsaturated Fat:
11
g
|
Monounsaturated Fat:
15
g
|
Trans Fat:
0.2
g
|
Cholesterol:
262
mg
|
Sodium:
937
mg
|
Potassium:
346
mg
|
Fiber:
2
g
|
Sugar:
0.3
g
|
Vitamin A:
477
IU
|
Vitamin C:
1
mg
|
Calcium:
217
mg
|
Iron:
2
mg
Did you make this recipe?
Here are a few other recipes you might like!