This post and recipe falls squarely into the "damn near unbelievable" category. That's not a real category, but I'm thinking about making it.
This Protein Scramble is an unbelievable plate of food because it takes about five minutes to make, has almost 20 grams of protein in it (per serving), and is seriously good.
You could put cheese in it or on it if you wanted to take it to another level, but for me, a healthy sprinkle of scallions and hot sauce is all I need to feel really good about eating this.
Tofu and Egg Scramble
This Protein Scramble is about as quick as a healthy breakfast can get. Get your protein fix with this delicious scramble. Fast, filling and ready in 5!
Ingredients
6

ounces

soft or silken tofu

4

eggs

1

tablespoon

olive oil

Red pepper flakes

Salt and pepper

Scallions

,

minced

Hot sauce
Instructions
In a medium bowl, mash the tofu until it's mostly smooth, but some lumps are inevitable. Stir in a pinch of salt, pepper, red pepper flakes, and a small drizzle of olive oil (maybe a teaspoon).

Crack in eggs and whisk into the tofu until the mixture is a single consistency. Optionally, you can use egg whites instead of whole eggs, but I recommend using at least 1-2 yolks.

In a medium-large skillet, add a drizzle of oil over medium heat. Once hot, add the whisked eggs and tofu and let sit for 1-2 minutes until the eggs start to firm up.

Lightly stir the eggs but try not to over-stir them. You want the curds in somewhat large pieces. Continue to cook until the the eggs are 95% cooked, but there's still a shimmer of uncooked egg. Kill the heat and the residual heat will finish cooking the eggs.

Serve scramble immediately topped with scallions and hot sauce!
Nutrition
Serving:
1
Plate
|
Calories:
259
kcal
|
Carbohydrates:
3
g
|
Protein:
19
g
|
Fat:
19
g
|
Saturated Fat:
4
g
|
Polyunsaturated Fat:
5
g
|
Monounsaturated Fat:
9
g
|
Trans Fat:
0.04
g
|
Cholesterol:
327
mg
|
Sodium:
128
mg
|
Potassium:
122
mg
|
Fiber:
1
g
|
Sugar:
1
g
|
Vitamin A:
475
IU
|
Calcium:
156
mg
|
Iron:
3
mg
Did you make this recipe?
Protein Scramble
It's Tofu To You
It's always a good idea to start your day with some protein. It'll get your metabolism churning and also keep you more full for longer throughout the day.
Eggs are a classic protein provider for breakfast, but we can amp them up substantially with one thing: tofu.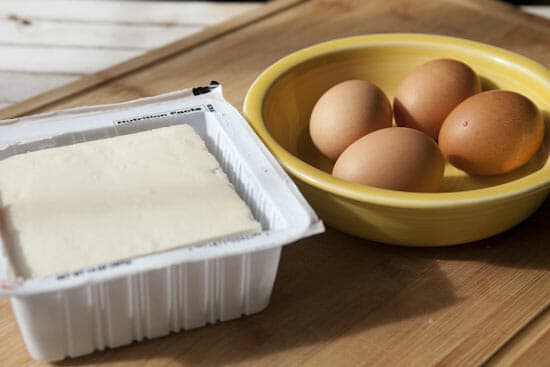 The only trick to know about this is to make sure to use soft or silken tofu. That will let you completely whisk the eggs and tofu together. The firmer tofus would leave you with larger chunks which will work, but your final scramble won't be as smooth.
In minute one of this prep, use a fork to really mash the tofu into a smooth(ish) paste. Add a pinch of salt and pepper, red pepper flakes, and a small drizzle of olive oil.
Then crack in your eggs!
You could definitely just use egg whites for this, but I like to use the whole egg.
Four eggs and six ounces of tofu is perfect for two people.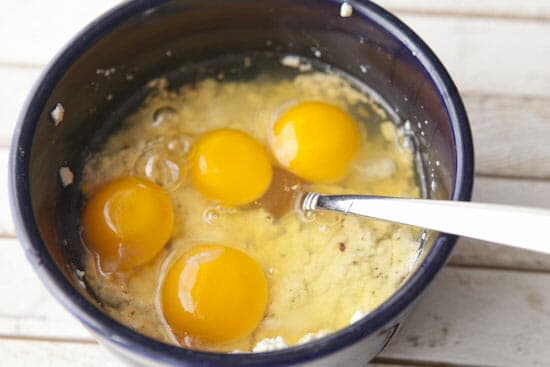 Break the eggs and whisk like crazy. You can really take some aggression out. The smoother you get the egg/tofu mixture at this point, the better.
That said, don't freak out if there are some lumps. It'll be fine.
This was my finished Protein Scramble mixture and it was pretty smooth. Any lumps that did exist were very small and would pretty much disappear in the finished scramble.
Cooking the Scramble
To be honest, you could use this mixture at this point to make your favorite omelet. For this five minute version though, I just wanted to cook the eggs quickly.
To do this, add a drizzle of oil to a large skillet and heat it over medium heat. Once it's hot, add the whisked mixture and let it sit for a few minutes so the eggs can start to firm up.
I like fairly large curds for this Protein Scramble so don't over-stir the eggs. Also, try to pull them off the heat when they are 95% cooked through. It's okay if there is a small amount of uncooked egg. The residual heat from the pan will finish cooking the eggs.
This was my finished Protein Scramble… looking good.
Like I said, you could melt some cheese on these guys, but I kept it simple with some chopped scallions and a good sprinkle of hot sauce.
Easy and delicious!
What's amazing is that the tofu really makes this dish. Not only does it up the protein in the dish substantially, but it actually changes the texture and flavor of the eggs slightly, but in a good way. They are just sturdier and are instantly more filling.
If you're looking for a quick breakfast, I'm not sure it gets faster than this Protein Scramble!