It seems like there is a bit of a chicken wing shortage right now in the US, which is a bummer because chicken wings are my absolute favorite way to kick off football season. If you can get your hands on some fresh chicken wings, add these pickle brined chicken wings to your list to try ASAP!
Why Brine Chicken Wings?
Brining, or adding meat to a salty liquid, is a popular way to keep meats juicy and give them some extra flavor. I don't worry too much about drying out chicken wings because they have a lot of fat, but brining them quickly is a great way to make sure they are extra juicy and give them a salty flavor throughout the wing.
When you use pickle liquid to brine chicken wings, you have to be a little more careful because you don't want the chicken wings to actually pickle. So a quick brine of about 30 minutes works great for the tiny chicken wings and the end result doesn't actually taste like pickles, it just tastes very savory and delicious.
Well, the chicken wings might have a tiny hint of pickles, but you wouldn't pick it up unless you knew there was pickle juice in the brine. Instead, the result is basically like a brined chicken: juicy, tender, seasoned perfectly.
Spice Mix for Wings
Okay, before we get to wings, let's talk rubs. This is a pretty basic one. Nothing fancy. If you want it spicy, use a spicy chili powder or add some cayenne to the mix. If you just want it a little spicy and very savory then leave out the spicy elements. The recipe I listed above makes enough for 3 pounds of wings.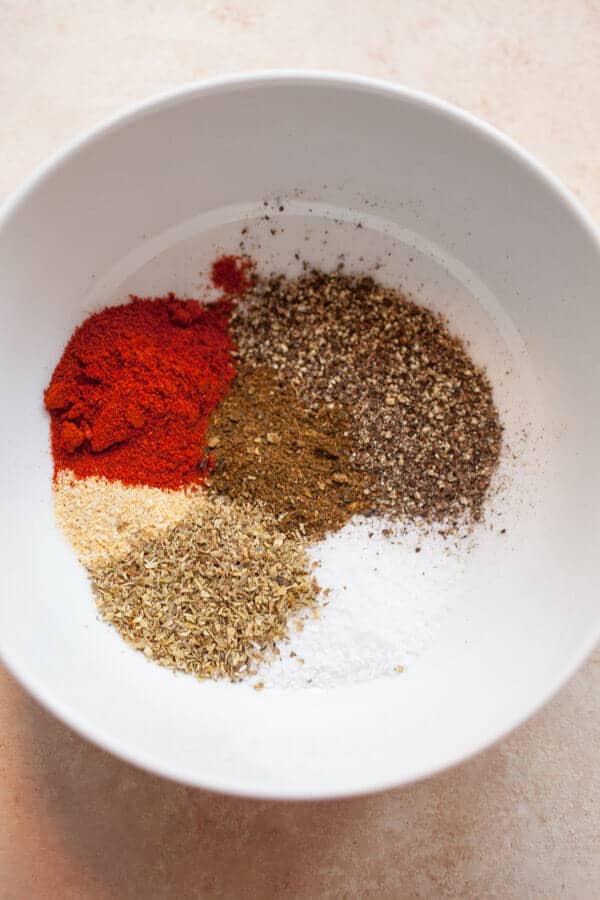 If you don't have time to mix this spice mix together, you can use any dry rub you have in your pantry or, honestly, just salt and pepper on the wings is pretty darn good.
Since these aren't a sauced wing though, it does help with flavors to take the time to make a good dry rub so I would try to make it happen if you can.
Pickle Brining Chicken Wings
Brining the wings in pickle juice couldn't be easier. Drain off the juice from a medium jar of pickles and pour it in a bag with wings.
It'll look like a science experiment, but it's not. It's a kitchen experiment.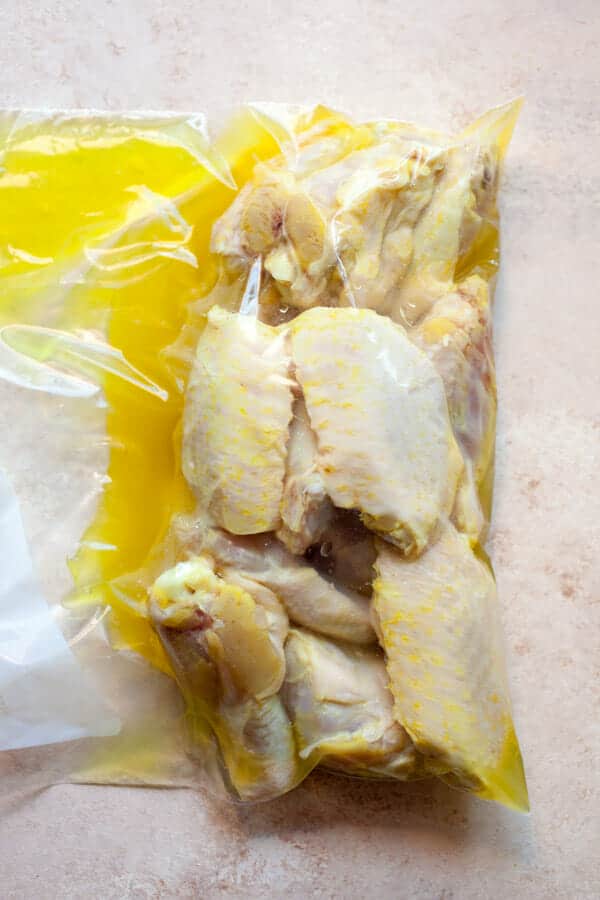 Most Important Step Alert: After your wings brine for an hour or so (at least 30 minutes), this is the most important part. Dry them off REALLY well. But, don't rinse them with water. Pull away as much juice as you can though with paper towels.
You don't want to rinse the wings as that will rinse off too much of the salty coating on the wings and also rinsing chicken is a step that isn't necessary and can help spread bacteria. So just dry them off a bit and then proceed!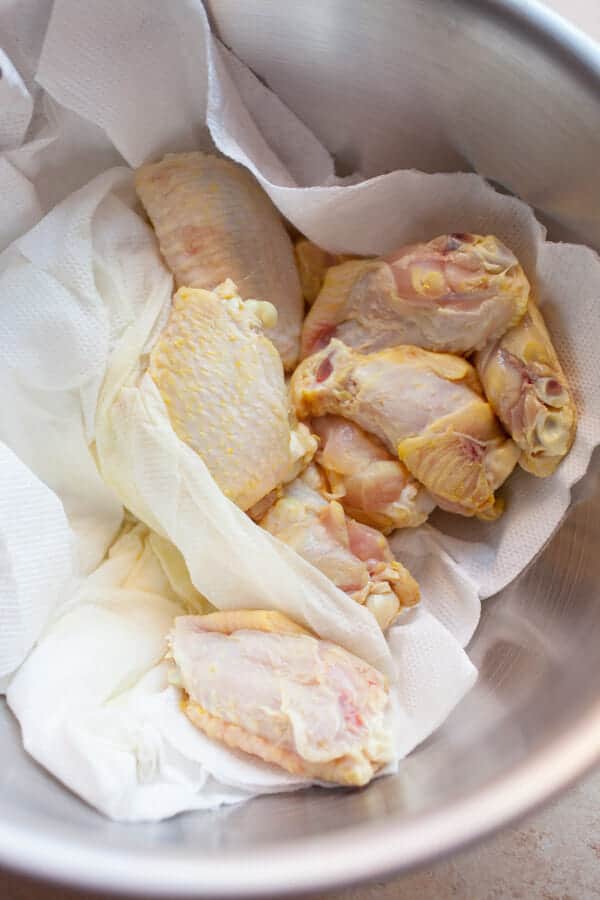 Once the pickle chicken wings are dried off a bit, toss them in a bowl with some neutral oil and the spice rub. You can use a liberal amount of spice rub on these chicken wings. You want them pretty evenly coated.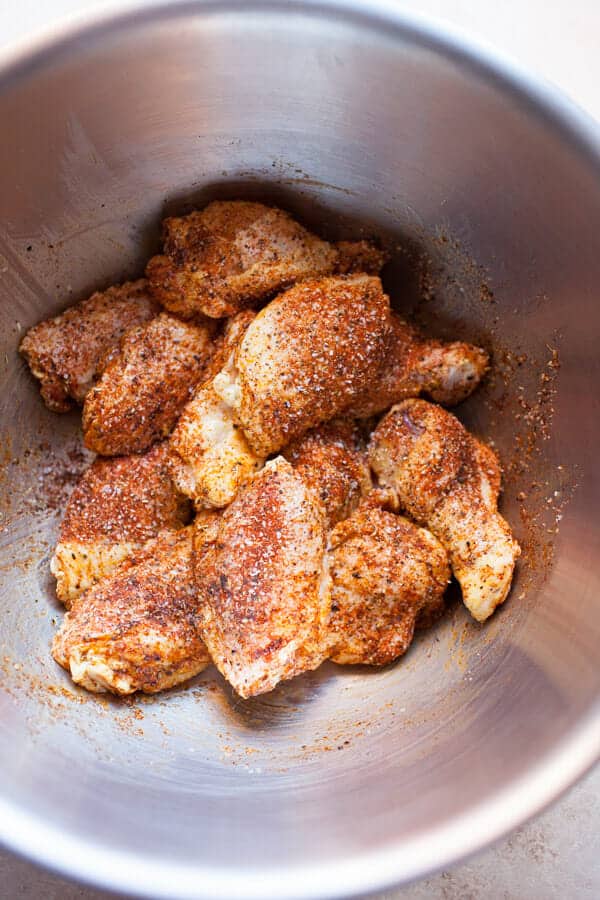 How to Bake Chicken Wings
If you wanted to fry these wings, I would skip the dry rub as it can burn a bit in the fryer. You could fry them after you dry them off and then toss them with a sauce if you want.
Personally, I find baking the wings to be easier and these wings work really well as a baked wing.
To bake the wings, after you toss them in the dry rub, lay them out on a few baking sheets and they are ready for the oven!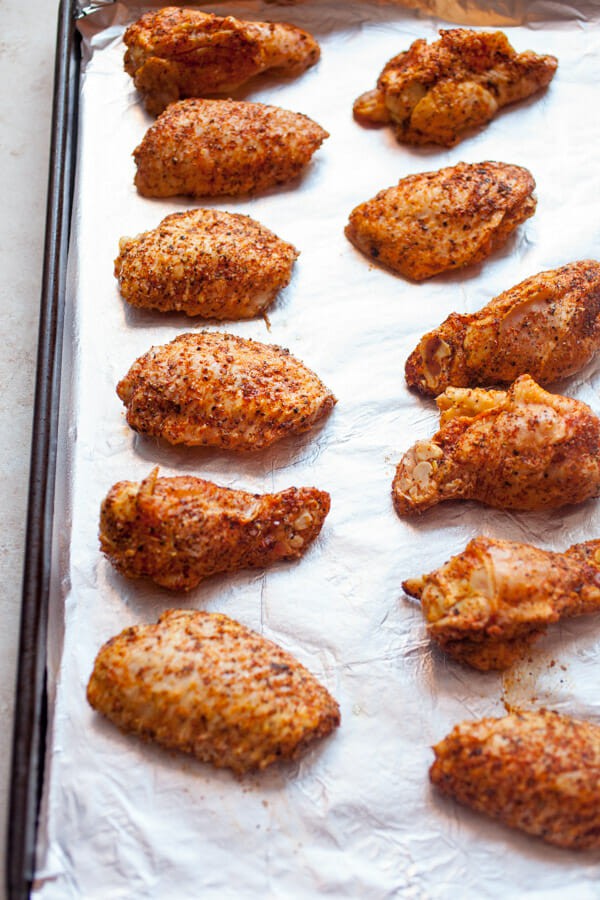 I like to bake mine for about an hour at 375 F. Don't worry about turning them or anything. Just let them go. And yes, you could do my low and slow method with these. That would be very delicious as well.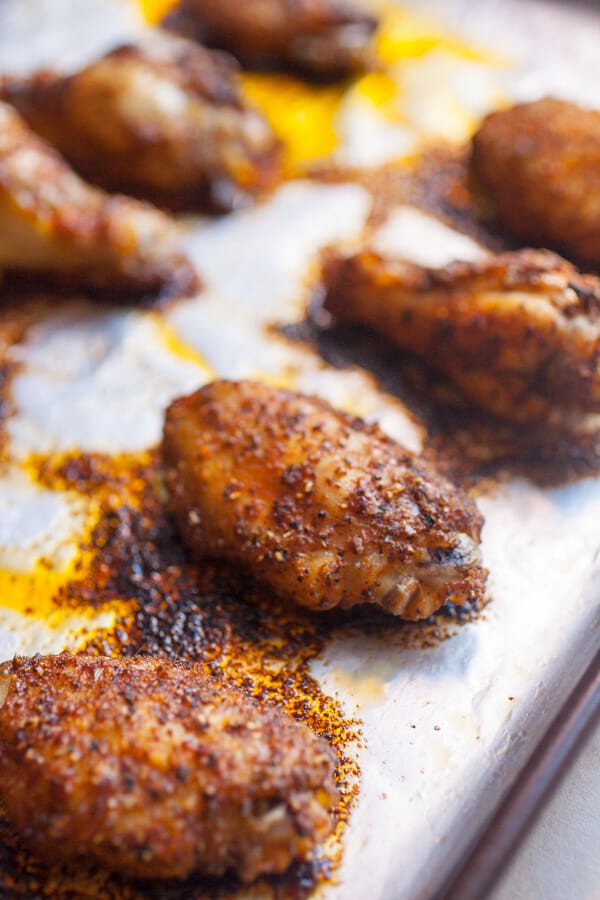 When they come out, serve them up with some ranch or blue cheese plus the usual sides (plus a few pickles obviously).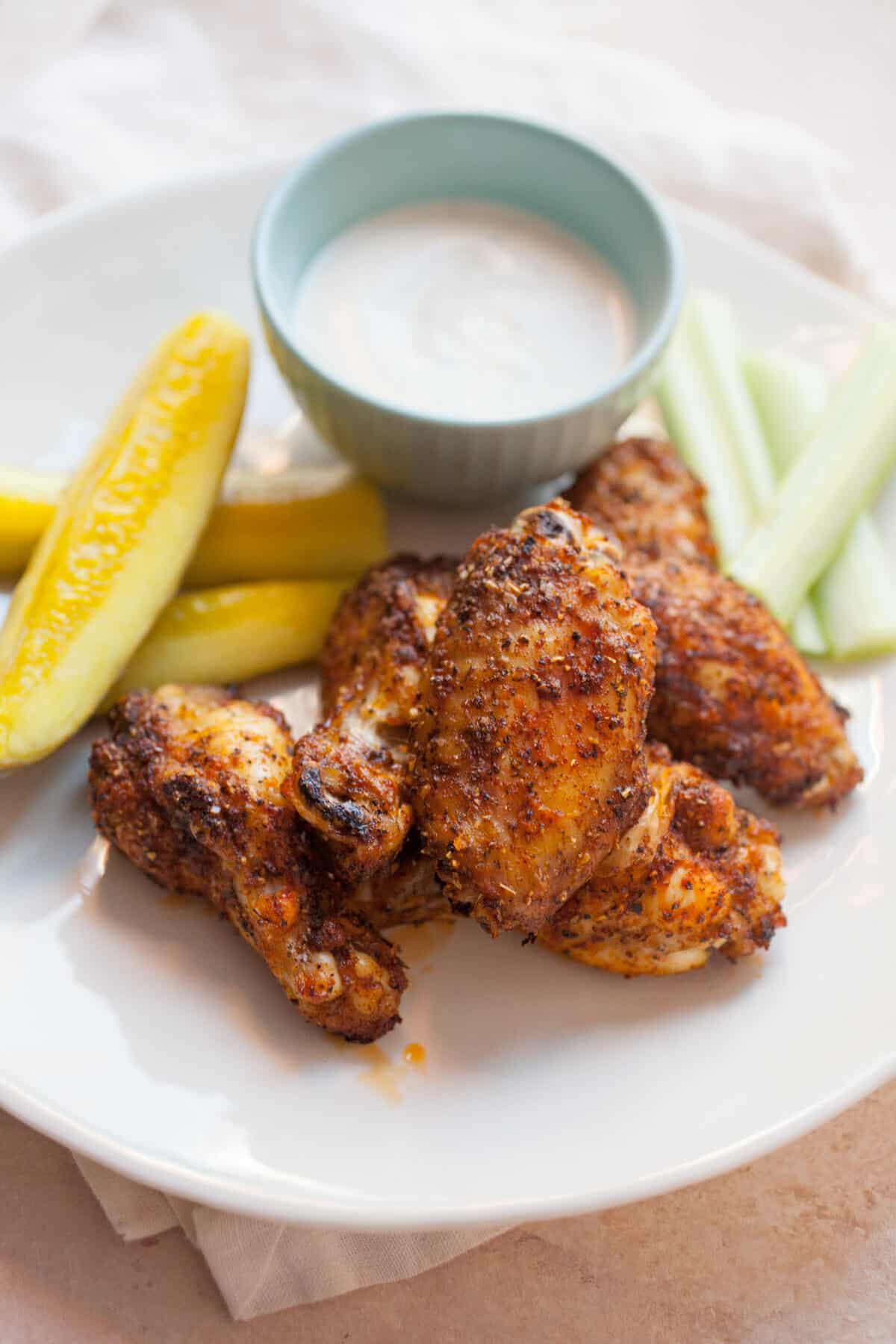 Can you make these chicken wings in advance?
Wings work great if you make them in advance. You can bake them even a day or two eary and then just pop them in a lower heat (325˚F) oven to reheat them until they are warmed through and crispy on the outside. YUM.
Your crew is going to love these pickle chicken wings. If you have a friend with an excellent palette, they might be able to pick up the pickle juice, but otherwise your secret is safe with me.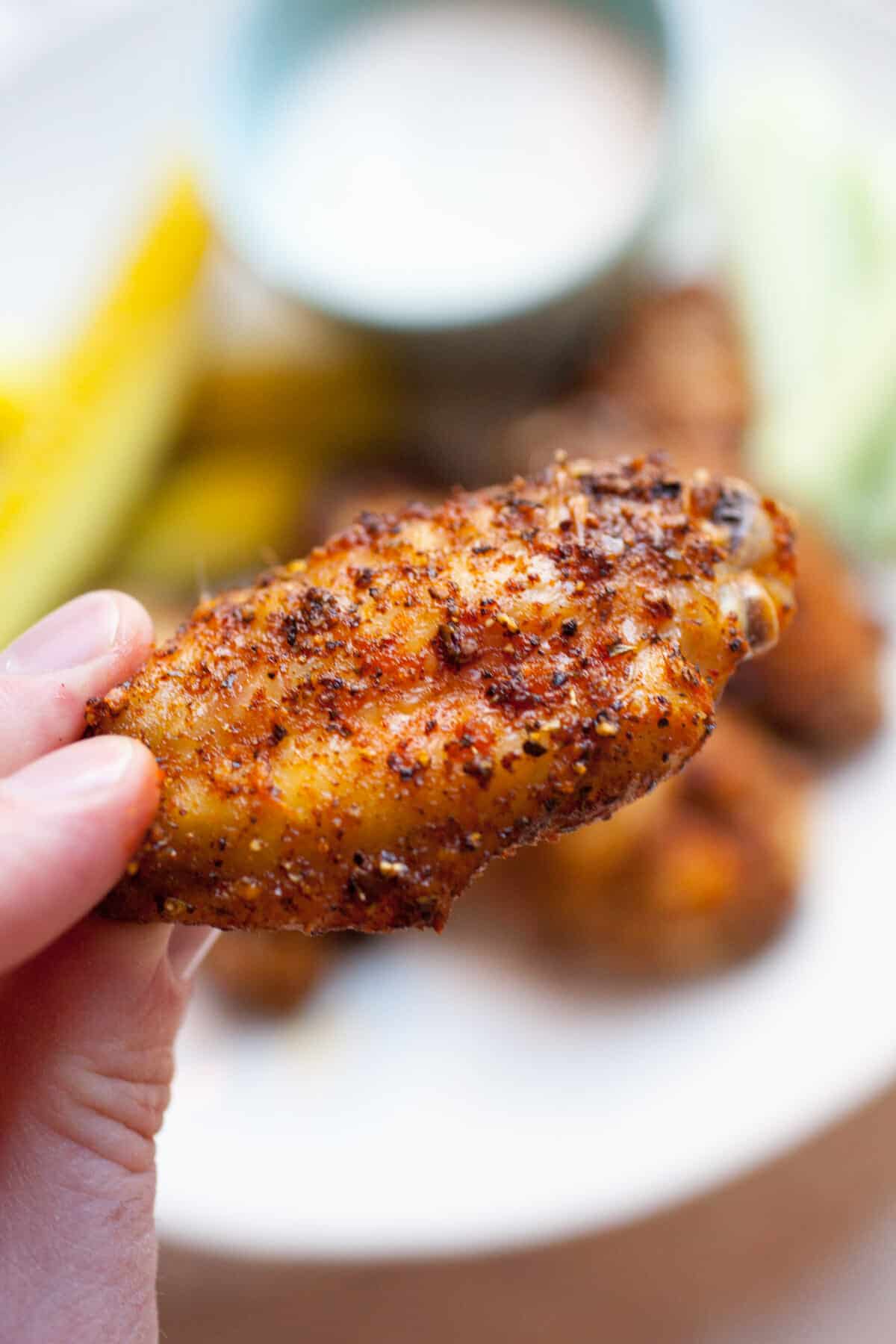 Pickle Brined Chicken Wings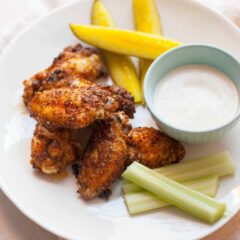 These are your new favorite wings. Trust me! Don't toss out that pickle juice next time you have an empty jar and instead make these wonderful baked wings!
Ingredients
3

pounds

chicken wings

24

oz.

pickles

,

juice only

1

tablespoon

kosher salt

1

tablespoon

black pepper

2

teaspoons

chili powder

1

teaspoon

onion powder

1

teaspoon

dried oregano

1

teaspoon

cayenne pepper

2

tablespoons

neutral oil

Ranch or blue cheese

,

for dipping
Instructions
Preheat oven to

375

°F

. Add raw chicken wings to a bag with pickle juice. Let sit for at least 30 minutes or up to a few hours. Overnight might make them too pickled…

Drain off pickle juice and dry wings very well. Don't rinse the wings.

Add spices to a small bowl and stir together.

Drizzle dried chicken wings with neutral oil. Then rub liberally with the spice rub.

Lay out wings on baking sheets lined with foil.

Bake for 55-60 minutes until cooked through and crispy in parts.

Remove wings, let cool briefly, and serve with ranch or blue cheese dressing.
Nutrition
Serving:
6
wings
|
Calories:
498
kcal
|
Carbohydrates:
6
g
|
Protein:
35
g
|
Fat:
37
g
|
Saturated Fat:
9
g
|
Polyunsaturated Fat:
10
g
|
Monounsaturated Fat:
13
g
|
Trans Fat:
0.4
g
|
Cholesterol:
141
mg
|
Sodium:
3270
mg
|
Potassium:
532
mg
|
Fiber:
3
g
|
Sugar:
2
g
|
Vitamin A:
1094
IU
|
Vitamin C:
5
mg
|
Calcium:
128
mg
|
Iron:
3
mg
Did you make this recipe?
Here are a few other great chicken wings recipes!