There's a silver lining if you happen to be watching a major sporting event this weekend but have no team to root for. You can make these Sticky Chicken Wings with an addictive Chili Garlic Sauce and you will be very happy.
These wings won't ask why you root for one team or the other. They won't question why you decided to double down on pajama time this morning instead of going for that jog.
These sticky chicken wings know that there is an excrutiatingly long football game to watch this weekend and all they want to do is help.
I've made a fair amount of chicken wings over the years and all of them have different purposes. My low and slow wings are a great entry level wing as they are almost impossible to mess up and require just a few ingredients. I've even tried homemade boneless wings which are a fair amount of work, but pretty delicious!
These wings have a few more ingredients but are just as easy to make as the low and slow wings.
You could start these before the game and they would be ready by the second quarter.
How to Buy Chicken Wings
You can buy chicken wings in two ways these days. Some come already chopped up, but they charge you more for those. Personally, I like to buy the full wings and then just chop them up myself. You can save the wing tips for chicken stock if you want, but really you just want the drums and flats for this recipe.
Use a sturdy knife to cut through each joint to separate the parts. Once you get the hang of it, it doesn't take long.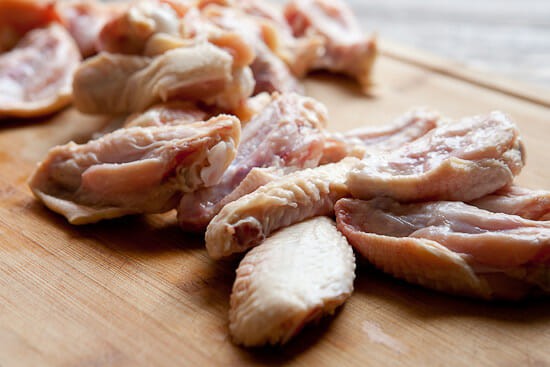 How to make Chili Garlic Sauce for Wings
This sauce is dark and a bit mysterious. Well, it's not mysterious to you because I'm giving you the recipe. But, it will be mysterious to anyone you serve these to because the flavors are so deep and interesting, but it's tough to pick out any one single ingredient.
The ingredient that gives the sauce a serious kick is a huge spoonful of chili garlic sauce, but the ingredient that most people won't be able to identify is preserves. I used cherry preserves, but almost any good quality preserve will work. It gives the sauce a little sweetness and makes it, well, sticky.
Stir the sauce together and then toss in your wings!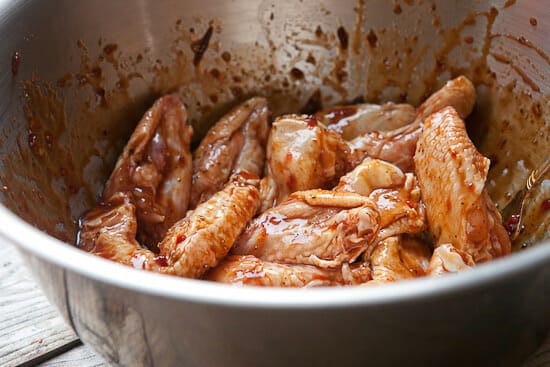 How to Cook Sticky Chicken Wings in the Oven
I like to bake these at a relatively high 425 degrees F.
One tip: Protect your baking sheets so you don't have to soak them for hours. Just line the baking sheet with some heavy duty foil. Thank me later. Spread out the wings on the sheet and also pour over any sauce left in the bowl.
Once these sticky chicken wings have baked for 20 minutes, take them out and turn them all a few times to re-coat them with the chili garlic sauce.
Then another 20 minutes or so should do the trick. Again, it's always a good idea to take out the wings and turn them so the get coated more with the sauce that is rapidly thickening beneath them.
The wings are done when they are browned in spots and the sauce has thickened nicely on them. You might even notice the sauce burned on the foil in spots. That's why you have the foil there!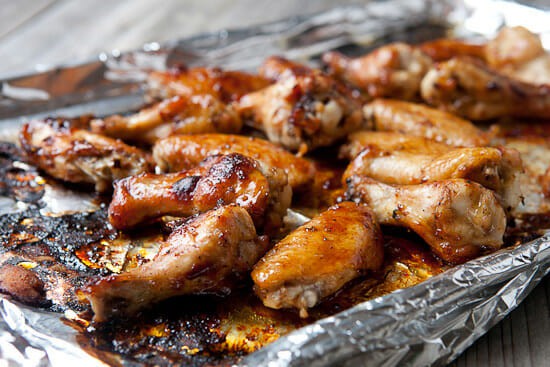 Pile these sticky chicken wings high in a bowl and serve them sprinkled with sesame seeds and scallions.
Make these Sticky Chicken Wings and save the weekend – even if you don't have a team to root for!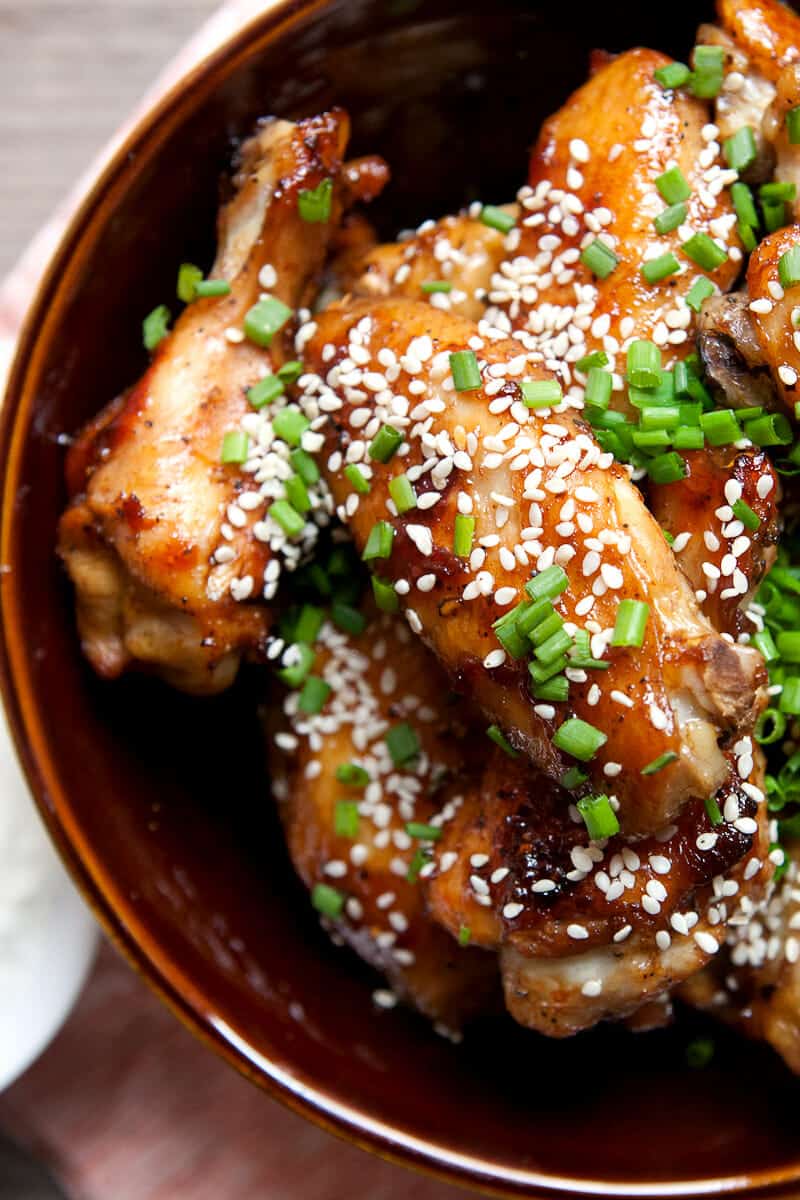 Sticky Chicken Wings with Chili Garlic Sauce
Sticky chicken wings glazed with a sweet and spicy chili garlic sauce and served with a heavy dusting of sesame seeds and scallions. Crazy addictive!
Ingredients
3

pounds

chicken wings

2

tablespoons

soy sauce

2

tablespoons

hoisin sauce

2

tablespoons

preserves

,

cherry or similar

1

tablespoon

chili garlic sauce

1

teaspoon

sesame oil

1

teaspoon

kosher salt

1

teaspoon

black pepper

Sesame seeds

,

garnish

Chives

,

garnish

Blue cheese dressing

,

for dipping
Instructions
Preheat oven to

425

°F

. Line a baking sheet with heavy duty foil.

If you are starting with whole chicken wings, cut off the tips of the wings and then cut the flats and drumsticks apart. This is easily done by using a sturdy knife and slicing through the joint of the wing.

Mix soy sauce, hoisin, preserves, chili garlic, sesame oil, kosher salt, and pepper in a large bowl.

Add wings into the bowl and stir to coat wings well.

Spread wings out on baking sheet and pour any extra sauce over the wings. Bake for 20 minutes at 425 degrees F.

Remove wings and turn a few times to re-coat them in sauce. Return to oven for 15-20 minutes.

Check wings and turn another time. If they aren't sticky yet, feel free to return them to the oven for another 5-10 minutes. It's very hard to over-cook chicken wings.

When wings are glazed nicely, sticky and crispy in spots, remove and garnish heavily with sesame seeds and chives. Serve with blue cheese dipping sauce.
Nutrition
Serving:
6
wings
|
Calories:
474
kcal
|
Carbohydrates:
12
g
|
Protein:
35
g
|
Fat:
31
g
|
Saturated Fat:
8
g
|
Polyunsaturated Fat:
7
g
|
Monounsaturated Fat:
12
g
|
Trans Fat:
0.3
g
|
Cholesterol:
142
mg
|
Sodium:
1560
mg
|
Potassium:
330
mg
|
Fiber:
1
g
|
Sugar:
8
g
|
Vitamin A:
273
IU
|
Vitamin C:
2
mg
|
Calcium:
31
mg
|
Iron:
2
mg
Did you make this recipe?
Here are a few other Game Day Recipes!