I'm not kidding when I say that these Oatmeal Blender Pancakes are almost identical in prep time to using some boxed mix. They are ridiculously easy to mix together. It sort of feels like cheating, but that's sometimes the case with really good recipes.
If you have kids who you are trying to keep busy while you work on breakfast, I recommend letting them pulse the blender once you get all the ingredients in the blender. My kids love pulsing a blender and watching it mix and then they get rewarded with pancakes! What's not to love?!
Read on and learn how to make these wonderful oatmeal pancakes! Your family will love them!
Ingredients I use in my blender pancakes
The fun thing about this recipe is that the first ingredient, rolled oats, is most of the volume of the recipe. Pulsing oats in a blender results in basically a homemade oat flour that has more nutritional value than store-bought flour.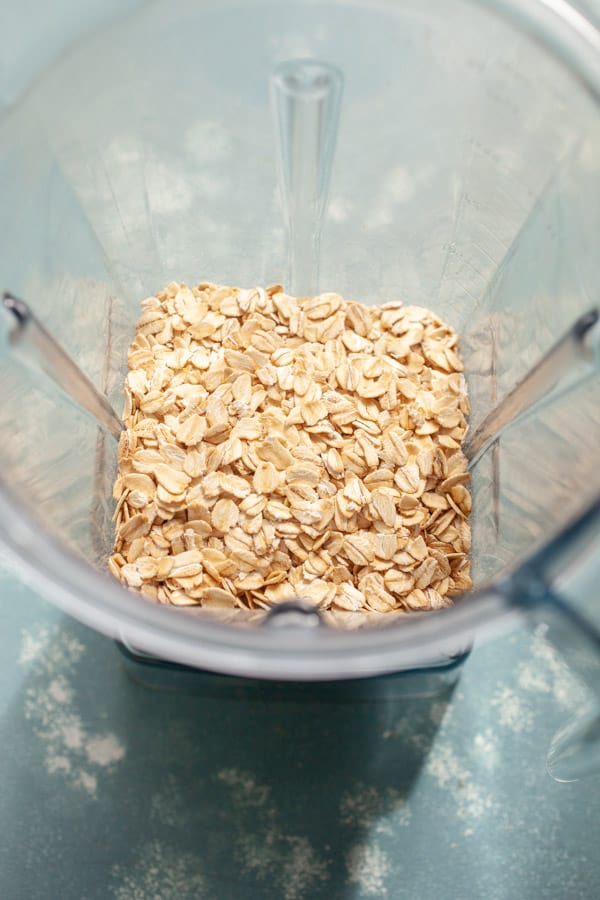 To that I do like to add a little all-purpose flour, along with some milk, eggs, vanilla extract, peanut butter, brown sugar, and baking powder for a leavening ingredient.
Many of those ingredients could be substituted if you were so included. You could substitute any nut butter like almond butter for the peanut butter, you could substitute dairy-free milk like almond milk or oat milk for the whole milk, and you could substitute honey or maple syrup for the brown sugar if you wanted a natural sweetener.
The secret to making these blender pancakes
The secret to making these pancakes a little extra special is to start the blending process with mostly rolled oats. They pulse up into a light oat flour that has a bit more flavor and texture than your standard flour. Once your oats are blended into a coarse flour, you can start adding your other ingredients and finish blending it up into a pancake batter.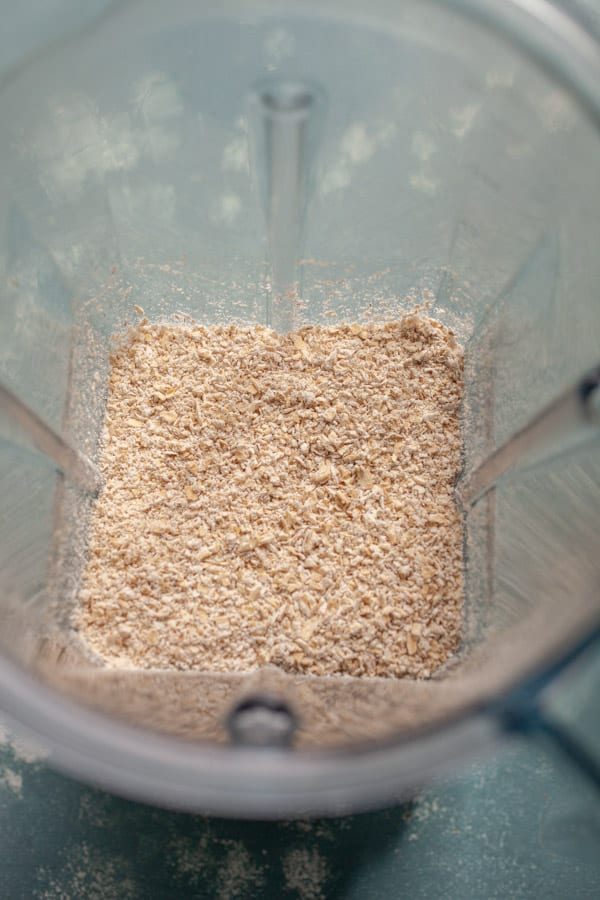 How to Make Pancake Batter in a blender
Start these guys with just rolled oats in a blender. Easy right?
Pulse those a few times until they turn into a coarse flour or meal. If you add the other ingredients before you do this, the oats won't blend completely into a flour.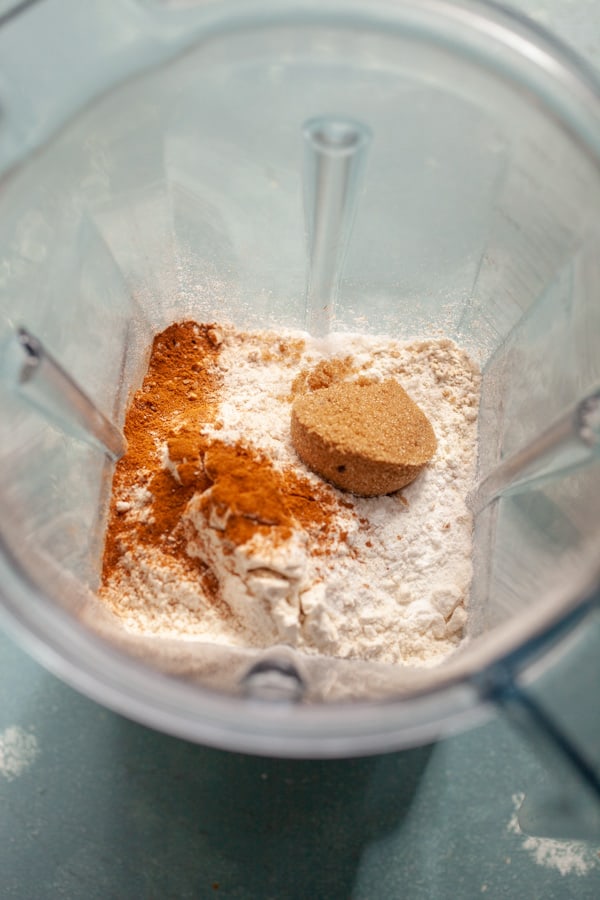 Now you can add your other stuff though! I like to add my dry stuff first and pulse a few times to mix it together well.
Then you can add the milk and egg and blend like crazy until the batter comes together!
Hot tip: While you are blending, there might be a few dry spots around the edges of the blender where the batter isn't mixing well. Use a spoon to stir those dry spots into the batter.
This batter should be easily pourable. If it seems too thick, add more milk by the tablespoon to thin it out. If the pancake batter seems too runny, then add an extra handful of oats or more all-purpose flour by the tablespoon to thicken it up.
Cooking the Oatmeal Pancakes
I like to cook these pancakes in butter over medium heat on a griddle or in a pan or skillet. As far as size goes, I shoot for about 1/3 cup of batter per pancake which works out to a medium-sized pancake. You should get about 8 out of the recipe.
Cook the pancakes for 2-3 minutes per side. When the edges are firming up and some bubbles are forming, it's time to flip!
Serve these oatmeal blender pancakes with any and all toppings you would like. I kept it simple though with just butter and syrup!
Blend it up and eat it up!
Alternative ideas for these pancakes
If you want to try some other options for these oatmeal blender pancakes, here are a few ideas!
Add a banana to the battter. It will blend up nicely and banana oat pancakes are delicious!
Once your pancake mix is done, add some chocolate chips to the batter. You could blend them in if you wanted more of a chocolate pancake, but I like the full chocolate chips in my finished pancakes.
Add blueberries. Fresh blueberries are always on my list when making pancakes!
Add some Greek yogurt to the batter to give the pancakes a tangy flavor (like my Greek Yogurt pancakes)
Add some extra spices to the batter like cinnamon, ground nutmeg, or even pumpkin pie spice! Start with 1/4 teaspoon. Don't overdo it on the spices.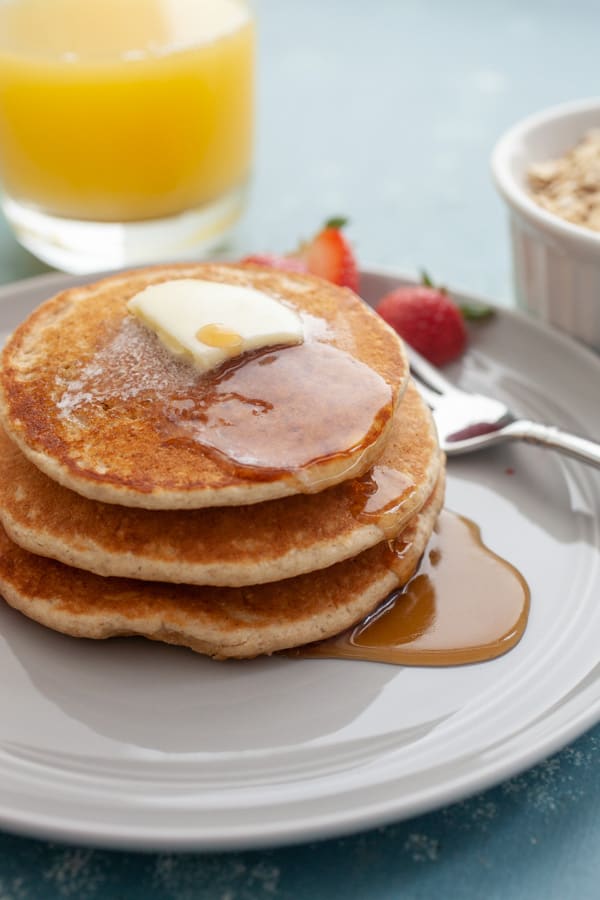 What to serve with these pancakes
I don't have have a huge sweet tooth so I always thing of pancakes as a side to breakfast. I would always serve these along some savory options like maybe this Sriracha Candied Bacon or these perfect cheesy eggs!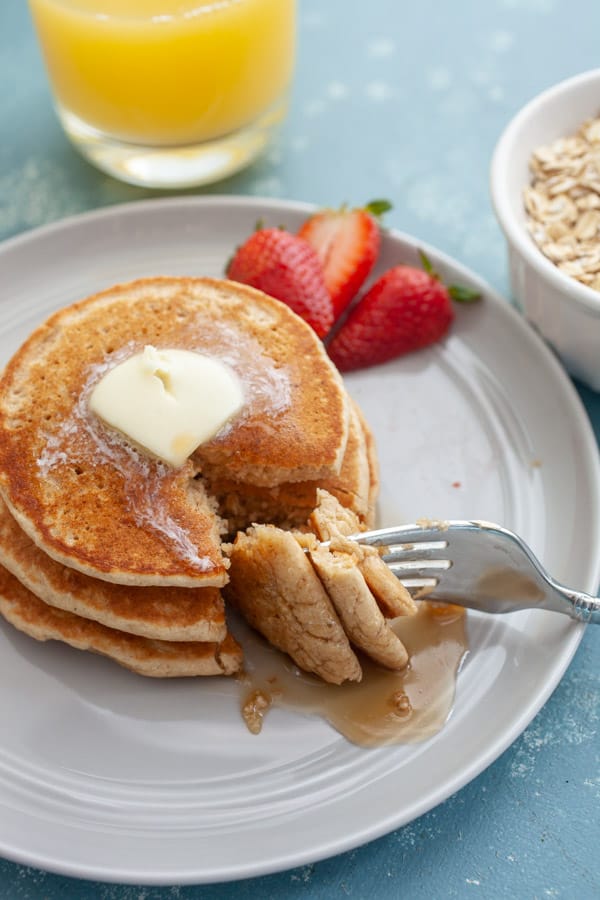 Oatmeal Blender Pancakes
These quick blender pancakes are as fast as any mix on the market! Plus, they are mostly rolled oats! Yum! Kids love these pancakes and can help blend them up!
Ingredients
1½

cups

rolled oats

½

cup

all-purpose flour

1

cup

milk

1

egg

2

tablespoons

creamy peanut butter

,

optional

1

tablespoon

brown sugar

½

teaspoon

cinnamon

1

teaspoon

vanilla extract

1

teaspoon

baking powder

¼

teaspoon

kosher salt

Butter

,

for cooking and serving

Syrup for serving
Instructions
Preheat a griddle or large skillet to medium low heat.

In a blender, add the oats and flour and pulse until the oats are in a coarse meal.

Add other ingredients and blend until the batter is smooth. Use a spoon to stir around the edges if there are any dry spots in the blender where the batter isn't mixing. The batter should be pourable. If it seems too thick, add more milk by the tablespoon until it thins out.

Cook pancakes on a griddle with a little butter for 2-3 minutes per side. Flip the pancakes when they firm up around the edges and start to bubble.

Serve pancakes topped with butter and drizzled with maple syrup.

These pancakes actually keep really well in the fridge for a few days. Reheat them in a low-heat skillet for a quick breakfast!
Nutrition
Serving:
2
Pancakes
|
Calories:
364
kcal
|
Carbohydrates:
54
g
|
Protein:
13
g
|
Fat:
11
g
|
Saturated Fat:
3
g
|
Polyunsaturated Fat:
2
g
|
Monounsaturated Fat:
4
g
|
Trans Fat:
0.01
g
|
Cholesterol:
48
mg
|
Sodium:
329
mg
|
Potassium:
359
mg
|
Fiber:
6
g
|
Sugar:
7
g
|
Vitamin A:
159
IU
|
Vitamin C:
0.01
mg
|
Calcium:
178
mg
|
Iron:
3
mg
Did you make this recipe?
Here are a few other great pancake recipes!