Team! These Savory pumpkin pancakes changed my breakfast game. As you know, this food blogger doesn't have the biggest sweet tooth so I always struggle with pancakes. Most are just TOO sweet for me.
But these pumpkin pancakes are just the thing for me. The pumpkin puree makes them really light and soft. Some other recipes stir the cheddar cheese into the pancake batter, but instead I like to add it to each pancake individually. After flipping the pancakes, the result is a crispy crust of cheese on each one. SWOON.
These almost have the flavors of a scallion pancake but are much fluffier and have the texture of a traditional buttermilk pancake. The combo is something you will crave once you try it! Trust me!
What kind of pumpkin to use for pancakes?
There are essentially three options here. First, you could roast a whole pie pumpkin and use the flesh of that, pureed, in your pancake batter. That would be very delicious, but is probably a bit too much work for your casual weekend breakfast spread.
You could also use pumpkin pie mix, which is pumpkin puree canned with a few other spices like ginger, cinnamon, and nutmeg. This would work okay for these pancakes, but I think ends up being too sweet.
So, the way to go for these pancakes is to use just plain pumpkin puree. You can find this canned in almost any grocery store and it's usually in the baking aisle next to pie ingredients.
Making the Basic Pancake Batter
This batter couldn't be easier to pull together. Normally for pancakes I'll whisk the dry ingredients together, but I did this one all in one bowl. If you wanted to, you could whisk together your dry ingredients (flour, baking powder, and salt) in a separate bowl, but it won't hurt to just whisk it all together in one bowl.
Start with your wet ingredients in a bowl, including the pumpkin puree, milk, and eggs.Whisk that together until smooth and then add your dry ingredients and continue to whisk until combined.
The batter should be thick enough to easily coat a spoon, but should flatten out if it sits. It shouldn't hold its shape at all. If it's too thick, add more milk to thin it out.
Cooking the Savory Pumpkin Pancakes
I like pancakes cooked in butter, but you do you.
I did a test batch to just see how the pumpkin would hold up before I did any add-ins.
Golden brown, puffy, and beautiful. This is a good pancake.
But, we aren't done. To make this pancake extra special, pour you batter onto your griddle or skillet. Before you flip the pancake with a spatula, add a handful of cheddar cheese and diced scallion to the pancake. BOOM.
You'll know it's time to flip the pancakes when you start to see bubbles around the edges of each pancake.
When you flip this the cheese will turn crispy against the hot griddle and form a crust of sorts on the pancake. It's an awesome texture and addictive flavor.
Stack these pumpkin cheddar pancakes up and serve them with real maple syrup, extra scallions, and maybe some pumpkin seeds if you want to get fancy.
Breakfast was good on this day.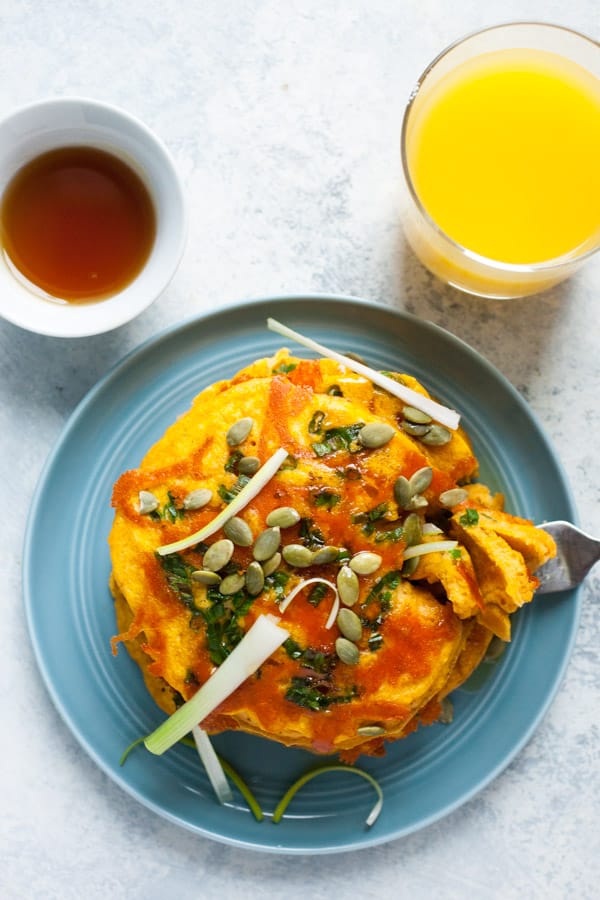 Substitutions and Ideas for these Pancakes
I really like the cheddar and onion combo flavor, which is why I use it in my cheddar dutch baby and my savory monkey bread recipes also!
But, there are many substitutions and ideas to make these pancakes your own.
Keep the pumpkin, but use a different cheese like gouda cheese.
Substitute the pumpkin for some winter squash or butternut squash. You'll have to roast them before adding to batter.
Add different spices to the batter like pumpkin pie spice, or fresh herbs like rosemary or sage.
Leftover Pancakes and Reheating
These pancakes keep really well in the fridge for 4-5 days. You can also let them cool and freeze them if you have a bunch of leftovers. The pumpkin pancakes will be great in the freezer for 3 months.
Reheat thawed pancakes on a griddle or in a skillet over medium-low heat until warmed through. You can microwave them as well for 30 seconds on high to heat them up, but the microwave won't keep that delicious cheesy crust on the pancakes as crispy as a skillet will do.
Pumpkin Cheddar Pancakes
For those that don't have a huge sweet tooth, these savory Pumpkin Cheddar pancakes are just the breakfast you need. Fluffy and cheesy!
Ingredients
½

cup

pumpkin puree

1

large egg

½

cup

milk

1½

cups

flour

2

teaspoons

baking powder

½

teaspoon

kosher salt

½

teaspoon

mild chili powder

1

cup

shredded cheddar cheese

4-5

scallions

,

chopped

Pumpkin seeds

,

garnish

Syrup

,

for serving

Butter

,

for cooking
Instructions
In a medium bowl, stir together pumpkin, eggs, and milk until smooth. Then stir in dry ingredients and stir to combine. If batter seems very thick, add more milk to thin it out. Don't add the cheese or scallions to the batter.

Heat a griddle or skillet over medium heat. Once hot, add a small pad of butter and let it melt. Once butter is melted and bubbling, add batter in 1/3 cup batches.

Let the pancakes cook until the edges are firming up and browning slightly. Then add a sprinkle of cheese and scallion to each pancake. Flip!

Let pancake cook on the second side for 2-3 minutes.

Remove and stack pancakes. Serve them garnished with pumpkin seeds, extra scallion, and syrup!
Nutrition
Serving:
2
pancakes
|
Calories:
336
kcal
|
Carbohydrates:
42
g
|
Protein:
14
g
|
Fat:
12
g
|
Saturated Fat:
6
g
|
Polyunsaturated Fat:
1
g
|
Monounsaturated Fat:
3
g
|
Trans Fat:
0.01
g
|
Cholesterol:
73
mg
|
Sodium:
723
mg
|
Potassium:
234
mg
|
Fiber:
3
g
|
Sugar:
3
g
|
Vitamin A:
5352
IU
|
Vitamin C:
4
mg
|
Calcium:
386
mg
|
Iron:
3
mg
Did you make this recipe?
Here are a few other great recipes to try!